It is no surprise that universal TV remote controls have been all the rage for the past decade and can be found in most modern American households. The innovative concept that makes them so popular is the idea of consolidating multiple remote controls into one little gadget that controls all your Audio Video devices regardless of their brand.
Universal remote controls provide an efficient, time-saving and simple way to make the best out of your usage of all of your gadgets and devices, such as your smart TV, your home-theatre system, or your TV-DVD combo. If you want the most efficient solution for getting rid of those four or five remote controls cluttering your coffee table, consider buying a universal remote control.
We've come up with a list of the best-selling universal remote controls to help you find the most suitable and affordable pick for yourself.
---

Overview
The Harmony 665 Remote is our top pick because it is simply one of the best universal remote controls out there. With a color LCD screen as its most prominent feature, it can control up to ten devices, such as your TV, cable box, Blu-ray player, and more – plus, it is compatible with over 5,000 brands. It's compact and ergonomically designed to fit your hand.
What We Like
This universal remote comes with motion-activated buttons which is a highly responsive neat feature for movie nights. Haptic feedback is also built into the buttons to inform you of all your commands being received. The LCD touchscreen allows you to customize your tap and swipe controls for an eyes-free use. Programming the touch screen to contain up to 23 favorite TV channels is also one of our favorite features, as the screen displays the channels' logos, thus making for a simple and quick choice of desired TV content.
What Needs Improving
While the versatile touchscreen is definitely this remote's most powerful and attractive feature, we have experienced some minor lag when jumping between menus. Moreover, if you want to make the best out of your Harmony remote, you'll have to program it to fit your preferences using a PC each time. While the instructions are sufficiently clear, the user interface is a bit clunky and could be improved to be more user-friendly.
The Final Verdict
While the Logitech Harmony LCD remote control has minor shortcomings, they can easily be overlooked if you're looking for a versatile universal remote with a luxurious design at a reasonable price compared to other high-end universal remotes.
11 new from $220.00
21 used from $40.00

as of September 29, 2023 11:11 pm
---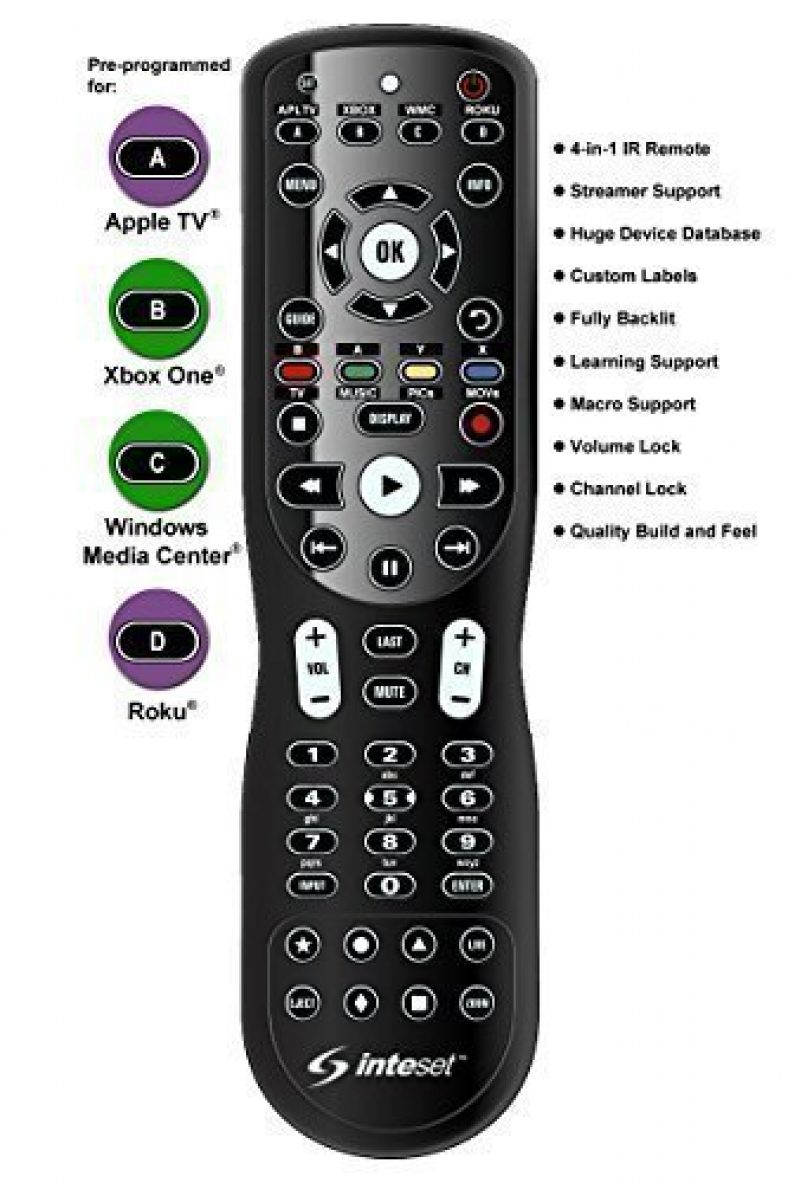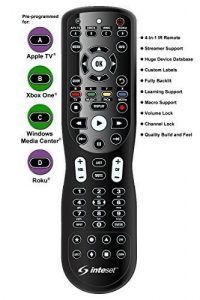 Overview
While retaining a more traditional design, the Inteset 4-in-1 Universal Backlit IR Learning Remote still comes with conveniently placed full-LED backlit buttons and an ergonomic shape. It is pre-programmed for Apple TV, XBox One, Media Center/Kodi and Roku devices, but is compatible with most other AV devices. Although it can connect to only four devices, we still enjoyed this remote control for its affordability, simplicity and ease of use.
What We Like
This device's learning capability is probably the most impressive feature for this budget universal remote. This feature helps you "teach" the remote to control any device that isn't found in the Inteset database using the remote's intuitive learning capability. Apart from that, the remote comes with macro programming that enables it to perform up to 15 commands with the use of a single button located at the bottom of the device. The packaging includes two AA batteries to power the remote, as well as stickers that you can cut out and apply under the buttons to customize your universal remote experience.
What Needs Improving
While all of these features are impressive for an inexpensive universal remote control, we found it unfortunate that this remote can only be used to control up to four devices. Although the setup was a breeze using the conventional method of typing in universal remote control codes that match the device you're syncing it with, the remote doesn't come with a list of codes. Instead, you have to use another device, such as a PC or a smartphone, to access the Inteset website and browse through a list of codes there, which can be slightly inconvenient to some users.
The Final Verdict
If you are an average AV device user, looking for a great and inexpensive universal remote control that combines a familiar and comfortable feel, an easy setup, and advanced universal remote features that usually come with high-end remotes, then this is the product for you. This remote will not overwhelm you with countless options, but will still take care of your basic needs.
---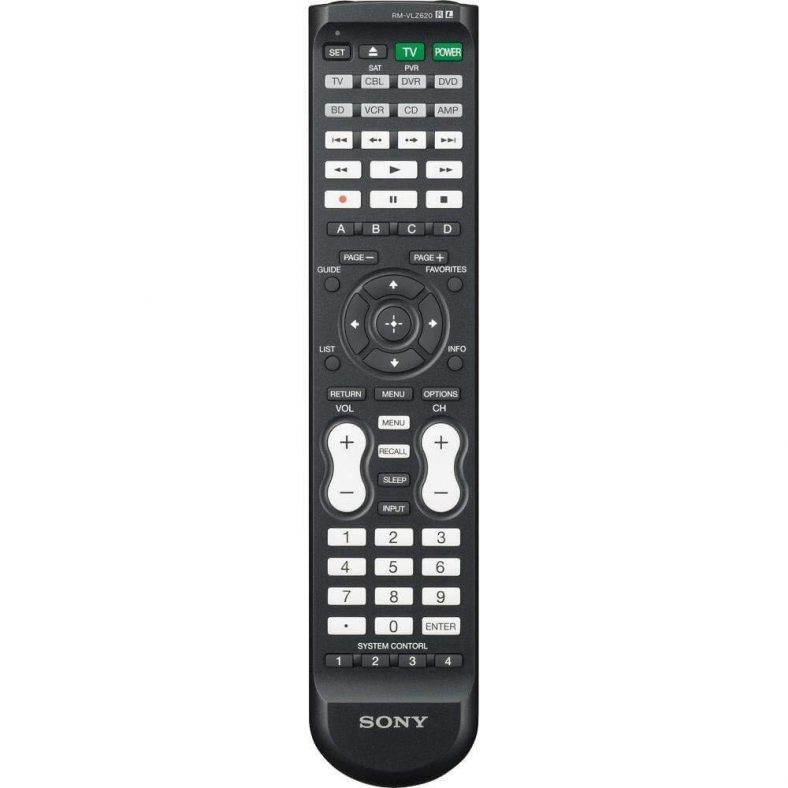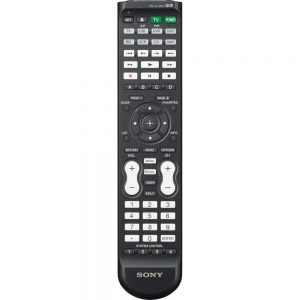 Overview
This Sony remote contains all the major features that make a good quality universal remote control. It can control up to eight AV devices of various brands, including VCRs. The design is traditional and simple, with many useful and nicely placed rubberized backlit buttons.
What We Like
This remote will control up to eight devices, which is very useful if you have a bigger than average collection of AV devices to use on a regular basis. We really liked the simple setup process which takes only minutes to complete. Additionally, the remote comes with a learning function that enables you to connect to a wide variety of AV equipment, as well as macro programming of a single button to perform up to 12 commands. It also has a very sturdy build which is ideal for families with small children and pets, because it will not be easily scratched or damaged.
What Needs Improving
The setup was quite quick, but it was slightly different than most other universal controls – some parts of the setup process require you to press two buttons simultaneously, which was at times slightly inconvenient due to the remote's large size. The design is not ergonomic due to the device's flat back, which, combined with its size, may cause some inconvenience during usage.
The Final Verdict
This universal remote is a sturdy, reliable device for controlling a decent number of AV devices in your home. While it doesn't come with additional features and isn't the latest fad on the market, it will effectively handle all the basics, remain fairly up-to-date due to its learning function, and will control your VCR if you still like to hold on to AV relics.
6 new from $82.97
4 used from $26.99
Free shipping
as of September 30, 2023 9:13 am
---
Make sure you know all the basics on how to use and make the best of your universal TV remote by checking out these amazing guidelines.