Smarter is Definitely Better
The "smart revolution" has entered our living rooms – and we couldn't be more excited. Smart TVs are catering for our increasing appetite for multi-functional, interactive visual experiences. So what exactly does being a smart TV entail?
A solid Wi-Fi connection for a start. This is integral for the TV to be able to access all the streaming services we know and love, from Netflix to Hulu. It also allows you to download movies on demand straight to your TV and to even use it as an internet browser. Smart TVs are also perfect for avid gamers, allowing you to connect and play in real-time with anyone around the globe. On top of that you get all your usual cable and satellite programs – streamed in ultra high quality, either 4k quality or OLED.
To decide which smart TV to buy, consider the exact features you are looking for. Sony TVs are an ideal pairing with Android systems while Toshiba and Insignia are optimized for Amazon Fire. All you need to operate your smart TV is an internet connection (WiFi or Ethernet) with sufficiently fast speed. This is essential for streaming video, and a super-fast speed is preferable. For example, for streaming 4K Ultra HD content on Netflix, you'll need at least 25Mbps to get the best experience.
So here are our Top 5 Smart TVs: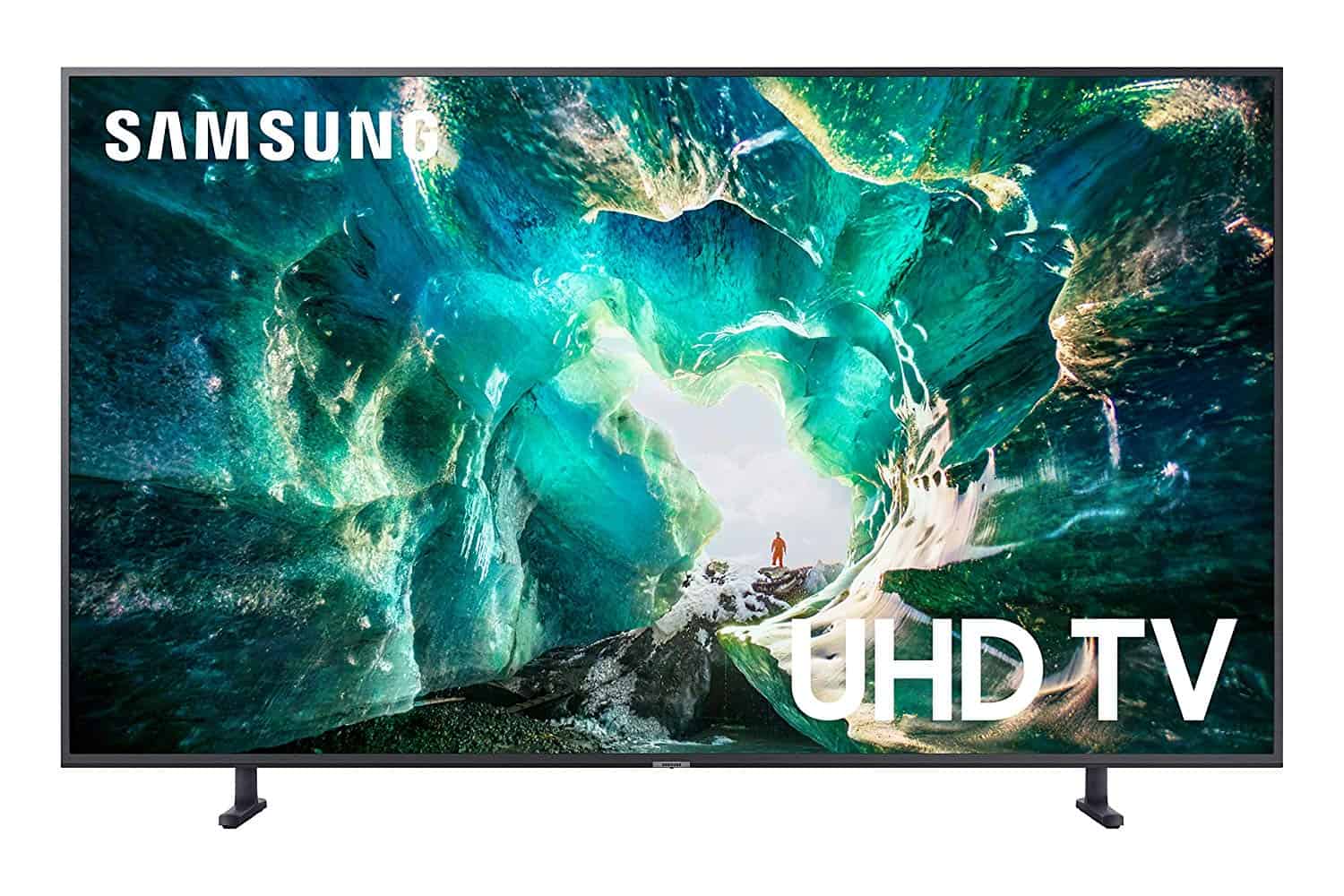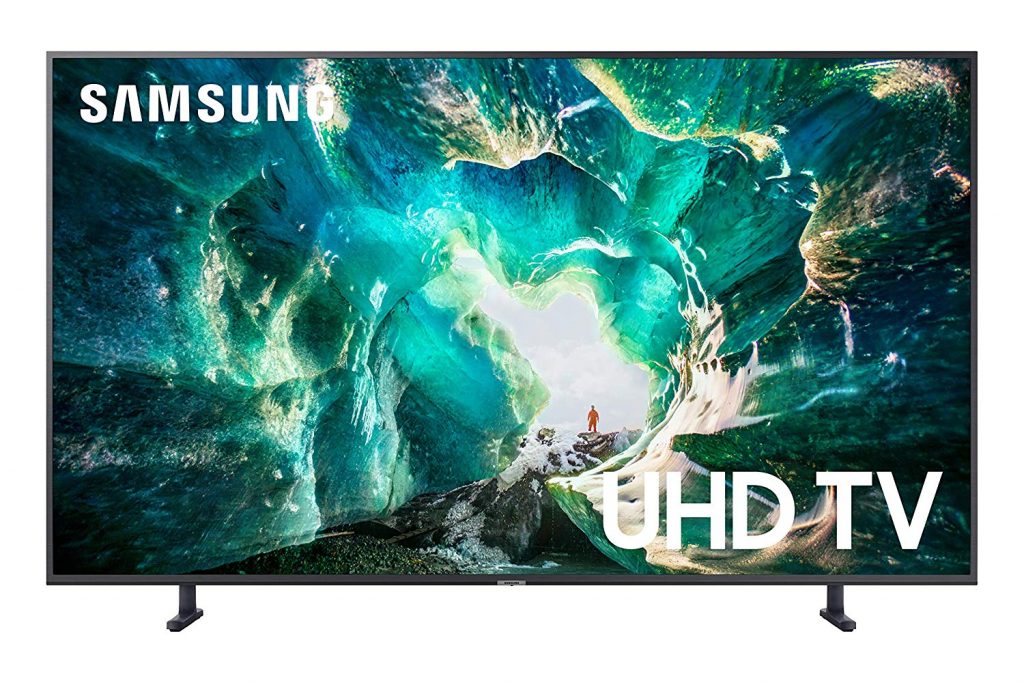 Overview
Samsung, with their usual style and flair, have designed a TV that's ultra-minimalist, elegant and so very smart. The bezels are almost non-existent, and even the strong, stable stand that ingeniously hides the cables, looks good.
What We Like
Samsung have taken the user experience above and beyond – a large range of customization options allows for completely tailored viewing, but even the default settings show how great the resolution, clarity, and depth of color are. Excellent contrasts, responsive motion smoothing and the awesome Dynamic Crystal Color adding a whole new spectrum, the viewing experience is fantastically well rounded. The 40-watt speakers complete the immersive adventure.
The ability to smart sync, Bixby voice control and the innovative OneRemote, together, allow your smart home to be controllable while you relax and watch a movie.
What Needs Improving
It's not a deal-breaker, but the user interface does have some adverts around the edge of the home screen.
The Final Verdict
Samsung's addition to the smart TV market is a stunningly elegant model, that comes with loads of very efficient and useful features. Happy to recommend this Samsung all day long.
---
Overview
TLC have designed this smart TV to have a stylish minimalist appearance that would look great in any modern room. Surprisingly lightweight yet sturdy, the slimline screen only widens a fraction at the base to accommodate the inputs, power supply and so on.
What We Like
The TCL's image quality is excellent. Deep blacks, impressive brightness, rich contrasts and accurate, realistic color make the viewing experience very smooth and seamless. The audio is pleasantly clear, too, with no harsh grating or unnerving vibrations. We really love the Roku streaming – there's a near-infinite amount of movies, and channels available via a very intuitive interface, which kept us occupied for ever.
What Needs Improving
The tiny white light that comes on when the TV is switched off can be intrusive, however, a small piece of tape soon took care of that.
The Final Verdict
This TCL is a great smart TV for a decent price. The audio, image quality and Roku streaming all add up to a superb package.
3 new from $313.43

as of November 27, 2023 8:55 am
---
Overview
Insignia's Fire edition smart TV is very nicely put together, and the stand, with its unusual design, works extremely well, keeping the screen stable. The brushed steel look coupled with the number of useful ports are just a few of the reasons why the Insignia has earned its place on the best-seller list.
What We Like
The color accuracy and realistic contrast is impressive. Vibrant colors contrasted with deep, rich dark tones make the visual vibrancy all-encompassing. The semi-gloss finish defuses the glare and any reflections, diminishing their intensity.
The audio is awesome, with music, effects, and voices coming across clearly, with no room for vibrations. The bass is round and full-bodied, completing the viewer experience nicely.
What Needs Improving
Whilst the sound quality is good, the volume could be louder – adding a soundbar made a big difference.
The Final Verdict
If you're looking for a competitively priced smart TV that performs excellently and is Fire and Alexa enabled, the Insignia is definitely worth considering.
---
Overview
The Toshiba smart TV is a beautifully stylish model that's so thin that it sits without any effort in your space or mounted on your wall. The majority of the outputs are situated at the back or on the side for ease of access.
What We Like
The caliber of color resolution and brightness are awesome. State-of-the-art 4K ultra HD is what makes this possible. Toshiba claims to offer more color variety and depth than any other brand out there – we tend to agree. Finally, the Motion Technology ensures that your picture is always crisp. Those intense action shots won't skip a beat. Finally, the Toshiba comes with Alexa and Google Home compatibility for that total hands-free feeling.
What Needs Improving
If we were to place one criticism? If you turn up your volume to the max (which really is max), the audio can get a little distorted. That's nitpicking, though.
The Final Verdict
If you're feeling indulgent, the Toshiba is a real statement piece. Have a blast watching home TV at its absolute pinnacle. And hey, why not enjoy everyone's envy?
---
Overview
In terms of appearance, this LG smart TV is a very stylish model, with aesthetically pleasing slimline bezels, a thin lightweight screen, and a brushed steel curved stand completing the slick, minimalistic look.
What We Like
LG's color spectrum is massive, incredibly detailed, with great contrasts, and rich deep blacks, even from the widest viewing angle. The high quality sound brings the all-immersive experience right into your home. We found the movie streaming Miracast, WiDi and Bluetooth connectivity makes this smart TV a perfect addition to your smart home, offering a smooth and seamless adventure that allowed us to relax into our favorite worlds. It also comes with inbuilt Alexa and Google Assistant.
What Needs Improving
Whilst not a big problem, the wires are rather long and may need to be carefully tucked away to keep the TV looking tidy.
The Final Verdict
LG's addition to smart TV market is well worth some serious consideration. The smart technology, along with affordability and great image and audio quality make this TV easy to recommend.
---
Finally, if you're still unsure which one of these TVs is the best fit for you, check out more things to look into before getting a new smart TV!
---
Don't miss out on these trending articles: