4K Ultra HD TV: Revolutionize your Streaming
If you're still using a non-4K model, now's the time to make the switch.
Getting a 4K LED TV is like setting up a home theater. From old-school classics to modern blockbusters, it will transform how you see, hear, feel, and live almost any type of visual broadcast. You won't know what you're missing until you see it in ultra super-duper mega-uber HD.
What is a 4k TV – How is a 4K TV different?
You most likely already know the basic info about most smart TVs, but in case you don't, here's a quick rundown:
4K means that you'll get 4 times the resolution compared to a traditional HD 1080p unit. That means a much sharper, crisper, more vivid and more "alive" picture.
Remember how awesome HDTV was when you first saw it after a lifetime of watching standard definition? From non-4K to 4K is as big a step up, if not bigger.
Breathtaking Images
The picture quality is crystal clear, with impeccable detail and magnificent color schemes. It allows such a vivid experience that gives a 3D-like sensation, without the awkward glasses.
You'll almost feel like you're at the Super Bowl, except you didn't have to shell out for $10,000 tickets. If you love nature shows like us, you'll get blown away. Trust us, few things compare to feeling like you're on the African plains without any risk of a lion eating you.
With Netflix, Amazon Prime, and YouTube growing, we're spending more time in front of a screen than ever. That means that the quality of the visuals are now more important than ever. Producers know this, which is why the number of shows broadcasting in 4K is blowing up.
And do you want know what's really great? Prices of the big brands, like Sony and LG, have plummeted. The technology has reached the point where it's affordable for everyone. If you were ever going to buy a 4K TV, now is the time. It's never been easier to enjoy your TV experiences, especially with the new toy in audio-video gadget culture – the universal remote control.
If you're looking for a particular size screen, you'll find some great options in our hottest 40 inch TV reviews, 50 inch TV reviews,  55 inch TV reviews, 65 inch TV reviews, and 70 inch TV reviews.
Otherwise, here is our Top 5 list for the best 4K TV deals of September, 2023: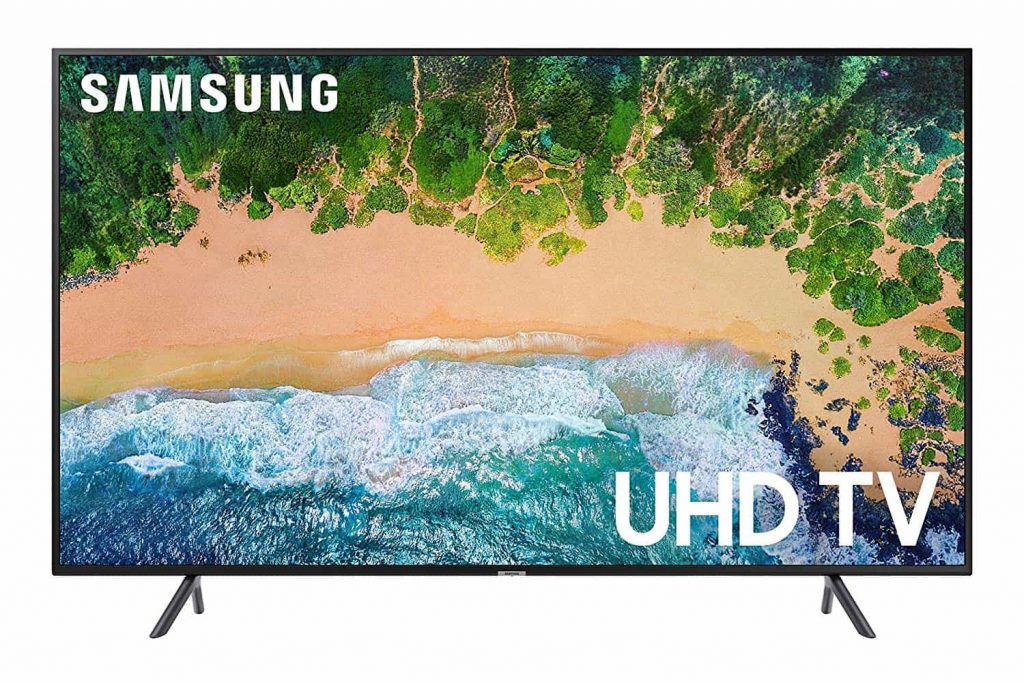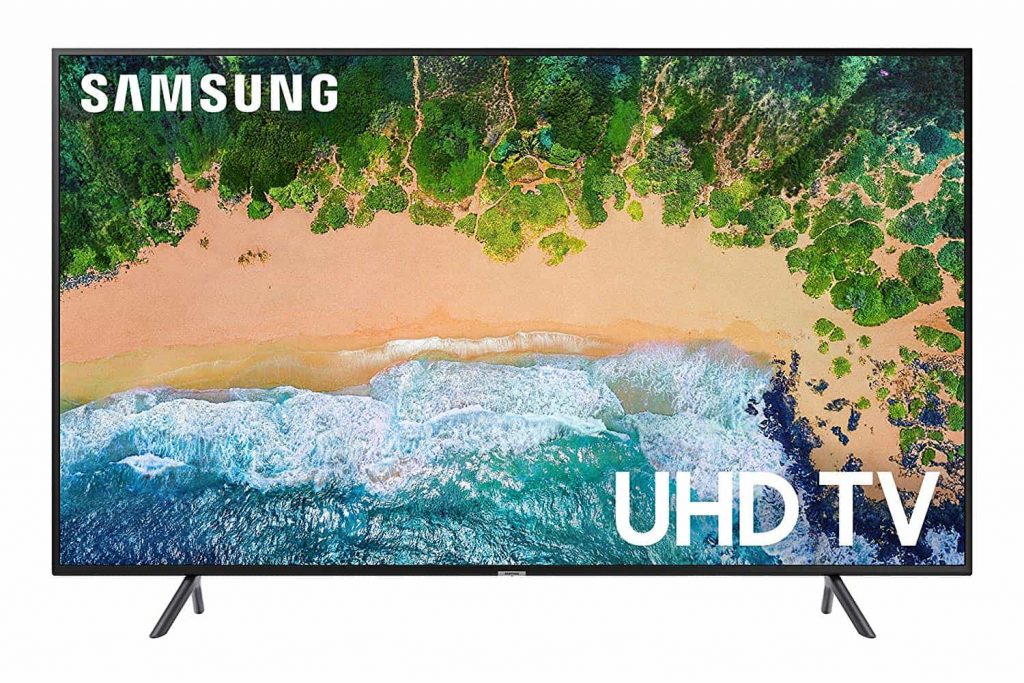 Overview
Let's start with one of the newest and shiniest 4K TVs from global giant, Samsung.
This flagship TV is part of the new QLED series. The ultra HDR picture quality is breathtaking. It will capture fast scenes like car chases in astonishing detail. You can make out everything with such clarity that you won't miss a beat and you'll be transported into the visual world by the lush, sensational colors.
What We Like
Apart from the impressive specifications, this TV will look beautiful in your home. We love that it even comes with a special ambience setting, where you can set the TV to play calming music, display your favorite photographs or an awe-inspiring landscape. It means that your screen becomes an attractive and artistic part of your decor – great for those who don't want an imposing TV taking up all the attention.
Most of the outputs are on the side, which we found great for accessibility, making plugging and unplugging gadgets and accessories a breeze. The OneRemote works with all devices and even comes with voice recognition, XBox, Apple TV, and anything else you need. It's intuitive to use, allowing you to put your feet up and mindlessly navigate your TV.
What Needs Improving
The cabling could do with being a fraction longer, especially if you plan to wall mount this TV, but that's easy to fix with an additional length.
The Final Verdict
If your question is "should I buy this TV," our answer is - What are you waiting for! If you want the latest model from one of the best technology companies in the world, now is your chance to get it for a great price.
---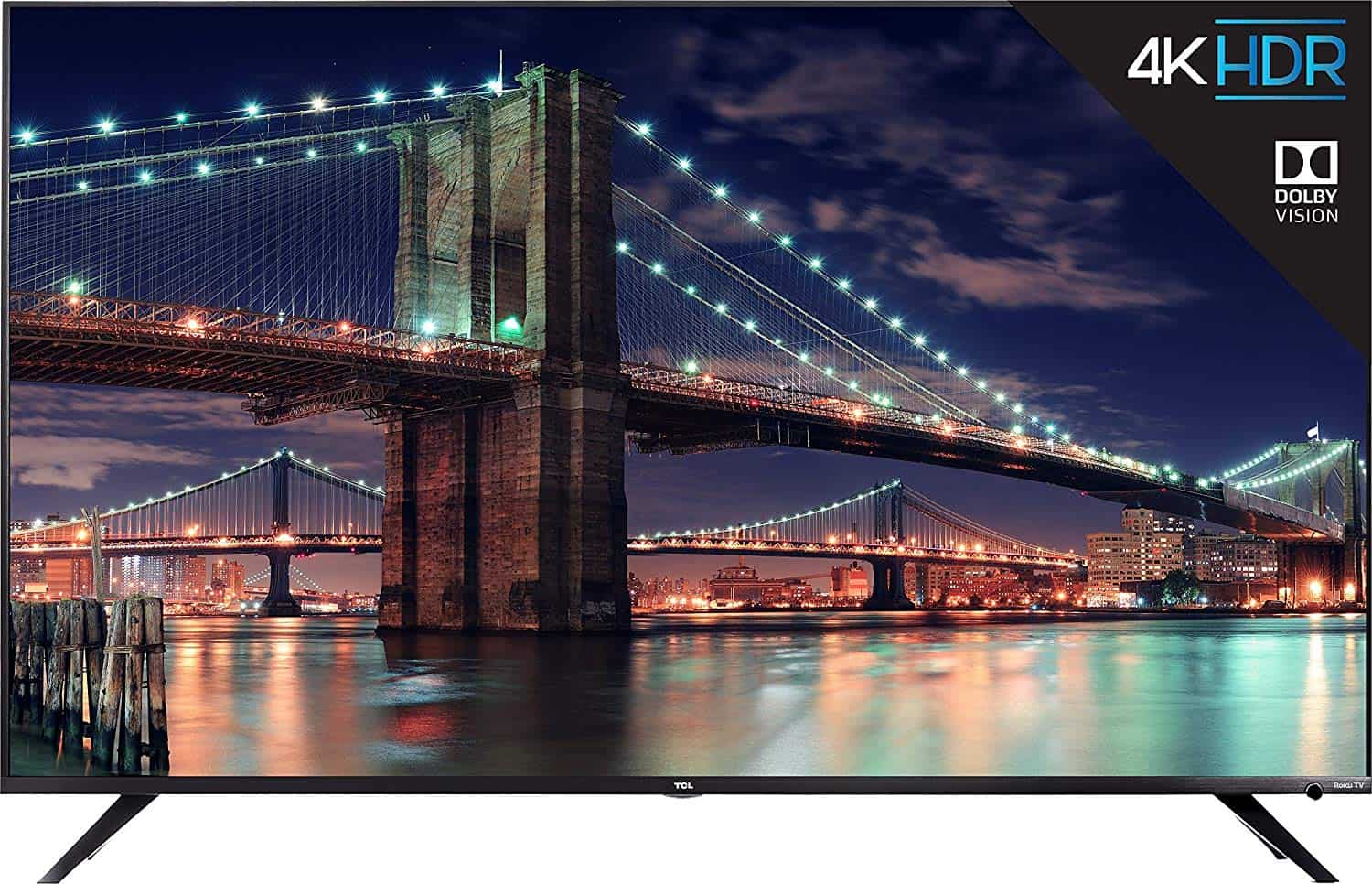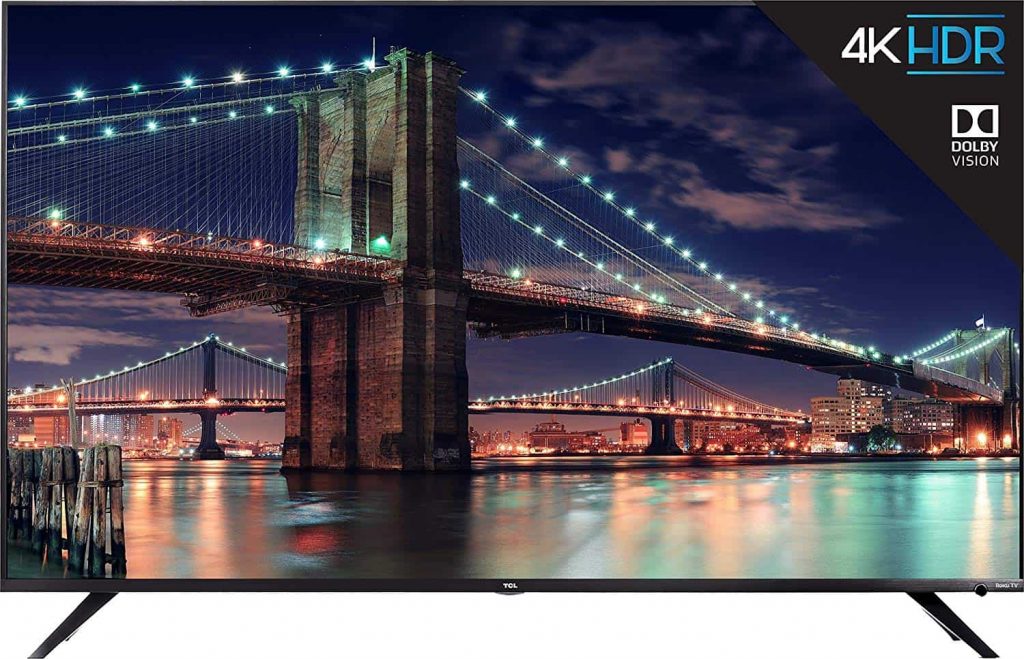 Overview
Wow. This TV packs a lot of features while still coming in at a fair price. With the ultra thin bezel, neatly designed stand and the wires tucked tidily away, this well made TV would look super stylish in any home.
What We Like
The Roku is all about screen quality, incorporating Dolby Vision HDR with brilliance, and a lifelike image quality.  Characters and landscapes pop out of the screen – it's a beautiful thing to experience. We found that the lighting is great, too – a full array LED backlighting, with local dimming controlled by smart technology. The LED illuminates when you need a bright resolution, and dims when the program calls for darker. This is a whole lot more sophisticated than the traditional edge LED lighting.
Roku's a beast, of course, offering more than 500,000 TV shows and movies. If you want to spend your nights binge-watching Game of Thrones without shame, this is for you.
The remote is simple but effective. It comes with voice technology and a headphone jack. Want to crank up the volume without disturbing your family or neighbors? Not a problem.
What Needs Improving
The audio quality is very good but if you want a full home theater experience, we think it's worth getting an affordable soundbar. That will make the TCL Roku epic.
The Final Verdict
All in all, this TV is proof that you don't have to spend thousands of dollars to get a good quality, high spec 4K TV. It's one of the best models on the market and often on offer, so grab it now.
---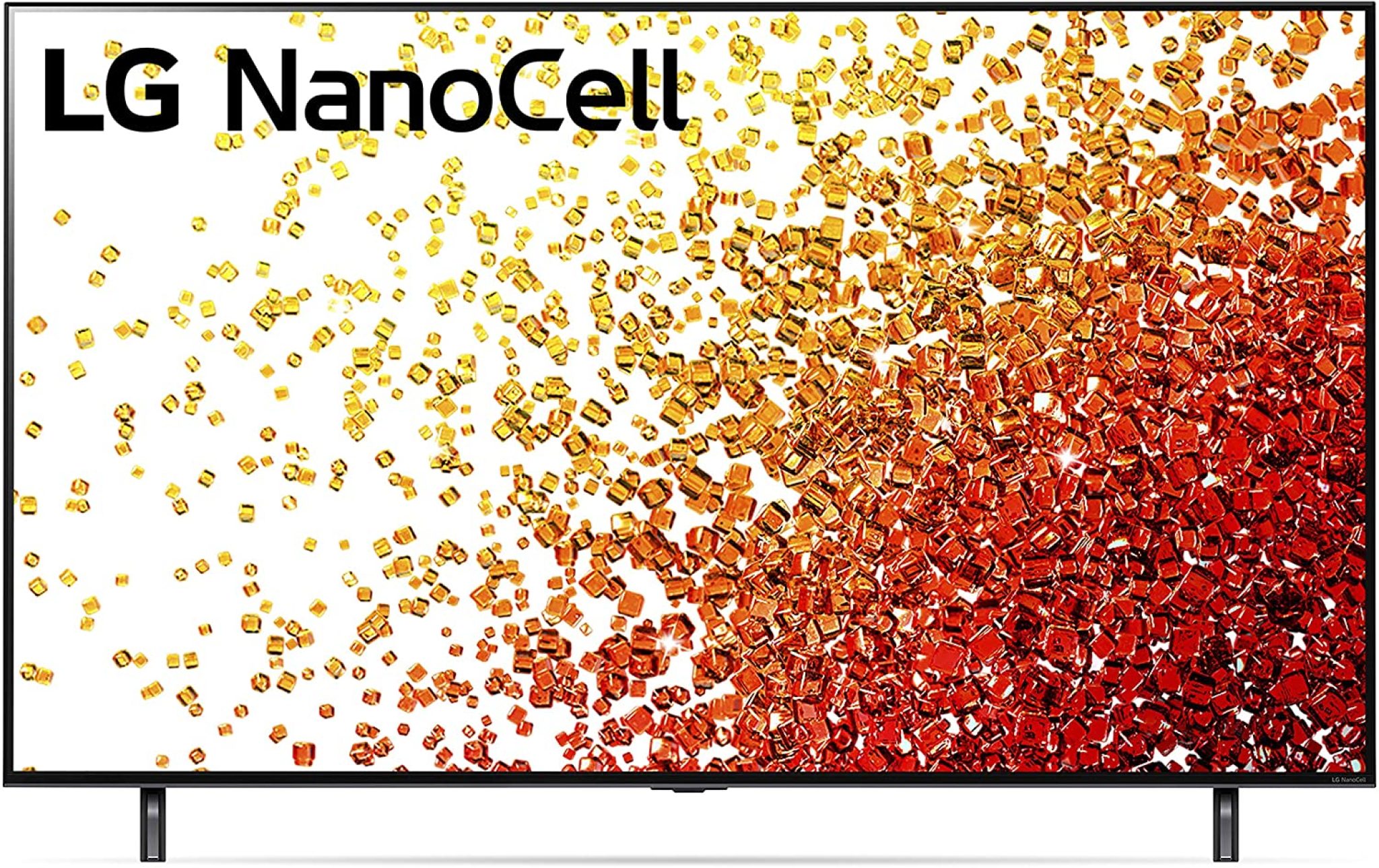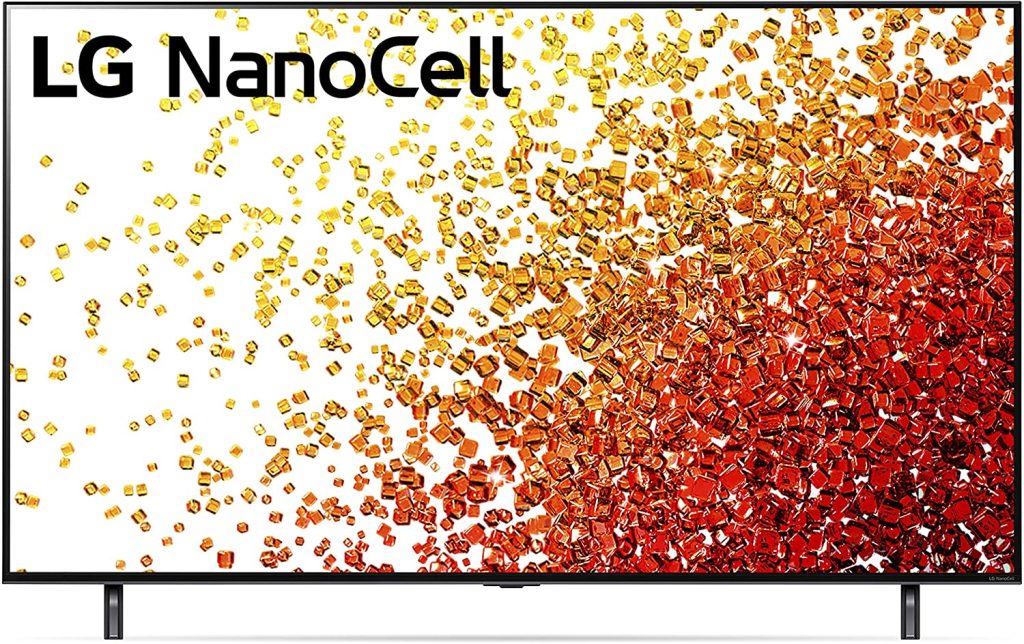 Overview
This sleek TV looks and feels expensive. The brushed steel stand is seductively curved, whilst remaining stable and secure, and the slimline bezels are almost invisible. This is a stylish, sleekly modern TV, and, along with the equally well designed remote, makes a great addition to a home.
What We Like
The picture quality is everything. We found the colors to be effervescently vibrant, with decent brightness and contrasts that rivals more expensive models. Looking for the ultimate TV for watching movies? The LG delivers on all fronts, from cinema quality Dolby Atmos to full support for HD streaming in Dolby Vision, HDR10 and HLG. Even if those acronyms mean little to you, trust us, it produces an excitingly lifelike image quality.
It's easy to set up in minutes, saving you time and headaches, feels sturdy on the stand and comes with safety features. If you have small children running around your house, your little ones are well-protected from any risk of harm. To make the most of your LG, you'll want to navigate to picture mode settings and configure it to a more cinematic feel. If you're more knowledgeable, you'll enjoy being able to customize your resolution.
We especially appreciated the anti-glare screen. This guarantees great picture quality, even in rooms flooded by natural light. Make no mistake, with this TV, you'll have the latest in screen technology!
That's not all. We were impressed that LG has integrated Google Assistant into the unit, giving you complete control using voice recognition technology.
What Needs Improving
Those real video aficionados, who love a full HD cinema experience, will find that as the screen goes dark it gives off an almost imperceptible grayish bloom – only one team member noticed it, the rest of us couldn't spot it at all.
The Final Verdict
We've been looking forward to reviewing the brand new LG, and it doesn't disappoint. With the ability to play streaming services and channels at superb quality, it's great value, and offers an incredibly immersive cinematic experience
---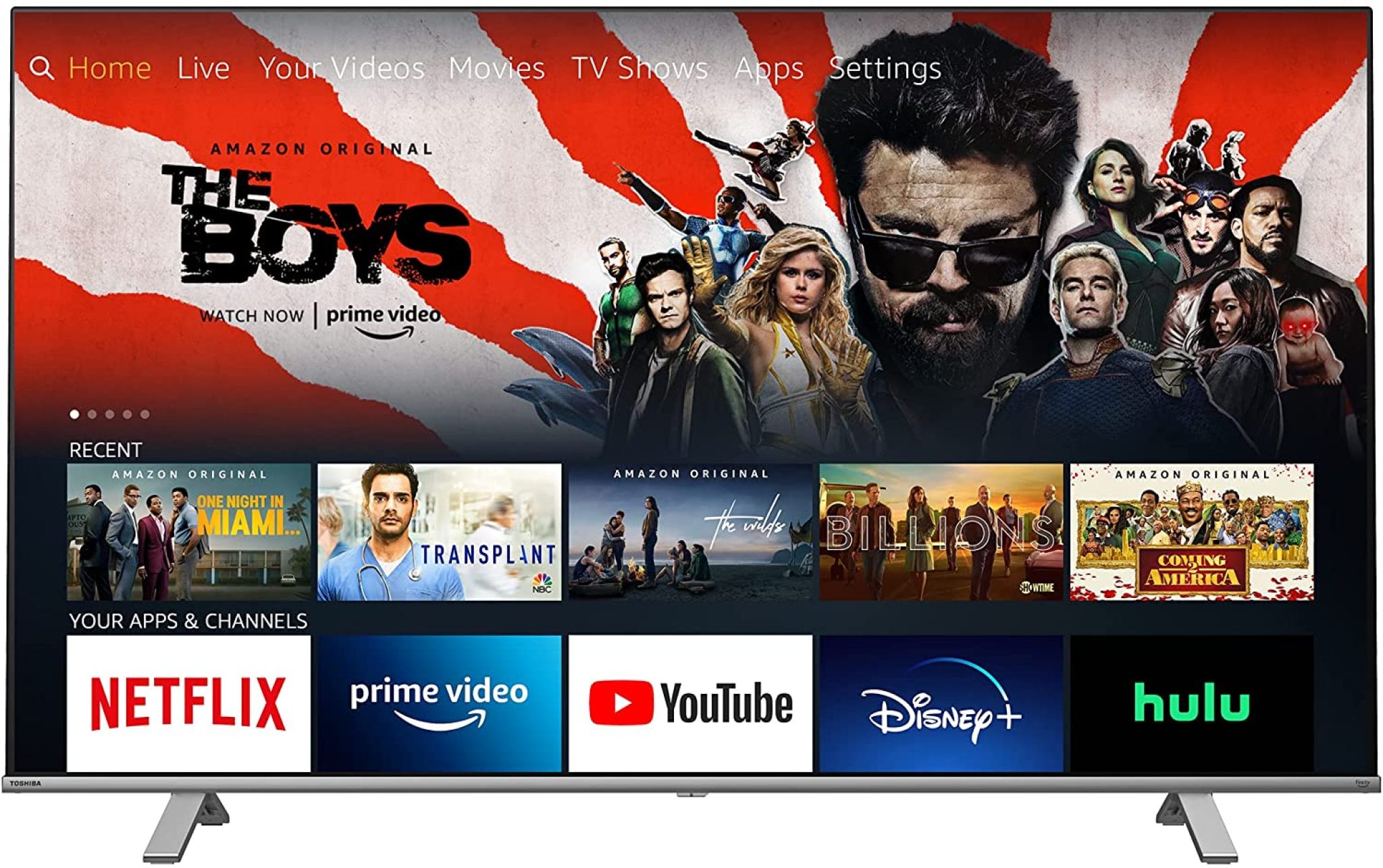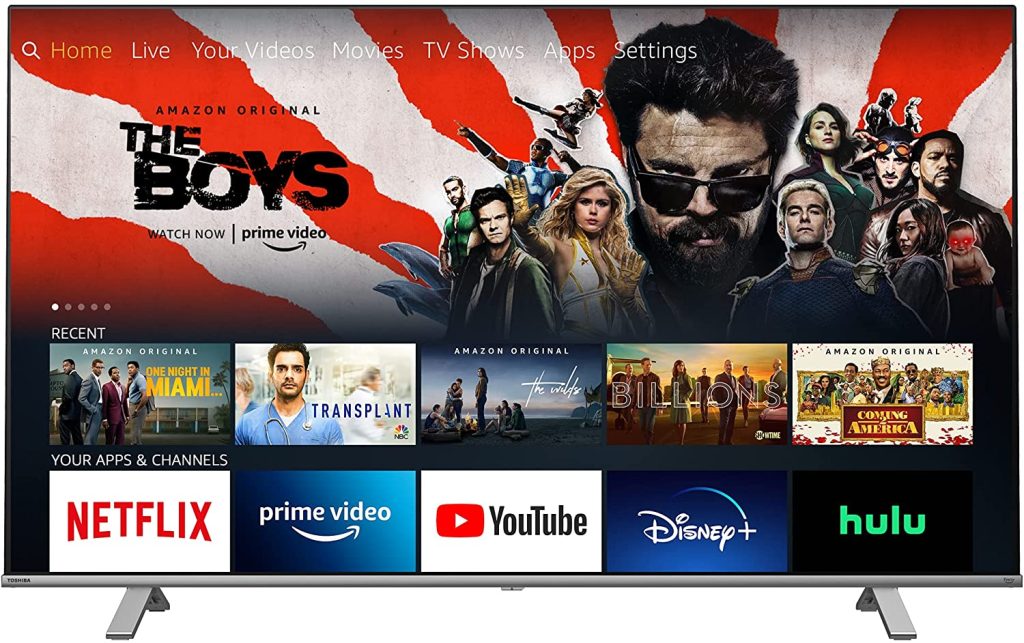 Overview
Dreaming of having a home cinema that delivers an unreal viewing experience? The Toshiba 4K TV will get you there. This is a beautiful model so thin that it sits, without effort, in your space or mounted on your wall. The majority of the outputs are at the back or the side for ease of access.
What We Like
Speaking of the screen…the caliber of color resolution and brightness are so good that you won't find it in many other models. State-of-the-art 4K HDR and the TRILUMINOS display combine to make this possible.
TRILUMINOS (fun to say, isn't it?) claims to offer more color variety and depth than any other brand out there – we found it very impressive. Finally, the Motion Technology ensures that your picture is always crisp. Those intense action scenes won't skip a beat.
Finally, as with the Samsung and LG, the Toshiba comes with Alexa and Google Home compatibility for a total hands-free experience.
What Needs Improving
If we were to place one criticism? If you turn up your volume to the max, the audio can get a little distorted. That's nitpicking, though.
The Final Verdict
This TV is the Rolls Royce of 4K TVs. If you're feeling indulgent, it's a real statement piece. Have a blast watching home TV at its absolute pinnacle. And hey, make the neighbors a little jealous while you're at it.
---
Overview
The Sony 4K Ultra HD Smart LED has firmly earned its place in our Top 5. Boasting stunning screen quality with a dynamic range of colors, and all the modern comforts including Netflix and GooglePlay, this 4K TV is a solid choice for anyone looking for a 4K TV for their home.
What We Like
As we expected, this unit comes packed with all the cool features you want in your smart TV. The smart remote includes a Netflix button so you can click right into your favorite shows. You can connect your TV with Spotify – perfect for a night chilling at home, or a fun house party.
The TRILUMINOS display provides impressively accurate colors. If you want a viewing experience as close to reality as possible, not exaggerated for effect, this is it. The use of MotionFlow XR960 technology adds a thrill to any fast-paced movies and video games.
What Needs Improving
We wish Sony had incorporated a bass-boosting speaker to complete the theatrical experience. But if you take 10 minutes out to do a little tweaking with the settings, you'll be fine.
The Final Verdict
Sony never disappoint, and this is no exception. Their offering to the 4K TV market is a worthy contender. By combining exquisite screen quality with a reasonable price tag, this is one not to miss.
---
FAQs
1.  Should I get a curved TV?
There are some benefits to getting a curved 4k TV. For example you can have a much more immersive viewing experience, and the TV won't reflect light even if it's located near a window. However, bear in mind that a curved model is likely to slightly restrict the amount of viewing angles.
2. Is 4k resolution the best on the market?
The answer is Yes! You may have heard that there are 8k TVs being developed and even already available for sale. But only a handful of shows are capable of being streamed in 8k, which means that your new 8k TV would be almost wasted in the current climate. In contrast there is plenty of new content coming in 4k, which is exceptional quality. So we say that for the foreseeable, stick to 4k.
3. Where can I buy a cheap 4k TV?
We source all of our 4k TVs from Amazon. Not only do we get competitive prices, but there are often special offers that make the tv's cheaper than in the stores. There's often free delivery and returns included, which makes this a hassle free way to shop. The cheapest 4k TV deals we've found have been up to half the normal retail price. Click on the links in our review to access these low prices.
4. Where can I find out more about 4k TV technology?
If you're a bit of a nerd (we sure are!), and are interested in how the 4k screen technology works, you can read some facts about 4k TVs.
---
What else is trending now?