Perfectly Sized TVs for Lounges, Bedrooms and Kitchens

Televisions are amazing devices that take us away from our existing world and into other exciting environments in a very realistic manner. They come in a wide range of sizes to cater for everyone, with multiple options for resolution, motion speed and much, much more.
As people want bigger and bigger televisions, the major players in this market have produced TVs of 50 inches and upwards. Fortunately the prices haven't risen in line with this increase in screen size, however, manufacturers wanting to keep ahead of the game, have vastly improved on quality. Generally, visuals and audios are better than they were a year ago, and with technology improving all the time, this is set to carry on rising.
An increasing number of TVs now come with smart technology built-in, allowing access to streaming services such as Netflix and the internet. Many have incredibly high screen resolutions like 4k TVs, voice controls, interactive features and the ability to sync to other smart devices in your home. So it makes sense to look for 50 inch smart TVs, instead of just considering the 'dumber' versions.
If you're not set on the size yet and want to keep exploring options, take a look at our best 40 inch TV reviews, 55 inch TV reviews and 65 inch TV reviews, and 70 inch TV reviews.
However, if you're looking to purchase a 50 inch smart TV for your home, here are our unbiased opinions on the market leaders.
Overview
This TV combines functionality with its easy to use features with stunning 4K Ultra HD clarity.
What We Like
It comes with the Roku platform installed which provides a vast library of content at your fingertips.
What Needs Improving
Our only criticism was, when turning it on you had to select the specific port/cable/box you want to use. It's not a big deal, just an extra step when turning on the TV.
The Final Verdict
For the price it's a very easy to use TV with stunning picture quality.
13 new from $359.99
1 used from $279.99

as of June 5, 2023 11:22 am
---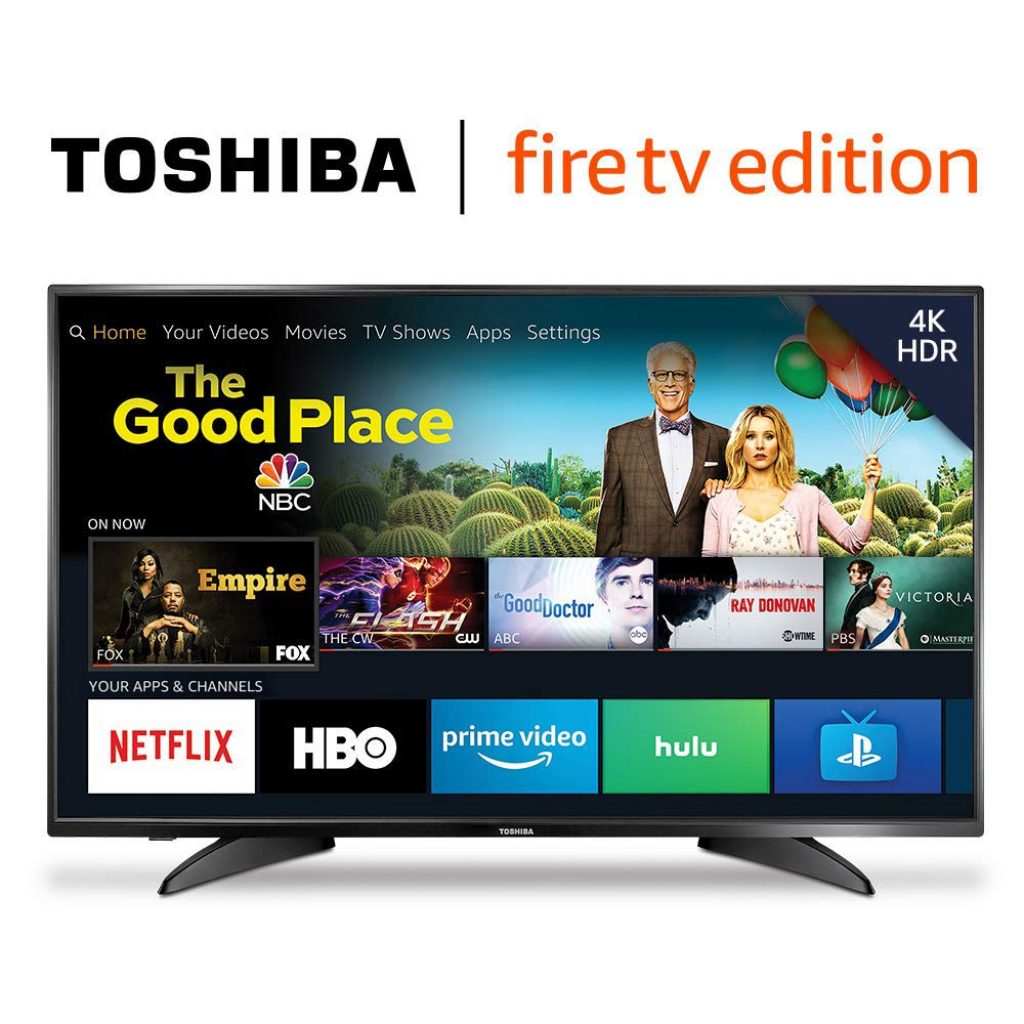 Overview
Welcome to the new generation of smart televisions. This is the Toshiba ultra HD smart TV, the 50-inch Fire edition. It's an intelligent device built by a tried and trusted brand, with a focus placed on its display and the user experience. Style-wise, the slimline appearance hides the fact that this is robustly built, and offers multiple input/output options.
What We Like
This model delivers crisp images with vivid colors, stunning clarity and a deep contrast that is so recognizably Toshiba. It comes with a remote control that enables wireless usage, but can also be easily controlled via voice thanks to its connectivity with Alexa. We had great fun sending her off to locate the most obscure of movie titles – happy to report, she's accurate and tireless.
Users of this smart television can experience the full immersive excitement of movies, games, and videos. The color and textural effects are impressively wide, with the blackest of blacks and the sharpest of images. Audio, too, is smooth and clear, with beautifully rich bass, and no jarring corners.
What Needs Improving
Initially, full connectivity took a few minutes, but once settled, it seemed good and stable.
The Final Verdict
The Toshiba Fire Edition smart TV with its spectacular features and excellent voice control modules is an exciting and innovative model to choose when searching for a great value 50-inch television.
---
Overview
Our next model is the TCL LED Roku smart TV, another great product with a good reputation to live up to. This is a nicely balanced TV, and a lot of thought has gone into producing an elegant screen. The ultra-fine bezels match the thin-legged, but deceptively stable stand, and the ability to hide any cables just adds to the supremely sleek appearance. So far, so good.
What We Like
This Roku smart TV from TCL introduces the latest in the design of 4k technology. It features all your favorite content, connecting you to over 500,000 movies and TV series in seconds. Connectivity is also adequately provided for, with this television offering multiple inputs including a USB port, three HDMI ports, Ethernet ports, and even headphone jacks.
The visuals are what you'd expect from TCL – clean, smooth scrolling, with great contrasts. The tonal quality and resolution benefit from the directly lit LEDs, while the superb audio offers an all-round experience.
With the aid of an innovative mobile app, we were able to transform our smartphone or tablet into a full-function Roku remote. This is a brilliant idea – take note, Toshiba, Sony et al.
What Needs Improving
Like other Roku models, there are adverts on the home screen, but they don't interfere with your viewing pleasure.
The Final Verdict
If you seek versatility and affordability, the TCL Roku TV set is a great model for you. With its awesome video quality and connection versatility, it's definitely a worthy investment for everyone and anyone.
14 new from $389.99
1 used from $439.99

as of June 5, 2023 4:18 pm
---
Many of us know the Samsung brand for their production of fantastic mobile devices, but they are equally renowned for designing high quality television sets. This 4K Smart LED TV retains its reputation for style. It's one of the thinnest models on the market, and if hung, lies completely flat to the wall. The multiple ports are tucked away neatly, and the cables can be hidden, invisible from the front or sides.
What We Like
The Samsung LED TV offers the perfect fine-tuning of a million color palette via their PurColor feature, making the visuals vibrant and crisp, with a smoothly fluid motion.  HDR10+ content allows the viewer to experience the full high dynamic range, and the richly descriptive audio creates a full bodied cinematic experience. We found losing ourselves in the movie, or gaming, world extremely easy.
What Needs Improving
The default home screen navigation is a little clunky, but it's easy to customize to your requirements.
The Final Verdict
If you're looking for a great 50 inch TV, this Samsung has it all. With stunning graphics, a rich and round audio adventure, and superior interactive features, we really rate this TV
---
5) Komodo by Sceptre Ultra Slim LED TV
Overview
Ultra slim LED TV with superb 4K picture and over 8 million pixels to give stunning HD quality.
What We Like
Comes with MEMC 120 (Motion Estimation and Motion Compensation) which gives smooth frame to frame picture quality, ideal for sports, video games and movies.
What Needs Improving
Sound quality is not amazing, but for the price you could add a soundbar.
The Final Verdict
Super slim and breathtaking picture quality.
---
Before you go, take a peek at our other trending reviews: