40 Inch TVs – High Quality & Compact Screen Sizes For Extra Convenience
A 40 inch TV is ideal if you're living in a condo or simply want to use your space economically. These "medium" sized screens give you all of the same viewing pleasure as a larger screen size, without taking up precious space in your home. They're also perfect for the bedroom, allowing you to lie back and watch your favorite shows in comfort.
The good news? A smaller screen size doesn't mean you'll have to compromise on the technical specifications. In fact, the models in our review offer outstanding OLED screen quality, or 4k quality, rich audio and a host of smart features. They're simply the best. They'll also blend into your rooms seamlessly – without detracting from the rest of your decor.
So with all that said, which 40 inch TVs made the grade?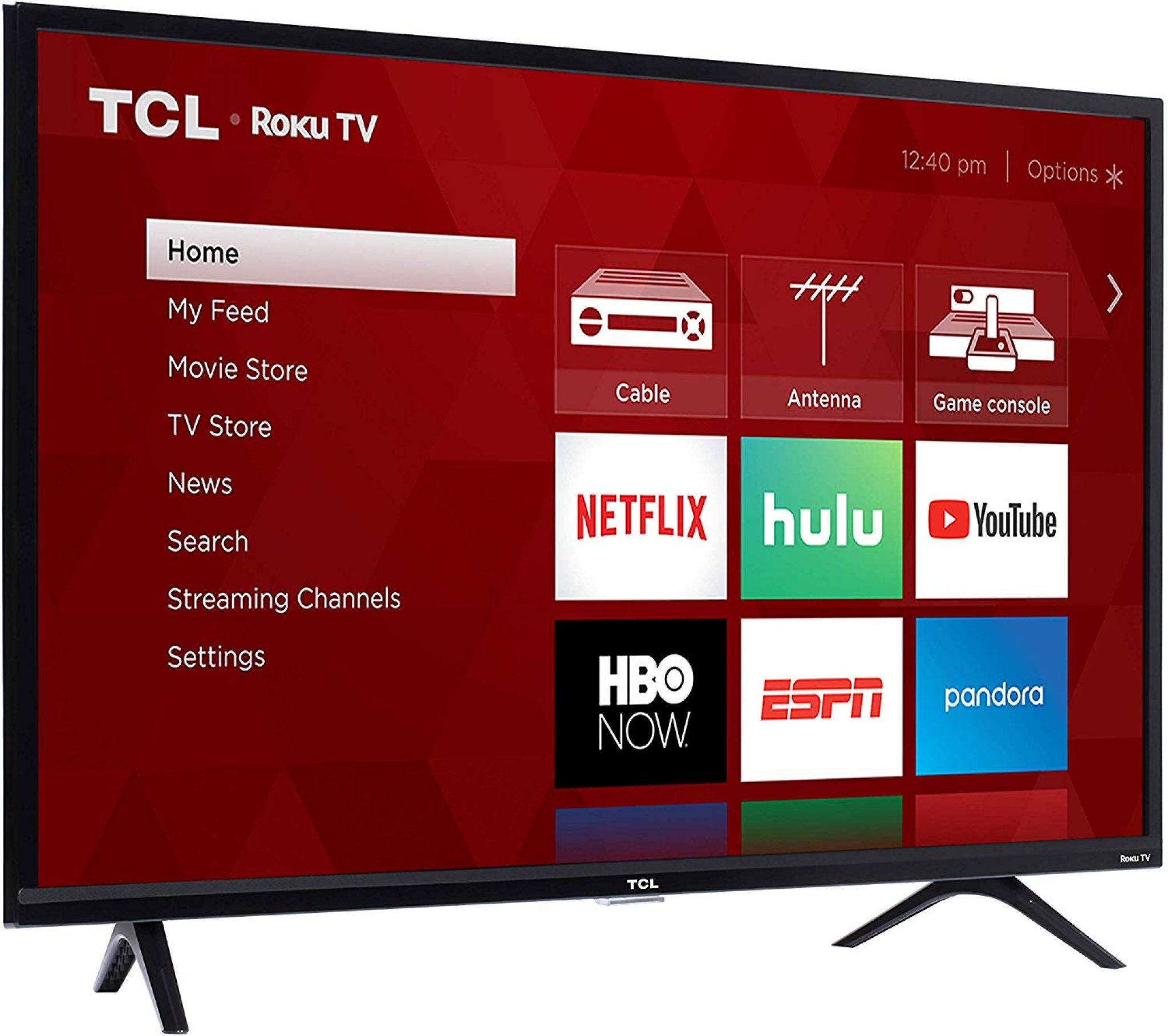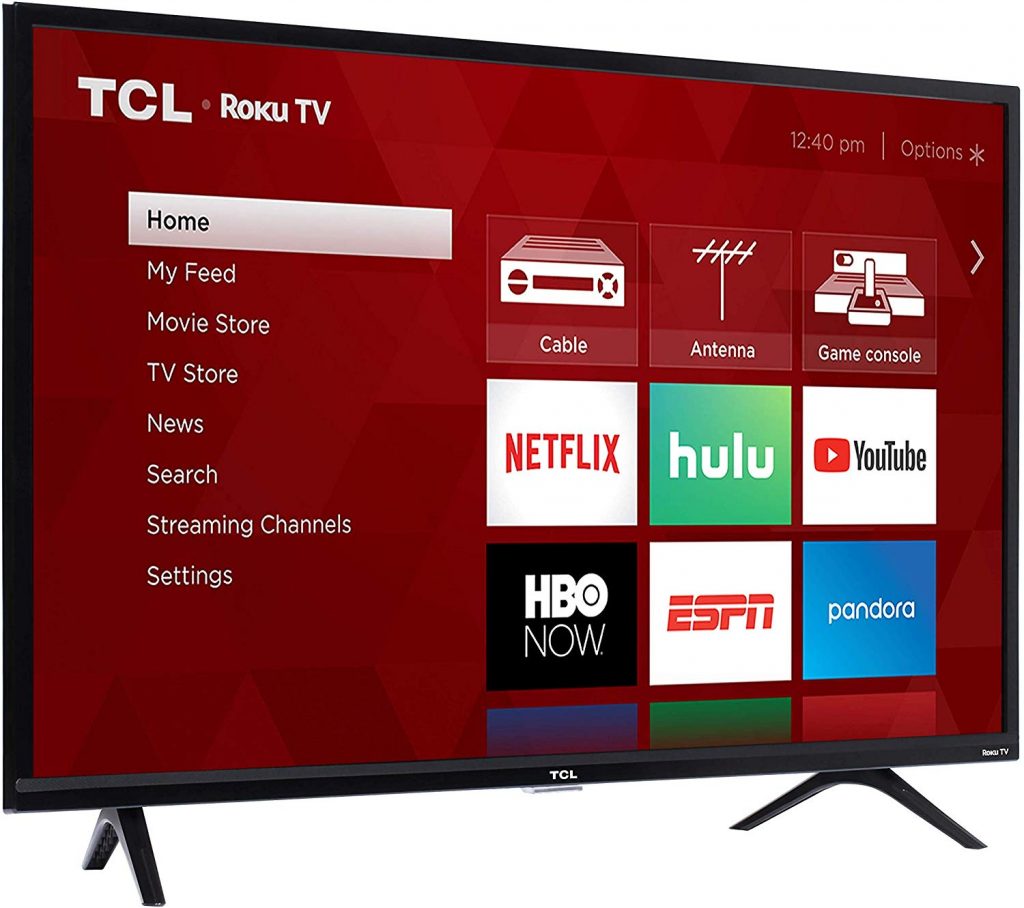 Overview
In the sea of smart TVs, the TCL 40-inch 1080p Smart LED Roku TV (40S325, 2019 Model, Black) emerges as a beacon of sophisticated, yet easy-to-use technology. This gadget isn't just a TV – it's an entertainment center at your fingertips. With its 1080p Full HD Resolution, it delivers stellar detail, color, and contrast. Its Roku TV platform, with access to over 500,000 movies and TV episodes, keeps you entertained at all times, while the easy voice control adds a touch of modern convenience.
What We Like
We absolutely love how the TCL Smart LED Roku TV offers Easy Voice Control, allowing it to work seamlessly with Amazon Alexa or Google Assistant. This feature lets you navigate your entertainment options without even lifting a finger. The picture quality is also second to none with the 1080p Full HD resolution ensuring every color pops, and every detail is captured. The 60Hz refresh rate means you can binge-watch your favorite action series with virtually no motion blur.
What Needs Improving
While this TV stands tall amongst its competitors, it's worth mentioning that Bluetooth connectivity isn't built-in. This would have made connecting to other devices, such as headphones, even more seamless. But don't worry, there's a workaround with the Roku mobile app that allows for private listening. Moreover, a direct Ethernet connection isn't available either, but that's easily solved with a strong Wi-Fi connection.
The Final Verdict
When you weigh all the features against the minor points that could be improved, the TCL 40-inch 1080p Smart LED Roku TV remains an impressive piece of technology that offers value far beyond its price point. On our scale, we confidently give this TV a 9 out of 10. Its blend of top-notch picture quality, intuitive interface, and voice control make it a worthy addition to any home.
3 new from $313.43

as of November 27, 2023 8:18 pm
---
Overview
The Hisense 40-Inch Class H4 Series LED Roku Smart TV is a high-performing blend of style, advanced features, and affordability. This smart television is a testament to Hisense's commitment to delivering user-focused products. Fitted with a rich 1080p display, a smart Roku TV platform, built-in Wi-Fi, and compatibility with Alexa, it caters to a variety of streaming, gaming, and cable needs.
What We Like
We were particularly impressed with the crisp 1080p picture quality and the in-built Roku platform that grants easy access to a universe of movies and shows. It handles motion-rate 120-image processing admirably, ensuring no lags in fast-paced sports or movies. The convenience of controlling the TV via iOS or Android devices or voice through Alexa or Google Assistant is a significant plus. And of course, the inclusive 1-year manufacturer's warranty adds a touch of assurance.
What Needs Improving
Despite its great features, there's room for improvement. The device lacks support for wireless display mode from a Windows 10 laptop, which could have provided seamless screen mirroring. This isn't a dealbreaker, but it's worth noting for tech enthusiasts who frequently use this feature.
The Final Verdict
Overall, we're impressed with this Hisense Smart TV. It offers great value for money by combining innovative features, aesthetic appeal, and an incredibly competitive price. The few minor hitches don't significantly affect its overall performance. So, for its exceptional performance, user-friendly interface, and smart capabilities, we award the Hisense 40-Inch Class H4 Series LED Roku Smart TV a well-deserved score of 9.1 out of 10.
10 new from $225.61
1 used from $149.99

as of November 27, 2023 8:18 pm
---

Overview
Venture into the world of vibrant, clear imagery with the Samsung Electronics UN40M5300A 40-Inch Class 1080P Smart LED HD TV. This technological marvel offers an expansive 40-inch screen, integrated with 1080P resolution which makes every movie night an immersive experience. Its smart features ensure all your favourite streaming services are right at your fingertips. Also, the addition of a Wi-Fi capability bridges the gap between your TV and the online world. The dimensions are practical, ensuring it fits perfectly in your space without overpowering your room. For those who want it all in their television, this Samsung beauty has got you covered!
What We Like
We're smitten by the Full HD 1080P resolution that brings every scene to life with twice the clarity of standard HD TV. The Fluid browsing experience is another highlight, allowing you to switch between apps, streaming content, and other media effortlessly. Not forgetting the options to directly plug in a network cable, bringing a whole new level of connectivity. Moreover, the mountable feature offers the flexibility to place your TV wherever you prefer. Lastly, the remote control is so intuitive, it could possibly be trained to fetch your slippers – well, not quite, but it's certainly smart!
What Needs Improving
Despite the charm of this smart LED TV, there is a tinny sound that resonates, which we think could be better. A little bit more bass could bring the audio quality on par with the impressive visual display. And for those who have more peripherals, an increase from two HDMI inputs would certainly add to the convenience. In addition, the length of the power cord could be longer, especially for those planning to mount the TV on the wall. Lastly, the navigation of some of the apps could be smoother. But hey, nobody's perfect, right?
The Final Verdict
Considering all the delightful features and minor shortcomings, we'd give the Samsung Electronics UN40M5300A 40-Inch Class 1080P Smart LED HD TV a solid 8.5 out of 10. A joy to use, offering a superb viewing experience that'll make you think twice about leaving your couch. So go on, and add a touch of style and technological elegance to your living room. After all, isn't it time your TV did more than just play your favourite shows?
---
Overview
The VIZIO D-Series 40" 1080p Class Smart TV – D40f-G9, 2018 is the epitome of entertainment at its finest. With a plethora of in-built streaming services such as Netflix and 100+ free channels, it ensures you never run out of things to watch. Boasting Full HD resolution, full-array LED backlighting, and effective refresh rate, this device takes image quality to a whole new level. And its connectivity? Wireless, folks. Wires are so 2017.
What We Like
We are smitten with the ease of access to multiple streaming apps and the abundance of free channels. Its outstanding picture quality, courtesy of Full HD resolution and LED backlighting, puts this TV in a league of its own. We must also highlight the wireless connectivity—no more tripping over cords during those bathroom breaks in nail-biting movie marathons!
What Needs Improving
The remote control may take some getting used to, but hey, we believe change is the essence of life. The TV's user interface could be a bit more intuitive. But then again, isn't a little adventure exciting? Remember the first time you tried to assemble IKEA furniture? Look at you now, an absolute pro!
The Final Verdict
So, drum roll please... We give the VIZIO D-Series 40" 1080p Class Smart TV - D40f-G9 a very hearty 9.3 out of 10. This smart TV not only brings top-notch picture quality but also adds a touch of elegance to your room. Say hello to endless entertainment with the VIZIO D-Series 40
5 new from $209.99
2 used from $159.99

as of November 27, 2023 8:18 pm
---
Overview
The Hisense 40-Inch 40H5500F Class H55 Series Android Smart TV cleverly marries the world of smart TVs with affordability, proving you don't have to shell out a fortune to enjoy high-quality streaming. With a host of innovative features such as a voice-enabled remote, an array of Internet services, and DTS studio sound, this TV is designed to become the heartbeat of your home's entertainment.
What We Like
We love the built-in voice-enabled Android platform, which allows you to control the TV, search for shows, or open apps, providing a seamless user experience. The full HD 1080p picture quality and motion rate 120-image processing ensure a fantastic visual treat, minimizing motion blur and enhancing your viewing experience. Additionally, the Bluetooth connectivity enables you to pair the TV with your soundbar, headphones, or stereo components, providing versatile options for audio enjoyment.
What Needs Improving
There's always room for improvements, and although this TV comes packed with fantastic features, HDMI 2.1 support could be a worthy addition to future models. Also, some users have reported a somewhat slow response time when navigating through configuration menus. A speedier, more intuitive interface would surely up the ante for this model.
The Final Verdict
Considering the performance, feature set, and price point, we give the Hisense 40-Inch 40H5500F Class H55 Series Android Smart TV a whopping 8.5/10. It's a compelling choice for smaller rooms or anyone looking for a reliable, smart, and cost-effective TV. So sit back, grab your voice remote, and let Hisense whisk you away into a world of top-notch entertainment!
3 new from $269.99
Free shipping
as of November 27, 2023 8:18 pm
---
We also recommend: