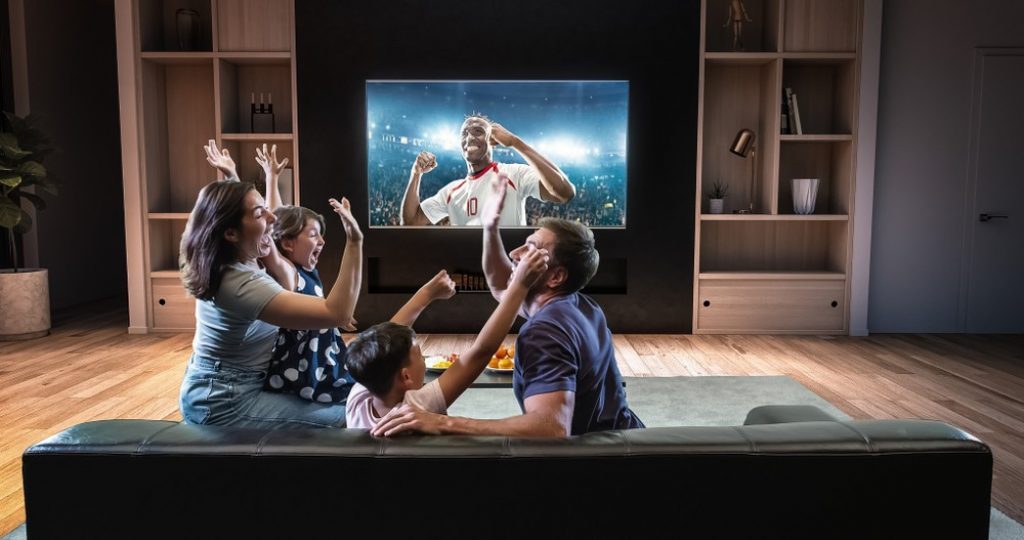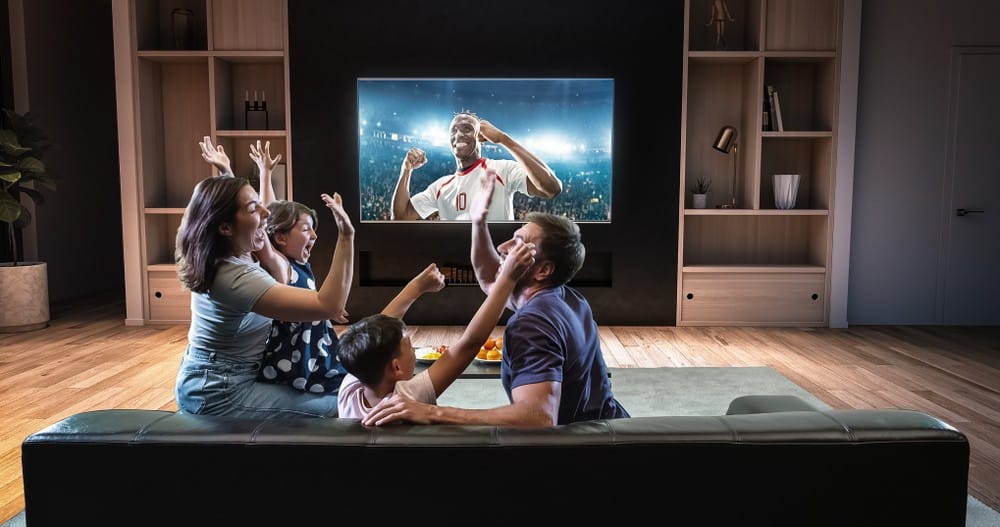 40 Inch TVs – High Quality & Compact Screen Sizes For Extra Convenience
A 40 inch TV is ideal if you're living in a condo or simply want to use your space economically. These "medium" sized screens give you all of the same viewing pleasure as a larger screen size, without taking up precious space in your home. They're also perfect for the bedroom, allowing you to lie back and watch your favorite shows in comfort.
The good news? A smaller screen size doesn't mean you'll have to compromise on the technical specifications. In fact, the models in our review offer outstanding OLED screen quality, or 4k quality, rich audio and a host of smart features. They're simply the best  They'll also blend into your rooms seamlessly – without taking too much attention away from the rest of your decor.
So with all that said, what is the best 40 inch TV? Which 40 inch TV's made the grade this year?
Overview
The TCL model has all of TCL's expertise concentrated into this neatly designed 40 inch smart TV. It's perfectly formed with slim bezels, and a well crafted V stand. This creates a beautifully stable and very stylish TV that can only add to a modern interior.
What We Like
TCL's 1080p resolution provides a clear and crisp display. Coupled with smooth motion scrolling, great tonal contrasts, and realistic textural effects, size obviously doesn't matter! With the audio, too, this 40 inch TV packs a punch. The bass resonates nicely, while the top notes flow smoothly, creating an all round treat for eyes and ears. We really like the intuitive interface – it's simple to navigate and not overly busy.
What Needs Improving
Whilst not a problem, the consumer code could only be activated via phone and not online.
The Final Verdict
TCL have designed yet another great smart TV. Stunning visuals, impressive audios - this is a no brainer to recommend.
---
This Samsung smart TV is ultra slim, super stylish and, despite being incredibly lightweight, is very sturdy on the V legged stand. Featuring hidden multi port access, and cable tidy clip, this flat screen would look great placed on a wall, or left free standing.
What We Like
Samsung's PurColor adds a stunningly deep dimension to the visual output. Colors are vibrant, textures detailed and the blacks, rich and dark. Motion Rate 120 provides image smoothing, allowing even the fastest chase scenes to be captured and displayed in crisp clarity. The full bodied audio system brings the complete cinematic experience into your home.
The smart features, interactive interface and WiFi connectivity are impressively robust, and with Samsung's unique universal streaming guide eliminating the need to search, we really like this 40 inch smart TV.
What Needs Improving
The remote control is a little busy for our tastes, however, it does what we want and once you get used to it, the extra buttons aren't an issue.
The Final Verdict
This 40 inch smart TV has great visuals, all-round audio, and some impressive smart features. This is certainly a TV to seriously consider.
---
Yes, we know we don't usually review two products from the same manufacturer, but this Samsung smart TV has definitely earned its stripes. The beautifully curved stand supports the screen admirably, and echoes the nicely slimline bezels. Sturdy and well made, this model will suit any modern interior, be it bedroom, office or apartment.
What We Like
With enriched colors, and realistic tonal qualities this Samsung TV delivers superbly on visuals. The audio utilizes the excellence that is DTS Premium Sound, which provides a rich clarity within an all round 3D experience. The sound and vision adventure aside, we love Samsung's Eco Sensor. This energy saving technology adapts the screen brightness to the intensity of light within the room, thus saving energy, without losing any image quality.
The Smart Hub allows sharing, streaming and downloading music, movies, games and videos, along with internet connectivity.
What Needs Improving
The home screen includes the usual smart TV adverts, which while annoying, isn't a deal breaker.
The Final Verdict
Samsung have done it again - a smart 40 inch TV with impressive visuals, full on sound, and internet features that belie its size. Definitely one for the gift list!
---
Overview
The Vizio M-Series of 40-inch television present potential buyers with television models with a difference. Products belonging to a leading manufacturer in the world of smart TV'S, the Vizio D-series television is an a model that features smart functionality together with its magnificent visual and audio displays.
What We Like
This television features a USB port and two HDMI cable ports for extreme connectivity; an LED backlight that delivers a full array of light from five active LED zones. It also features a 120Hz refresh rate which makes this product one of the most effective on the market and our list.
What Needs Improving
The lack of buttons on this unit makes its operations complicated and confusing. Also, some users admit that the M-series television from Samsung experiences some bug attack from time to time and as such, it has to be unplugged and plugged to bring back its operations.
The Final Verdict
Vizio has created for us the answer to all our visual and audio display issues by creating the D-series of televisions. Every programmed function has been included to ensure that users can thoroughly enjoy some of their favorite things effortlessly in the comfort of their homes.
---
Sansui TV is an LED product which is flat by design and durable by construction. It is a product that comes in various sizes to cater to your ever growing family as and when it becomes necessary. The 40-inch unit is one spectacular model with a terrific resolution for clear and crisp photos.
What We Like
Besides its 60 Hz refresh rate which is magnificent for a 40-inch unit, this television from Sansui offers users connectivity through USB, HDMI, pc, audio in and many more to make wireless usage very easy.
What Needs Improving
The lack of IPS panels makes this unit very difficult and unpleasant to use. An improvement of this feature or lack thereof will significantly increase the productivity of the television and resultantly encourage more sales around the world.
The Final Verdict
The picture quality of the Sansui television is clean, crisp and accurate of the Sansui brand. This product offers a high resolution to bring you a more vibrant and colorful life.
---
We also recommend: