Size isn't everything, except when it is!
A TV quickly becomes the focus of whatever room it's in, and this is especially so with the bigger screens that manufacturers are producing. A 55 inch screen enables everyone to gain from the viewing experience, even from a room's length away, and most have wide-angle technology, so even if you are seated to the side, the screen image isn't distorted.
With fashionable slimline bezels, screens seem even larger and more impressive. Movies and games become fully immersive, which, let's face it, is what we're after. That bit of escapism to make life more exciting, getting away from the office, family or life in general.
Most manufacturers are designing 55 inch smart TVs, and as the world is becoming smarter, it makes sense to buy into the smart hub technology sooner rather than later. Having access to the internet, movie streaming, games and videos, and the ability to sync with your other smart devices makes life easier all round.
So, we're going for the full immersion experience while testing out the best selling 55 inch smart TV screens. Want to go up a size? Take a look at our hottest 65 inch TVs or get inspired with our pick of the top TVs of the year.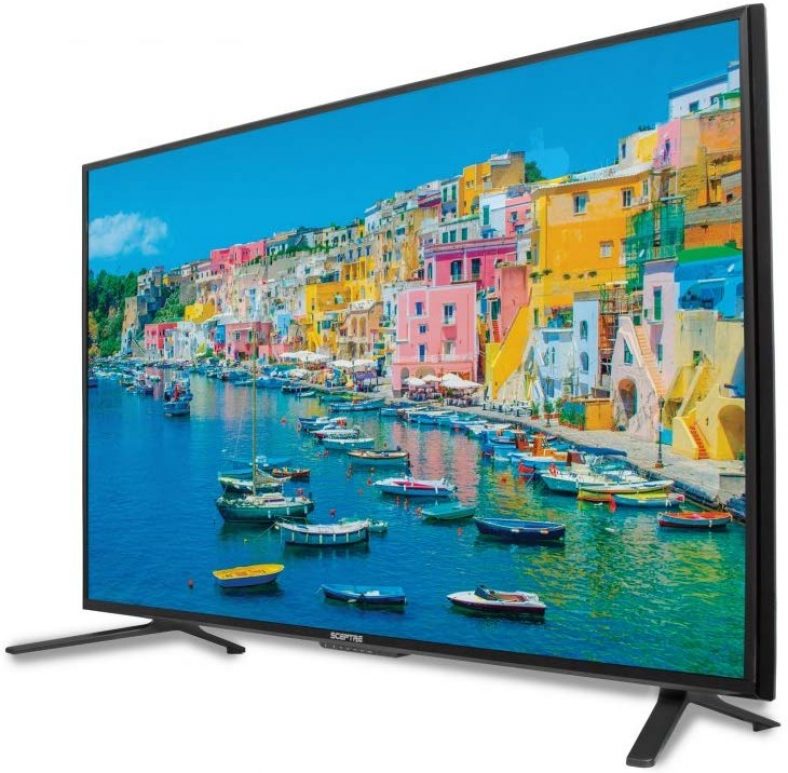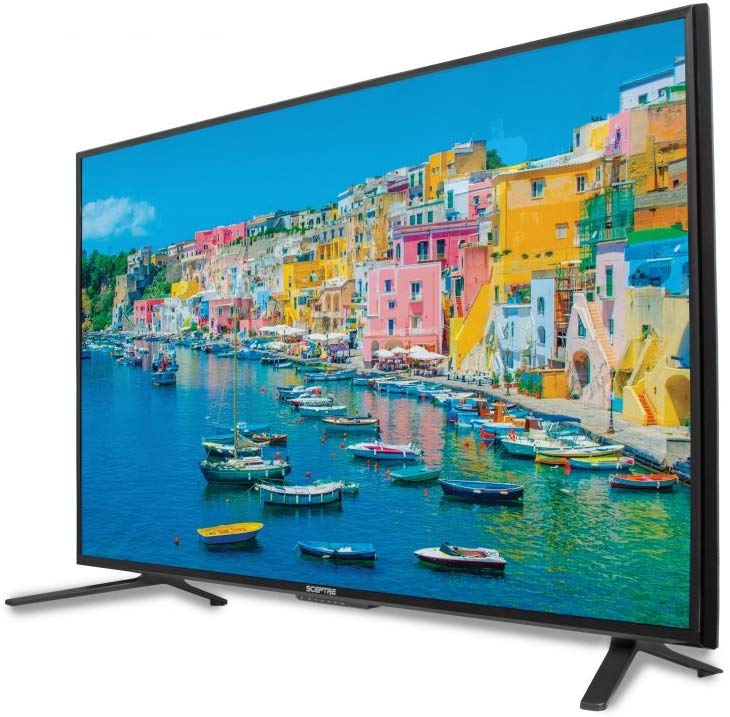 Overview
Sceptre's ultra high definition TV screen is illuminated by 8 million pixels – making this smart 55 inch TV one of our all-time favorites. Sleek and modern, this well made TV has a reliably stable V stand, comes with an uncomplicated remote control, and cable hooks to keep the whole unit neat and tidy.
What We Like
The superb screen quality of this Spectre rivals the best known manufacturers. With superb resolution, color contrast and textural effects, and 5 HDMI/USB ports this is a smart TV to be reckoned with. The audio is full bodied and rounded, with no tinny sounding twangs, and a deep resonating bass. Streaming movies is simple with the interactive interface, and multi player games take on a whole new edginess with clear, clean on-screen graphics.
What Needs Improving
Bluetooth would make an already great smart TV, even better.
The Final Verdict
If you want an awesome smart TV for a really good price, this has it all. The audio and image quality make this an impressive package.
---
Overview
As usual with Samsung, the overall design is stylish and slick. With a slimline bezel, and thin frame, this will hang nicely on your wall, although the stand is neat and sturdy, matching the brushed steel, slickly designed frame. The cables are carefully hidden within the stand, but Samsung have thought of everything – if you decide to hang it, the cables fold away equally well into the casing. With a multitude of ports, including 4 HDMI connections and an audio jack, this is looking good, so far.
What We Like
This Samsung TV has local and supreme UHD dimming, which means screens with dark content will be hugely enhanced thanks the Q 4K triple blackness. The ability to share TV and mobile screens allows for infinite user experiences. With vivid colors and an array of features, it's no wonder this TV is so popular.
What Needs Improving
Our only issue here is that the anti-glare feature could be a bit better; however, this doesn't detract from the all round viewing experience.
The Final Verdict
Samsung have done it again - amazing picture quality, awesome features, and a performance that's easy to recommend over and over again.
2 new from $897.95
1 used from $867.95

as of November 27, 2023 6:14 pm
---
Overview
Whilst this TV from Insignia hasn't got the ultra sleek style of the others, it is very well made, and the unusual perpendicular stand supports the screen nicely. The brushed steel appearance, amount of useful ports, and the ability to be hung on the wall, is just a few of the reasons why the Insignia has earned its place on the best seller list.
What We Like
The color accuracy and native contrast is excellent. Clear, vivid light colors contrast with deep, rich dark tones making the visual vibrancy very impressive. It also handles reflections well with the aid of the semi-gloss finish that defuses the glare, diminishing its intensity. The audio is great, with music, effects and voices coming across clearly, with no annoying 'twang', while the bass was round and full bodied – just what we wanted.
What Needs Improving
Whilst the sound quality is good, the volume could go higher. We added a soundbar which resolved that issue.
The Final Verdict
If you're looking for a competitively priced 50 inch smart TV, that's Fire and Alexa enabled, and performs excellently, the Insignia is exactly what you need.
---
Sometimes, we don't even know the full extent of the performances our smart TVs have. Check out these super cool 7 things you didn't know your TV could do to find out how to make the best out of your device!
---
What else is trending at The Gadget Nerds?