We Put the Most Popular TVs Through Their Paces – Best TV Deals!

TV's are the cornerstone of many of our homes yet there are so many questions that go into buying them. HD or 4HDR? Samsung, LG, Toshiba or a lesser known brand? Does size affect screen resolution? What are the features that we can't live without? And finally, how do we know that we're definitely getting the best value for money?
If you already have a screen size in mind then go straight to our top reviews for the best TV deals for:
The Top 5 TVs of the year, as chosen by our panel of experts are:
Overview
This super intelligent, powerful, state of the art 4K OLED TV by LG almost takes our breath away. With an unparalleled a9 processor, 4K Cinema HDR, tone-mapping, and self-illuminating pixels, this is impeccably crafted for the ultimate streaming experience. The ultra thin design makes the screen easy to mount, allowing it to blend seamlessly into its surroundings. It doesn't get much better than this.
What We Like
This LG TV has all the features of the most 4K TVs, but adds a little something special into the mix. From the sheer depth of the images flashing across the screen, to the immaculate attention to detail, you can watch your favorite sports or a fast-paced Hollywood film and not miss a beat. This huge screen is fitted in a minimalistically designed surround that make this a stunning, and non-imposing, statement piece in your home. The addition of Alexa's artificial intelligence make this not only an incredible TV, but possibly the smartest on the market.
What Needs Improving
To get the most out of your flagship LG 4K OLED, you'll need to spend some time studying the instructions. It's worth it, though, as the reward is the perfect home cinema experience.
The Final Verdict
LG's stunning, Alexa enabled, ultra intelligent smart OLED TV offers superior image and sound quality and is our definite winner. If you're looking for the best TV of the year, this is yours for the taking.
---
Overview
Toshiba, owned by Hisense since 2015, is a well respected brand, and with this TV they continue to earn our respect. It's constructed nicely, stands firm on its base, and looks great in any room. It has an impressive number of ports which should be enough to keep everyone happy.
What We Like
Amazon's Fire TV OS has an easy-to-navigate home screen which we found pleasantly responsive, and very user friendly.
The picture quality is superb. The use of LED backlighting allows an excellent range of midtones, plenty of subtle detail in shadowy and dimly lit scenes, and gorgeously crisp edges. The audio, too, is rich and full, with no distortion or tinny distractions from the aural experience. The TV features Alexa which is a great addition, allowing you take care of all of your requirements, and run your smart home, with no effort or hassle.
What Needs Improving
As with most Amazon TVs, there are some distracting adverts on the home screen, but this isn't a deal breaker for us.
The Final Verdict
If you want a great smart TV for a decent price, this has it all. The audio, image quality and the awesome Alexa make this an impressive package.
---
Overview
Vizio have created a very smart looking LED TV that easily lives up to their reputation for reliability, style and affordability. With rear situated ports, including COAXIAL, HDMI, and USB, this flat screen would suit anyone who wants great picture and audio quality, all wrapped up in a neat budget friendly bundle.
What We Like
We like the flexibility that this Vizio offers. It's refreshingly uncomplicated, however, and the image quality is impressive. Clear contrasts, realistic colors, and tonal qualities, coupled with lovely rich blacks add up to make the viewing experience nicely immersive. The audio is clean and crisp, from deep bass rumbles to high pitched sirens – it's a good package.
What Needs Improving
The remote receiver light can be a little bright at night, but a tiny piece of tape took care of that nicely.
The Final Verdict
Vizio have created an excellent smart TV that fulfills anyone's TV requirements and at a very friendly price. This is definitely one to consider
3 new from $158.96

as of September 30, 2023 12:22 am
---
Overview
This has a nice minimalistic appearance that would look great in any room. Surprisingly lightweight and sturdy, the slimline TCL only widens a fraction at the base to accommodate the inputs, power supply and so on. The set up is uncomplicated and connectivity is rapid.
What We Like
The TCL's image quality is excellent. Deep black levels, impressive brightness, rich contrasts and accurate color make the viewing experience very smooth and seamless. The audio is sharp and clear, too, with no harshness to spoil things.
We really love the inbuilt Roku streaming – there's a near-infinite amount of movies, and channels available via a very intuitive interface, which kept us occupied for ever.
What Needs Improving
As with many TVs, the tiny light that comes on when the TV is switched off can be intrusive at night, however, a small piece of tape always sorts this, easily and simply.
The Final Verdict
If you want a great TV for a decent price, this has it all. The audio, image quality and Roku streaming all add up to a great package
6 new from $162.99
1 used from $97.94

as of September 30, 2023 4:35 pm
---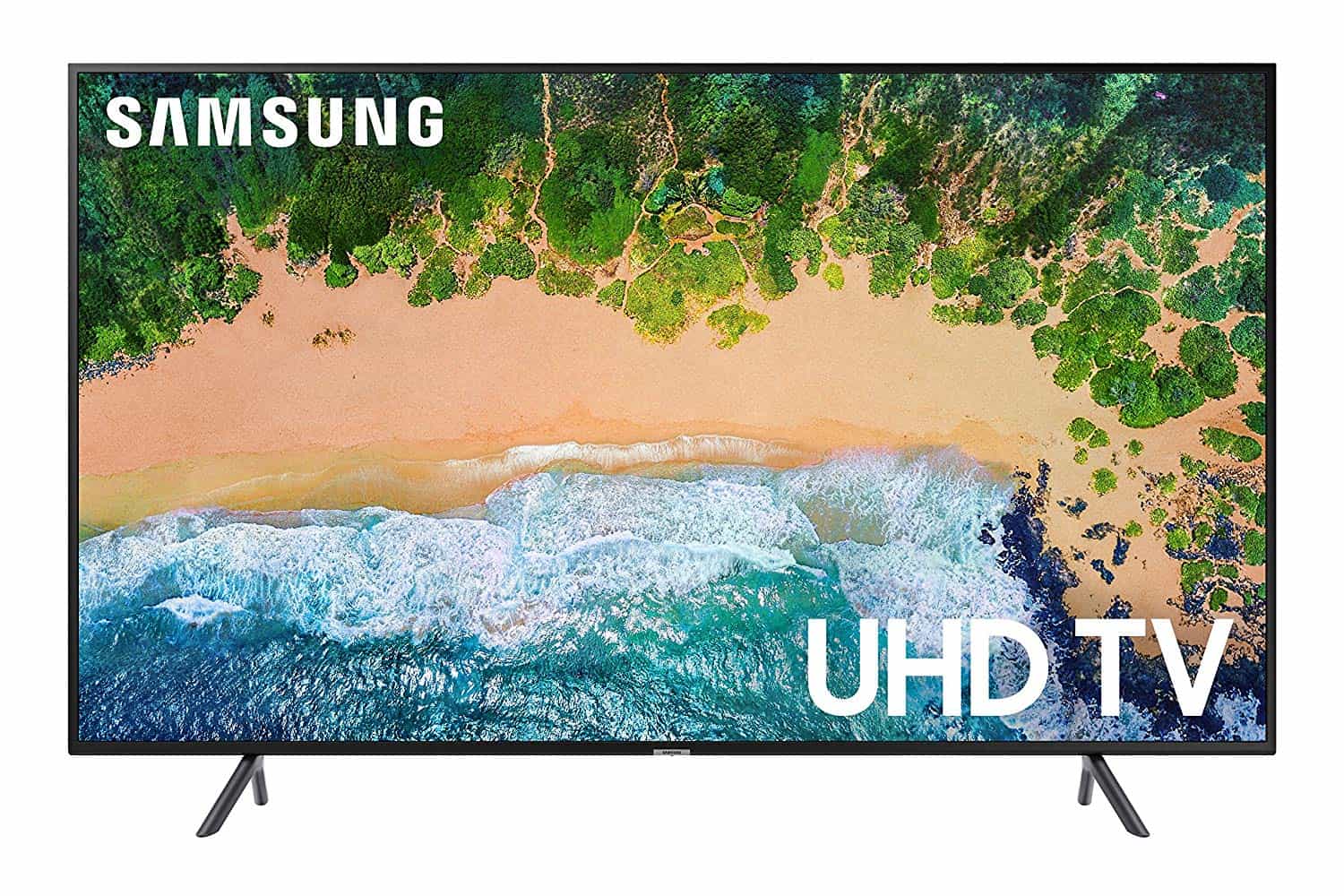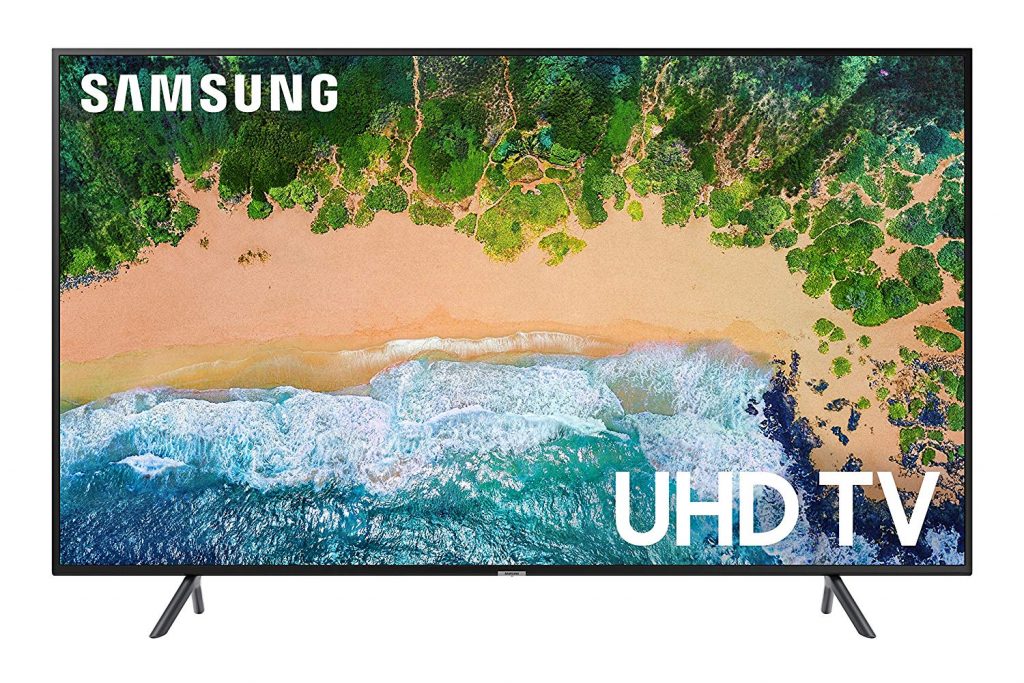 Overview
Samsung, with their usual good taste, have designed a TV that's ultra-minimalist, elegant and so very stylish. The bezels are almost non-existent, the stand is sturdy and stable, whilst appearing slick and lightweight, making, with cables hidden away,  a very neat set-up.
What We Like
Samsung have provided a large range of customization options when it comes to image quality, but even the default settings show how great the resolution, clarity and depth are. Excellent contrasts, very responsive motion smoothing and PurColor adding a whole new spectrum, the viewing experience is fantastically rounded. The 40 watt speakers complete the package superbly.
This Samsung smart TV has an inbuilt feature to connect with other smart devices, which we made full use of!
What Needs Improving
It's not a deal breaker, but the user interface does have some adverts around the edge of the screen.
The Final Verdict
Samsung have designed a beautifully elegant TV that comes with loads of very efficient and useful features. Happy to recommend this Samsung.
---
Finally, if you, like us, love to spend a lot of time kicking back and relaxing on your couch watching your favorite TV shows and gorging yourself on snacks or dinner after a long day, you will likely benefit from the information on how to clean your couch thoroughly – thank us later.
Did You Know?
TV screens have now gone over the 100 inch limit. The largest TV is the curved screen 105 inch TV by Samsung. Find out more amazing facts about TV!
---
See what else is trending right now: