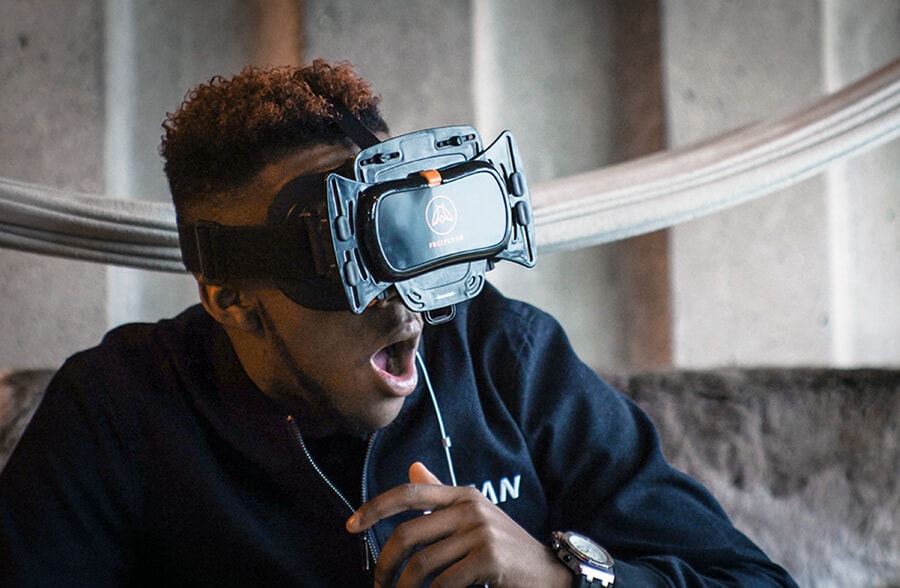 Our last update to this page was
Stop the world . . . we want to get on. We check out the best selling VR Headsets!

Okay, so you want a VR headset?

The biggest decision for you will be picking between the three general classes of VR headset. Do you want to just get your feet wet with something simple? Are you hanging on for the best possible full immersive experience? Or are you somewhere in between?

Price is a huge factor too, and with VR technology you really do get what you pay for.

So mobile, standalone or PC? This refers to how they are powered – smartphone, self-contained, or PC.

The mobile VR headset tends to be the more budget versions that have a lesser immersion and interaction level and are more suited to beginners.

The second option is a standalone headset; these are fairly new to the market, and are more expensive, but have improved graphics, and interaction that the mobile VR option, so suit most people.

Finally, there is the PC powered headset – some of which will blow your tiny human mind! However, in order to lose yourself in a world of virtual…..well….anything you wish for, you'll be paying a premium for the headset and will need a top of the range PC too.

So, you need to hang on to your job in order to pay for these amazing experiences, but you can't leave your virtual wonderland to return to the mundane world of work, can you? Oh, the eternal struggle!

But it doesn't stop there.

Cables and controllers. Most of the high-end PC headsets require cables, but you do get used to them and the slight restrictions they pose. Your controller is your gateway into the vast VR realms and needs to be as comfortable and ergonomic as possible, with every button easily accessible.

Let's go adventuring with the Top VR Headsets available in September, 2018:
Overview
This headset looks well made and solid; it is fully adjustable and even comfortable if you wear glasses. Looking good so far.
What We Like

Destek have made a really accessible headset, at a great price – easy to set up, with an interface that is accurate, user friendly and simple to navigate. We really like this one.
What Needs Improving

The only flaw we have found is after wearing the set for several hours, it can become a little uncomfortable over the bridge of the nose – but maybe that's a useful reminder to return to earth!
The Final Verdict
For the price, this is a brilliant VR headset, and we are happy to recommend this - whilst buying several as gifts for friends!
√ 103°VR View - Stand on the summit of Mount Lyell and overlook the surrounding mountains covered by snow; imagine the wind blowing across your face... Our 103 degree field of view makes you feel like an actual climber, not as a mere watcher or viewer. It balances immersion and clarity of view while providing you the most excellent VR view to watch 360 degree video.★★NOTE:★★the remote control of V4 combo can't support Daydream Apps.
Free shipping
Last update was in: August 29, 2018 2:21 pm
---
Overview
The Samsung design team have created another brilliant piece of technology here – sleek, black and incognito, perfect for leaving this planet and journeying to other realms.
It seems well made, feels comfortable and has that Samsung egotistical smugness of a job well done!
What We Like

This is a really cool headset!
Watching movies through it is an experience and a half, plus it's lightweight and comfortable enough that you can forget you're wearing it.
What Needs Improving

We did find that the lens fogged up quite often, and even wiping it with non-fogging cloths didn't prevent this happening – a bit annoying to be honest.
The Final Verdict
This is a great headset at a good price from one of the biggest players in the industry. Grab it before everyone else does.
Be transported to amazing new worlds, in games, video and images
Use the intuitive controller that comes in the box to drop, point, select and Drag with a Wave of your wrist
Hundreds of games and experiences from Oculus. Sensor Type : Accelerometer, Gyro Sensor, Proximity Sensor
23 used from $57.96

Free shipping
Last update was in: August 29, 2018 2:22 pm
---
Overview
WOW. We had the great pleasure of reviewing this cutting edge VR headset from HTC VIVE and safe to say, it blew our minds.
Not only is this headset exceptionally crafted, the imagery is so vivid that you can lose yourself in another world.
What We Like
The image quality is second to none and the sound amazing. The controllers t allow a grip like steel without leaving a palm mark, and can be used as a handy impact weapon. This VR headset has by far the highest technical ability out of all the models we tested.
What Needs Improving

The price! Paying this much for essentially a long, vividly coloured trip through the multiverse, hurts bad. But we're telling you. If you can stretch that bit further, you won't be disappointed.
The Final Verdict
This HTC is a great VR headset. Immaculately designed, highly comfortable, with amazing graphics and sound quality, but ouchie, that price!
STEAM VR 2.0 TRACKING - From seated to standing to full 20' x 20' room-scale. Ideal for multi-user environments for sub-millimeter tracking accuracy.
HIGH RESOLUTION DISPLAY - Dual-OLED displays with industry leading resolution of 2880 x 1600 pixels for unparalleled visual fidelity of graphics, text, and textures.
Free shipping
Last update was in: August 29, 2018 2:23 pm
---
Overview
Hamswan are very proud of the carpet fabric that adorns this headset. They call it an 'innovative fabric design', we call it 'hardwearing and stain resistant, ideal for areas of heavy use!'.
What We Like
This is an amazing budget buy. We were surprised to find a proper VR headset for less than it costs us to have a team lunch! The picture quality is good, the product is solidly made, and feels pretty comfortable, even with glasses on and after several hours of gaming.
What Needs Improving

Nothing stands out as a major flaw, but having said that everything could be a little better – probably with a price to match.
The Final Verdict
Hamswan have created a perfectly decent headset, covered it in carpet and are selling it at a great price – there you go!
HAMSWAN SC-Y005 3D VR Goggle features its innovative fabric design, light weight and comfortable wearing, which contribute to immersive visual experience with high definition photos
【Outstanding 3D virtual reality experience】 Panoramic view and high quality 3D photos bring you an unlimited world
Free shipping
Last update was in: August 29, 2018 2:24 pm
---
Overview
The Lenovo is the largest headset we've looked at, but it's well designed, surprisingly light, and feels very comfortable. Happy so far…
What We Like
This really is an immersive experience, with no cables to get in the way. The visuals are excellent, sound is great too, and with the so-called 6 Degrees of Freedom, Lenovo have pulled out all the stops.
What Needs Improving

Occasionally we found that the image and the audio fell out of sync, only by a fraction of a second, but enough to be distracting.
The Final Verdict
Lenovo have created a little piece of virtual magic here! A really immersive, never-going-to-find-my-way-home-and-I-don't-care experience, and at a semi reasonable price! We love this headset!
STANDALONE VR HEADSET: Stow away the phones, expensive PCs and cumbersome cables and just experience awesome VR--without the extra hassle. With Worldsense technology, you can move naturally and truly explore your virtual world, free from external sensors.
16 used from $262.39

Free shipping
Last update was in: August 29, 2018 2:25 pm
---
If you liked this post, then also make sure you check out…