Enjoy The Journey
You've probably already heard plenty of people out there telling you that the best headphones are the only way to get fantastic sound when using a computer. But maybe you don't want to wear headphones all day, or you' like to share your fave tracks with others, then computer speakers are the way to go. Like any piece of PC hardware, though, choosing the option that suits your purpose the best can be harder than you think.
There are lots of speakers out there of all shapes and sizes. Each set are designed for different uses and will provide many different qualities of sound. If you want to enjoy music and movies while you work, you'll need something different from the musicphile who analyses every solo, or the filmmaker editing videos together. So, if you just buy the first one you see, you may end up with a set of speakers that don't quite cut it for your tastes.
So, where do you start?
Subwoofer
We feel that a speaker system needs a subwoofer and without one, it's almost not worth having. A sub will ensure that you get a full bodied, clear low end instead of that rattling tinny sound so many sets of speakers produce. That saying, there are decent speakers out there that don't require subs to offer a fully immersive experience.
Power
Each set of speakers are rated for wattage, and ideally, you need to match the set of speakers to the amount of wattage your sound on your computer can handle. Too much and you'll be wasting money, too little and you may not reach the volume you require.
Setup
Look for a set that's simple to install, or is even wireless. Bluetooth can easily pair up with your system, others just have a couple of cable to connect.
Surround Sound
In most cases surround sound speakers are better when compared to the traditional stereo speakers out there, and if you're a gamer, all round audio is a necessity (although we would say that, wouldn't we!)
Shopping for computer speakers doesn't have to be too complicated, if you know what to look for. By going through the choices and crossing off any speaker sets that don't fulfill your requirements, you'll end up with the right one for you.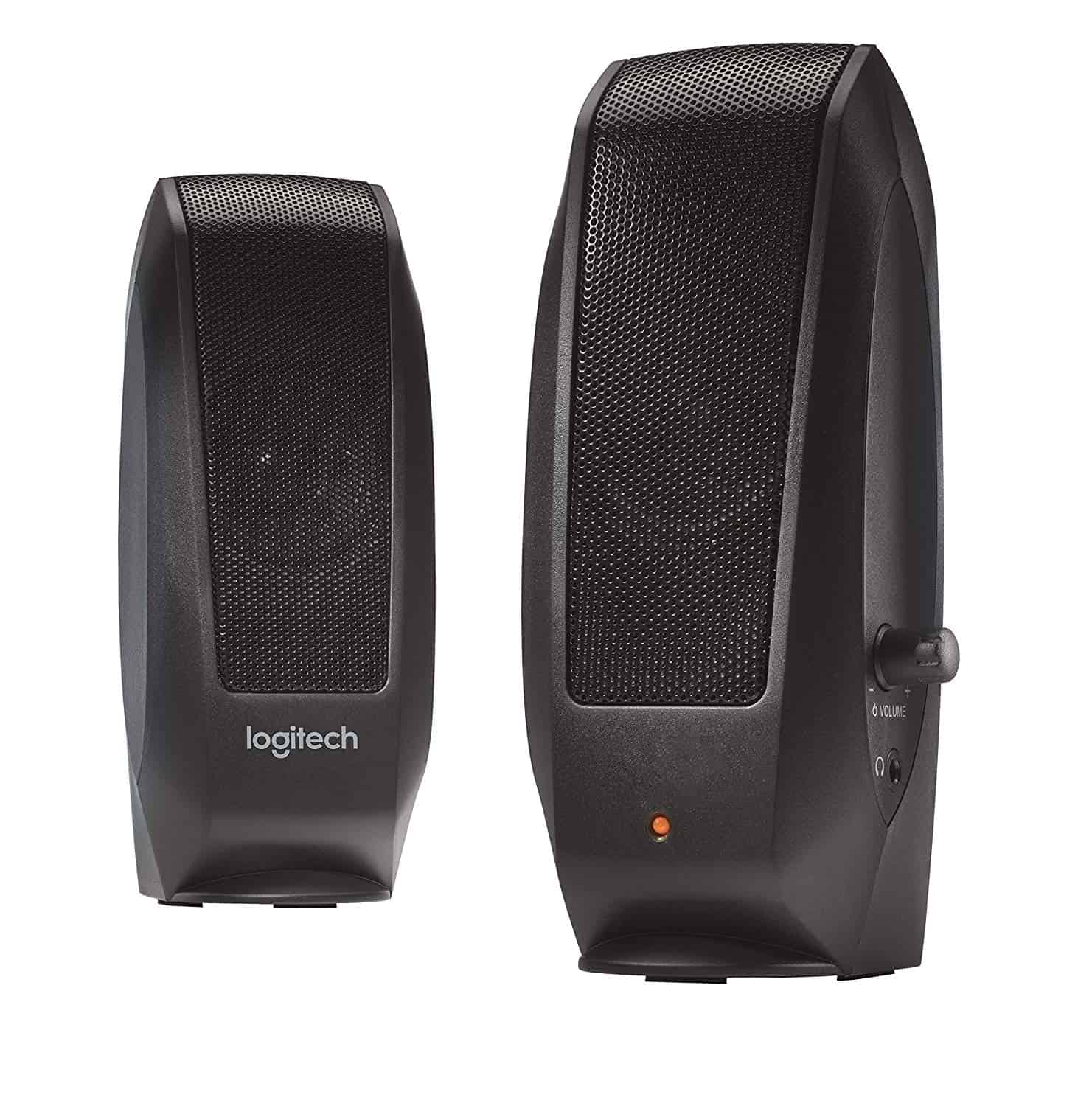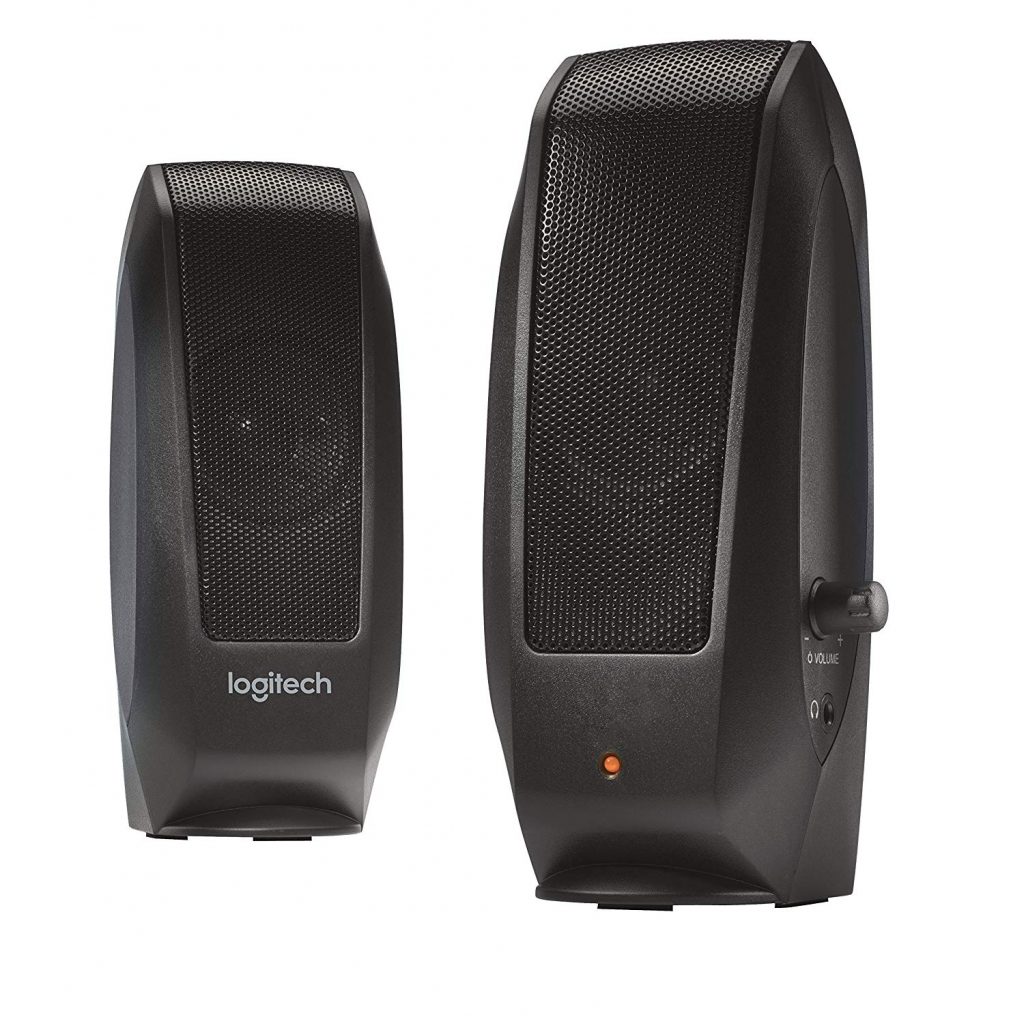 Overview
Compact, with a small base area, these smart black speakers are easy to fit into any space, and for the price are well made, with an industrial, edgy style. They have a response bandwidth range of 50Hz-20KHz, a conveniently placed headphone jack and a volume knob on the speakers themselves, ensuring complete control whenever you want.
What We Like
We were super impressed with the sound quality of these low budget speakers. Okay, there may not be a sub, but with the audio experience these offer, we didn't miss it too much. The sound is full and rich, with no jarring twangs to interrupt the immersivity, and okay, the kind of multi-dimensional soundscape audiophiles demand is a little beyond their capabilities, they are perfect for games, videos and more.
They are nice and simple to install, too – literally just plug 'n' play.
What Needs Improving
The cords are too long – for once, and get in the way a little, although we soon tidied them up with some tape.
The Final Verdict
These speakers deliver on all their promises, so if you're looking for a decent set of speakers at a very budget friendly price, look no further.
7 new from $28.98
1 used from $20.00
Free shipping
as of November 27, 2023 10:26 pm
---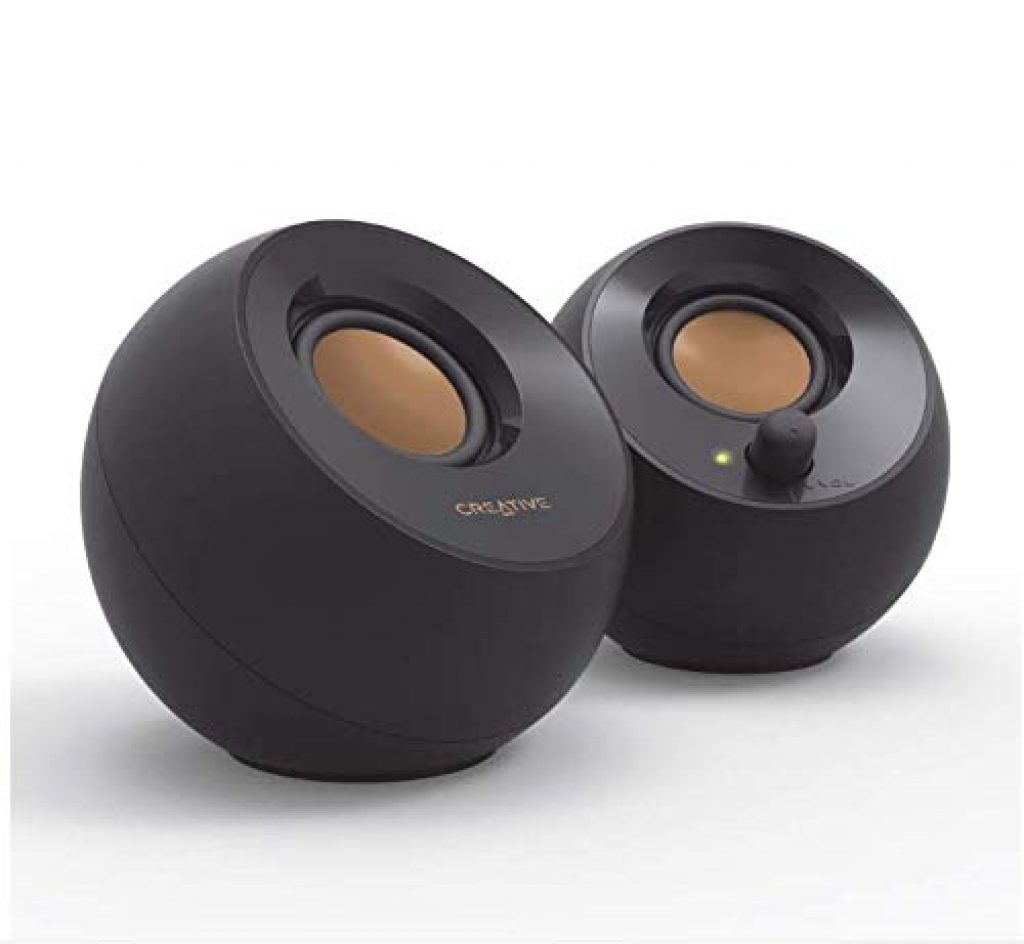 Overview
Taking their inspiration from the Zen gardens of Japan, these stunning pebble speakers add the perfect touch to a modern sleek home. Beautiful in their sheer simplicity, they're also easily controllable with speaker buttons. With only a USB and audio jack to connect, you can be instantly up and running.
What We Like
It has to be said, we do like the look of these but were concerned about their performance levels. But in this case, price doesn't reflect the quality on offer. The Creative Pebble speakers sound rather awesome for a pair of 2.0 speakers. It makes a big difference that the 45º front design fires the audio up towards you instead of straight in your face. The passive radiators, situated at the back of the units, add just the right amount of bass for great gameplay, producing a solid vibration that adds a certain something to the immersivity.
What Needs Improving
Although these little speakers have a vast volume output, as you turn it up to 'disturb the neighbors' level, the sound does lose some clarity and definition, but find me a speaker at this price band that doesn't.
The Final Verdict
Small, stylish and versatile - these Pebble speakers put power at your fingertips. Very easy to recommend.
27 new from $18.52
2 used from $18.33
Free shipping
as of November 27, 2023 4:13 am
---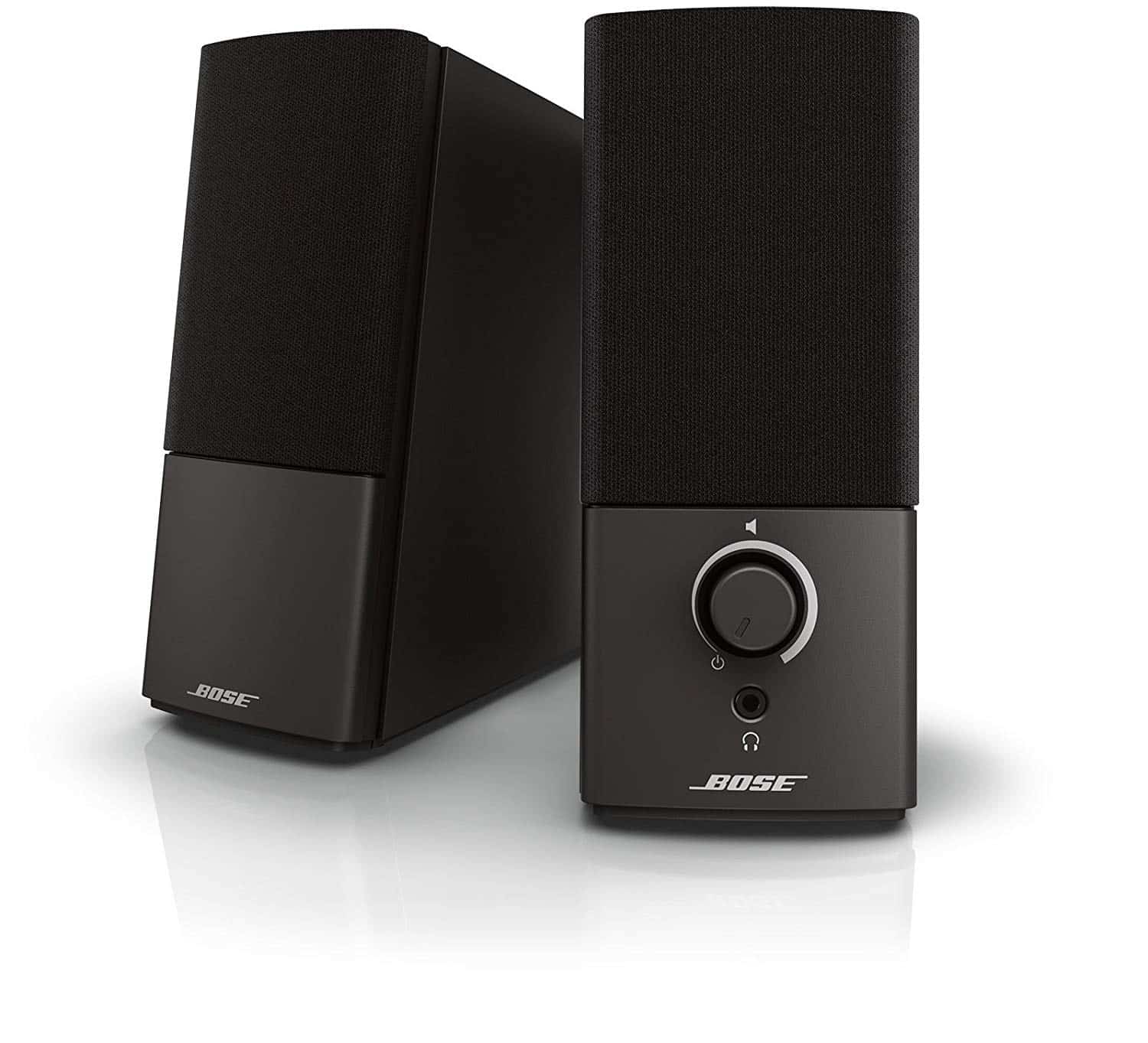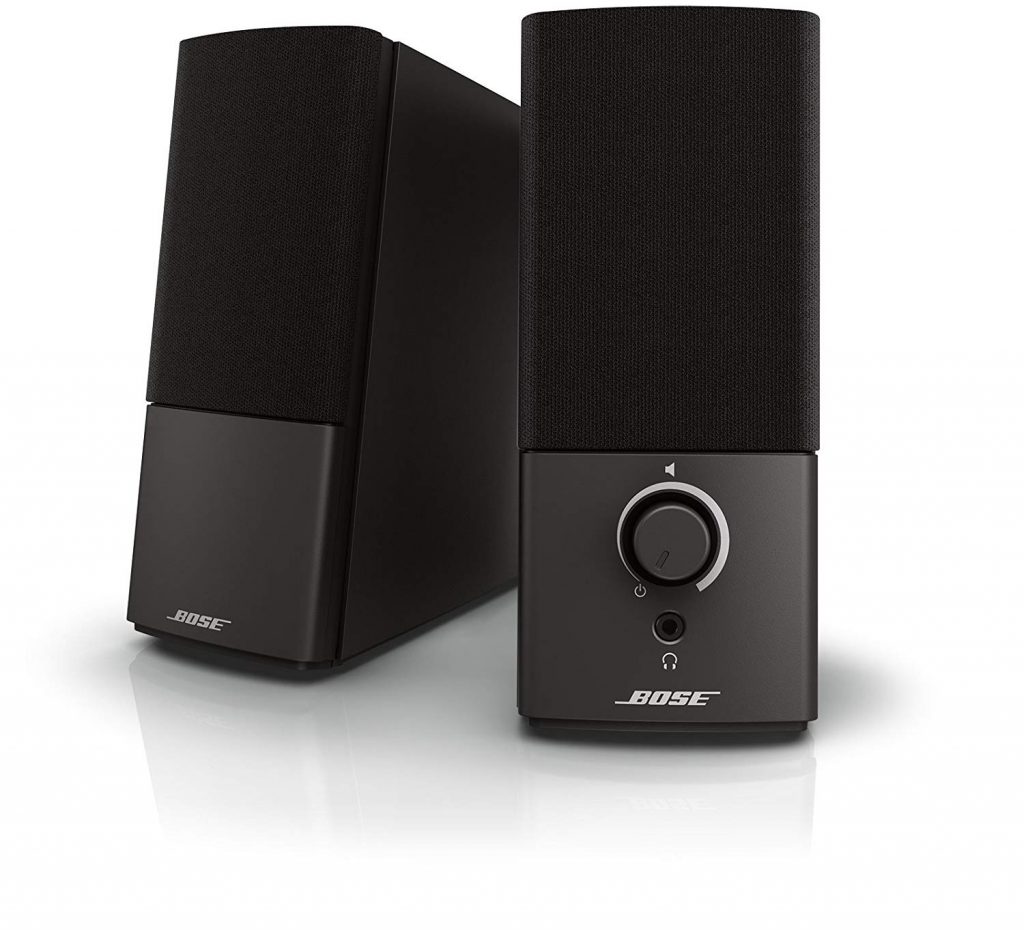 Overview
Bose, as is their usual way, have designed a very smart looking pair of speakers. Nicely weighty, they won't get knocked off the desk easily. The subtly placed volume/control button and the headphone jack don't interrupt the sleek, business-like appearance. Set up is a simple matter of plugging in.
What We Like
Although these speakers could be seen as a little expensive, the sound quality is well worth it, in our opinion. Impressively balanced, with no extremes to startle the listener, these speakers favour the bass very slightly. There's no distortion, even at maximum volume, or feedback, with the soundscape feeling smooth and robust.
What Needs Improving
The only downside is that the left speaker cable is hard-wired in, making it a bit tricky to extend the distance between the speakers.
The Final Verdict
Bringing the completely immersive experience to your audio journey, this is set of Bose speakers are what your system has been missing!
5 new from $99.00
13 used from $84.99
Free shipping
as of November 27, 2023 2:17 pm
---
---
What else is trending this week?