Mini Size, Maxi Power
With 'compact' being the new buzzword, it was only a matter of time before someone shrunk our solidly ginormous PCs down in scale – enter the mini PC.
When you think about how computers once took up the entire floor of an office building, it's amazing that something the size of a paperback book (remember them?) can house an Intel Core i7 processor. This is thanks to energy-efficient CPUs that provide enough power for playing HD videos and running office programs. The computing sticks and boxes that contain these processors make our laptops look downright clumsy and bulky.
The small size of mini PC, sometimes called a barebones computer, gives users several advantages:
Ideal for computing in places with limited space, such as a reception desk
Easily portable – most are not much bigger than a slice of bread
Great for kids and others requiring less complicated machines
Enables use of a television as a computer monitor
Can be mounted behind a monitor as an inexpensive alternative to an All-in-One PC
Low power consumption and quiet operation
You could also use a mini PC as a backup to a full-sized desktop. PCs do fail occasionally, and keeping a full-sized tower in the spares cupboard just isn't that practical. But as long as your essential data is on external hard drives or online, you can quickly and easily swap in a mini PC
While mini PCs may not be the fastest or hold the most storage, you can always find ways to optimize these. They are no high-end MacBook, but they can definitely pack a punch and have impressive specs. In general, everything you generally need to use your PC for – you can do on the mini. That includes managing emails, running software, playing video in high definition, and using streaming services from Netflix to Skype.
When you buy a mini PC, the keyboard, mouse, and monitor have to be bought separately. You can, however, reuse your existing monitor, keyboard, mouse, and speakers if they are compatible. Additional file storage is normally done by attaching an external hard drive to a USB 3.0 port. Displays might connect with HDMI, mini-HDMI, DVI, or Thunderbolt interface, and most mini PCs can network via LAN, Bluetooth, and Wi-Fi.
Of course, you can go wild and get a whole load more peripherals if you wish, meanwhile we're off to test the best mini PCs on the market.
Overview
Apple have taken their own sweet time with this, but it looks to be worth the wait. With their usual understated, yet sophisticated, design, this mini computer packs in some impressive specs, and includes enough ports to run a large office. It's not the cheapest on the market, but considering just what it's capable of, we consider it to be priced competitively.
What We Like
The Quad – and Hexa – core Intel Core processors with Turbo Boost speeds of up to 4.6GHz, and support for up to 2,666MHz ensures that this compact power house is fully responsive and plenty fast enough for most tasks. With 'industry leading security' and HEVC video transcoding, it's perfect for creative video editors – we found it ideal for working on 4K videos. The external graphic card was doing much of the work, but it's a good indication of how the new Mac mini can be used. We were impressed with this deceptively diminutive machine.
What Needs Improving
With no dedicated digital audio output, it's an additional purchase. However, with the prices so low, we don't consider this an issue.
The Final Verdict
Another impressive Apple product; power, versatility and style - this mini-beast has it all.
---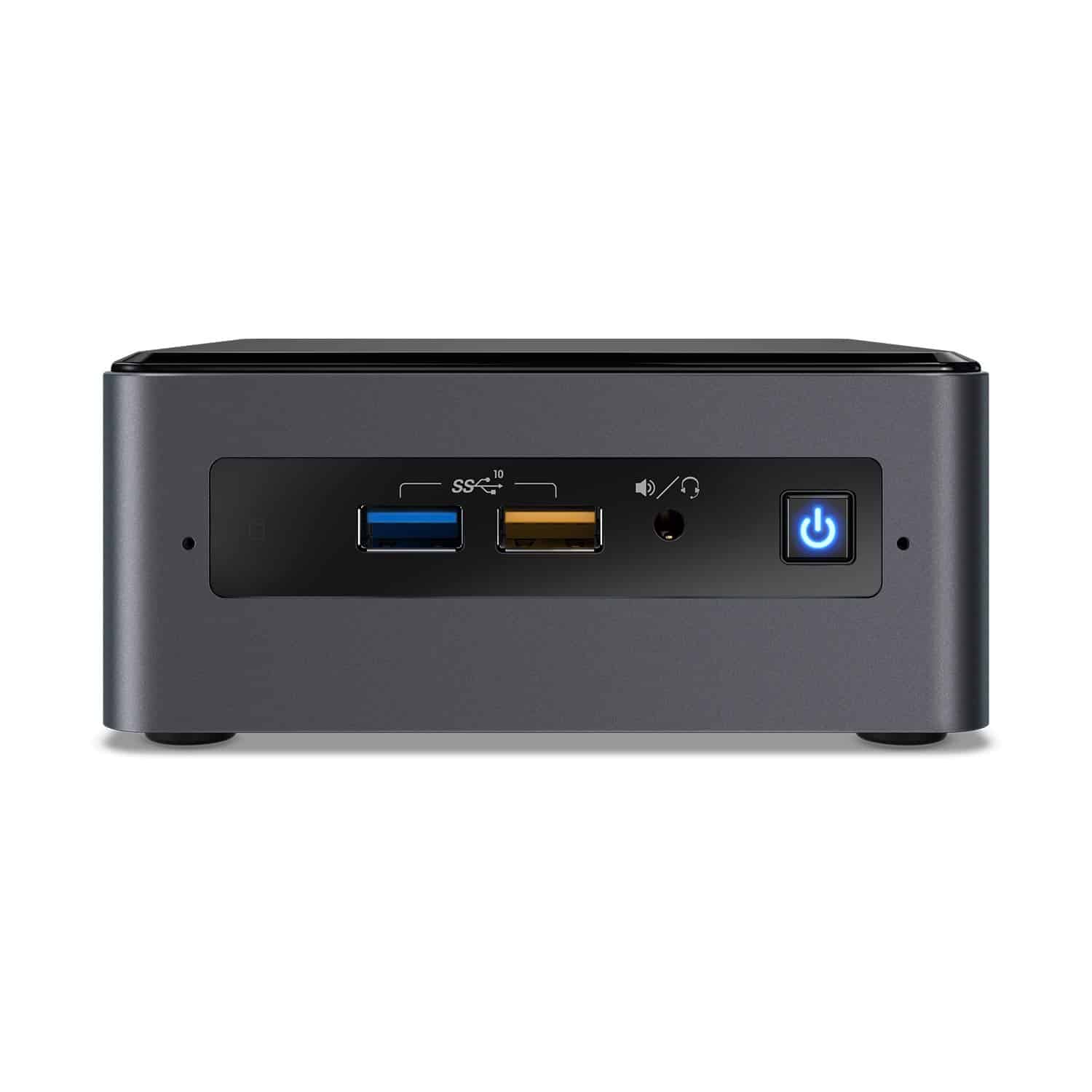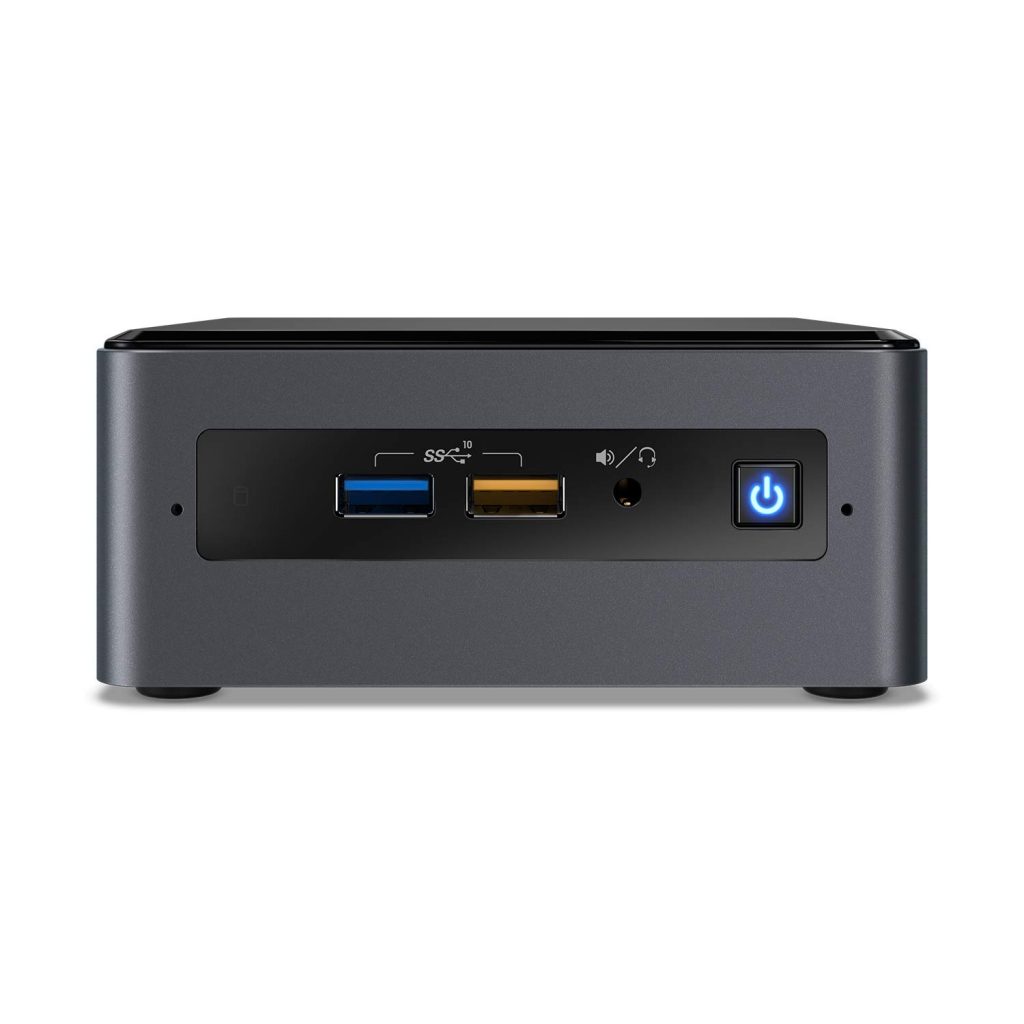 Overview
This mini PC from Intel allows you to essentially build an ultra high spec computer around it. Coming with a bonus software bundle, 8 ports, including the USB-C/Thunderbolt 3, and a Turbo Boost of up to 4.5 GHz, this is a real workhorse. It supports up to 32GB of RAM via two DDR4 DIMM slots, and has two internal storage devices – an M2-based card and a 2.5-inch SSD drive. With a professional yet stylish appearance, this is looking good so far.
What We Like
Upgrading this mini took mere minutes – unscrew the feet, detach two cables and slide out the bottom and there's immediate access to the RAM DIMM slots, the M.2 solid-state drive slot, and the SATA hard drive.
We found the connectivity solid and stable, and whilst Intel's mini PC doesn't set any records aflame, it does beat several similarly priced laptops. It has a decent array of options for a small system, with support for both current and future peripherals.
What Needs Improving
The only issue we found was that this mini runs a little loud; however, it soon quietened down when we switched off the Turbo Boost – we found we didn't need that running constantly anyway.
The Final Verdict
With an awesome amount of useful ports, an impressively fast and powerful processor, and priced to beat its rivals, this mini PC is an easy recommend.
---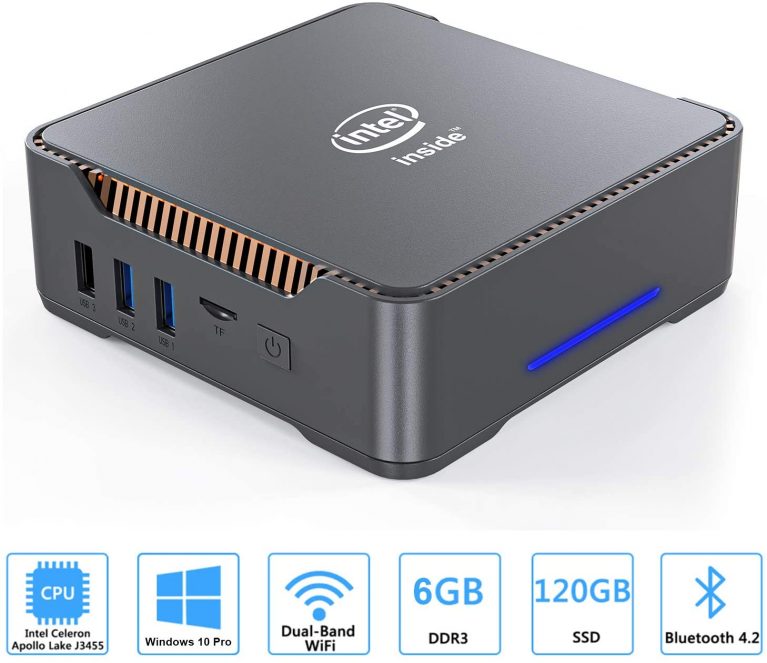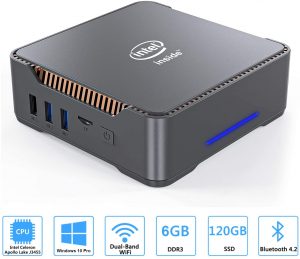 Overview
The GUZILA mini PC is a compact yet powerful device. Preinstalled with Windows 10, the 4K HD entertainment visual is awesome for browsing the internet, watching movies, and other tasks that a decent Windows desktop can perform. With Bluetooth or USB keyboard and mouse, plug in and and turn your HDMI TV into a smart computer – it's as easy as. Sleek and smaller than the other minis we tested, we're impressed so far.
What We Like
This mini computer doesn't require a fan, which means it's completely quiet when running, and is more energy-saving than many others on the market. Along with Windows 10, a Quad-Core processor, 6GB DDR3 RAM, 120GB Flash Memory, Bluetooth 4.2 and Fast Wi-Fi allows this to run smoothly and with decent stability. It's ideal for home and office use, and except for big style gaming, this mini PC can more than match the capabilities of a desk or laptop.
What Needs Improving
Our only real issue is that this is not Wi-Fi ac compatible, but we just used an external ac adapter via the USB port – problem solved!
The Final Verdict
If you're looking for a mini PC that works all day, any day, and that has the capabilities of a much larger, more expensive machine, this is definitely worth adding to your basket.
---
---
See what else is trending right now: