Keep Warm With A Compact & Effective Space Heater
Space heaters provide a convenient method to heat smaller rooms, providing instant heat on demand. With many models available, and including special features such as automatic oscillation and digital controls, a space heater  will soon pay for itself.
There are two main types to consider if you're thinking of purchasing one:
Convection Heating:
These are very efficient for heating whole room by causing the heated air to rise and circulate around the room. This takes time to do and is generally better for a frequently used room.
Radiant Heating:
This type of heater tends to heat one area very quickly, and uses a fan to distribute hot air around a small space. This is less cost effective for a long-term solution but provides an immediate heat source.
There are other factors to consider once you've decided on the type of space heater you need.
In general, you should have ten times the amount of wattage per square foot e.g. if the room is 150 square foot, you'll require a 1500- watt heater.
But the most crucial thing is safety; make sure that the heater you choose is equipped with safety devices, such as protective grills, thermostats, and overheating sensors.
• Keep heater at least 3 feet away from loose, combustible materials
• Turn heater off when leaving the house
• Plug heater directly into an outlet – don't use an extension cord
Let's have a look at the top three best sellers of 2023 and see how they stack up:
This modern upright heater was delivered the next day, fits in any space and heats effectively. It does exactly what it promises.
What We Like
This oscillating heater warmed up our bedrooms so quickly, and the same with the larger spaces we tried it in. It's sleek enough to place on a desk or table, but small enough to go under something. Highly efficient for its small size, with an exterior that doesn't get hot, we really like this. The Pelonis comes with manual controls allowing you to adjust the temperature precisely, or set the programmable timer. It has automatic protection against over-heating so your mind will be at east even if you leave the house, and heats up within three seconds.
What Needs Improving
This isn't the quietest of heaters we tested, but it's something you can definitely get used to.
The Final Verdict
A straightforward, cost effective heater – our rooms became warm and toasty in no time. It does the job well.
8 used from $40.03
Free shipping
as of June 5, 2023 1:23 pm
---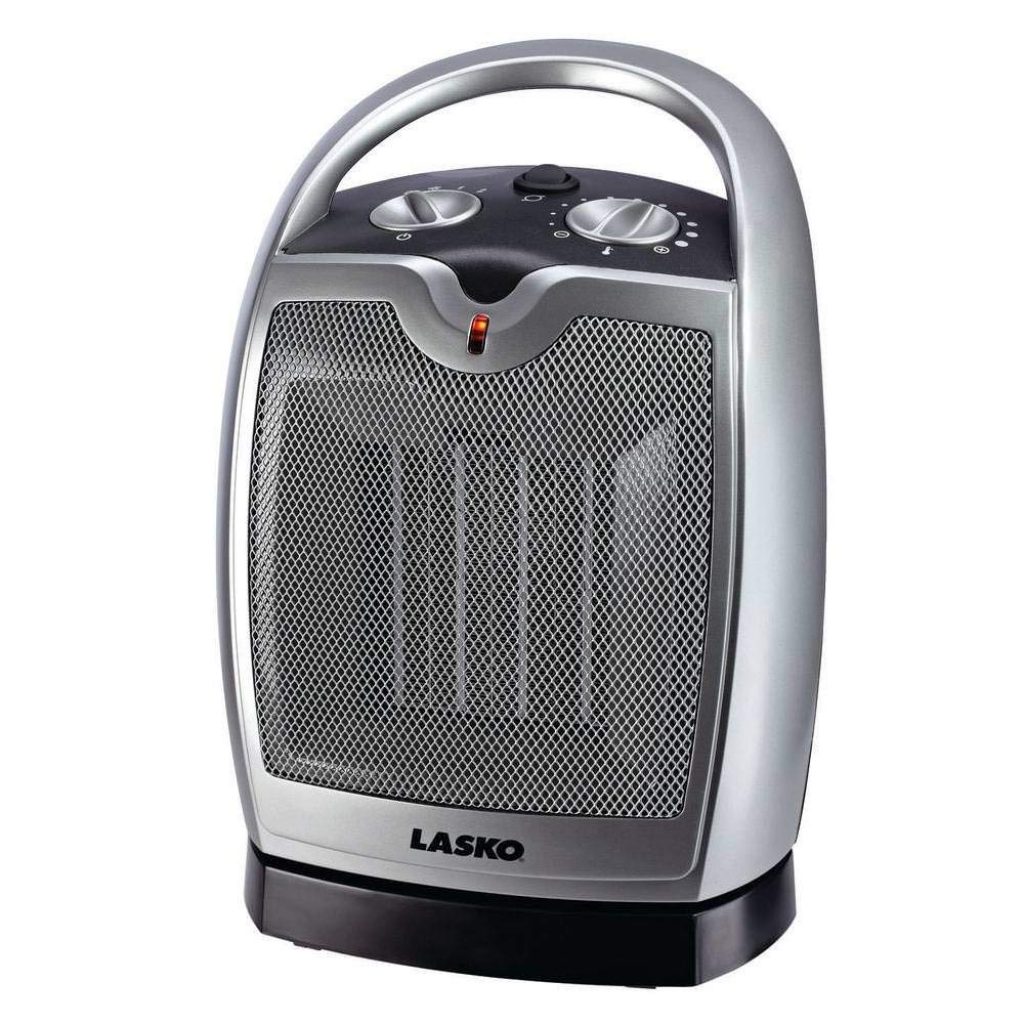 Overview
Ideal for tabletops or desks, this ceramic space heater from Lasko is well designed, compact and looks high quality. Complete with a carrying handle, although light enough not to need one, it's sturdy and durable.
What We Like
Once unboxed and plugged in, this packs a real punch heatwise, and our office was soon warm and toasty. Luckily its easily adjustable thermostat is very responsive and, once turned down a few degrees, kept things comfortably warm. The oscillation is a great idea for spreading the heat around the area effectively.
What Needs Improving
Unlike more expensive heater, this model keeps the costs down by not having a timer setting. However, it heats quickly and efficiently, so we found we didn't miss this feature at all.
The Final Verdict
This is a cost-effective way to heat your room – it's quick, silent and cheap to run. Highly recommended.
17 new from $42.99
1 used from $36.54
Free shipping
as of June 6, 2023 2:24 am
---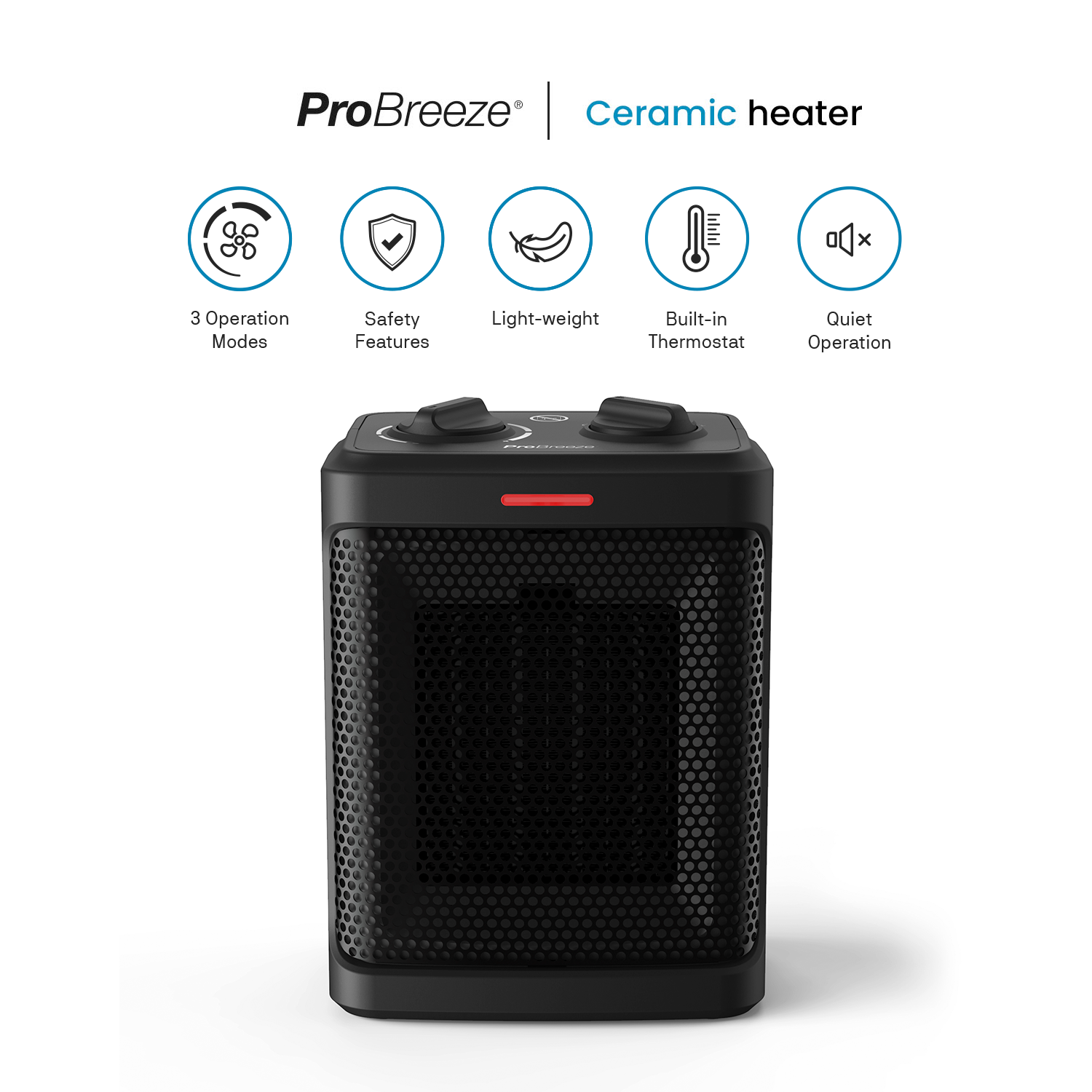 Overview
Pro Breeze have created a simple but very efficient and effective space heater. Arriving on time, with clear and concise instructions, this looks tough and well made.
What We Like
Our rooms got so warm with this heater going – we were very surprised by how much heat it produces and had to turn it down pretty low. The whole room was warm, with no cold spots. It's relatively quiet, very cost-effective and perfect for heating any space – large or small. This heater includes an adjustable thermostat, anti-overheating protection, anti-tipdesign, and a handy power indicator light.
What Needs Improving
Setting the thermostat was tricky, but we soon worked it out, realizing it was us and if we had followed the very clear directions, we would have got it right straight away.
The Final Verdict
An awesome room heater. It performed perfectly, on command, and left us all with a lovely warm glow.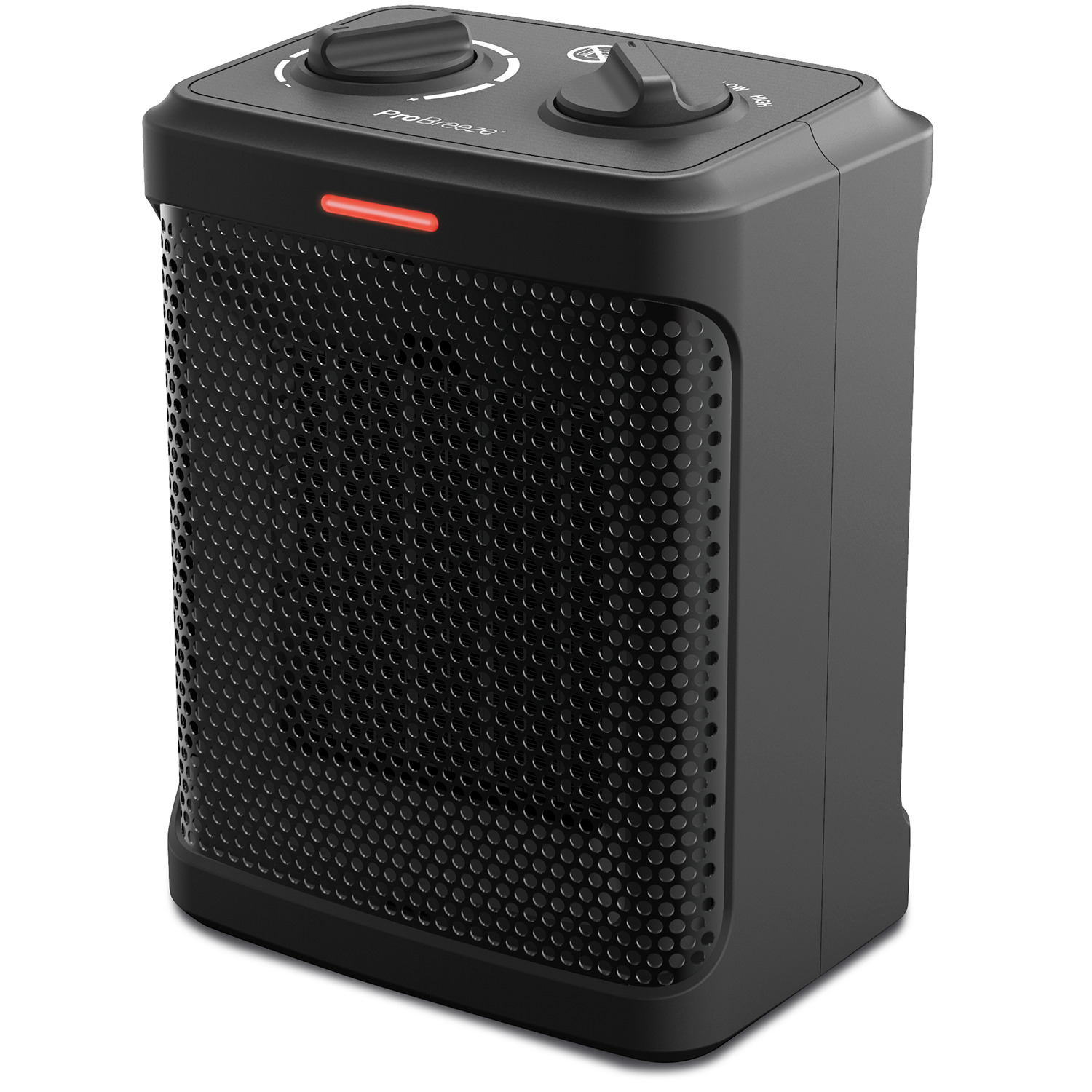 as of June 1, 2023 9:15 pm
Pro Breeze 1500W Mini Ceramic Space Heater - Black. This 1500W Mini Ceramic Heater from Pro Breeze utilizes industry leading ceramic heating discs for ultra-warm heat transfer in small spaces. At the flick of switch, the ceramic fan heater will produce a stream of warm air to quickly and effectively heat the area in front of the heater.
---
Enjoyed this review? Check out our other trending articles!