Make a feature of your new TV
In days of yore, BFS (Before Flat Screen) we could be found on a cold winter's eve, huddled around the family fireplace, telling tales of heroic adven……..actually, scrap that, nothing would've beaten a big family argument for keeping the cold out.
Living rooms have always had a focal point, a place for the family to gather, to stare moodily at, or just to face our sofas towards, and traditionally it's always been the fireplace. The fire symbolic of the warmth and love a family has for each other, and the often-seen over mantle mirror to reflect the orange glow back into the room.
Then along came the television set – the marvel of technology that quickly took over our lives, and our living rooms. It made sense to place this beast of a visual treat box near the focal point. After all, that was the way our rooms 'faced', so the television could just slide right on in, near the fire, and for many decades this arrangement worked – the fireplace and the television cohabiting together quite happily.
Until *duh duh duh* the Flat Screen! This slimline slice of wizardry offered a whole new living arrangement. Not content to sit quietly alongside the fireplace, ever at risk of being outshone by the mirror, it wanted all the glory for itself.
Skip forward not even half a generation and there it is – replacing the mirror/fireplace combo that has stood the test of time 'til now. Homes across the land are rapidly replacing the old arrangement with a wall mounted flat screen television.
And why not?
No more worrying that Deefer (Dog) can wipe out the family's rainy day budget with one tail wag, or little Jimmy can plant sticky hands all over that lovely silky smooth screen, smearing it forever. It makes perfect sense to mount it on the wall, and there are many wall mounting to choose from.
So, how do you pick the best one for your needs?
The majority of wall mounts include the hardware required to attach the mounting to the wall, including drywall bolts. If your wall is made from stronger stuff, you may need to pick up more heavy duty bolts and fittings – this could be your chance to buy a bigger drill!
Most mounts are defined by the weight and size of screen they can accommodate, but
there is a standard design for TV wall mounts created by the Video Electronics Standards Association – VESA. This means that whatever make or model your TV is, it should be simple to fix it securely to the wall. You also need to consider whether you want to be able to angle the screen. Most mounts come with the ability to tilt and pivot slightly, but if you require something with a bit more allowance, then a pivoting wall mount is the way to go.
This is our pick of the best selling TV wall mounts: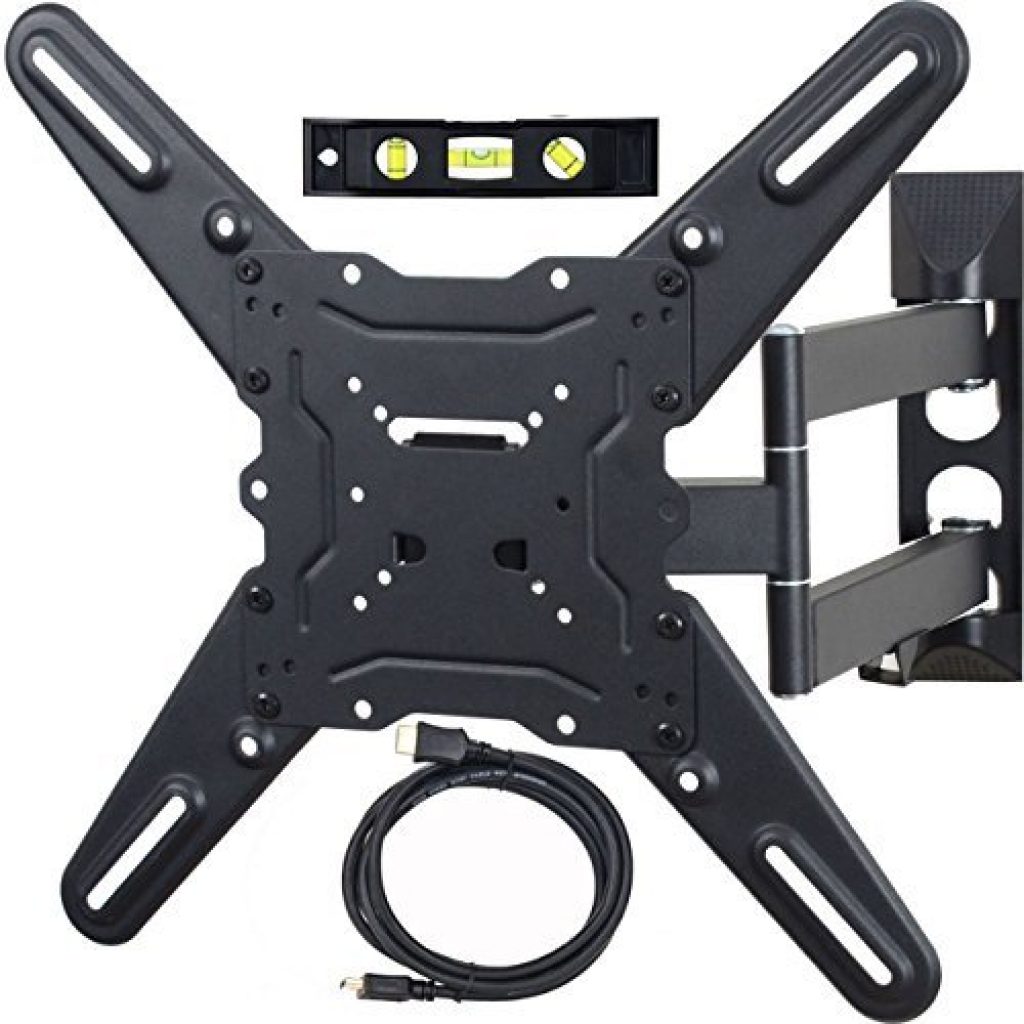 Overview
VideoSecu have designed a superb wall mount. Complying with VESA's regulations and able to take any screen size, this heavy duty can hold up to 88lbs whilst pivoting and tilting with ease. The design allows for easy placement, even corner mounting if required, and the box contains everything you need for installation, including easy-to-follow instructions.
What We Like
For such a budget-friendly wall mount, this is great quality, and VideoSecu have even thrown in a 10ft HDMI cable, a spirit level/bubble guide to ensure mounting levelness is achieved, and enough bolts to build a small treehouse. Not to mention the neat cord management system to keep everything tidy and slick.
Only requiring one stud for installation – most wall mounts need two, provides more flexibility for placement, and it can easily fit into a corner if necessary.
The 15° tilting range and a pivot of 180° are large enough to cope with every scenario, accommodating a widely spaced audience.
What Needs Improving
This particular one-stud model holds up to 55'' screens, but for larger models, there is an extra stud adaption. This bolt is already included in the packing, so it's a simple matter of drilling an extra hole and voila – your larger-than-life flatscreen can be accommodated!
The Final Verdict
If you're looking for high quality, heavy duty TV wall mounting, this model is a no-brainer. Easy to install, with a good range of tilt and pivot, and at a very budget-friendly price. We love it!
The Final Verdict
If you're looking for high quality, heavy duty TV wall mounting, this model is a no-brainer. Easy to install, with a good range of tilt and pivot, and at a very budget-friendly price. We love it!
---