Block Out The Sun With A Quality Blackout Window Shade
Blackout roller shades and curtains should do what they say  – keep rooms dark and restful, blocking out 100% of the light. By default, that also keeps the room cooler, and for much cheaper than using an air conditioner. A good quality blackout blind is almost guaranteed to send you into a blissfully deep sleep.
However, there are shades on the market that go under the guise of blackout, but in fact merely darken the room by blocking out a fraction of the light. If you work shifts, need your baby to nap during the day or just want a totally black room, you need a complete blackout blind.
To help you decide, we've tested the Best-Rated Blackout Shades of the year:
Overview
The Grandekor Cordless Cellular Blinds Blackout Shades are an impressive addition to your home. This Honeycomb Blinds Window Fabric is a fusion of aesthetics, functionality, and advanced technology. With built-in aluminum foil, it provides 100% blackout and privacy. Thanks to the cordless design, it's safe for children and pets, while the push-pull system allows for easy adjustment. Its honeycomb structure offers sound absorption and UV ray blocking. Moreover, this Grey-White 34×64 inch shade is not just easy to install, it also helps reduce heating or cooling bills all year round.
What We Like

We adore the seamless blend of style and practicality that these blinds bring. Their 100% blackout feature provides absolute privacy and an efficient light control, transforming any space into a serene retreat. The honeycomb structure works double-duty by blocking harmful UV rays and muffling external noises. The cordless design is a thoughtful touch, ensuring safety for your little ones and furry friends. Their easy-to-clean fabric makes maintaining them a breeze, while the easy installation process is a massive time-saver.
What Needs Improving
Despite the blinds' remarkable attributes, they would have been perfect with a slightly more flexible opening/closing mechanism. While it's not a deal-breaker, a smoother operation would enhance user experience. Also, a better concealing of the mounting brackets would have been ideal for a more seamless aesthetic appeal.
The Final Verdict
Despite a couple of minor tweaks that could elevate the product further, these blinds exceed expectations in terms of design, functionality, and value for money. The Grandekor Cordless Cellular Blinds Blackout Shades score a bold, underlined, and well-deserved 9.2 out of 10 on our scale. Consider this an investment that pays off in style, comfort, and energy efficiency!
---
Overview
The Coolaroo Exterior Roller Shade is a versatile, high-quality addition to any outdoor space. Its impressive UV protection, coupled with heat-reducing and privacy-enhancing features, make this shade an essential home upgrade. The sleek mocha design, fashioned from robust polythene and aluminium, creates a chic, modern aesthetic. Its easy installation and maintenance ensure that this product is user-friendly, even for the least DIY-savvy among us.
What We Like

We adore the 90% UV protection the Coolaroo Exterior Roller Shade provides, effectively shielding your family and improving energy efficiency. The breathability of the fabric ensures a constant airflow, further adding to your comfort. The wand crank mechanism eliminates the need for cords or chains, making it easy and safe to operate. We also appreciate the fast-drying and easy-to-clean material, which means no more spending hours on maintenance.
What Needs Improving
While the Coolaroo Exterior Roller Shade ticks all the boxes, some users have pointed out that the brackets take up a bit more space than expected. Also, a few mentioned their wish for the option to switch the crank side more effortlessly. But let's face it – even the best masterpieces can have their tiny brush strokes slightly adjusted.
The Final Verdict
With its innovative design, top-notch material quality, and user-friendly features, we award the Coolaroo Exterior Roller Shade an impressive 9.3 out of 10. It truly shines (while blocking out the sun) and presents itself as an excellent choice for anyone looking to enhance their indoor or outdoor spaces while adding an extra layer of comfort.
5 used from $51.49
Free shipping
as of November 27, 2023 9:48 am
---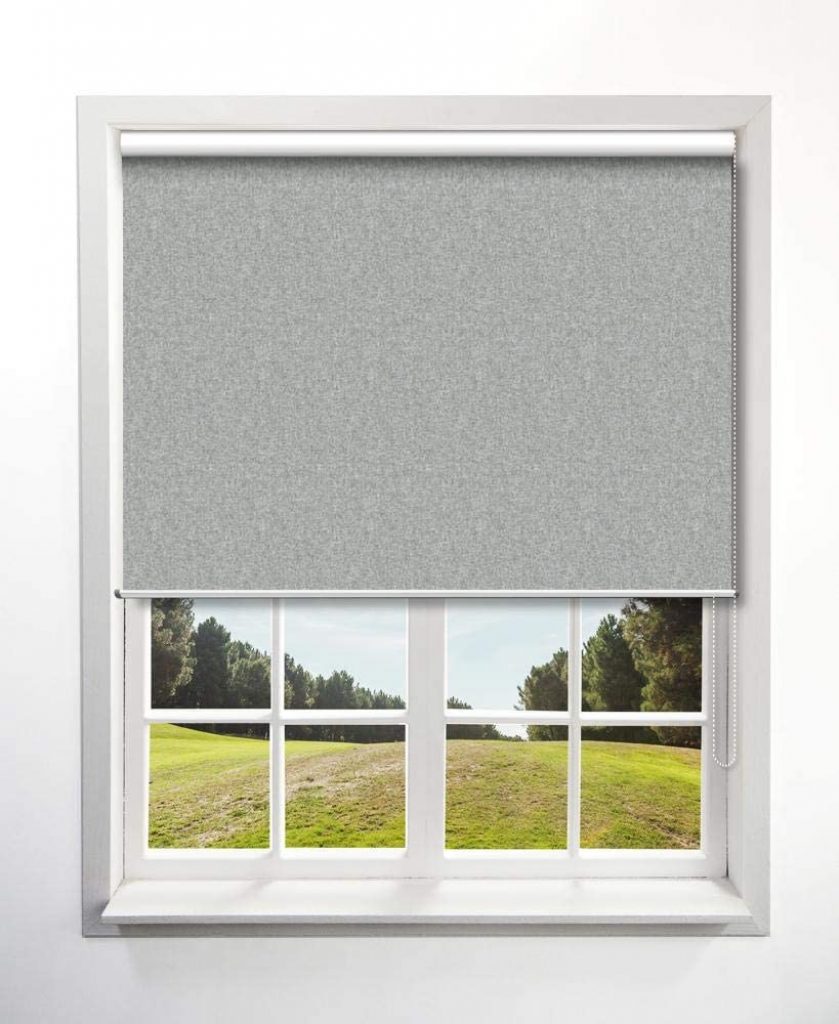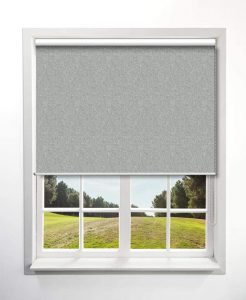 Overview
The Springblinds 100% Blackout Roller Shade is a welcome addition to any home seeking privacy, UV protection, and an upgrade to their interior decor. Its design is simple and efficient, enabling easy installation and a diverse selection of colours to complement your interior decor. This shade guarantees 100% light blocking capability, and the premium polyester material offers durable, long-lasting service.
What We Like

There's much to appreciate about these shades. The 100% blackout feature works a charm – it's perfect for those long summer days when the sun refuses to take a hint and set! The customization option is another noteworthy highlight; all you have to do is contact Springblinds with your desired size and, voila, you have a perfect fit!
What Needs Improving
It's difficult to fault perfection, but perhaps the shade chain could be upgraded from plastic to metal for a more premium feel. Furthermore, additional guidance on the measurement aspect would be a great help for those DIY novices out there.

The Final Verdict
With a score that would make an Olympic judge proud, the Springblinds 100% Blackout Roller Shade earns a remarkable 9.3/10. It's a shade above the rest, literally and figuratively. We strongly recommend these for a refreshing touch to your living space and a solution to those pesky rays of sunlight that sneak into your afternoon naps.
---
FAQs
1. What are the different kinds of blinds?
The world of window blinds is as diverse as the windows they adorn. From Roman and Venetian blinds to roller and vertical blinds, each has a role to play depending on your needs and design sensibilities. Take the Springblinds 100% Blackout Roller Shade, for instance – the epitome of modern simplicity and a champion at giving you that much-needed cave-like darkness for an afternoon siesta.
2. Should I get shutter blinds?
Window shutters can offer a good defense against light and an aesthetic upgrade to your home decor. However, they're no match for the unparalleled light-blocking capability of a proper blackout blind.
3. Where can I get made to measure blinds?
The key to a perfect blind experience lies in precision. Measure twice, order once – that's our motto. There's no shortage of handy online guides to help you get it right. Once armed with your precise measurements, Amazon is your treasure trove of perfectly fitting blinds, available in an array of shapes and sizes.
4. What are the best kitchen blinds?
Choosing blinds for the kitchen is no small order. Apart from blending in with your decor, they need to withstand the hazards of a busy cooking area, such as errant oil splashes. Venetian blinds, with their wipe-clean convenience, can be a chef's best friend.
5. Where can I buy cheap blinds?
For those looking for cheap blinds, Amazon remains the undefeated champion. Armed with your precise measurements, you can dive into a sea of affordable, beautiful blinds, all a click away from being delivered to your doorstep.
---
---
If you liked this, you might enjoy: