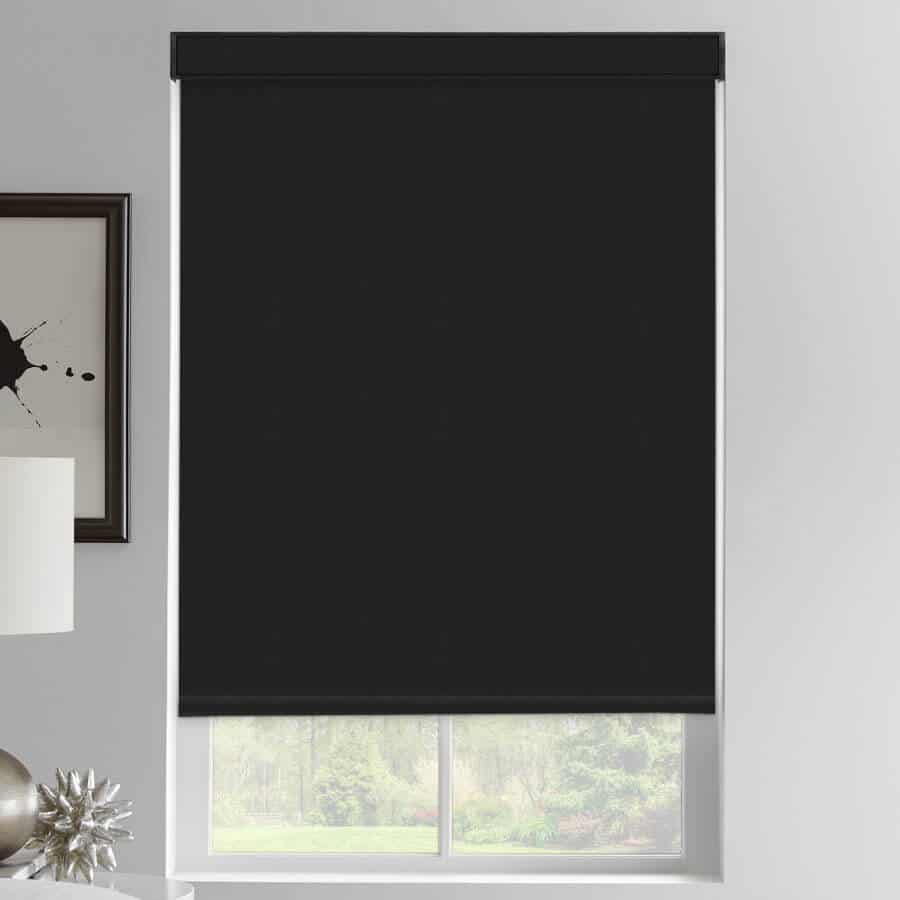 Our last update to this page was
Kept in the Dark – We Review the Best-Selling Blackout Shades
Blackout shades should do what they say they do – keep rooms dark and restful, blocking out 100% of the light. By default, that also keeps the room cooler. Just right for a blissfully deep sleep.
However, there are shades on the market that go under the guise of blackout, but in fact merely darken the room by blocking out approx. 95% of the light. If you work shifts, need your baby to nap during the day, or just want a totally black room, head towards the complete blackout range.
Here we test some of the best-selling shades of September, 2018:
Overview
This beautifully made shade feels well made and sturdy, with a pleasingly smooth rolling action. It comes in a variety of happy colors and blocks 100% sunlight and UV from your room.
What We Like

Arriving with everything needed to put this blind up, it was very easy to install, and looks stunning once in place. It blocks glaring sunlight really well – nothing can get through this. To be precise, it gives you two alternatives: To block 50% or 100% sunlight. Other amazing features include thermal insulation and noise reduction to let you rest. You can choose from a variety of colors, from traditional deep black to lake blue and pink. Delivery was fast.
What Needs Improving
The material feels a little unconventional at first, it's almost like vinyl. But it does the job well.
The Final Verdict
A very nice blackout blind, at a fantastic price – perfect! Take time to measure your windows (taking into account the mount, and so on) to ensure that you order the correct size. We happily recommend this!
DESCRIPTION: Sun roller shade, block 100% light and 100% UV ray, energy saving insulates againest heat and cold, noise is reduced and provide privacy, waterproof fabric good for bedroom, kithchen and bathroom.
Last update was in: September 6, 2018 3:36 am
---
Overview
This earthy shade is vibrant, effective and blocks up to 90% of harmful UV light. Ideal for indoor and outdoor use, this shade will help lower your energy costs. It arrived promptly, and with everything included for putting it in place.
What We Like

These terracotta blinds are so easy to put up that we had them installed within minutes. They do a great job of keeping out the daylight. We especially appreciate the breathable, quality fabric which fits in nicely with the rest of our decor. The color is vibrant and fun, and looks good in all seasons. Since this blind is designed for outdoor use, the fabric is resistant to damp, mold and dirt. And this blind is given the seal of approval by the International Melanoma Foundation. It's a winner.
What Needs Improving
After a few times, it did start to stick a little on the roll back, but nothing too bad, and it hasn't got any worse with time and usage. Delivery was a little slow, but if you can easily contact the seller for a precise estimate.
The Final Verdict
For the price, an effective and good looking blackout shade made from lovely material. A nice addition to our terrace to keep us cool from the burning sun. Approved by the International Melanoma Foundation.
Up to 90% UV block protection
Light filtering and helps improve energy efficiency
Aluminum head rail for added strength and durability
Child safe cordless operation - no cords, no chains
Unique knitted 'breathable' fabric
Free shipping
Last update was in: September 6, 2018 3:51 am
---
Overview
This clean, white cordless roller shade from Huntingdon feels hard-wearing and looks modern. Manufactured in a variety of sizes, this black out blind will block UV rays and cold drafts keeping you warm and comfortable
What We Like

This blind was easy to get up and running. We love that it's made from a supple cotton material, which makes it feel expensive. This is a cordless roller mechanism, which makes it extra safe if you have little kids or pets running around the house. It's highly effective at blocking out light, and the customer services are very responsive if you ever have any problems!
What Needs Improving
The instructions were a little thin, but as I say, with a little patience we managed it. Make sure you select the right dimensions for your windows.
The Final Verdict
A brilliant blind – well designed, well made and works a treat. Very happy to recommend this as an excellent blackout shade.
Supple Cotton Blended Blackout Fabric
Patented Deluxe Spring Roller Mechanism allows for smooth and precise height adustment. A huge upgrade from traditional snap roller shades.
Energy Saving
Child and Pet Safe
Last update was in: September 6, 2018 4:04 am
---
If you liked this, you might enjoy: