Testing the Best-Selling Air Conditioning Units
With the cold chill of winter keeping a tight hold on the temperature, why on earth would we need an air conditioner? However, come summer, and it's all we can do to sit in front of a cooling fan. However, now is the time of year when many air conditioners are on sale, so that companies can clear some space for winter products.
So, what do you look for when purchasing an air-con unit? The vast range can be confusing from standalone air conditioners, portable air conditioners, window or split units, and air conditioners that even double up as space heaters come winter. So, which one's for you?
Before you consider price and features, start by determining the size of unit you need for the space you want to cool, as well as where you'll place the unit.
Air conditioner capacity is measured in British Thermal Units (BTU), and each room should be measured to establish the capacity required. It is the case that the amount of BTUs you need will depend on the size of the room. Clearly, if you have a bigger room, you will need more BTUs. But other things should be considered too – for example is the room is normally shaded, or extra sunny? If the unit is intended for a kitchen, it is recommended to purchase one with a greater capacity.
Portable Air Conditioners:
Portable air conditioners are designed to be mobile, and therefore should be light enough to carry, or have wheels. Storage space will be necessary once the end of the season arrives, but they are an efficient option for your home. The hot air is vented through a hose that can be positioned out of a window or door.
Window Air Conditioners:
These can range from a small 5,000 BTU unit for approximately 300 sq ft of space, to 12,500 BTU for up to 650 sq ft. They tend to be the cheapest option but can be tricky to install. You can buy a cooling-only unit or a cooling/heating unit for supplemental heat if your home is in an area with moderate temperatures.
Wall Mounted Air Conditioners:
These room air conditioners are permanently mounted in a wall, and as such, are more aesthetically pleasing than other options. Wall-mounted units can come in cooling-only or cooling/heating varieties.
Split Ductless Air Conditioners:
Split ductless is a smart way to add air conditioning to your rooms without having to open up walls to install duct work—as you would with a central-air system—or install and remove multiple window units each year.
Many air con units come with extra features such as remote control, sleep modes, air humidifier options, and alerts, so it's a sensible idea to work out which features would work best for your set up before you go shopping!
Discover our best rated air conditioners: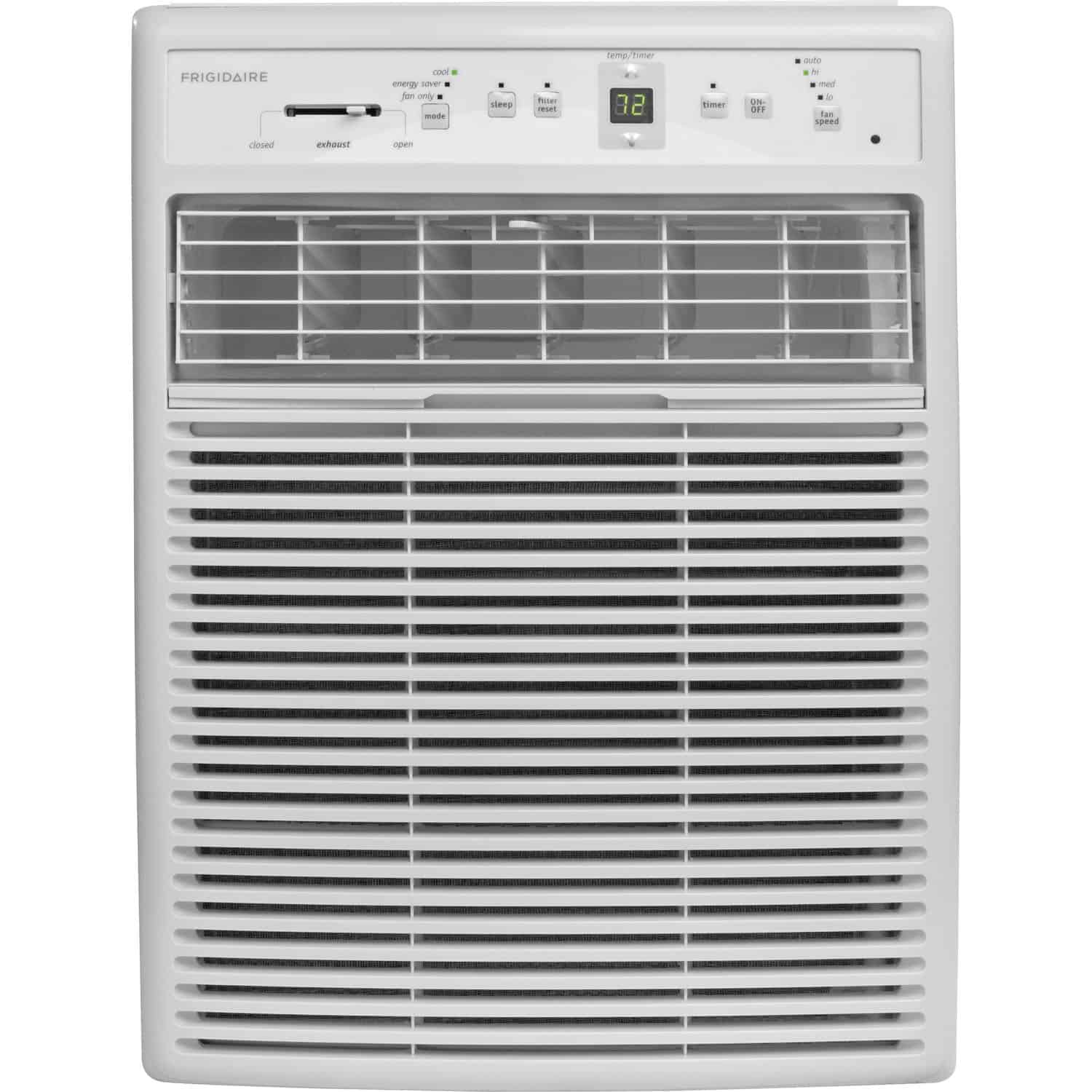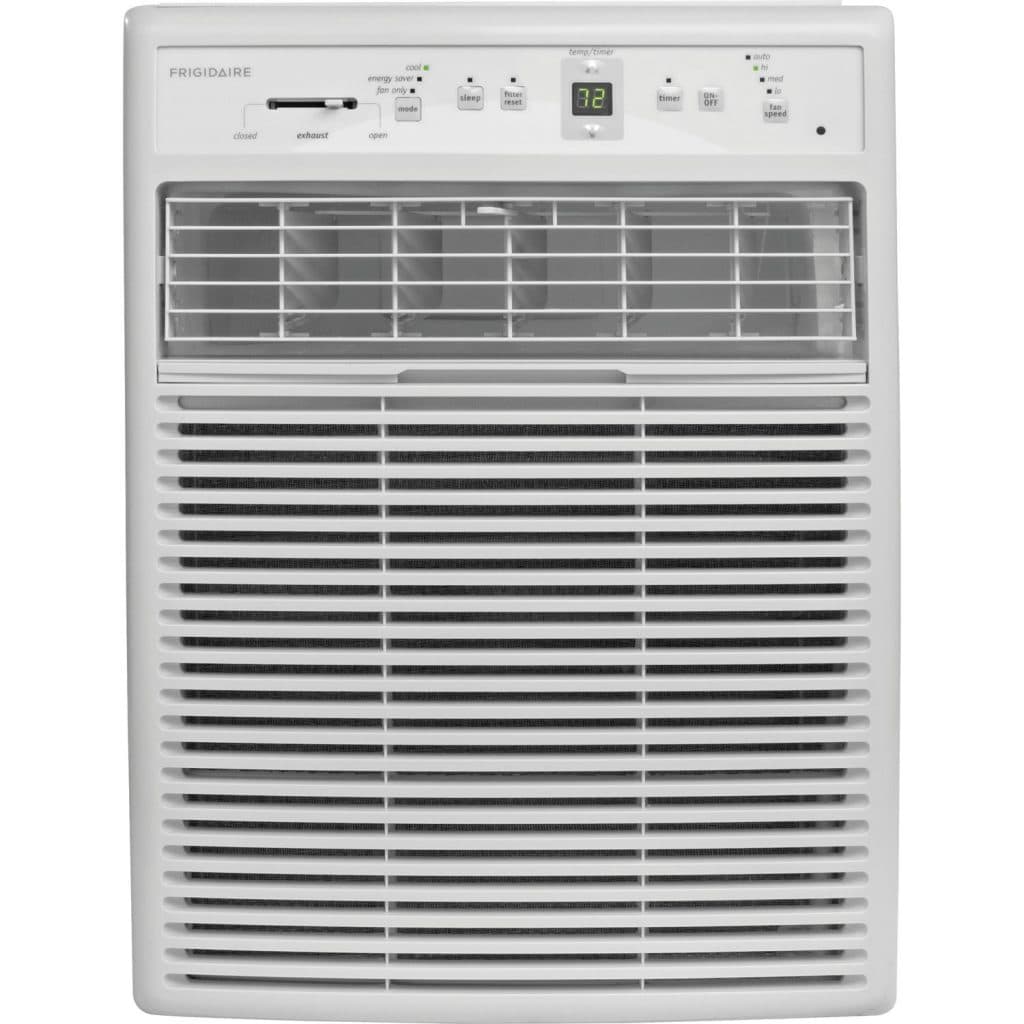 Overview
This is a neat little window-mounted unit – it uses adjustable side panels to ensure a great fit, and we installed it quickly and without fuss. It has minimal features, but its simplicity makes it easy to understand and use.
What We Like
This no-fuss Frigidaire fits into the window very well, thanks to the expandable panels eliminating any gaps that could allow air leakage – this is a great idea from the manufacturers. It runs near silently, allowing for a night of undisturbed, comfortable sleep, and cools the rooms really quickly. With the dehumidifier feature, the atmosphere is pleasant, with a noticeable difference between the air-conditioned rooms, and the rest of the house.
What Needs Improving

The power cord, whilst being a good length, is quite thick and heavy making it hard to hide for those who are concerned by aesthetics.
The Final Verdict
This is a great no-frills air con unit; it works efficiently, quietly and for the price band, is an awesome buy!
---
Overview
This Senville split unit provides an elegant, clean-lined and efficient solution for your air conditioning needs. It is small and easy to install, especially as there's no duct to complicate the process. The instructions are simple and clearly written, and everything is included for the installation.  It's designed for small or medium-sized rooms.
What We Like
The fact that this unit not only cools your rooms, but can heat them and dehumidify, too, is great. With no duct to worry about, and washable filters, it ticks a lot of boxes for us. Plus, it works out extremely energy efficient.   It's a shame it doesn't make the coffee too – maybe that'll be next year's model!
What Needs Improving
This unit isn't as lightweight as some we tried, but it is easy to lift due to the comfortable moldings.
The Final Verdict
An awesome air con unit, this keeps your house cool, or warm, at the touch of a button, and at a good price.
---
Overview
Available in a range of sizes, this Black and Decker air con unit lives up to the manufacturer's reputation for providing good looking, efficient, well made products. It's easily portable with smooth casters and handles. It arrived with everything necessary to plug-in-and-play, and although the user manual is very clear, we didn't actually need it – it's that easy to install. It is important to note that if your air conditioner has been resting on its side, then you should allow 24 hours to pass before using it.
What We Like
Within minutes our rooms were noticeably chillier, even on the lowest of the three settings. It has a range of cool (please pardon the pun) features including a 24 hour on/off timer, which along with the sleep mode, allows you to return home to a nice, cool environment and sleep in restful silence. The removable filter can be easily rinsed and there is no water bucket to refill. The use of an environmentally friendly refrigerant is an important point for us!
What Needs Improving

We couldn't find any issue with the unit itself, but we did think it was a little remiss of B+D not to put the caution regarding leaving the unit for 24 hours before running, anywhere on the carton, or manual.
The Final Verdict
We really like this unit – it's super efficient, easy to move from room to room, and runs near silently. With the number of extra features included, it's worth every dollar.
4 new from $405.00
9 used from $237.88

as of November 27, 2023 12:23 am
---
Overview
At only 44 pounds, this JHS is one of the lightest models around – perfect for carrying upstairs. There are also smooth casters and handles to roll the unit when on one level. The design will appeal to style lovers everywhere; it's sleek and smart with a wealth of thoughtful features.
After leaving it to stand for the required 24 hours, we were ready to switch it on – it needs no installation if used as a portable unit, so it's a case of plugging in and adjusting the settings. The manual covers everything you need to know.
What We Like

There's a lot to like about this unit. As it's been designed with an automatic evaporation system, it's non-drip, there isn't a bucket for the collection of water nor a hose for the extraction of moisture from the room – it's that simple! This unit can be used as an AC, for dehumidifying air, or just a fan with two volumes. Furthermore, it comes with a timer function, as well as a sleep mode. It's a convenient feature which we appreciated.
What Needs Improving

One the highest setting when it's having to work super hard, it can be a little noisy, but not enough to be an issue.
The Final Verdict
JHS have put a lot of thought into this air con unit, and it's paid off. This is a stylish, energy efficient, product with a ton of great ideas that allow for cool days, and comfortable nights.
---
5) hOmeLabs Portable Air Conditioner
Overview
We like hOmeLabs products for their straightforwardness. They are easy to use, sturdy and efficient, and this is no different. It features caster wheels for easy mobility and therefore does not need permanent location. The four wheels eliminate much of the need for lifting or carrying. We found this unit quick and simple to install following the clearly written manual.
What We Like

This model can multitask effectively, cooling and removing the humidity from rooms and also auto evaporating water, therefore, eliminating the need for a bucket for any accumulated water. This cooled the rooms in an impressively short time, with very little sound. The remote control allows for a relaxing evening, but the unit itself features an intuitive user interface that makes coming home after a hot day, pleasant, and ensures a comfortable sleep.
What Needs Improving
The vent hose is shorter than on the other units we tested, but only by a small amount. This isn't a deal-breaker for us.
The Final Verdict
Cost-effective, good looking, and very efficient, the hOmeLabs is a great unit, and does exactly what it should do with no complaints. We recommend that this unit is given some serious consideration!
---
Check out our other hand selected recommendations!