We Try Out The Best-Selling Humidifiers On The Market
Humidifiers work by enabling water to evaporate into the atmosphere within a building, reducing dry air. During winter months, our heating and space heaters dry the air out which can cause various problems.
This extra moisture is necessary during winter months because the heaters in your home can take away humidity from your rooms. Many medical practitioners agree that allergies, infections and more can be exacerbated by dry air.
In addition to protecting your health, humidifiers are a great way to protect your home's structural integrity.
What type of humidifier should I get?
Cool Mist Humidifiers:
This type of humidifier disperses a room-temperature ultra-fine mist over a large area, and uses less electricity than the other types.
Warm Mist Humidifiers:
These use a heating element to heat the water, and therefore use more electricity; but the comfortably warm mist that's dispersed can be healthier as the boiling reduces germs and impurities in the water.
Ultrasonic Humidifiers:
These are available in both cold and warm misting versions and run near silently, thus are suitable for infants and bedrooms. Vibrating the water at ultrasonic speed agitates it to create the ultra-fine mist
What size of humidifier do I need?
The most important thing to know is the size of your room if you want to find the best humidifier. You shouldn't look at big humidifiers that can pack a punch if you have a rather small room. If you live in a hot country, then you may wish to get an air conditioner with a built in humidifier.
To add moisture to an area the size of an average bedroom, a humidifier that can sit on a table is the best option. But for several rooms or an entire home, console humidifiers are the best match for the task.
These are much larger than room, or tabletop, humidifiers, and are designed to create a cool, moist atmosphere in areas up to three thousand square feet.
Do I need to do anything to keep my humidifier working well?
More maintenance is required if you live in an area with hard water. If you live in a place that has hard water, then you will have to de-calcify your humidifier often. Therefore, getting a device that is easily cleanable is probably the right thing to do.
Discover the Best Rated Humidifiers of 2023, and see how they shape up: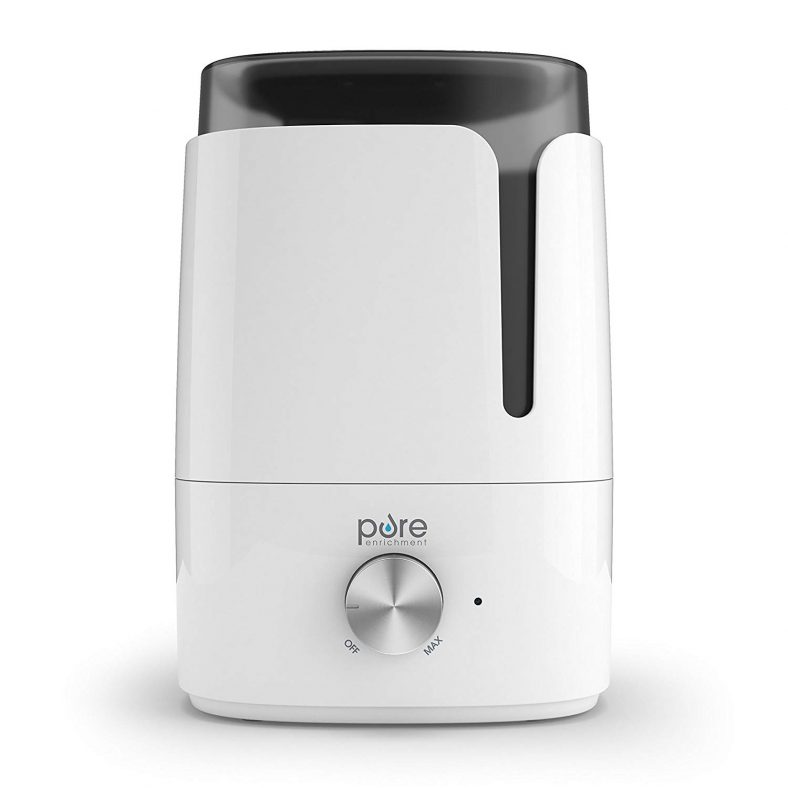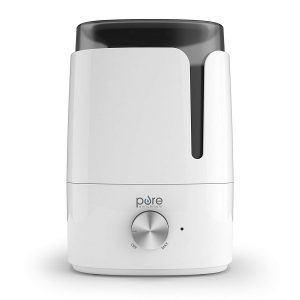 Overview
This Cool Mist humidifier can improve the moisture levels in your indoor air quickly and silently, creating a restful environment for you to live, rest and work in.
With the lightweight design, compact profile, and generous tank capacity, this looks like a great humidifier. It also has the option to direct the mist in the specific direction and can easily cope with larger rooms.
What We Like
Because of the size of the tank, when used on the lowest setting, it can diffuse for up to 12 hours continuously, without us having to go near, and with the automatic shut off once the tank is empty, the unit will turn off on its own. This minimizes any possibility of causing damage to the unit and effectively extends its working life.
We love how quiet this humidifier is; we found we could have a peaceful, silent night's sleep with it running, perfect for both bedrooms and nurseries, especially with the night light function offering a soothing glow.
There is a generous 5-year warranty with outstanding customer support if you run into difficulties.
What Needs Improving
When it was time to open the tank and refill the liquid, we found it a bit tight, but with practice it became easier.
The Final Verdict
This humidifier has a large tank and can diffuse for a long time, is small enough to be moved around and has some well thought out features. We're happy to recommend it.
---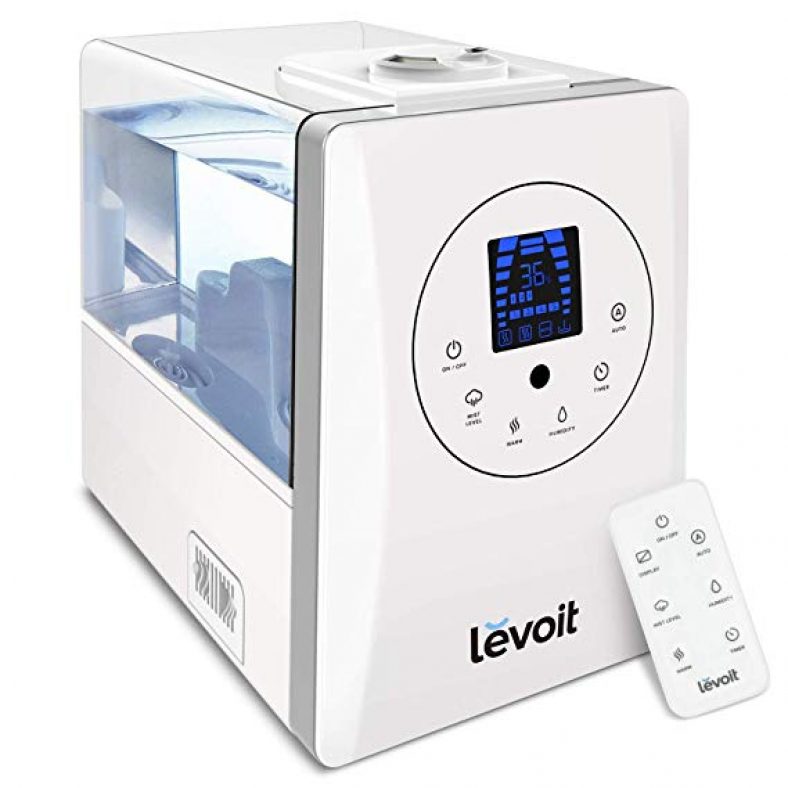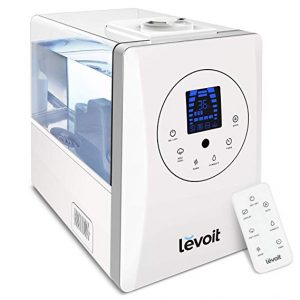 Overview
This large capacity (6L) humidifier not only puts moisture into the air but can also diffuse essential oils and produce ambient lighting, perfect for a kid's bedroom. The nozzle on the ultrasonic humidifier rotates to evenly distribute a fine mist throughout your rooms, and you can adjust the mist output to dispense the desired amount of moisture.
What We Like
Since this is a cool-mist humidifier, we didn't have to worry about our visiting niece accidentally burning herself if she came into contact with the unit. Plus, it runs so quietly in the background, we could have it in the bedroom with no chance of her waking up, and with the soothing nightlight she could sleep easily in a strange bedroom.
The slide-out aroma pad on this dual-filter humidifier allowed us to add several drops of essential oils to create a pleasing scent, and a relaxing atmosphere. We had this humidifier in sun room to boost the health of our plants, in the living areas, and bedrooms, in fact it's easy to move it anywhere. Cleaning this unit is simple and quick too.
What Needs Improving
As with the MistAire, the cap on the refill tank can be a little difficult to open, but again practice makes perfect, and we soon got it sorted.
The Final Verdict
Levoit have designed a good-looking humidifier that's durable, simple to use and easy to maintain – all at a great price.
19 used from $66.49
Free shipping
as of November 27, 2023 6:15 pm
---
Overview
This Vicks cool mist humidifier adds essential moisture to your room, producing an invisible mist to ease coughs, congestion and asthma. The 0.5 gallon tank will run for over 12 hours without being refilled, and it claims to leave the air 95% bacteria free.
What We Like
We lent one of these to a colleague who had a persistent cold, and overnight he felt much better and slept well. Obviously, the fact that this humidifier runs silently is a plus point here.
The large opening on the tank was perfect for easy refilling and cleaning, which doesn't need to be done that often, and the humidity level is easy to regulate. A cartridge removes any harmful substances from the water – we found this quite a comforting thought. This humidifier is ideal for all rooms but especially sensitive areas such as bedrooms and children's bedrooms.
What Needs Improving
Our only complaint is the fact that this is not particularly aesthetically pleasing to the eye; however, this is certainly not a deal breaker.
The Final Verdict
The addition of the vapour pads make this an awesome humidifier, great if you have kids, great if you love getting a peaceful sleep, great if you hate feeling ill. We're happy to recommend this.
3 new from $39.24
3 used from $39.59
Free shipping
as of November 27, 2023 1:16 am
---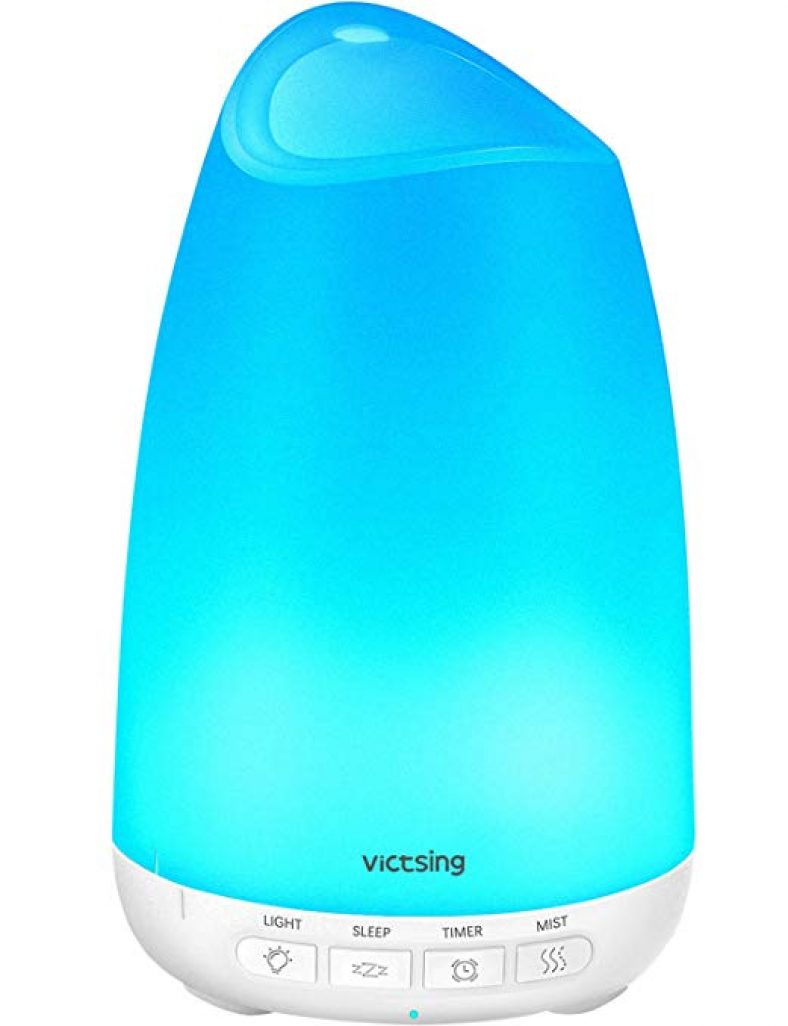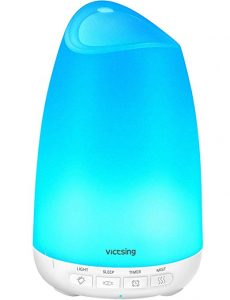 Overview
This is a very small, neat humidifier – it will fit almost anywhere, and although it's fairly no-frills, it works well and seems durable. Whereas some other brands have an egg-shaped design, which can make them difficult to carry or refill, this VicTsing has addressed this issue with an arc-shaped design, making it look quite stylish. The unit is simple to use but comes with detailed instructions.
What We Like
This VicTsing gives off a super ultra-fine mist, which helped alleviate allergy symptoms. We also like that it can also be used as an essential oil diffuser. It's so easy to clean, runs near silently, and the knob control is very sensitive to adjustments – even the tiniest increment will make a difference. This makes it very efficient, and quick to set to individual preferences.
The addition of the vapour pads make this an awesome humidifier, great if you have kids, great if you love getting a peaceful sleep, great if you hate feeling ill! We're happy to recommend this.
What Needs Improving
The tank could hold more water water, it got us easily through the night, and then we refilled ready for the next night.
The Final Verdict
A simple design that works superbly, and the price makes it well worth considering. This will make a great gift for someone.
2 new from $14.99
Free shipping
as of November 27, 2023 11:15 pm
---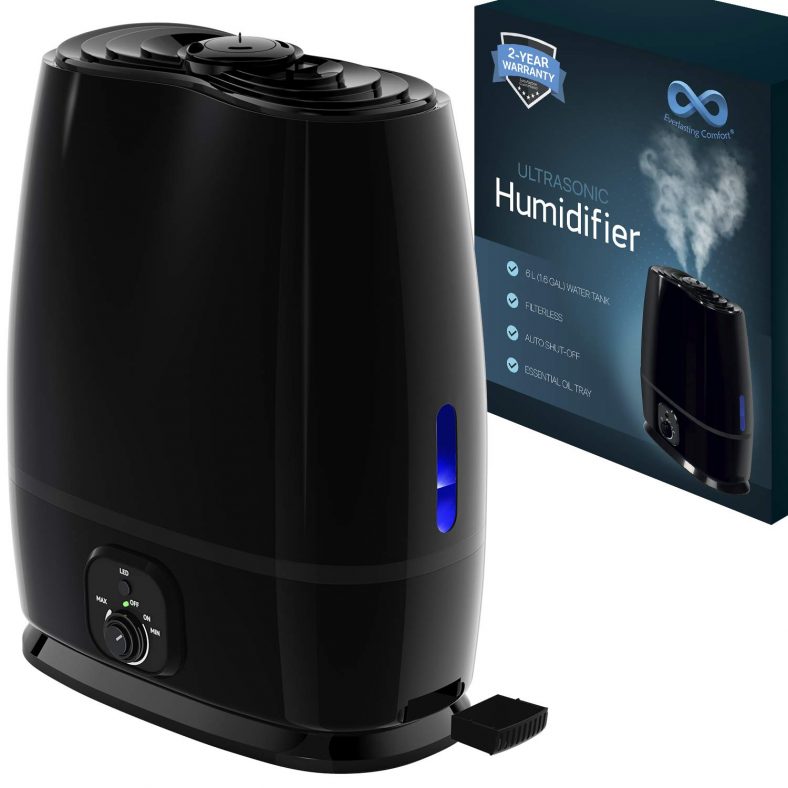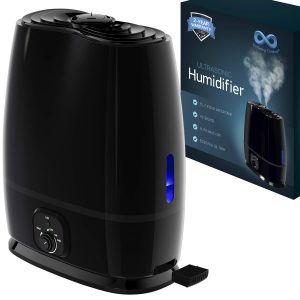 Overview
This sleek, modern humidifier is the perfect size for a larger living space or bedroom. Everlasting Comfort claims that the Ultrasonic Humidifier has the ability to keep the moisture above 43% in a 400 sq. ft room, which is the suggested humidity level for a healthy and restful environment.
It doesn't come with fancy LED displays, but it does have a warm glowing nightlight, and very simple, but sensitive, knob controls. It has a large capacity tank, but the whole thing is designed to be neat, and easy to carry from room to room – which it is.
What We Like
It is recommended that you use distilled water for this, but several times we ran out, and found tap water was just as effective, and didn't leave any residue – but we are in a soft water area.
We love the essential oil tray, and all that's required is to simply put several drops of your favorite oils into the tray, close it properly, and wait for the unit to do the rest. The fan circulates and mixes the oils into the mist, so we enjoyed not just clean and refreshing air but also sweet-smelling, too.
The mist that this powerful unit produces can be controlled with the touch of a very responsive dial, and it's easy to instantly adjust the intensity of the moisture to individual tastes and requirements.
What Needs Improving
We tried but couldn't find anything that needed improving.
The Final Verdict
This is a great option for homes and offices. It packs a real punch for its small design and is so quiet that we forgot it was there. Throw in an awesome essential oil diffuser, and this humidifier is an excellent bargain.
2 new from $69.95
Free shipping
as of November 28, 2023 12:37 am
---
If you're still unsure on whether to get an air humidifier, make sure to check out these health benefits from having one around!
---
What else is trending today?