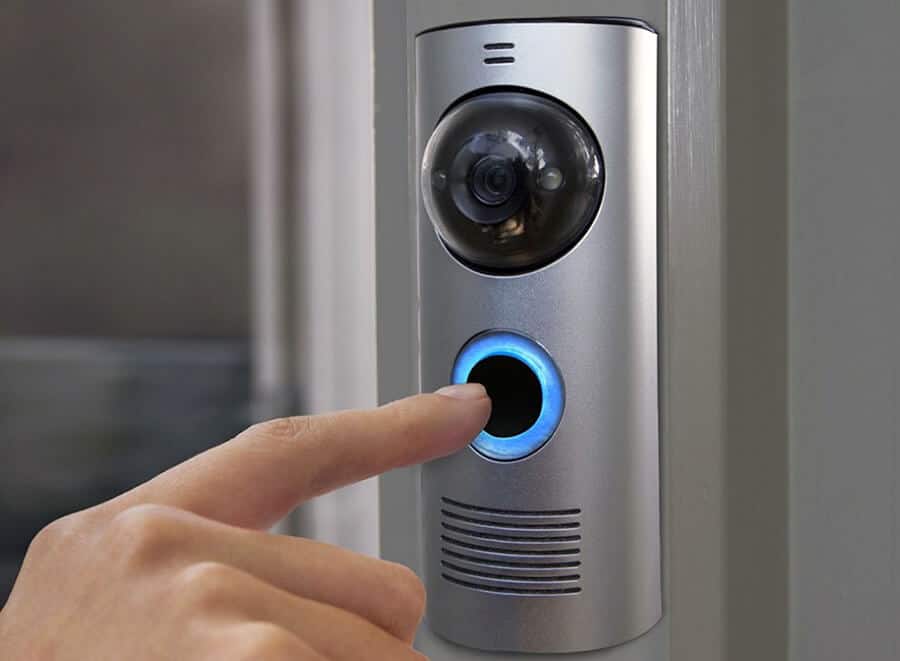 Last Updated on
Ring my Bell – Our take on the latest doorbell cameras!
Doorbell cameras frequently work in tandem with your smartphone, allowing you to see whoever's outside, ringing your bell. This means that not only can you avoid any unwelcome visitors, such as salesmen and Uncle Billy, but if a delivery arrives while you're out, you can tell the UPS man where to leave your parcel.
Burglars will often check out a property before visiting nefariously, so with a doorbell camera you'll be alerted to that fact; they may even spot the camera, and get spooked, never to return!
Many doorbell cameras have access to Cloud storage (although this usually comes with an annual charge) in order to store, and replay, recorded videos.
Overview
This is neat, sleek and super sexy! The brushed steel gives a solid professional look – a look that says 'Go on, try me, just the once, mind, in case I decide to bite grrrrrrrr'.
Features
Answer the door wherever you are – see and speak to visitors directly from your smartphone.
On demand access – access live video at any time from your smartphone or the web. A new HD wide-angle lens gives you a clear view of your entire space.
Smart motion detection – receive an alert and a recorded video clip whenever motion is detected.
Zmodo Cloud Service – motion alert clips are saved in the cloud for 12 hours for free. All users are also eligible for a 30-day free trial of our 7 day cloud recording plan. With the cloud plan options, you can review, save, and share footage at any time, and reduce false alerts with cloud intelligence.
Additional Service – 60 days money back guarantee, 3-year limited warranty, lifetime US-based tech support ( Tel: 217-693-5706. Working time: 8:00 – 20:00 CST, Mon-Fri ).
Pros
This does what it says on the box; it's simple to use, works well and is a good looking piece of kit.
I received the Cloud access code within a day of signing up. All in all, very impressive.
Cons
Installing this is a [insert very bad word here] nightmare!
I had to call a techie friend, who had to call a techie friend who called another friend to bring beer, who turned up with another techie friend, and beer. I drank the beer!
There doesn't seem to be a logical way to install this, just hope, pray, drink beer, and pay for an expert installer!
Final Verdict
Once this is installed, it's great. I really like it, in fact I think I really, really love it (that could be the beer talking though)!
---
Overview
Yeoman have included batteries with this video doorbell – to be honest, that gives it the win without even trying!
The instructions are easy to follow, the device looks sturdy, and it arrived well packaged.
Features
HD Video & Wide Angle & Motion: Built with 180° wide viewing angel, FHD video image and smart PIR motion detection, you will never miss a visitor again. Just see and speak to visitors directly from your smartphone wherever you are, day or night. Real-time alerts will be sent to your phone when visitors press the WiFi doorbell or any other movement of people and animal is detected in the detection areas.
Lifetime Free Cloud Storage: No more 30-day free trial or other subscription plans needed, we offer lifetime free cloud service(Keep rolling 7 days of motion triggered recordings for free) to all customers for our Yeoman WiFi doorbell. With the plan, you can review, save, and share footage at any time. Moreover, with optional local storage backup, video clips also can be saved on SD card (INCLUDED), maximum supports to 32GB.
Smart Night Vision & 2-Way Audio: With an enhanced night-vision sensor and adjustable sensitivity, which allows you to manually switch on the night vision mode based on different light strength to make sure you have one of the best view even in a dim environment, detecting distance is 6 meters (20ft). Also designed with simultaneous two-way audio, you can communicate with people at the doorbell end smoothly
Quick Set-Up: Whether directly connect this home doorbell camera with the existing wiring or just use the recharge batteries for power source, just simply download the free mobile app and follow the on-screen instructions to register your wireless doorbell. It's fast, easy and anyone can do it.
IP65 Waterproof: IP65 rating makes your doorbell camera suitable for outside use and keeps recording in the ever-changing outdoor environment no matter rain or shine.
Battery Powered: With two rechargeable 18650 batteries powered, this security doorbell ultra-long standby time up to 6 months.
Warranty: you'll receive a full 1-year US Warranty and Lifetime 24-hour after-sales services Support provided directly from Yeoman Team.
Pros
Installation was remarkably simple and I managed it without calling in the troops, or downing the beer (if there were any left – which there wasn't).
The doorbell works well, the video is clear, and the audio is easily……….audible. The other features, such as the extra wide angled lens are great ideas, which make it well worth the price.
Cons
Whilst I've been trying this doorbell, I've had a couple of false rings; nothing to worry about just a bit irritating. The pros far outweigh the cons, though!
Final Verdict
I like this. Yeoman including some rechargeable batteries makes me feel valued as a customer, and encourages me to trust their honesty. They wouldn't sell me a dud doorbell, would they? Of course not!
---
Overview
I like the fact that this doesn't need batteries! It has a choice of faceplates, and everything necessary to install this doorbell is included – good old Uniden. However, it doesn't appear quite as robust as some other doorbell cameras on the market.
The Quick Start Guide does look like it will start things quickly. Place your bets……..
Features
Wired power (no batteries required), 180-degree field of view, 15-foot night vision, motion-activation, Weatherproof IP54, includes 8GB SD card for recording purposes.
4 Interchangeable colour faceplates included – White, Silver, Charcoal, and Black. Includes mounting template with installation wrench, mounting screws, screw anchors, 4 flat screws, and power cables, power connector and resistor
Free Uniden wireless video Doorbell app: full mobile remote control and setup from iPhone, iPad, iPod touch and Android devices to receive alerts via email or notification.
System requirements: Router with Internet access and iPhone, iPad, iPod touch or Android device; Network interface: 1 Wireless Interface (Wireless Network Card), Supporting 2.4 GHz.
Ensure your WIFI network is a 2.4GHz network and not a 5GHz network. Only a 2.4GHz network will function. See Quick Start Guide for additional information.
Pros
The video here is so clear, and with the wide angled lens, no one can hide from me with this on my side. Even at night, there's no creeping up on me.
There are iOS and Android apps for this doorbell, and both work well, allowing surveillance from a distance, thus being able to creep up on the creepers. This could get confusing.
Cons
In practice, The Quick Start Guide is less than 'quick', and more like 'really slow and annoying', and the 'wireless connection' is less 'connection' and more 'I can't hear/see/sense you'.
Final Verdict
I am actually disappointed in this – for the price, I was expecting more. The problems with the WiFi connection made the doorbell essentially redundant, and all the good features, void, unfortunately.
---
Overview
The design of this appeals to the Sci-Fi nerd hiding inside me – it's smooth, metal, and disc shaped. It also seems well made, with potentially easy to follow instructions and downloadable apps.
Features
Award Winning Performance: SkyBell HD has won numerous awards and named the Best Video Doorbell by CNET in 2016, 2017, and 2018.
Works with Alexa: use simple voice commands using your Amazon Echo or Echo Dot for more convenience.
Answer your door with your smartphone or tablet – all the convenience of using your mobile device to see, hear, and speak with whom ever is at your door!
No Monthly Fees: recorded video is available to multiple users on your account FREE to download for up to 7-days.
Pros
The SkyBell's video clarity is excellent, very smooth and with a great playback. The audio works well, too, and I like that the app is constantly being improved and updated.
The colour changing LED is an added bonus, as are the multiple chime choices!
Cons
The main flaw is that the motion detector is either too sensitive and can be set of by a small mosquito, or is so jerky it hurts – the middle setting, once found, should never be changed.
Final Verdict
Despite the motion detector issue, I really like this, and plan to hang onto it for as long as I can! It's brushed steel seductiveness would adorn my front door forevermore!
---
Overview
I like the look of this – it gives the impression that it means business and shouldn't be messed with!
It is also available in these equally no-nonsense finishes – Venetian Bronze, Polished Brass, and Antique Brass. Happy me!
Features
Works with Alexa for voice control (Alexa device sold separately).
See, hear and speak to anyone at your door from your smartphone, tablet or PC
Get instant alerts when visitors press your Doorbell or trigger the built-in motion sensors
Watch over your home in crystal-clear HD video
Live View enabled: Check-in on your property at any time with video on demand
Lifetime theft protection: If your doorbell gets stolen, we'll replace it, for free!
Pros
This is brilliant. Easy to install, keeps a good connection, excellent video clarity, and not too pricey. I was comfortable with the simple-to-use interfaces too.
Cons
My only complaint is that the motion detector is a little too sensitive with next door's cat.
Final Verdict
This is a super doorbell camera, doing exactly what I want it to do. I would happily recommend this to anyone (except if they have a neighbour with an annoying cat).
---
If you liked this page, then also check out some of our other featured articles