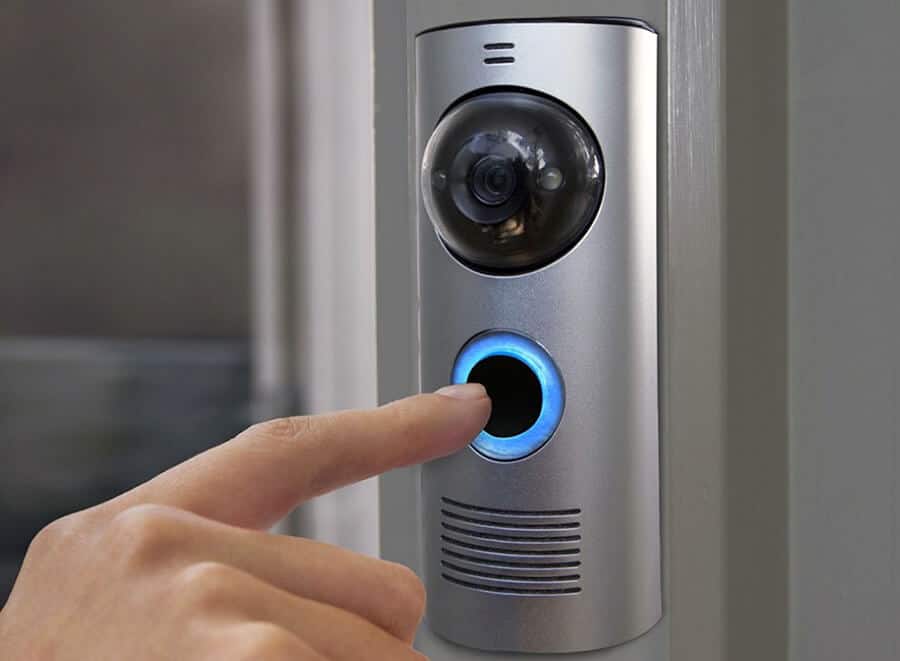 Ring my bell – Our take on the latest doorbell cameras!
Doorbell cameras work in tandem with your smartphone, allowing you to see whoever is outside, ringing your bell. This means that not only can you avoid any unwelcome visitors but if a delivery arrives while you're out, you can tell the UPS man where to leave your parcel.
Burglars will often check out a property before visiting nefariously, so with a doorbell camera you'll be alerted to that fact. The incorporated HD camera acts as a similar deterrent to CCTV, but without the imposing equipment.
Many doorbell cameras have access to Cloud storage (although this usually comes with a small annual charge) in order to store, and replay, recorded videos.
So without further ado, let us introduce our Top 5 Doorbell Cameras of April, 2019:
Overview
We love the look of the best-selling Ring doorbell – it gives the impression that it means business and shouldn't be messed with.
It is also available in these equally no-nonsense finishes – Venetian Bronze, Polished Brass, and Antique Brass.
What We Like

This is great. Easy to install, keeps a good connection, excellent video clarity, and not too pricey. We were very comfortable with the simple-to-use interfaces too.
What Needs Improving

After 1-month of using this doorbell camera, we couldn't fault it.
The Final Verdict
This is a super doorbell camera, doing exactly what we want it to do. We would happily recommend this to anyone.
Works with Alexa for voice control (Alexa device sold separately).
See, hear and speak to anyone at your door from your smartphone, tablet or PC
Get instant alerts when visitors press your Doorbell or trigger the built-in motion sensors
2 used from $59.65

Free shipping
Last update was on: April 23, 2019 6:45 am
in stock
---
Overview
This neat and super sleek brushed steel door bell camera gives a solid professional look that will look smart in any home or office.
What We Like

This does what it says on the box; it's simple to use, works well and is a good looking piece of kit.
I received the Cloud access code within a day of signing up. All in all, very impressive.
What Needs Improving

There may be extra costs with buying a cloud membership in the long run, although initially you get a Free Trial and 6-months of free recording. All in all for a reasonably priced doorbell, it's not much more extra.
The Final Verdict
Once this is installed, it's great. It does the job it's supposed to and will add a nice modern touch to your home.
📱【Versatile&Small Size】YIROKA video doorbell is one of the smallest sizes in the industry, the designer has specially designed it according to the size of the American home door frame.With video intercom, photo, video, night vision, PIR and other functions to make your life more convenient
Free shipping
Last update was on: April 23, 2019 12:46 am
in stock
---
Overview
This modern video doorbell looks polished and hard-wearing, and arrived well packaged. You get everything you need to get your smart doorbell up and running, including batteries and straightforward instructions.
What We Like

Installation was remarkably quick and simple.
The doorbell works well, the video is clear and it is perfectly audible even in a large house. The other features, such as the extra wide angled lens and smart night vision, are great ideas, which make it well worth the price.
What Needs Improving

Whilst I've been trying this doorbell, We've had a couple of false rings; nothing to worry about. But with this modern doorbell, pros far outweigh the cons.
The Final Verdict
We like this smart doorbell. It worked without a hitch and gets extra points for aesthetic appeal.
【Wireless Wi-Fi Connection】Smart doorbell, just download the APP(UBell) and connect to the phone with 2.4GHz Wifi. Then you can see, hear and speak to visitors who ring the doorbell from your phone clearly with 720P HD video and smart night vision.
Last update was on: April 22, 2019 10:45 pm
in stock
---
Overview
This super smart doorbell camera/full intercom system with HD video is one of Amazon's best kept secrets. We were astonished to find such an accomplished product that delivers on technology while still maintaining a more than reasonable price point. For what you pay, you get a fantastic security system for your home.
What We Like

Let's start with the picture quality. The video here is so clear, and with the wide angled lens, no one can hide. Even at night, there's no creeping up on our home or office thanks to the advanced infra red lighting! This intercom is so powerful that it can even do surveillance at a greater distance, leaving you feeling extra secure.
This doorbell camera is wall mounted, and operates via a push button that triggers a two-way video call between you and any of your visitors. There is also auto turn off for when you don't want to have the system switched on. Thankfully there are 16 x ringtones to choose from, so you won't get bored too quickly.
What Needs Improving

Our only observation is that the cables are relatively short. This means that the system needs to be mounted close to your door. For most houses and flats, this shouldn't be too much of an issue.
The Final Verdict
This doorbell camera is great quality and works perfectly well. A very solid purchase.
Indoor Monitors Intercom - Our wall-mounted 7-inch color monitor and outdoor doorbell with push button HD camera ensures you can both see and speak with all visitors
Night Version - Advanced infrared-assisted lighting features enable you to identify the visitors even at night and capture images in low-illumination environment
Free shipping
Last update was on: April 23, 2019 6:45 pm
in stock
---
Overview
This multi-award winning video doorbell is set to impress– it's smooth metal looks ultra elegant outside any home. It also seems well made, with easy to follow instructions and downloadable apps.
What We Like

This robot like security system performs like clockwork. And it's packed to the rim with useful features. These include a 2-way 720 HD audio and video connection, a 170 degree viewing angle, motion detection, a doorbell (of course!), batteries and accessories.
You can pair it up with almost any smartphone, with a user friendly app to match. The best part is there's no sneaky monthly subscriptions – you only pay for what you want. On top you get free lifetime cloud storage.
The video clarity is excellent, very smooth and with a great playback. The audio works well, too, and we like that the app is constantly being improved and updated.
What Needs Improving

The main flaw (for some!) is that the motion detector is very sensitive, it can even pick up a mosquito. This may be a feature that you want, but if you're looking for something a little less "jumpy", bear it in mind.
The Final Verdict
Despite the motion detector point, this was the best doorbell camera/home security system we tested, and plan to hang onto it for as long as we can.
►Two-Way Talk:TONBUX WIFI doorbell use built-in microphone and speakers with noise cancellation,You can see, hear and speak to the visitors from your phone, tablet and PC.
►Lifetime Free Cloud Storage:No subscription fees for the lifetime cloud service. With Cloud Service, you can review, customize, save, share the footage, or have a flashback of all-day details in just few seconds. Videos can be stored in cloud for 7 days, which allows you to watch, save or share the videos at any time.
Free shipping
Last update was on: April 22, 2019 9:45 pm
in stock
---
Check out some of our other featured articles: