Don't Become A Crime Statistic!
It is estimated that every 13 seconds a home somewhere in the US is broken into. To avoid being part of those worrying statistics, now is the time to invest in a modern home security system. Home security systems in general are recommended by law-enforcement officials, and there is a vast amount of evidence backing up their effectiveness at both preventing break ins and allowing the perpetrator to be identified.
An improvement on the outdated burglar alarm, an effective alarm system is so much more. In addition to a doorbell camera, allowing you to monitor who enters your property, a full home security system generally includes:
An indoor and outdoor home security camera
A control panel, which is the primary controller of a home's security system
Sensors for windows and doors
Motion sensors, both interior and exterior
Security cameras
A loud alarm
A home security system also features the capacity to warn you about a fire, carbon monoxide, and sometimes flooding as well. Many versions of an alarm system can also remain functional during an electricity outage, and the majority will allow you to sync with your mobile device, giving you access to video and audio wherever you are.
With new, innovative technology improving almost daily, even the more vulnerable of society are readily catered for. If, for example, you're hard of hearing, rapid advancements in the cell phone industry allow the audio on your phone to be clarified. This means that you can hear sounds from outside your property, via your security system, crisply and clearly, alerting you to any problems immediately.
If you don't want to invest in a heavy-duty home security system – you may wish to look at cheaper alternatives, even a pet camera – which will transmit real-time footage of your home to your smart devices, alerting you to possible anomalies.
So, it is important to remember that alarm systems come in a large range of sizes for different sized homes, and to suit different pockets. In case you have the budget, go for a larger system with more options.
When searching for the right system for you and your home, keep in mind that many of the more budget kits do not contain complete systems – they won't have cameras, or will only contain window and door locks. So, do read the small print and know what you're getting, and what you'll have to purchase separately!
These are our most popular home security systems of 2023: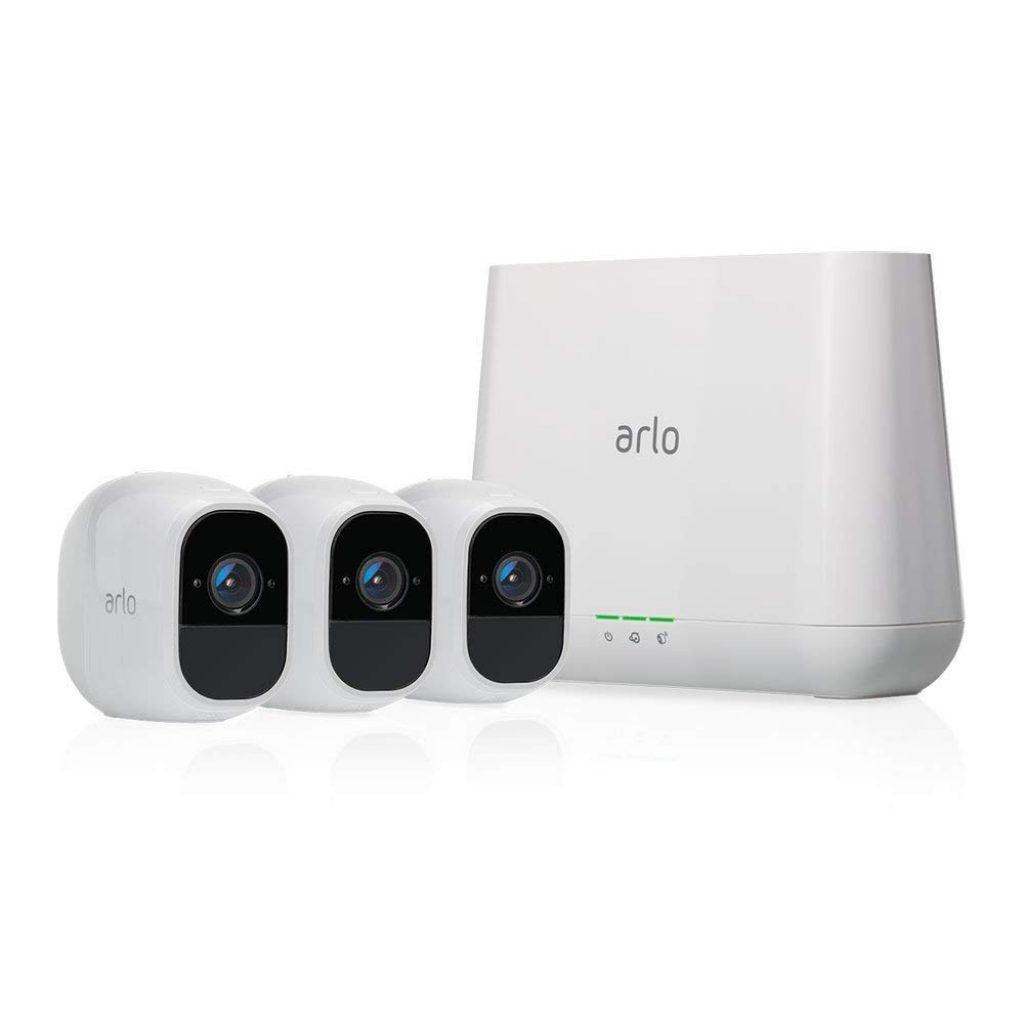 Overview
This system is available in a variety of options, the largest having 6 cameras; however, we chose the mid range 3 camera system to try out. Everything appeared to be present, correct and very well made on unpacking.
What We Like

The instructions really are as simple as they look, and it doesn't take long to get the entire system up and running; the cameras have both magnetic fittings and screws, so are easily fixed to most surfaces. The batteries last for a long time, with an email being sent when they are running low and need charging – a useful idea. Connection for the Arlo has remained constant, and strong, and the whole system seems to be very reliable.
What Needs Improving

With the Arlo's wide viewing angle, it can make details hard to see, but if you love this home security system you can soon get used to it.
The Final Verdict
Being so easy to install and get running is a major selling point for the Arlo, and because it does exactly what it says on the box, and does it well, we are happy to give this a big thumbs up.
2 used from $621.34
Free shipping
as of November 27, 2023 1:11 pm
---
Overview
We were impressed by how neat and well designed this system looked from a hardware point of view. This is a quality home security system with a "no nonsense" approach.
What We Like

The soothing and reassuring voice that greets you and talks you through the installation process is a nice touch, and having this installed in the house is a pleasure. This system is easy to use, with a clear, user friendly interface, and while the default settings are fine, there are so many customizations available, you can tailor the SimpliSafe to meet your exact needs. Also, you can easily expand your set-up by adding extra cameras, carbon monoxide sensors and so on.
What Needs Improving

The SimpliSafe comes with a lot of components, so it takes some getting used to. It's important to read the instructions as otherwise you may be pressing the wrong buttons.
The Final Verdict
SimpliSafe have designed a commendable security system that not only looks good, but works well, is easy to install, and can be altered to suit your exact requirements. A slightly gimmicky design, but once you master it, it will work well for you.
---
Overview
The Ring security system is the least expensive of the three we've tried, and we feel that the design lacks the sleekness of the SimpliSafe and the solidness of the Arlo security systems. However, a lack of looks are no indication of how well it works. In fact this home security system surpassed our expectations.
What We Like

The installation is easy and quick, with each sensor only taking about 60 seconds to fit. If you wish to expand the system with more sensors, or cameras, Ring sells them separately and they are simple to add on. The auto dialler function works very well, and it will call up to six pre-programmed numbers, including the emergency services.
What Needs Improving

Depending on the design of your windows and doors, you could find the sensors a little bulky.
The Final Verdict
The Ring Security System is a great budget security system – not the most high tech, but easy to install, and for the price, you can't go too far wrong.
1 used from $77.27
Free shipping
as of November 27, 2023 8:18 pm
---
If you've ever wondered based on what principle home security systems work, make sure to check out this info sheet!
---
Before you go, take a look at our other top picks for the home: