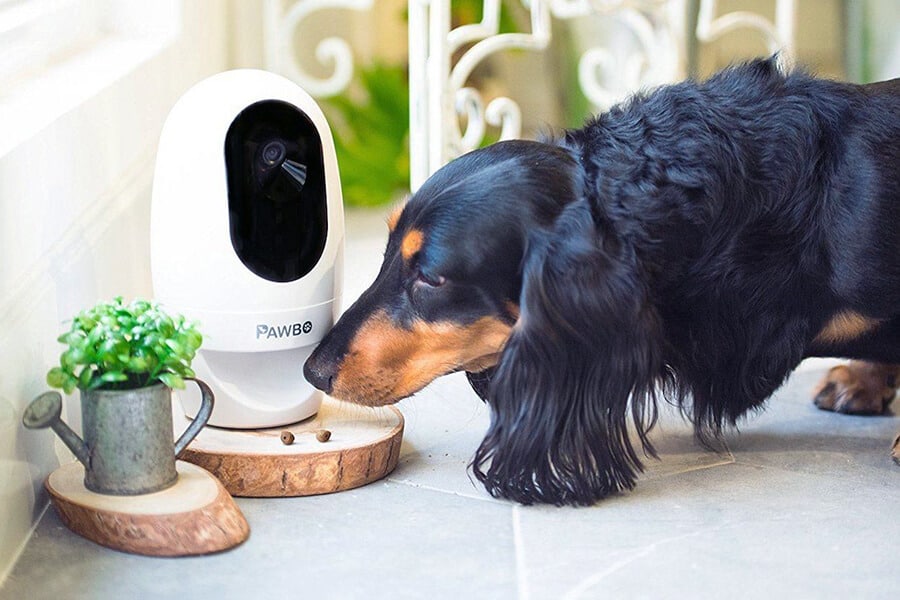 Our last update to this page was
Pet Cameras
Looking for a pet surveillance camera or security system to watch your dogs while you are at work? Or maybe an interactive monitor with a treat dispenser? Or even one to spy on your dog sitter?
What are the useful features that your pet camera should possess? Here are a couple to consider:
Audio or 2-Way Audio – allows you to reassure your beloved pooch, kitten, or the dog sitter!
Remote Viewing on your Smartphone
Decent Night Vision
Motion Detection
Pan, Zoom, Tilt features
We have roped in our furry friends to sample the best selling pet cameras of September, 2018, just for you.
Overview
This seems to be well made, nicely designed, and able to provide peace of mind when we're out at work all day. The treat shooting mechanism is a nice addition!
What We Like
We love the dog selfie technology; when your pooch is facing the screen, the camera recognises this and takes a selfie, resulting in the cutest natural looking shots.
The treat idea is genius, and is a fun way to keep our beloved pets entertained.
What Needs Improving

The Furbo takes a bit of setting up, and initially it wouldn't connect, but we persevered and finally sorted it out.
The Final Verdict
Once we worked out how to connect it, the Furbo is brilliant. The design is unobtrusive, the imaging is clear, and our dogs are happy, if a bit confused.
Fun TREAT TOSSING: TOSS a treat to your dogs via the free Furbo iOS/Android app. Fill it with over 100 pieces of your dogs' favorite treats & play a game of catch.
1080p Camera & Night Vision: livestream video to monitor your pet with a 160º wide-angle view, day and night.
Last update was in: August 29, 2018 12:53 pm
---
Overview
This has a very 7o's space age style, and you feel like it's watching your every move when you're at home. But for a dog cam it's sturdy, well made and with clear instructions.
What We Like
Setting this up was so easy – 5 minutes tops, the picture quality is superb, and the user interface is simple to use.
What Needs Improving

The camera makes little noises as it rotates. We've looked at it and added a smear of grease, but it still clicks. This disturbs the dogs a bit, but as long as you place it in the right part of the house, it won't bother you.
The Final Verdict
For the price, this is a brilliant little pet cam, and it doubles up as a neat home security device. Well worth it.
1. Quick 2.4G Wifi Connection --- Fast WiFi setup via mobile App on iPhone/Android smartphone/tablets/Windows PC(it can't support MAC). This pet camera with APP supports remote access via mobile App anywhere and anytime.Support Windows 7/24 video recording.
1 used from $25.99

Free shipping
Last update was in: August 29, 2018 1:47 pm
---
Overview
Petcube's camera is smart, slick and sophisticated. It's well made, and our only very minor complaint is that it is quite large.
What We Like

Both the image and audio quality are second to none, and we had great fun calling the dogs, and flinging treats at them remotely.
What Needs Improving
This camera is really complicated to set up, and that caused some frustration along the way. Also, the treats that came with it were not appreciated by our ungrateful pups, so we tried other brands and finally found one they liked – spherical treats seem to work best for flinging long distance!
The Final Verdict
This is a well designed, if a little large, pet camera/treat flinger, and once you've mastered the set up, it seems to do both jobs very well.
1080p HD VIDEO and NIGHT VISION: check on your pet when away from home. 1080p HD video with 138° wide angle view. See up close with 3x zoom.
BUILT-IN TREAT DISPENSER: from Petcube App, fling treats remotely or schedule automatic treating. Compatible with a variety of dry, crunchy dog and cat treats. Usually flings 1-5 treats at a time, though more are possible depending on treat size. Control the number of treats dispensed via an adjustable app setting for smaller and larger treats. Premium brand bag of dog treats is included.
Last update was in: August 29, 2018 1:48 pm
---
Overview
For the high end price paid, this camera offers a 2-way video chat system and a unique pet friendly round cornered design for peace of mind. The quality feels a step up from its competitors, which makes the extra cost worthwhile.
What We Like
This camera has all the features you'd expect from other good pet cameras, and more. The video and sound quality is fantastic, and the Pet Watch video recording option worked without a hitch. The treat function is great and easy to control.
What Needs Improving

The only drawback with this pet camera is that you have to use the treats supplied by the company. If your dog or cat is prone to allergies, it's important to bear this in mind and check the nutritional value.

The Final Verdict
A solid pet camera that feels like a high quality item. All features work perfectly. Only treats supplied by the same company are compatible with this pet camera.
PetChatz Digital Daycare is a full day of interaction and entertainment for your home alone pet. A completely interactive experience with two-way video chats, treat dispense, calming aromatherapy, brain (treat) games, pet-to-parent messaging (with PawCall) and entertainment with streaming DOGTV. All in the safety and convenience of your home. (PawCall and DOGTV subscription sold separately).
Free shipping
Last update was in: August 29, 2018 1:54 pm
---
Overview
Looking like a friendly domed robot, this little camera feels robust and solid, and has a very fair price.
What We Like

This is an impressive piece of kit; it does everything we want it to do. The video is clear, the sound excellent with the 2-way audio and the whole thing rotates 360 degrees!
What Needs Improving

This camera has quite a limited range when it comes to throwing treats, but we soon got used to it.
The Final Verdict
This camera is a great all-rounder, the image quality and audio are crystal clear and the treat is good enough. It's everything we wanted from a pet camera.
✔ QUICK SET WITH 2.4G WiFi: Download the App and set it up via your iPhone or Andriod smartphone, Sonic Recognition Technology featuring One Key WiFi Configuration makes setup so quick and easyremote access to the wireless security camera on iPhone/ iPad/ Android phone/ tablet/ MAC/PC. If you are an android user, please use the APP: ismartviewpro, If you are an iphone user, please use the APP: ismartviewplus.
Last update was in: August 30, 2018 10:28 am
---
If you liked this post, then also make sure you check out…