Keep a Close Eye on Your Pets with a Pet Camera
Looking for a pet surveillance camera or home security system to watch your dogs while you are at work? Or maybe an interactive monitor with a treat dispenser? Then you've come to the right place! We've been testing the best pet cameras on the market that will not only keep your pets safe, but entertained while you're out of the house or at work. With high definition video and audio feeds, real time tracking and smart activation – pet cameras also make excellent home security systems, allowing you to keep a watchful eye on your house, children and pets 24/7.
When it comes to identifying the best pet camera, here are a couple to consider:
Audio or 2-Way Audio
Remote Viewing on your Smartphone
Decent Night Vision
Motion Detection
Pan, Zoom and Tilt features
We have roped in our furry friends to test the Best Pet Cameras of 2021, just for you.
Overview
We love the chic design of this camera. Ideal for cats and dogs, this camera comes with 2-way audio; pan zoom and kibble toss play for entertaining your pets.
What We Like
The camera quality is crystal clear and the 160 degree rotation and 4 x zoom will ensure that you can see your pet at all times. The audio is clear and you can access everything from your smartphone. A simple remote controller is also added in case your smartphone is unavailable. The treat idea is genius, and is a fun way to keep our beloved pets entertained. You can adjust the distance of the treat shooting mechanism (3-10ft), keeping your cat or dog active during the day. This pet camera comes with a 1-year guarantee.
What Needs Improving

The Furbo takes a bit of setting up, and initially it wouldn't connect, but we persevered and finally sorted it out.
The Final Verdict
We had a great experience with the Furbo. The design is stylish, the imaging is clear, and the outstanding treat mechanism kept our pets happy and active.
4 new from $161.90
7 used from $119.00
Free shipping
as of June 27, 2022 4:22 am
Features
1080p Full HD Camera & Night Vision: livestream video to monitor your pet on your phone with a 160-degree wide-angle view, day & night.
2-Way Audio & BARKING ALERT: Furbo's BARKING SENSOR detects when your dog is barking. It sends push notifications to your smartphone when it detects barking. Know what's going on at home and talk to calm them down via the app.
Fun TREAT TOSSING: TOSS a treat to your dogs via the free Furbo iOS/Android app. Fill it with your dogs' favorite treats & play a game of catch.
Easy 3-Step Setup: 1) plug in to a power outlet using its USB cord 2) download the Furbo app 3) connect to your home wifi.
Stable internet connection & Wifi signal are recommended for best performance.
---
Overview
This has a very 7o's space age style, and you feel like it's watching your every move when you're at home. But for a pet camera it's sturdy, well made and with clear instructions.
What We Like
Setting this up was straightforward and took us less than 10 minutes. The picture quality is up there with the best, and the user interface is simple to use.
What Needs Improving

The camera makes little noises as it rotates. We've looked at it and added a smear of grease, which solved the minor issue.
The Final Verdict
For the price, this is a great little pet cam, and it doubles up as a neat home security device. Well worth it.
1 used from $52.86
Free shipping
as of June 27, 2022 4:22 am
Features
►【Automatic Cat Laser Toy& Account Sharing 】VStarcam pet camera with laser toy to tease and exercise pets. Remotely control the laser rotation through the mobile phone or set the fixed-point cruise.You can interact and play with pets even if you are outside.Pet monitor camera can be shared to others, you can enjoy sweet memories with your family.
►【2.4Ghz WiFi Camera & 1080P HD】Pet camera two way audio and video to check on your pet at anytime from your phone. kitty camera with 107°(diagonal)wide viewing angle lens combine with 355° horizontal & 120° vertical rotation range, puppy camera provides 360° protection for your home. Support 2.4Ghz WiFi (does not support 5Ghz WiFi currently).
►【Night Vision & Pet Camera with Phone App 2 Way Audio 】Pet monitoring camera with phone app with Intelligent IR-Cut dual filters ensures high quality images both day and night. Night vision up to 10m in pitch dark. With built-in microphone and speaker, you can talk to your love whenever you want with this cat camera. Pup/ kittens entertain with cameras even when they are at home. This is a cat gifts for cat lovers.
►【Humanoid Tracking & Alarm Detection】The dog camera with phone app,When the Pet camera is at defense the motion detection alarm is available, Alert will be sent by Email /App.You can use it as baby / elder / nanny / pet monitor. Keep the place or people you love safe 24/7.
►【Cloud Service & Card Storage & NVR】VStarcam Cat Camera with laser support 24 hours video recording, Max 128G TF card (NOT INCLUDED) and Cloud storage. You can live-stream your footage or play back with timeline. 12 months and 24-hour friendly customer service, if you need any assistance pls contact us, or instant chat with our online support in Eye4 App.
---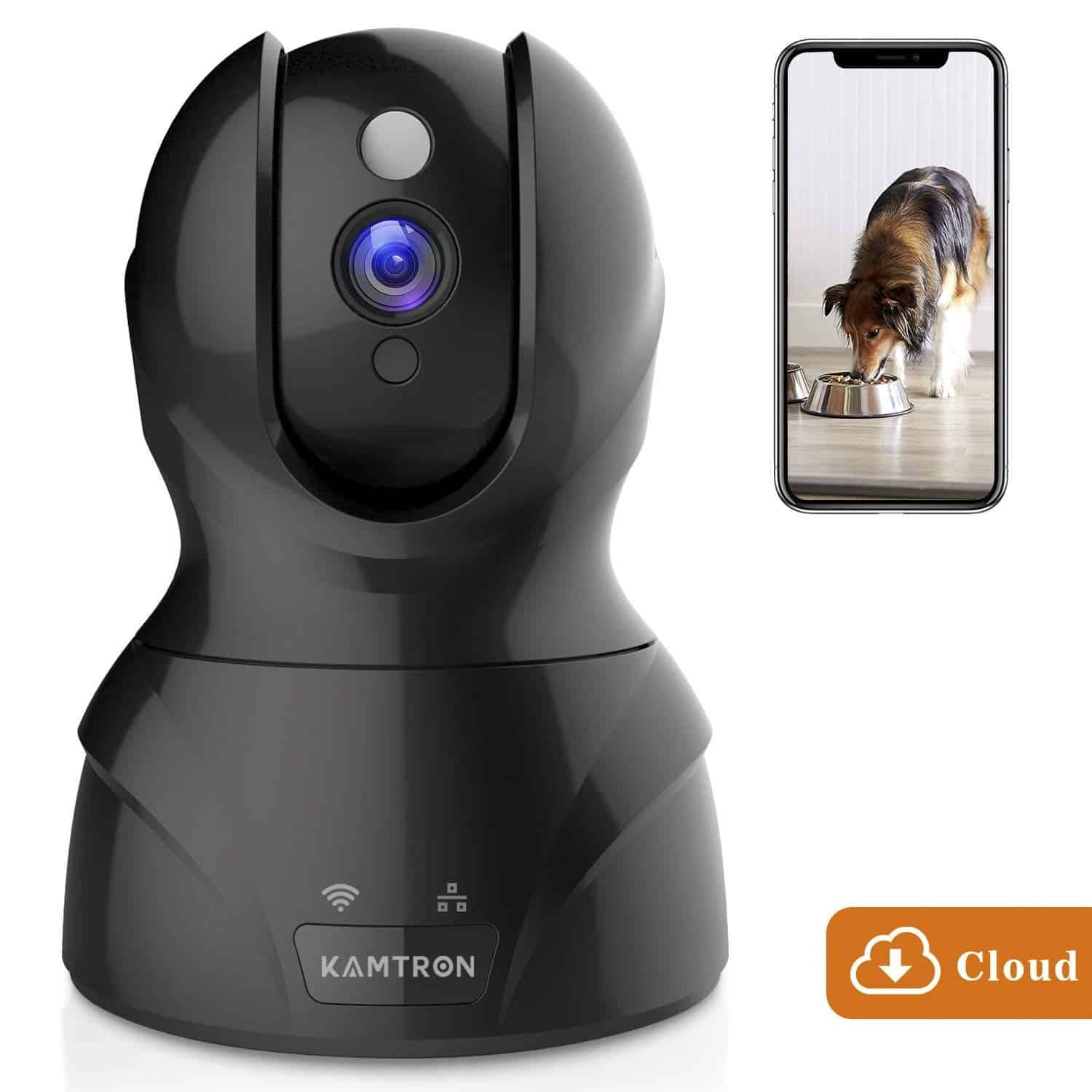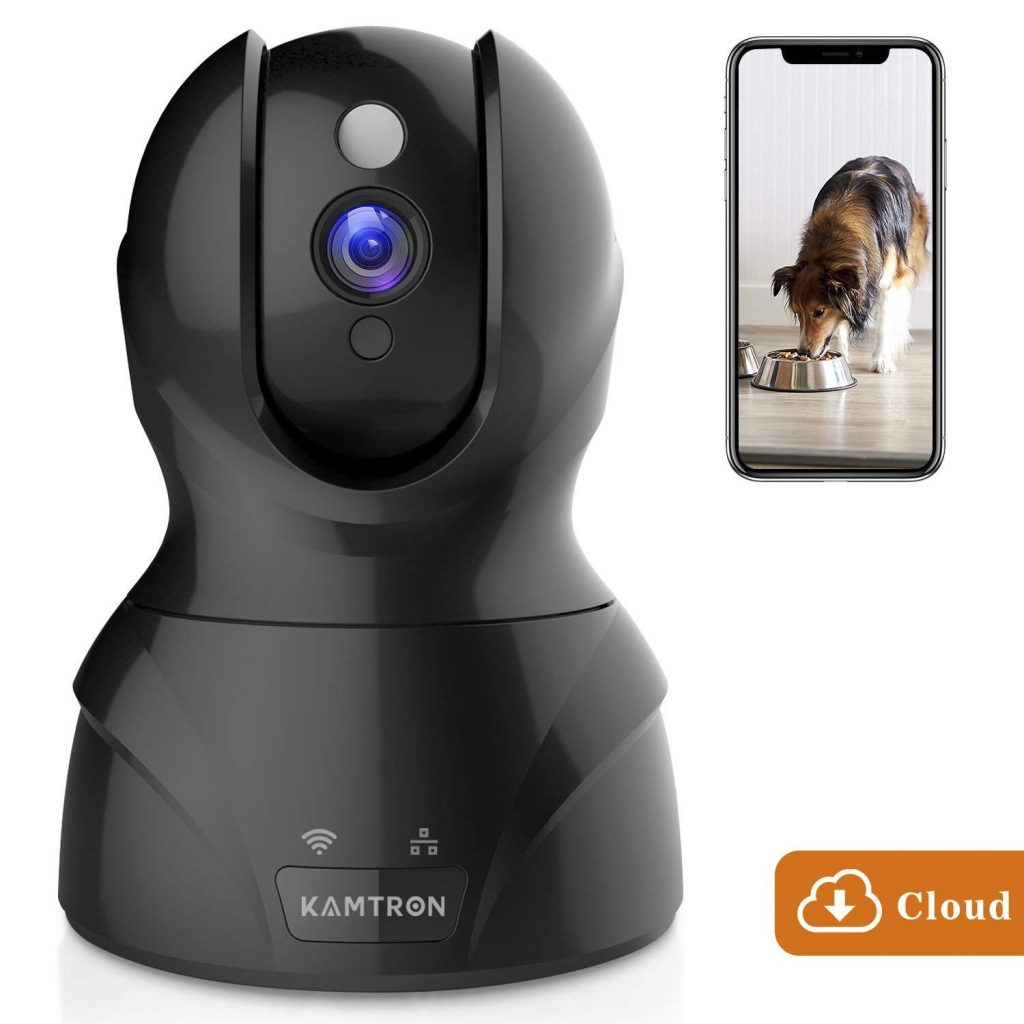 Overview
Kamtron's camera is smart, slick and sophisticated. It's well made, and sits discreetly.
What We Like

Both the image and audio quality are second to none, and we had great fun calling the dogs via its 2 way audio. The range of vision is a massive 360, with infa red for sneaky night time viewing.
What Needs Improving
The set up took a little longer than expected, but once it was up and running, everything worked like a dream.
The Final Verdict
This is a very well designed pet camera and once you've mastered the set up, it does its job very well.
6 used from $31.67
Free shipping
as of June 27, 2022 3:19 am
Features
Stay connected 24/7 with 360° HD panoramic view - KAMTRON home camera Monitor your home in full HD with horizontal & 100°vertically rotation, covers every corner of your home; Super IR LED night vision lets you detect what's happening around the clock, without light pollution, gives full day protection for you.
Smart Motion Detection ALERTS with 2 way audio - app alerts with snapshot & record to your mobile device when motion is detected, push you live feed when capture activities right from the start, and you could interactive with your family or dog timely by this security camera 2 way audio when get the real-time notifications.
Friendly cloud service and local storage - map cloud will save all the data you concerns, where you could watch, download and share freely, no worry about the memory card missing; and this wireless camera also Support local storage of record and detect sound/motion with SD card, up to 128GB.
Video secure meet financial encryption Standard - KAMTRON security camera adopt financial encryption, ensure information between user and site/servers cannot be read or forged by any third party, all your videos are encrypted before being uploaded to the cloud, preventing critical data being lost or tampered with.
Easy and quick wireless connection - Scan QR code to download map view app on app Store or Google Play, connect with 2. 4GHz Wi-Fi (Not support 5Gz Wi-Fi) or Ethernet cable connection with router for this wireless camera, and you can not only set several preset position in each camera, but also add several cameras in different terminals for this IP camera.
---
Overview
This camera offers a 2-way video chat system and an exciting feeding system for your pet. You can also talk to your pet while you're away, so they won't have a chance to get lonely.
What We Like
This camera has all the features you'd expect from other good pet cameras, and more. The video and sound quality is fantastic, and the video recording option worked without a hitch. The treat function is great and easy to control.
What Needs Improving

The only drawback with this pet camera is that you have to use the treats supplied by the company. If your dog or cat is prone to allergies, it's important to check the nutritional suitability beforehand.
The Final Verdict
A solid pet camera that feels like a high quality item. All features work perfectly.
check latest price
as of June 27, 2022 4:22 am
Features
HIGH DEFINITION VIDEO : This treat dispenser is equipped with 1080P HD video, with infrared night vision that can reach up to 26 feet. You can record videos and even take pictures of your pets. Micro SD card not included.
FEED YOUR PET REMOTELY : Give treats to your pets using the app on your phone. The HONGSA Smart Pet Camera supports both cat and dog treats. You can set to manual or auto feed; Built in Laser- Play with your pet using a laser right from your phone! This laser can move up and down, as well as left to right.
EASY TO SET UP AND USE : Set up your smart camera quickly and easily! All that is needed is a wifi connection, a smart phone, and the app. You can find it by searching inch smart pets inch in the app store. Be notified when your pet is active! Any time this product detects motion or sound, it will record a real-time video and notify you via the app. (Make sure your notifications are turned on!)
SHARE WITH FRIENDS : Take pictures or videos and share with family and friends on social media platforms like facebook, twitter, and Instagram. Share the QR code with family and friends so they can play with your pets from their phone, from anywhere in the world!
TALK TO YOUR PET : With built in speakers and a 2-way microphone, you can talk to and hear from your pet! An app is also available for download, with updates to give you access to the most up date technology and support. A QR code is included to help you find the app quickly and easily.
---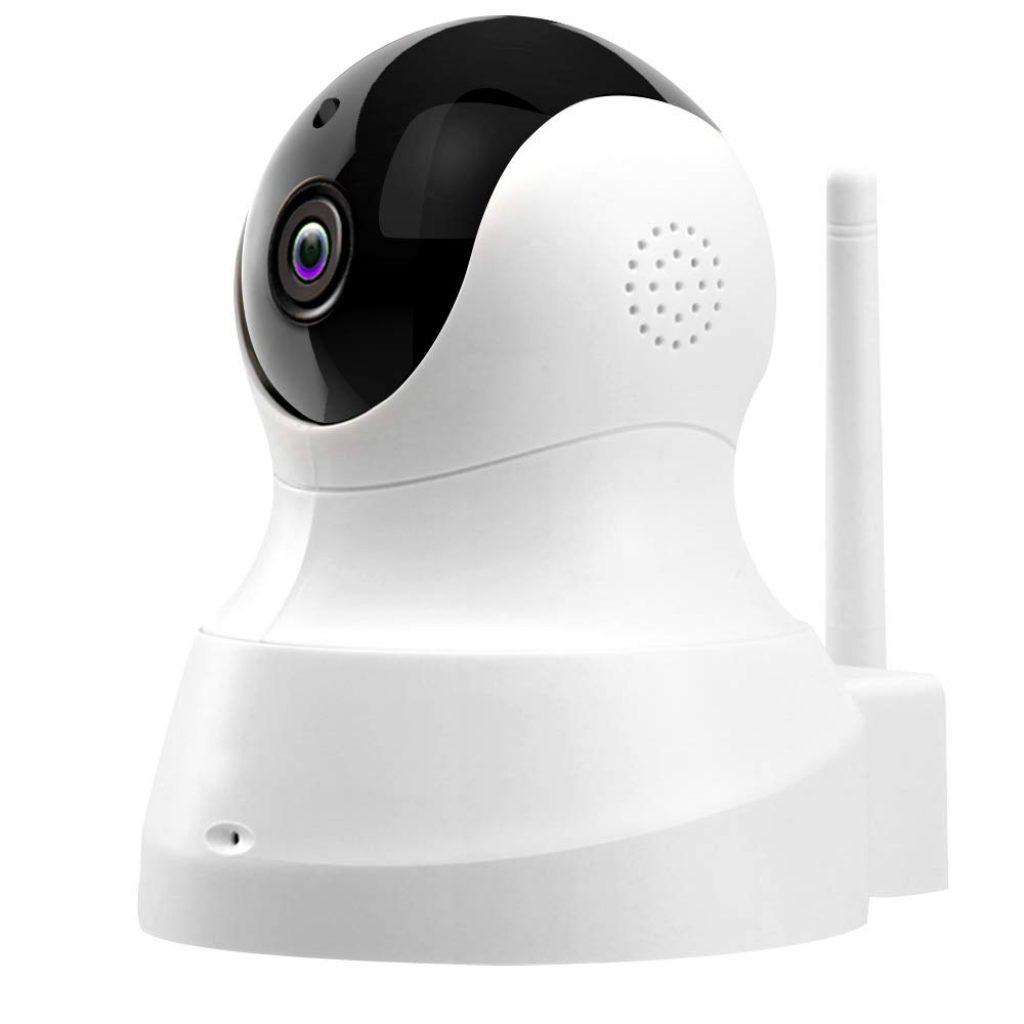 Overview
Looking like a friendly domed robot, this little camera feels robust and solid, and has a very fair price.
What We Like

This is an impressive piece of kit; it does everything we want it to do. The video is clear, the sound excellent with the 2-way audio and the whole thing rotates 360 degrees!
What Needs Improving

This camera has quite a limited range when it comes to throwing treats, but we soon got used to it.
The Final Verdict
This camera is a great all-rounder, the image quality and audio are crystal clear and the treat is good enough. It's everything we wanted from a pet camera.
1 used from $32.52
Free shipping
as of June 26, 2022 9:12 pm
Features
【FULL COVERAGE WITH 720P HIGH DEFINITION. ①TENVIS HD IP Camera is designed with 355°horizontal and 120°vertical rotation to make up a 360°complete coverage. ②1280*720 Mega Pixels and high-tech optic lens present sharper images. So just enjoy fluent and the clearest video! ③In addition, you can add as many cameras as you want on your APP to monitor several locations, due to our onvif service.
【AUTOMATIC NIGHT VISION WITH 32FT/10M LARGE RANGE. ①TENVIS Night Vision Camera supports a night vision range up to 32 feet/10 meters, which could act as a deterrent against theft, burglaries, and vandalism. ②With the breakout of core technology "Smart Eyes" , this home security camera provides a stunning clear vision through 11 infrared LED light without disturbing your baby or pet!
【INSTANT ALARM AND TWO-WAY AUDIO FOR REAL TIME COMMUNICATING. ①With the help of smart camera, every potential danger will be identified accurately and sent to your phone and email immediately. ②Then you can talk to your baby/pet/nanny immediately when you receive the notification. ③Our noise elimination of the built-in microphone could provide a responsive and advanced talking experience.(NOT include the ability to view through a web browser)
【3-SECOND SENSITIVE MOTION DETECTION RESPONSE. ①This motion detection camera could record a 15-second video when it is triggered, and let you receive the alarm in less than 3 seconds. So you can always catch the important moments no matter it is your baby or a theft. ②Further, you can even set up to 8 specific positions for TENVIS dome camera to memory and then visit any of them by one touch.
【SMART AND STABLE ONE-CLICK CONNECTION TO WI-FI. ①With our technology of "Sound Wave Smart Connection" you can finish the Wi-Fi configuration in just one click! ②Our latest app provides a instruction video, so you won't be confused about the process. ③Besides, you can also start and stop recording videos through your cell phone anytime anywhere. ◎Please note: This home security system supports 802. 11b/g/n 2. 4Ghz Wi-Fi band (does not support 5Ghz Wi-Fi).
---
What else is trending today?