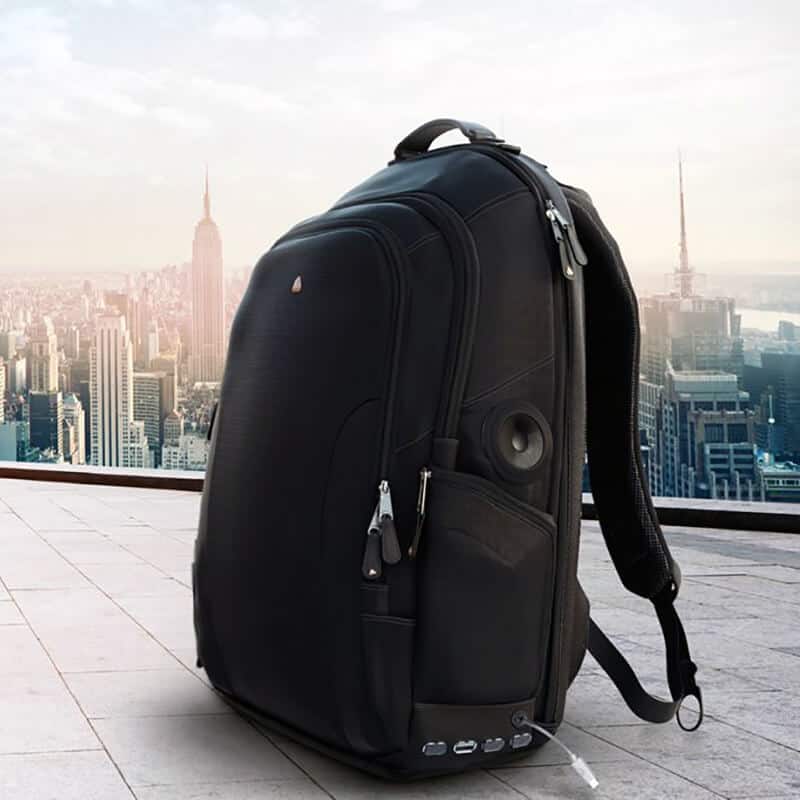 Last Updated on
Trial by Hamster – we try out the top 3 best sellers!
How much more techie can you get? A backpack that charges your devices, plays your favorite music, and can make you look super cool – okay, maybe the last one is a lie ……….however, read on for our review of the best selling smart backpacks. Even if they don't bring you the ultimate in cool, they're still pretty good.
Overview
My immediate thoughts on this backpack are how well made and hard wearing it feels. I like the colour, style and the fact it has a huge number of handy pockets.
Features
Lots of Storage and Pockets: One separate laptop compartment hold 15.6 Inch Laptop as well as 15 Inch,14 Inch and 13 Inch Macbook/Laptop. One spacious packing compartment roomy for daily necessities, tech electronics accessories. Front compartment with many pockets, pen pockets and key fob hook, make your items organized and easier to find
Comfortable and Sturdy: Comfortable airflow back design with thick but soft multi-panel ventilated padding, gives you maximum back support. Breathable and adjustable shoulder straps relieve the stress of shoulder. Foam padded top handle for a long time carry on
Functional and Safe: A luggage strap allows backpack fit on luggage/suitcase, slide over the luggage upright handle tube for easier carrying. With a hidden anti theft pocket on the back protect your valuable items from thieves. Well made for international airplane travel and day trip
USB Port Design: With built in USB charger outside and built in charging cable inside, this USB backpack offers you a more convenient way to charge your phone while walking. Please note that this backpack doesn't power itself, USB charging port only offers an easy access to charge
Durable and Solid: Made of Water Resistant and Durable Polyester Fabric with metal zippers. Ensure a secure & long-lasting usage everyday & weekend.
Pros
The designer of this backpack has thought of everything – if you need to carry pens, water bottle, passport, wallet, a small hamster, or schoolbooks, along with your laptop, there's a pocket just waiting for it.
Being short, many backpacks hang quite low on me, but this one sits comfortably and is easy to get on and off quickly.
Cons
Although it supports portable charging, this backpack doesn't come with its own charger, so this might be an extra addition you have to figure in.
I did find that after time the straps slipped slightly, loosening it, however this was after several hours, including some putting on and taking off.
Final Verdict
This is a really good, solidly made and great value backpack. The variety of pockets was brilliant, and it was comfortable to wear for long periods of time.
All in all, Mr Hammy and I would happily recommend this.
---
Overview
I love the design of this – it looks classy, neat and hard wearing, and with the included combination lock, very secure
Features
Dimensions: 19.7x 11.6 x 7.5 inch with dedicated Laptop compartment holds Laptops less than 17.3 Inch
Lightweight design is easy for carrying: Made From Durable Eco-Friendly Nylon Fabric With Two "S" Curve Padded Shoulder Straps, Shoulder belt made of honeycomb breathable material, Ergonomic design ensures the dispersion of gravity of the backpack.
USB 2.0 Charging port design: Built-in USB cable. Use it to connect the power bank, then connect your phone with original USB cable to the USB port, you could charge your phone conveniently. Headphone Jack: you can listen to your favourite music on the go hands-free.
Anti-theft backpack: This Backpack apply anti-theft design techology. Includes A Theft Proof Combination Lock& Durable Metal Zippers,no theft will easily open your backpack. It's super good for travel ,work or school
What You Get: 1x Backpack, 1x Combination Lock,1x USB CABLE,our 30-Day Money Back Guarantee worry-free 12-month warranty and friendly customer service.
NOTE:NOT INCLUDE POWER BANK
Pros
This is a really smart smart backpack (if you see what I mean). It's very comfortable, has pockets for everything, and has loads of room.
The design is quite minimalistic, which works very well with this classic, water repellent fabric.
I really like this bag, the fact that it charges my phone is an added bonus!
Cons
The shoulder straps could do with being a little shorter to make carrying easier; they are quite hard to adjust to the right position for a short person like myself.
Final Verdict
A really good, secure backpack; I will be hanging on to mine, thank you very much!
---
Overview
This ProEtrade backpack appears hardwearing and compact. I especially like the nicely padded shoulder straps.
Features
Durable: The PROETRADE Backpack / Daypack is made of HIGH-QUALITY Anti Scratch Fabric with water resistant zipper design, it's very sturdy, tear resistant, water resistant. Durable buckle and strength zipper make it even more long lasting.
Large Capacity, Multi Compartments, & Lightweight: the backpack Dimension : 20″H x 12.5″W x 8.5″D. Lightweight : 1.8lb, Total 9 pockets, 2 main compartment, 1 laptop pocket, 2 front zipped pocket, 2 pockets outside for holding small accessories and water bottles or umbrellas, 1 inner pockets for keys, pen or small accessories, 1 anti theft pocket for protect your belongings, the multi compartments keep your things organized. It can easy hold your clothing, books, ipad, water bottles
USB Charging Port: External USB CHARGING PORT with built-in charging cable, provides a convenient charging of your electronic device anywhere,
Anti Theft: back pocket with zipper design will keep your valuable belongings such us credit cards or purse safe,
Reflective: design on the front of the backpack will keep all the users safe when use the backpack in the night or dark area.
Back Luggage Sleeve, Chest Straps, Air Flow System: allows your backpack fit on luggage or suitcase for easier transport, Adjustable CHEST STRAPS with buckle design will Keep the shoulder straps securely in place, AIR FLOW SYSTEM, S-Curved Shoulder Straps with breathable mesh and back panel with multi layer sponge padding could protect your backbone and ease the bear load, help relieve the stress from your shoulder, breathable materials will keep you comfortable.
Pros
Although this is quite a masculine looking backpack, the multitude of pockets pleased my girlieness no end, along with the fact that I could find room for everything, including my huge and embarrassingly outdated laptop, my smaller hi-tech notebook, several large packets of biscuits, and the aforementioned hamster (obviously in a separate pockets from the biscuits – d'oh).
A great bag, at a great price!
Cons
Unfortunately it doesn't come with a battery – same old story. When will manufacturers learn that we want everything included, even if we have to pay a couple of dollars more?
Final Verdict
My life would be complete if I'd ordered this in purple!
---
What else is trending at The Gadget Nerds?