Choosing the Safe Option
When it comes to securing your firearm, biometrics are the ace in your sleeve. They bring a sense of personalisation to your security by making use of your unique traits – think retina scans, face contour analysis, or fingerprints. Essentially, you become the key to your gun safe. Quite literally, it doesn't get more secure than that!
So, how do you pick out the best biometric gun safe?
First off, keep in mind your security needs, budget, and the number of fingerprints the safe must recognize. A family reunion in front of the gun safe shouldn't end up with Cousin Eddie accidentally gaining access!
Speaking of fingerprints, when setting up your safe, do ensure you program an alternate identification finger. Because, you never know when your primary finger might decide to take a vacation! It's equally crucial to choose a safe powered by robust and reliable software.
Another point to consider is the safe's provision for manual unlocking. While our trust is generally in the power of batteries or an electric power source, they might occasionally let us down. And in an emergency situation requiring the use of your firearm, it's the humble key that could turn out to be your hero.
So, remember, while the dazzling world of biometrics offers impressive security, never underestimate the worth of a good old manual unlock feature.
We present the Top 5 Gun Safes of 2023:

Overview
Hold on to your seats, firearm enthusiasts, because we're diving into the world of ONNAIS IRON SE Biometric Gun Safe. This isn't just any gun safe, it's your quick-access, fully secure, biometric best friend. It provides robust protection with a sleek and elegant design that will blend into any home, office, or vehicle decor. But don't let its good looks fool you. With biometric fingerprint technology, this little black box will keep your firearms as safe as Fort Knox. It's lightweight yet tough, with enough space to accommodate two standard size pistols or many small items. Plus, its portable design adds a layer of convenience that's hard to resist.
What We Like
We're head over heels for the ONNAIS IRON SE Biometric Gun Safe's advanced biometric technology. The high-resolution fingerprint scanner is your passport to instant access, offering an accuracy that would make a traditional keypad lock weep with envy. The immediate accessibility and ability to store up to 30 user fingerprints sets this gun safe apart from the crowd. Its solid steel construction, pry-resistant lid, and anti-corrosion feature add extra durability points, too. And, did we mention the three-way access? With keypad locks and backup override keys as your trusty sidekicks, you're always in control.
What Needs Improving
In a world where perfection is a mirage, there's a tiny hiccup with the ONNAIS. Despite its stellar biometric technology, it would be perfect if the digital keypad was backlit for better visibility in low light conditions. Also, remember, it's battery-powered – just make sure you have a pack of AA batteries handy, as they're not included.
The Final Verdict
Despite a couple of minor nitpicks, we can't help but fall for the ONNAIS IRON SE Biometric Gun Safe. It's the ultimate blend of form and function, with an impressive roster of security features that will make you sleep easier at night. With all of its virtues, we can confidently award the ONNAIS IRON SE Biometric Gun Safe an esteemed score of 9.5 out of 10. This is a must-have for any firearm owner who values security, convenience, and style.
4 new from $89.99
Free shipping
as of November 27, 2023 1:11 pm
---
Overview
Say hello to security and convenience, all wrapped up in the SentrySafe QAP2BEL Gun Safe with Biometric Lock, 2 Capacity & Interior Light. This sturdy, well-crafted piece of equipment combines a high-quality alloy steel construction with advanced biometric technology, creating the ideal blend of safety and accessibility. With a generous 2-gun capacity and a thoughtful interior light, SentrySafe has once again upped the game in home safety solutions.
What We Like
We absolutely appreciate the biometric fingerprint scanner, which brings an advanced layer of security. Say goodbye to the days of fumbling with keys or codes during an emergency! Also, the gas strut feature instantly and quietly opens the safe door for single-handed access. The solid steel construction and pry-resistant door add significant security against attempted breaches. The bonus? It's California DOJ certified.
What Needs Improving
With this impressive list of features, it's hard to find room for improvement. However, including a set of high-quality batteries with the safe would have been an extra cherry on top, considering the significance of battery performance on the functionality of the biometric scanner. Also, the ability to program more than four fingerprints would enhance its flexibility for multi-user homes.
The Final Verdict
When it comes to balancing cutting-edge security features with user-friendly accessibility, the SentrySafe QAP2BEL Gun Safe is a paragon in its field. This is why we're happy to give it a 9.2 out of 10. This safe is a worthwhile investment for anyone looking to protect their firearms with confidence, convenience, and a dash of technologically advanced flair.
---
Overview
The BILLCONCH Biometric Gun Safe is an innovative solution that ensures utmost safety and convenience. Providing three modes of access – fingerprint recognition, a digital PIN, and a traditional key unlock – the safe guarantees quick access to your firearms when you need them most. This state-of-the-art gun safe is made of hard carbon steel and coated in metal paint, making it durable and trustworthy. Its compact size ensures it can conveniently fit in various places such as the car, a bedside table, or a drawer, offering supreme flexibility.
What We Like
We love the biometric feature of the BILLCONCH Gun Safe. The cutting-edge biometric chip ensures rapid and precise access, making it user-friendly while enhancing security. The USB charging feature ensures the safe remains accessible even during power outages, and the low battery reminder is a thoughtful addition. The fact that it can fit two standard size pistols while also being portable, adds to its appeal. The interior light, which activates upon opening, allows for clear visibility of the safe's contents even in the dark.
What Needs Improving
Although the BILLCONCH Gun Safe is a well-rounded product, we would appreciate the addition of an anchor steel cable for securing the safe to an immovable object. This would add an extra layer of security, ensuring peace of mind for the user.
The Final Verdict
Taking into account its innovative features, sturdy construction, and excellent value for money, our score for the BILLCONCH Gun Safe is a 9.2 out of 10. It is a fantastic blend of high-tech functionality and robust safety measures, making it an essential choice for anyone looking to secure their firearms.
---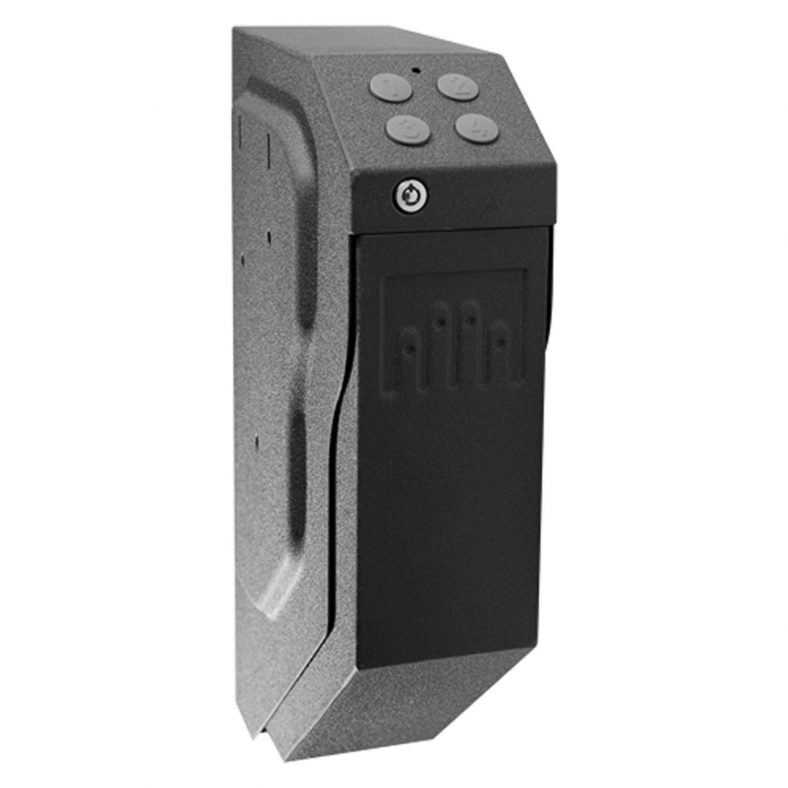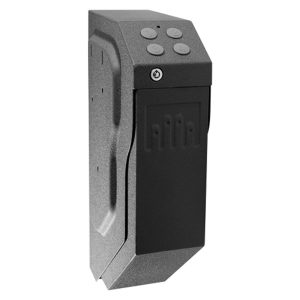 Overview
The GunVault SV500 – SpeedVault Handgun Safe is a revolutionary, fast, and discreet solution for your firearm storage needs. It provides easy access, being just as quick as it is secure. The SpeedVault is designed with an 18-gauge steel body for durability and has the ability to hold 12 million selected access codes for your convenience.
What We Like
The audio/LED low battery warning feature, courtesy light, and tamper indicator make this safe user-friendly and efficient. The fact that it is California DOJ approved and comes with a backup override key included in the package are all substantial benefits. Its ability to mount on various surfaces makes it adaptable to a range of locations within your home or business. Plus, users report that with a little practice, it can be operated even in the dark.
What Needs Improving
Although it provides top-notch security, we'd like to see an enhanced lighting system for better visibility, especially for nighttime access. Moreover, multi-directional mounting could be another beneficial upgrade for added flexibility and accessibility in various scenarios.
The Final Verdict
In conclusion, we give the GunVault SV500 - SpeedVault Handgun Safe a 9.2 out of 10. Its impressive security features, ease of use, and sturdy build make it a top-notch choice. However, some enhancements could take it from being a great product to an exceptional one. Still, we highly recommend this gun safe for anyone seeking secure and quick access to their firearm.
15 new from $141.04
1 used from $177.02

as of November 27, 2023 2:10 am
---
Overview
The awesafe Gun Safe is an impressively constructed and technologically advanced storage solution for firearms. Designed with a biometric fingerprint lock, it allows rapid and secure access to your guns when needed. The safe has room for 2 standard handguns or a larger one, with extra ammunition. Its solid steel construction, high-strength locking mechanism, and precise fittings make it virtually impossible to pry open. It also comes with a gas strut for quiet, single-handed access and an LED light for increased visibility. Compact and lightweight, it's perfect for various locations, providing a secure and portable solution for firearm safety.
What We Like
We appreciate the quick and reliable biometric access this safe provides. The recognition is swift, providing peace of mind in an emergency. The LED lighting is an excellent addition for low-light conditions, ensuring clear visibility of your firearm. The safe is also compact and portable, allowing for a variety of storage options. Additionally, the inclusion of a digital keypad and keys provides multiple access options. The customer service offered by awesafe is a notable feature as well.
What Needs Improving
Although the awesafe Gun Safe is a reliable security option, there is room for improvement. One point of contention is that it is not fireproof, which could be an added safety feature for a more holistic protection. It also requires an external cable for vehicle security which would be convenient if included in the package.
The Final Verdict
We've evaluated the awesafe Gun Safe on multiple aspects including security, accessibility, and design. While it could be improved in some areas, it excels in many more. Therefore, we confidently give it a 9.2 out of 10. Its blend of quick access, multiple entry modes, and high-end security features makes it a standout choice for those needing secure and rapid access to their firearms.
---
---
Keep your family and house safe and check out our reviews of the best home security systems money can buy.
---
See what else is trending at The Gadget Nerds: