Choosing the Safe Option
When choosing a gun safe, biometrics are your best bet – in theory, the only way to unlock your safe is using your own unique retina reading, face contours or fingerprints. It's the highest level of security for your possession.
So, what to look for in your new biometric gun safe?
It's important to consider your security requirements, budget, and the amount of fingerprints that the safe will have to recognize.
While we're on the subject of fingerprints, when programming your safe, it is important to include a secondary identification finger, just in case the primary digit is injured. It is equally important to purchase a safe that has the most reliable software possible.
The other factor to consider is whether the safe can be unlocked manually. The safes are usually operated using batteries for power, while some can be connected to an electric power source. If these fail, and there is an emergency requiring the use of a gun, opening the safe manually could be crucial.
We present the Top 5 Gun Safes of 2023:

Overview
This bluetooth gun safe is perfect for guarding pistols. We like the fact that it is slim enough to slip in a drawer and there are multiple anti-theft features to protect against break-ins.
What We Like
This solid, high-quality safe allows for two administers and up to 20 other prints to be stored in its memory, and with the history log, you can check at a glance, who, if anyone, sneaks in to access your guns when you aren't looking. The security features are among the best in the business. You get anti-pry bars; anti-impact latches; interior mounted hinges and security brackets. The safe itself is made from 16-gauge carbon steel finished with a hard-wearing powder coat that is anti-corrosive. The smart technology works like a dream. A quick swipe and the safe will recognize your ID in seconds. You can also control everything from your smartphone. We love the slick, silent unlocking, and opening and the interior lighting means that you can see exactly what you are doing.
What Needs Improving
The only point to mention is that the fingerprint scanner requires accuracy. This important feature is there for your safety, but even in a rush, stay calm to ensure that your fingerprints are read correctly.
The Final Verdict
This is a nifty little gun safe, large enough to hold a gun like a Glock 33, or at a push, two, a couple of spare magazines, and a torch, yet is still small enough to slide under a mattress. It's easy to set up, has a Bluetooth app, incredibly long lasting, rechargeable batteries, and after we'd had it for a couple of days, Vaultek contacted us to see if we were happy with our safe. Great customer support.
---
Overview
This is a modern looking, well constructed, solid safe, with enough space to hold two guns, and spare magazines for each. It has a subtle LED glow that is very pleasing to the eye and convenient in the dark.
What We Like
For the price, there's a lot to like about the SentrySafe, and it feels as if it should cost twice as much. It is spacious enough to hold not only two guns and their ammo, but credit cards and sets of keys if necessary. The hydraulic lift works flawlessly every time, the numeric lock is simple to set up, and SentrySafe allow you to register your product, storing your combo, serial number, and key code just in case you lose the information – impressive.
What Needs Improving
The only observation we made with this safe is the battery life. It takes 4 AA batteries (not rechargeable), which is less than some safes we tried, but thankfully the LED lighting alerted us when a new set of batteries was due.
The Final Verdict
The SentrySafe is a great buy, doing everything you want a safe to do, but at a very competitive price. Easy to use right out of the box, at a size that's both practical and discreet, and with a useful LED display.
---
Overview
Wow! The BILLCONCH really does live up to its name. Solid, heavy-duty, secure, and thief-proof, unless that thief has a grenade, and even then it's still probably secure. The lifetime warranty is a bit of a give away that this tough, tamper-resistant safe does exactly what it say on the tin.
What We Like
This safe is roomy – it has space enough for up to two small pistols, plus ammo, whilst thick foam prevents any sliding around if you take this safe on a road trip. However, there are also pre-drilled holes to allow for easy securing to the ground or any other surface, if you chose to do so. There are no batteries and no scanner. Instead, it opens via a simple button combination, eliminating any risk of failure to unlock, and the opening is smooth, thanks to the gas-strut assistance.
What Needs Improving
The BILLCONCH isn't the lightest safe you can buy, so be prepared to do some heavy lifting.
The Final Verdict
This is an amazing fail-proof gun safe. It's a great size and its weight makes it feel really secure and sturdy. Comes highly recommended by our team.
---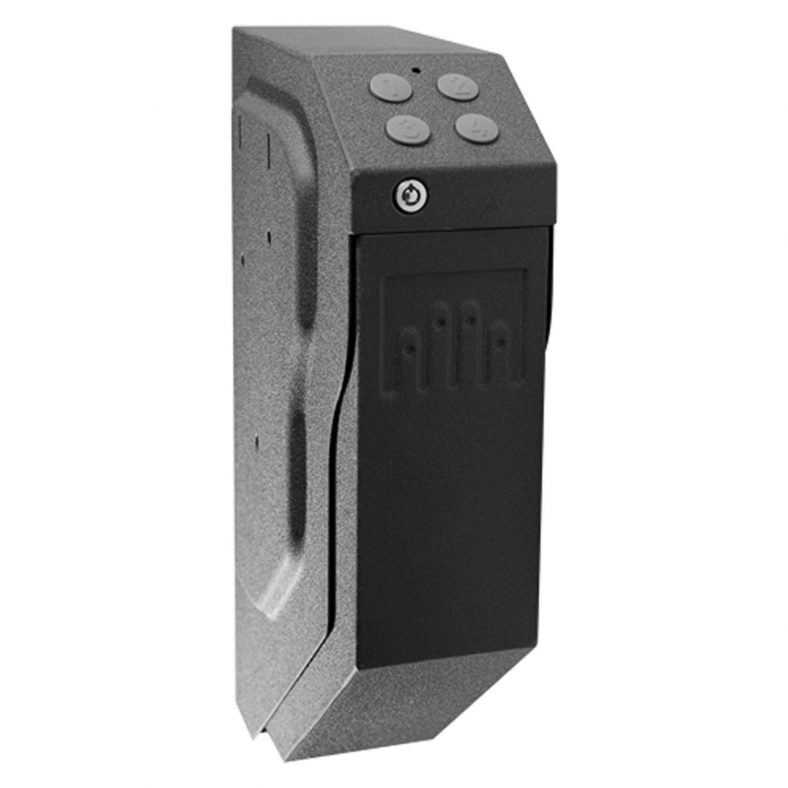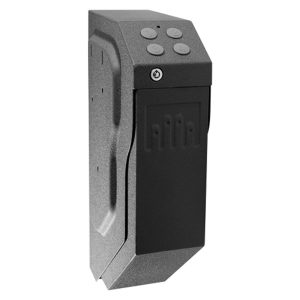 Overview
GunVault have designed a high quality, ergonomic, gun safe that delivers exactly what you need to keep your guns safe. Rugged, tough and with an intuitive unlocking system – this is a keeper.
What We Like
The GunVault is made from high-grade steel and comes with plenty of foam padding inside. The activation is by a digital navigation keypad. The technology is sophisticated and this safe can hold 12 million combinations of codes, guaranteeing that your safe is secure. You can mount it on the wall for extra convenience.
What Needs Improving
The interior light is not the best, so keep another light source close by.
The Final Verdict
All in all, this is a great safe; competitively priced, tamper proof and reassuringly heavy, the GunVault deserves its place on the best seller list.
---
Overview
This is a smart-looking gun safe, with added security measures in the form of a fingerprint sensor. Top opening for easy access, it has a useful self-diagnosis function that checks for any faults in the safe's operation.
What We Like
This extra secure gun safe comes in a variety of sizes. Neat enough to be placed anywhere, it can house one handgun, or other items.  Access is easy thanks to a high tech fingerprint scanner and the back up of a digital keypad. The self-diagnosis feature works well, and is especially useful for battery life prediction.
What Needs Improving
We're not sure whether this is a universal issue, or just with our model, but the base is slightly uneven, causing it to rock a fraction. This was soon rectified, however, with a small piece of card.
The Final Verdict
A great gun safe that's easy to program and access while still retaining full security capabilities. Choose the right size for your needs, and this will keep your guns safe for years.
2 new from $129.00
4 used from $123.26
Free shipping
as of June 5, 2023 6:19 am
---
---
Keep your family and house safe and check out our reviews of the best home security systems money can buy.
---
See what else is trending at The Gadget Nerds: