We Test the 3 Best-Selling 4k Monitors
A couple of years ago, 4K TVs hit the market. First released in 2013, they were expensive and there was little reason for us to actually go out and spend money on them – 4K content was virtually unheard of and the hardware miles away from the performance levels required to run games in 4K resolution back then.
However,  there has finally been a big resolution jump, and 4K monitors are here! Having approximately four times as many pixels as full HD, it's often be referred to as Ultra HD (UHD). Generally, 24 inch monitors are recommended size the for UHD monitors. However, if you're an avid gamer, a 27 inch monitor will give you twice the data and twice the detail. Regardless of your screen size, 4K monitors can produce extremely sharp images on much bigger screens without the pixels becoming visible to the naked eye, and yet still be clear and detailed with a smaller screen.
We can wholeheartedly recommend a 4K monitor if you're putting together a powerful gaming rig.
2K will look great on a 4K monitor
The price gap between the good 2K and 4K monitors is relatively small
If you get a 2K monitor, you will need to upgrade to 4K relatively soon, which makes getting a 4K monitor right off, a more cost-effective solution in the long run
So, which 4K monitors make up our Top 3?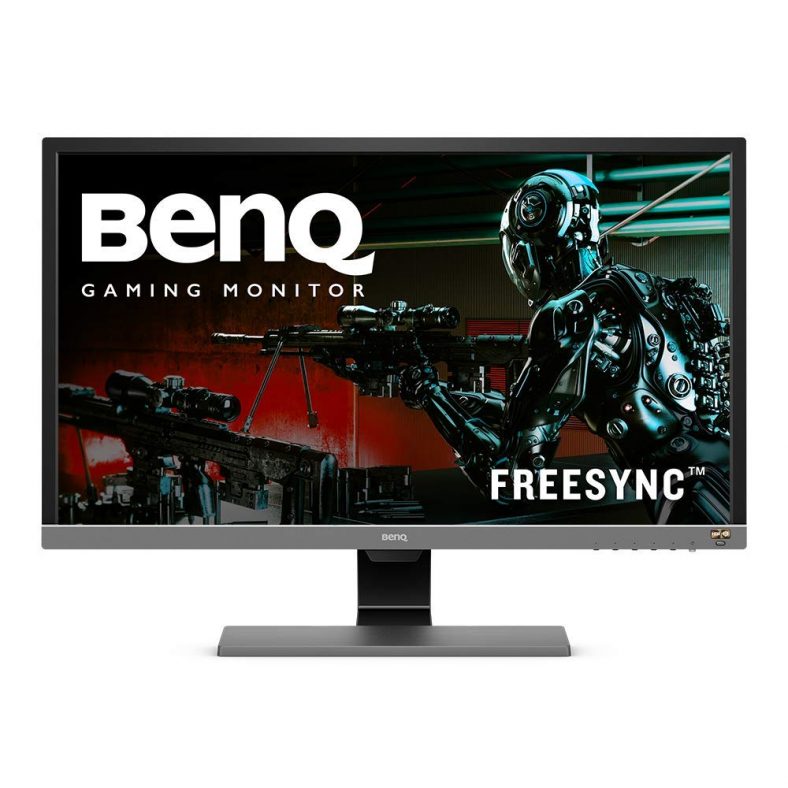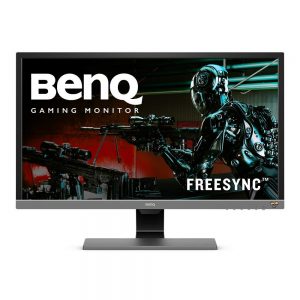 Overview
The innovative packaging not only effectively protects the contents, but is environmentally friendly, and cuts down on delivery weight – off to a good start. This ultra slim, sleek looking model is designed by BenQ. It's comfortingly square with a stylishly thin bezel, and a strong, stable stand.  High-quality cables are included and the user's manual is easy to follow.
What We Like
The ease with which this slots together is impressive – snap the upright on the panel's back and attach the base with its captive bolt. It couldn't be simpler. The connectivity options are extensive, including an HDMI 2.0 and a headphone jack. BenQ have included several well thought out features with this model. The On-Screen Display provides easy control settings including aspect ratio, sharpness, color temperature, input source selection, and saturation. You will also find the Response Time setting, but we recommend leaving it at the Normal option. There are also several preset modes and Intelligence Plus, which adjusts brightness and color according to on-screen content and ambient light conditions. We were impressed with how responsive this feature was. Sitting back to watch, the image resolution ensures an incredibly crisp and mesmeric picture quality with vivid details and plenty of screen real estate.
What Needs Improving
Strangely, the Dell U2718Q didn't include FreeSync, which by now, should be standard in all monitors with demanding resolutions.
The Final Verdict
If you're looking for a stunning gaming monitor, this has it all, but equally, for movies, it easily holds its own against most 4K TVs. Graphic, image resolution, saturation, sharpness and clarity are all impressively well developed, and with extensive connectivity options, this monitor is one of our best picks.
---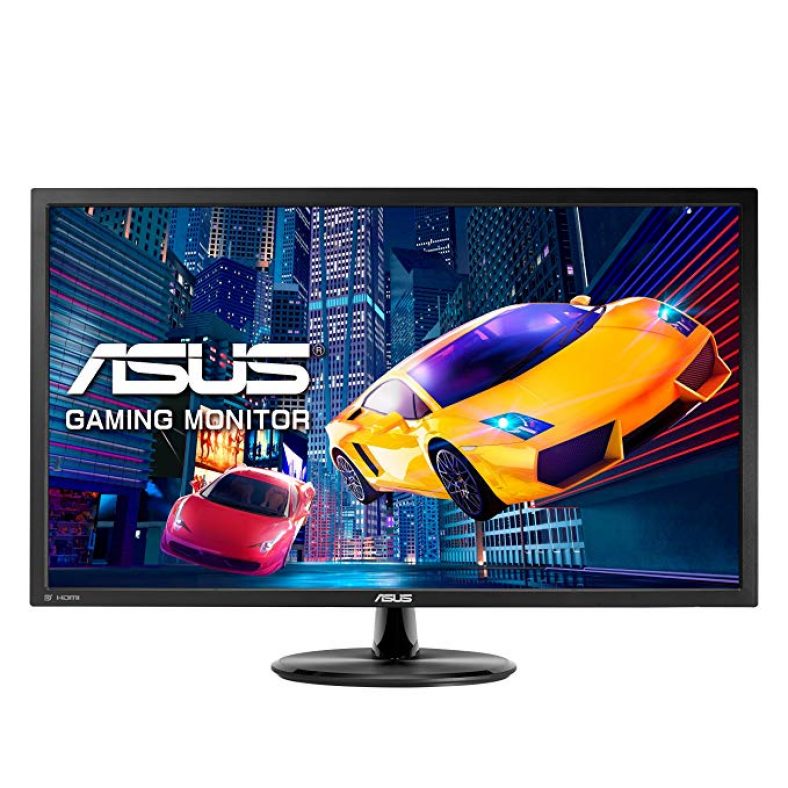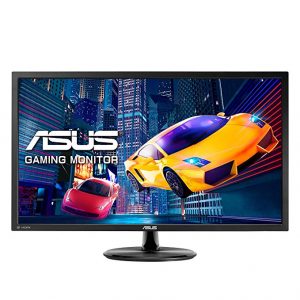 Overview
Without making any formal announcements, Asus has quietly added the VP28UQG to their gaming display lineup. Designed for gamers who have demands for a higher resolution (to be honest, who doesn't?) and an above-average screen size, it features a 4K resolution, a 1 ms response time, as well as AMD's FreeSync dynamic refresh rate technology.
Asus have designed a good looking, robust monitor. It's sleek, slimline and stands sturdily on a nicely rounded tiltable, pivoting support, although it does come with fittings for wall mounting if you prefer. The thin 19 mm bezel all around also makes it suitable for multi-screen installations.
What We Like
Thanks to the rapid response time speed, we found that teh images were crystal clear, making for a more enjoyable smooth rolling gaming experience and even after many hours playing, the flicker-free screen and low blue light filter meant we had none of the anticipated eye strain.
Asus seem to have considered everything for the gaming experience – a low response time from the use of the TN panel, their own GamePlus technology, which amongst other features, adds on-screen crosshairs, FPS counter, timer and the addition of AMD's FreeSync technology.
Technically, FreeSync works by synchronizing the monitor's refresh rate with the frame rate of the GPU. This removes any risk of jerky stuttering, whilst leaving out any additional input lag.
When it comes to connectivity, the VP28UQG is equipped with two HDMI 2.0 inputs as well as a DisplayPort 1.2 input, and a 3.5-mm audio jack. So, we simultaneously connected two consoles and a PC for a multi player gaming marathon!
What Needs Improving
Considering Asus have designed a really good gaming monitor, the lack of built-in speakers seems a bit remiss. However, this doesn't take away from the quality of the player experience.
The Final Verdict
The VP28UQG is an excellent gaming monitor - it has everything for both player comfort and the gaming experience as a whole, and comes in at pretty decent price. All in all, a winner for us.
1 used from $379.92
Free shipping
as of November 27, 2023 6:14 pm
---
Overview
The LG 27" model, with its matte black lines, balances perfectly on the Arcline stand and offers an obstruction-free view of the screen thanks to extra thin bezels. Having such a slimline design, it is highly suitable for wall mounting. It can be considered a gaming monitor thanks to its FreeSync compatibility and 10ms average input lag, however, it's also great for watching movies, YouTube, and more.
What We Like
Being a multi-use monitor we were concerned that it was merely a jack-of-all-trades, but nope, it truly is the master of all. Sporting a 27-inch VA panel with a 3840 x 2160 resolution, 60Hz refresh rate, and 5ms response time, this model produces decent pictures. A contrast ratio of 1000:1 along with a 300cd/m2 LED backlight are also involved in helping the monitor display the extra depth we all look forward to with VA technology. Interestingly, the panel is also rated to have a DCI-P3 gamut coverage of 99%. All of this means a superior user experience – which we certainly found.
With no banding, flickering or color bleed, excellently slick, non-blur motion, and a smooth backlight,  we could game, or movie binge, for hours while our eyes remained as fresh as daisies, even if our caffeine intake tipped the scales.
What Needs Improving
The anti-glare screen could be slightly more anti, however, this didn't detract from the immersive experience one bit.
The Final Verdict
This impressive LG offers a 4K screen suitable for multitasking and PC or console gaming at a reasonable price. Delivering vibrant energy and colors that you didn't know existed, games and movies are more enjoyable. The LG is an excellent value product if you are looking for an all-in-one display.
6 new from $469.99
4 used from $295.45

as of November 27, 2023 6:14 pm
---
What else has got us excited?