The Coolest Laptop Pads Are Right Here
An overheating laptop is a real pain. We've all been there – slap bang in the middle of the most crucial part of the game, the screen goes black and the whole thing powers down for a rest, while we sit there getting hotter and more bothered, wondering if we'll have to do the whole thing again! It's even worse when it happens in the middle of a college essay – inadequate college laptops are quite a pain, and every freshman knows to prepare the most suitable college laptop adapted to their unique needs that will last throughout the entire higher education experience.
As well as your stress levels, overheating is bad for your laptop too – and we don't mean when you throw it at the wall in frustration. It can lead to reduced performances all round, and actual damage to the hardware. A laptop cooling pad helps your device maintain a normal temperature and performance stability; it's a simple, affordable solution to a frustrating and potentially damaging problem.
We think one of the coolest things about getting a new laptop is picking the laptop accessories that come with it, like the best laptop backpack and the best laptop cooling pad. However, the problem is that, as with most computer accessories, there are hundreds to choose from, each promising bigger and better things. So, where do you start?
You need to think about the size of your laptop or find a cooling pad that's been designed to fit your specific model. Also if you require it for work, a more professional pad is required than if you're a gamer – then you can get away with flashing neon lights. Some cooling pads are designed to be portable, with weight and durability being important factors, whereas others are made to be more static for using in one place. There is a model to suit every purpose.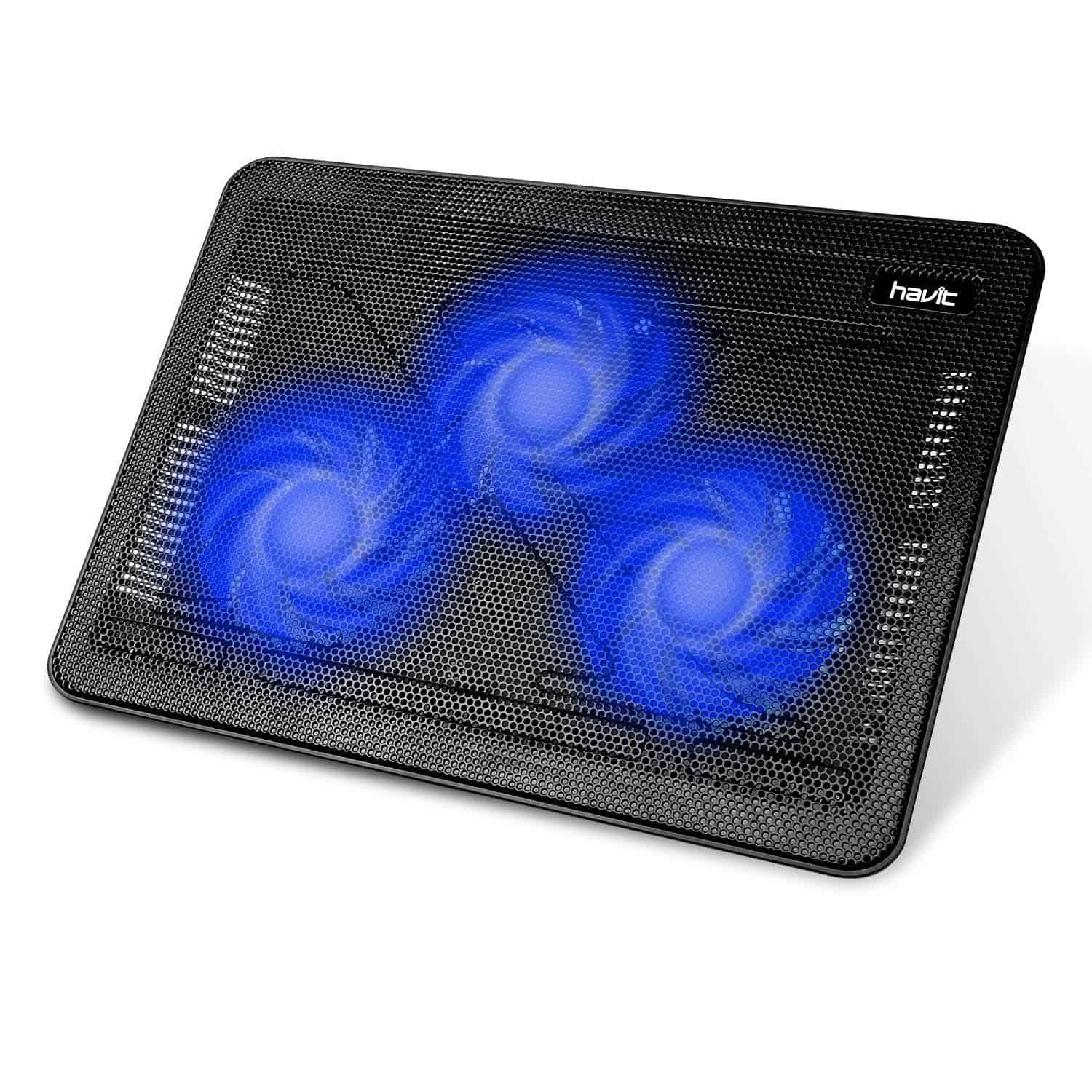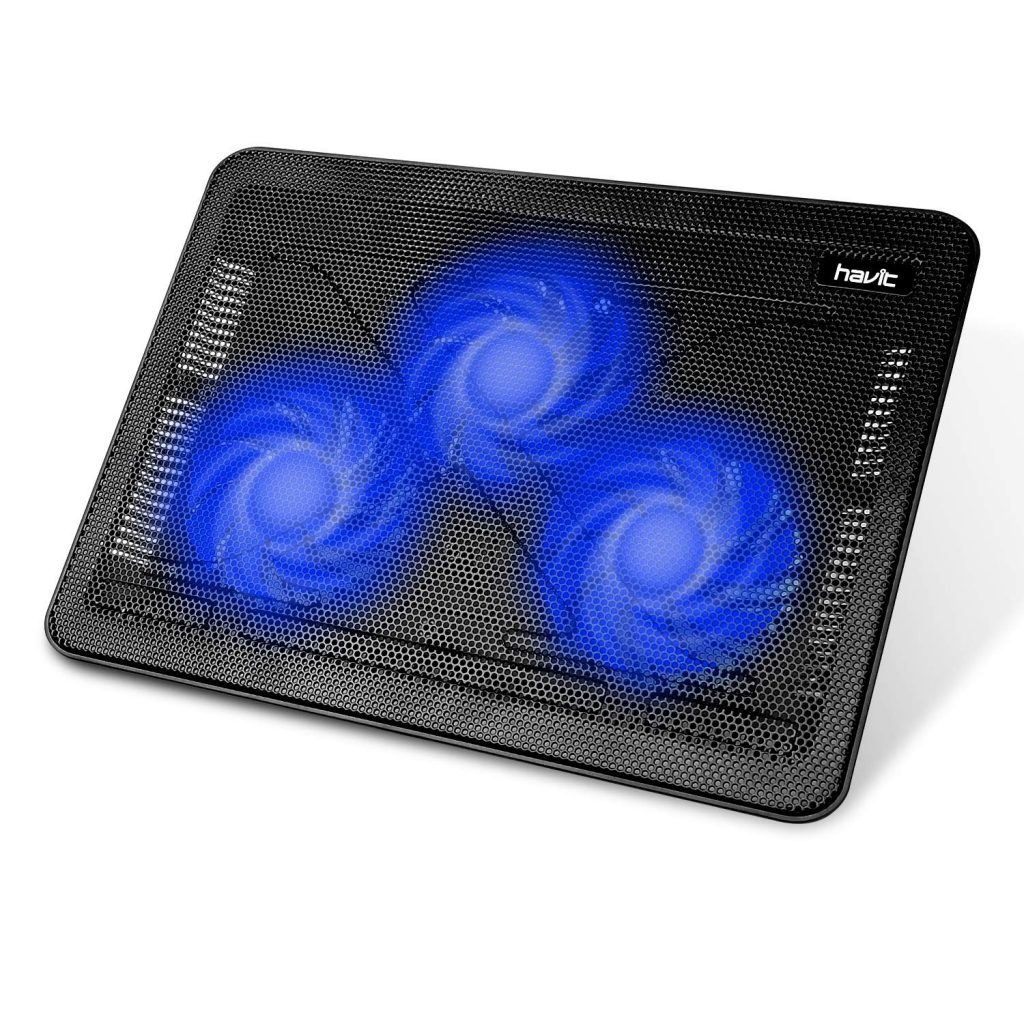 Overview
This ultra slim laptop cooler doubles as an adjustable, ergonomic stand and the built-in dual-USB hub allows more USB devices to be connected. Being portable, Havit have thoughtfully made this wear-resistant, lightweight and comfortingly sturdy.
What We Like
The three fans work near silently to cool down laptops, and they did an excellent job with ours after many hours of solid gaming and the whole thing glows an eerie, sci fi neon blue when whirring. Having a dual USB hub is a great idea for this nice little laptop cooler.
What Needs Improving
Some may find the lights distracting, so an option to switch them off would be useful, but we love them!
The Final Verdict
If your laptop suffers from overheating, this does its job efficiently without any fuss, and it glows blue! What more do you want?
2 new from $23.79
4 used from $20.94
Free shipping
as of June 27, 2022 5:17 pm
Features
[Ultra-portable]: slim, portable, and light weight allowing you to protect your investment wherever you go
[Ergonomic comfort]: doubles as an ergonomic stand with two adjustable Height settings
[Optimized for laptop carrying]: the high-quality multi-directional metal mesh provides your laptop with a wear-resisting and stable laptop carrying surface.
[Ultra-quiet fans]: three ultra-quiet fans create a noise-free environment for you
[Extra USB ports]: extra USB port and Power switch design. Built-in dual-USB hub allows for connecting more USB devices.Warm tips: The packaged Cable is USB to USB connection. Type C Connection devices need to prepare an Type C to USB adapter.
---
Overview
Available in a variety of sizes, this model from PC Cooler has a stylish angled wooden body for cooling and dissipating heat. It feels well built, is lightweight and easily portable, and eliminates any neck strain.
What We Like
Even after hours spent gaming, our laptop wasn't hot, and our necks and shoulders didn't ache. With the large surface area, it can comfortably hold a 17" laptop, cellphone and has an integrated mouse pad. This well designed cooler checks all the boxes, and kept our machines super cool.
What Needs Improving
The addition of a USB port would be a great idea.
The Final Verdict
This cooler is definitely well worth considering if you have an overheating laptop. It's efficient, beautifully stylish and helps to ease 'gamer's neck' (it's a thing, really)
as of June 27, 2022 12:18 am
Features
High Quality Material - made of MDF with classic wood grain finish, stylish in any home or office. The bottom pad is made of fabric and foam cushion, providing comfort and stability
Large Surface - Measured at 22"Lx12"Wx2.75"H. Smooth, flat surface. Large work place for laptop table. Built-in Mouse Pad - It is essential for those who prefer to use a mouse.
Media Slot - Holds your cell phone and tablet,so your devices are always accessible and stay organized.
Heat Dissipation - keeps the laptop off the legs and keeps the legs from getting super hot from it.
HOME BI Promise :This lap desk comes with 30 days money back. If you have any issue, please do not hesitate to contact us
---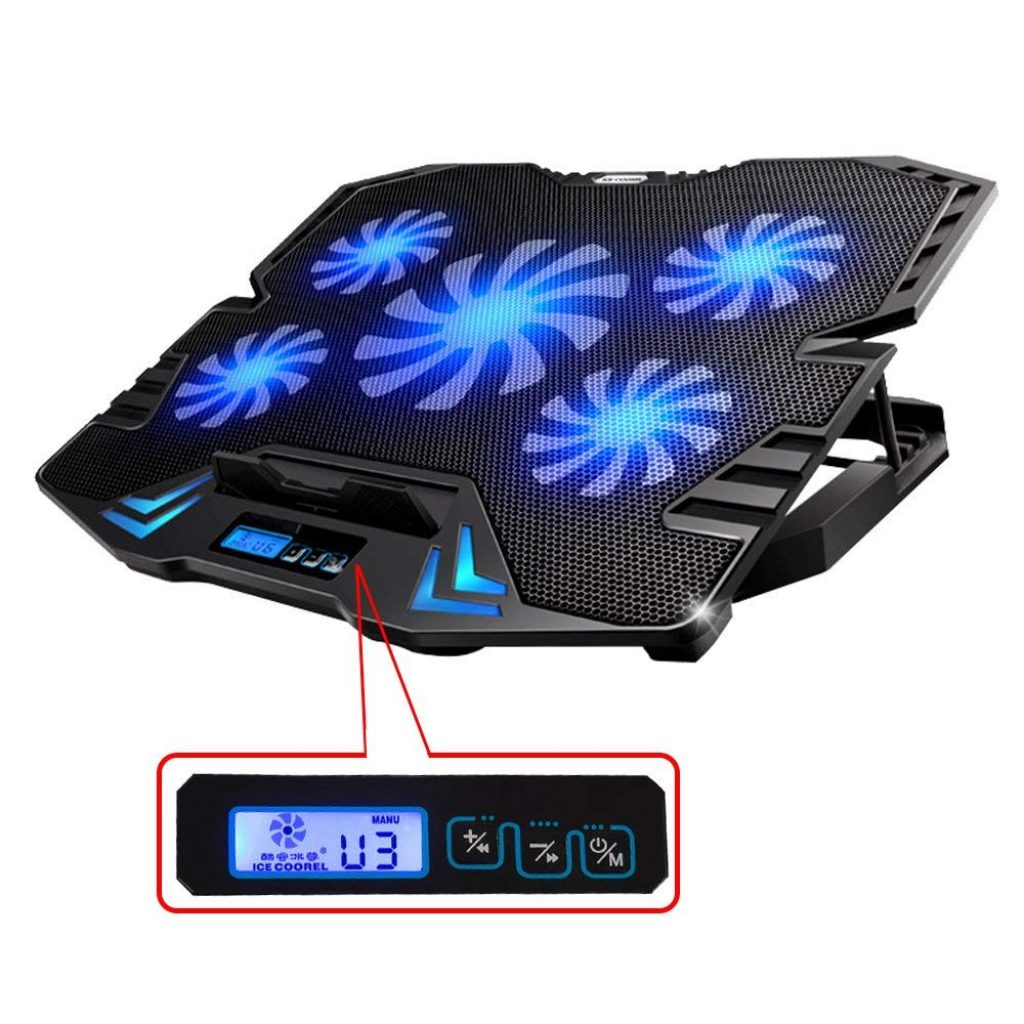 Overview
With five fans, including a larger central one, this adjustable angle cooler is a well made, stylish device. The LED display and controls take care of the six speed settings and the various modes available. There is a built-in dual USB port which complete the picture.
What We Like
Not only is the height and angle adjustable, but also speed, temperature, and the 'wind speed' of the central super powerful fan. This all adds up to a highly efficient, good looking laptop cooling pad that worked well and very rapidly, thanks to the wind fan.
What Needs Improving
The included cables are quite long, but better that than too short, tying you to one spot.
The Final Verdict
TopMate's cooling pad is high tech, high spec and highly effective. This is one for the gift list!
2 used from $24.39
Free shipping
as of June 27, 2022 1:21 pm
Features
【High Speed Fan】TopMate Gaming laptop cooling pad has 5 fans, the four outer fans and the large center super strong wind fan. It can prevent laptop Router Xbox Ps4 Network Device from overheating under different use situation.
【Ergonomic Design】The notebook cooler has a unique design and adjustable tilting. 5 heights adjustment allow you to raise your viewing and typing experience, thus relieving the pain on your neck and back.
【Non-Slip Baffle】There is a hinged flap on the laptop cooler that you can flip up to keep the laptop from sliding down towards you.
【Switch Control】This has a small LCD screen and a button control panel on the computer chill mat. The screen displays information about various wind speeds and buttons let you switch different modes. It provides 6 wind speeds and 3 fan operation modes.
【Pretty LED Light】The laptop cooling stand has blue LEDs that illuminates it while working. It looks nice specially in dark conditions. That can greatly enhance your gaming experience.
---
Overview
Cooler Master's laptop cooling pad is smart, professional, and available in several styles and colors. Easily portable, this, with its lack of LEDs, would be eminently suitable for a work environment.
What We Like
With three effective fans and thanks to the full mesh design, we were impressed with how efficient this cooler is. Its height is adjustable, and is completely silent, making it ideal for the workplace. We like this no-frills cooler – it does exactly what it's meant to do, without any complaints.
What Needs Improving
It would be great if it had cable grooves, however, this isn't a deal-breaker.
The Final Verdict
If your work laptop gets more overheated and stressed than you do, this cooler is a great purchase.
4 new from $66.63

as of June 27, 2022 12:18 am
Features
PATENT MOVEABLE COOLING FANS - Featuring three quick-release 80 mm fans (21-23 dBA, 950-1800 RPM, 15.42 CFM per fan), cooling airflow can be repositioned anywhere along the perforated surface to target specific laptop heat zones
CARRY CASE PROTECTOR - During travel, the U3 PLUS converts into an durable case protector with rubber pads and a safety belt to ensure valuable hardware is safe and secure. Supports laptops up to 19 inch
LIGHTWEIGHT ALUMINIUM FRAME - With its smooth sandblasted finish, the precision-engineered frame enables high-volume airflow while retaining exceptional durability
CLEAN CABLE MANAGEMENT - Excess cabling can be conveniently wrapped around 2 built-in bollards at the rear for a clutter-free workspace
ERGONOMIC TYPING ANGLE - Laptops are notorious for inducing ergonomic pain; the NotePal U3 PLUS stands at a comfortable low angle to keep the wrist position as neutral as possible
---
Overview
Looking like a UFO accessory, this green glowing cooler's unusual shape is certainly eye catching. It's easily positioned with adjustable height settings, and the four fans create a silent & interference-free space. Hard wearing, light to carry, and with two USB ports, this cooler is looking good, so far.
What We Like
We originally thought that the unusual shape would make it difficult to fit our laptop, but no, it worked perfectly and proceeded to chill the overheated guts of our device. Dual ports, anti-slip design, and fitting laptops up to 16" means that this efficient cooler, not only works well, but looks great too.
What Needs Improving
The glowing green LED lights cannot be independently switched off – we love them, but others may find them distracting.
The Final Verdict
An eye-catching stylish design and the ability to rapidly cool your laptop make this cooler well worth considering.
2 new from $29.97
1 used from $22.49
Free shipping
as of June 27, 2022 12:18 am
Features
✅ AN INVESTMENT. This laptop cooler is an investment => no component overheating => maximises the life expectancy of your PC and boosts its performances. ✔ BONUS : Receive a free copy of the eBook: 7 tips to keep your computer alive and maximise its performance by email after your purchase.
✅ LARGE MODEL. Covers the following sizes: 11 11,3 12 13 14 15 15,6 16 inches. Compatible with the following sizes: 17,3 18 and 19 inches. With these sizes, the laptop will extend over the edges of the cooler pad but will remain perfectly stable. The KLIM Wind features 2 rear legs for an excellent inclination and frontal pegs to keep it in place. Both the laptop tray and the computer will stay completely still.
✅ THE MOST POWERFUL ON THE MARKET. With 4 quiet fans spinning up to 1200 rotations per minute. It's a high capacity laptop stand with the ability to cool your PC to reasonable temperatures in under a minute. These 4 fans allow for cooling of all the areas of your laptop.
✅ THOUGHT OUT DESIGN + BUILT TO LAST. KLIM Wind is a level above any other laptop cooling stand in terms of design and the quality of materials used. It is a durable yet light pad that will fit any situation and makes it a great accessory for your laptop. We offer a 5 year warranty, proving our confidence in our product. It's a no risk purchase.
✅ MULTIFUNCTIONAL. The KLIM Wind has 2 USB ports in order to leave you with one free port. It will cool your PC regardless of its age or of the intensity of its use. Our clients have had excellent results for gaming, photo + video editing and old laptops. If your laptop is overheating and its performance is dropping, the KLIM Wind's cooling action will certainly enhance its performance. It can also be used with a PS4 or Xbox One.
---
---
In order to make sure your laptop is the best fit for your laptop and works together with its inbuilt cooling system, check out some tips on what to look for in a laptop cooling pad.
---
Discover more trending tech reviews: