The Coolest Laptop Pads Are Right Here
An overheating laptop is a real pain. We've all been there – slap bang in the middle of the most crucial part of the game, the screen goes black and the whole thing powers down for a rest, while we sit there getting hotter and more bothered, wondering if we'll have to do the whole thing again! It's even worse when it happens in the middle of a college essay – inadequate college laptops are quite a pain, and every freshman knows to prepare the most suitable college laptop adapted to their unique needs that will last throughout the entire higher education experience.
As well as your stress levels, overheating is bad for your laptop too – and we don't mean when you throw it at the wall in frustration. It can lead to reduced performances all round, and actual damage to the hardware. A laptop cooling pad helps your device maintain a normal temperature and performance stability; it's a simple, affordable solution to a frustrating and potentially damaging problem.
We think one of the coolest things about getting a new laptop is picking the laptop accessories that come with it, like the best laptop backpack and the best laptop cooling pad. However, the problem is that, as with most computer accessories, there are hundreds to choose from, each promising bigger and better things. So, where do you start?
You need to think about the size of your laptop or find a cooling pad that's been designed to fit your specific model. Also if you require it for work, a more professional pad is required than if you're a gamer – then you can get away with flashing neon lights. Some cooling pads are designed to be portable, with weight and durability being important factors, whereas others are made to be more static for using in one place. There is a model to suit every purpose.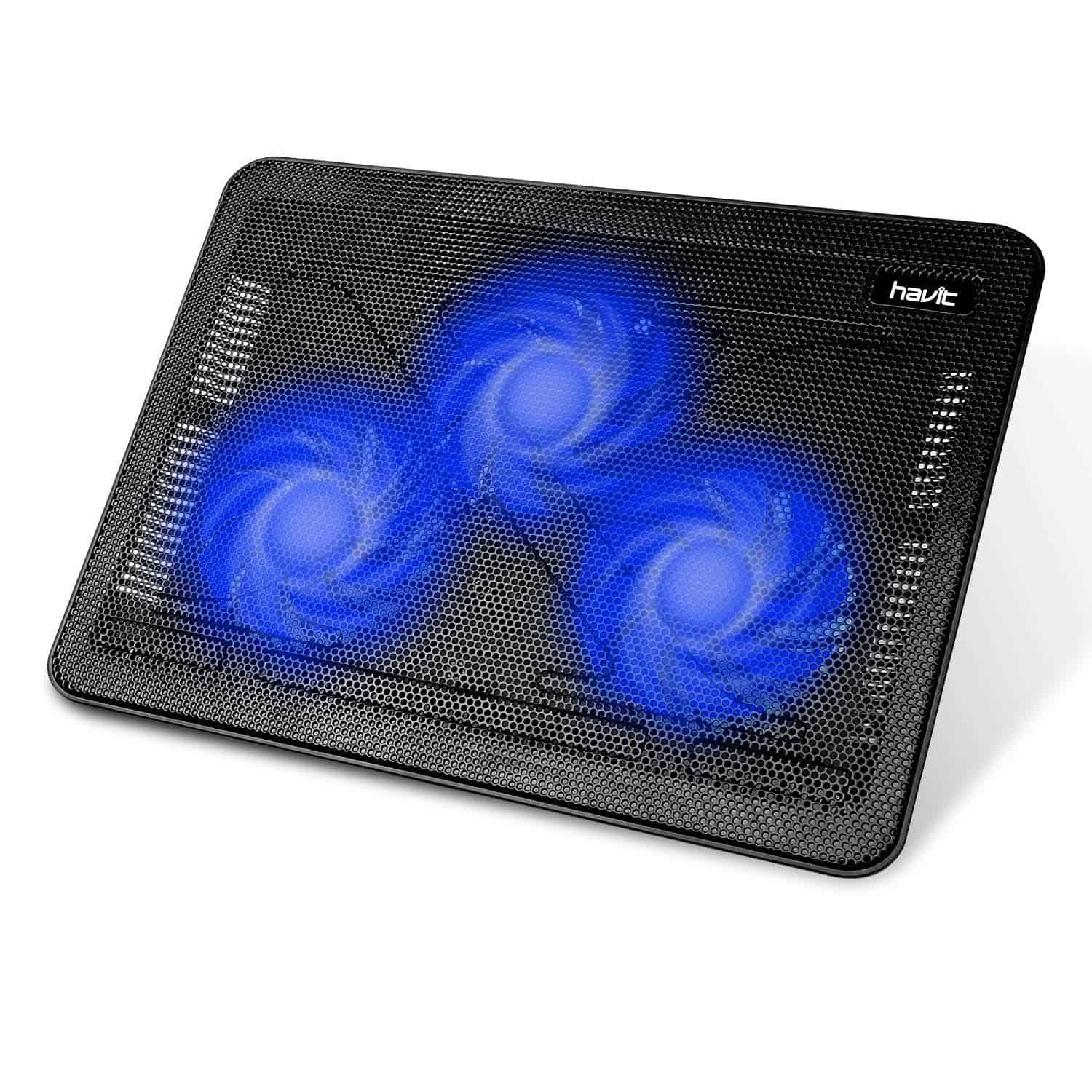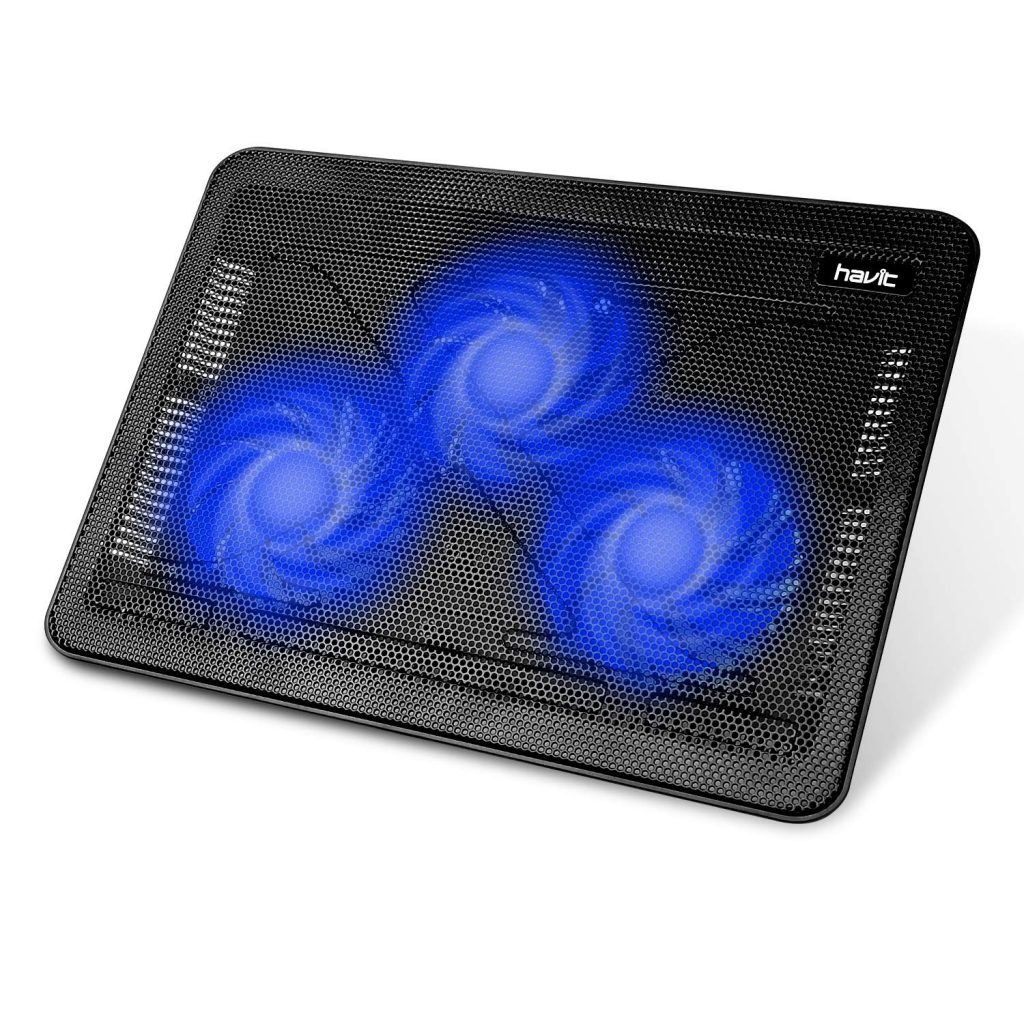 Overview
This ultra slim laptop cooler doubles as an adjustable, ergonomic stand and the built-in dual-USB hub allows more USB devices to be connected. Being portable, Havit have thoughtfully made this wear-resistant, lightweight and comfortingly sturdy.
What We Like
The three fans work near silently to cool down laptops, and they did an excellent job with ours after many hours of solid gaming and the whole thing glows an eerie, sci fi neon blue when whirring. Having a dual USB hub is a great idea for this nice little laptop cooler.
What Needs Improving
Some may find the lights distracting, so an option to switch them off would be useful, but we love them!
The Final Verdict
If your laptop suffers from overheating, this does its job efficiently without any fuss, and it glows blue! What more do you want?
3 new from $23.23
1 used from $25.50
Free shipping
as of September 30, 2023 5:10 pm
---
Overview
Available in a variety of sizes, this model from PC Cooler has a stylish angled wooden body for cooling and dissipating heat. It feels well built, is lightweight and easily portable, and eliminates any neck strain.
What We Like
Even after hours spent gaming, our laptop wasn't hot, and our necks and shoulders didn't ache. With the large surface area, it can comfortably hold a 17" laptop, cellphone and has an integrated mouse pad. This well designed cooler checks all the boxes, and kept our machines super cool.
What Needs Improving
The addition of a USB port would be a great idea.
The Final Verdict
This cooler is definitely well worth considering if you have an overheating laptop. It's efficient, beautifully stylish and helps to ease 'gamer's neck' (it's a thing, really)
---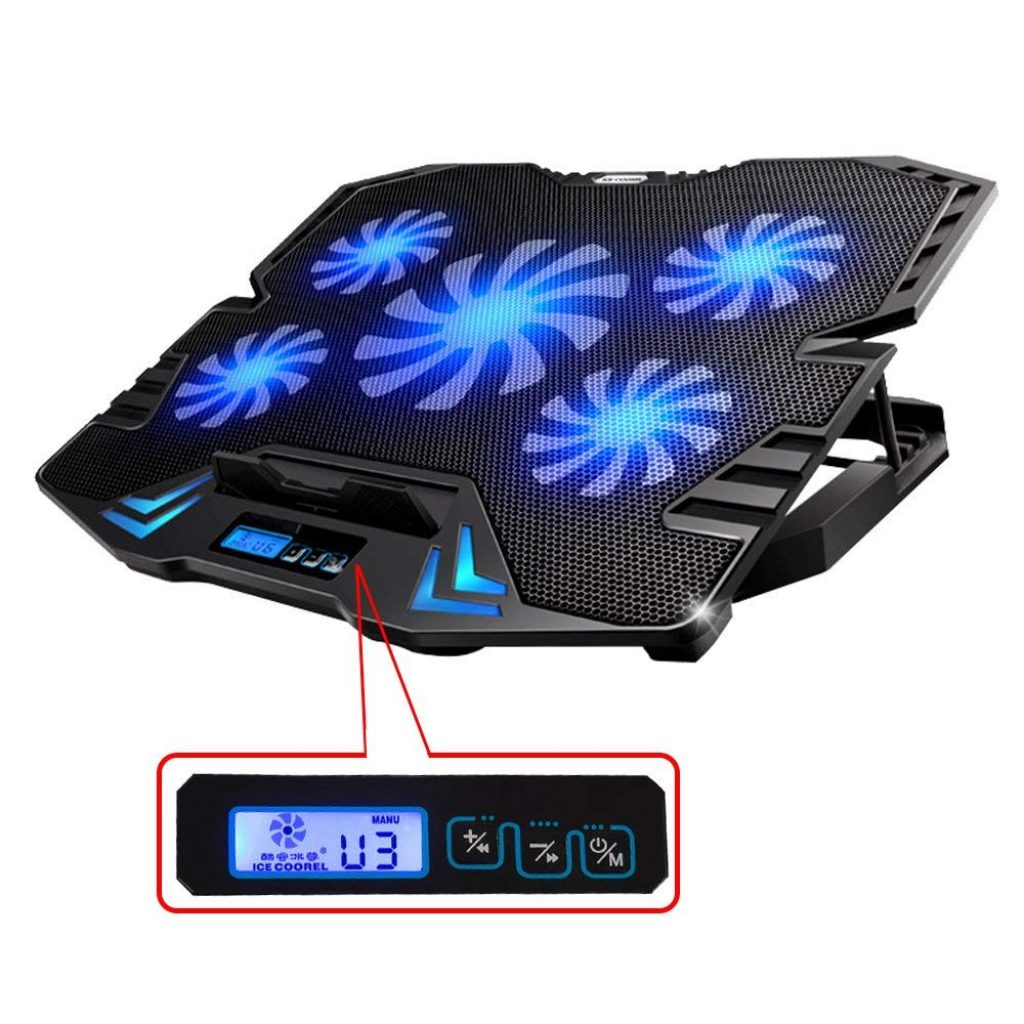 Overview
With five fans, including a larger central one, this adjustable angle cooler is a well made, stylish device. The LED display and controls take care of the six speed settings and the various modes available. There is a built-in dual USB port which complete the picture.
What We Like
Not only is the height and angle adjustable, but also speed, temperature, and the 'wind speed' of the central super powerful fan. This all adds up to a highly efficient, good looking laptop cooling pad that worked well and very rapidly, thanks to the wind fan.
What Needs Improving
The included cables are quite long, but better that than too short, tying you to one spot.
The Final Verdict
TopMate's cooling pad is high tech, high spec and highly effective. This is one for the gift list!
1 used from $21.17
Free shipping
as of September 30, 2023 12:11 pm
---
Overview
Cooler Master's laptop cooling pad is smart, professional, and available in several styles and colors. Easily portable, this, with its lack of LEDs, would be eminently suitable for a work environment.
What We Like
With three effective fans and thanks to the full mesh design, we were impressed with how efficient this cooler is. Its height is adjustable, and is completely silent, making it ideal for the workplace. We like this no-frills cooler – it does exactly what it's meant to do, without any complaints.
What Needs Improving
It would be great if it had cable grooves, however, this isn't a deal-breaker.
The Final Verdict
If your work laptop gets more overheated and stressed than you do, this cooler is a great purchase.
---
Overview
Looking like a UFO accessory, this green glowing cooler's unusual shape is certainly eye catching. It's easily positioned with adjustable height settings, and the four fans create a silent & interference-free space. Hard wearing, light to carry, and with two USB ports, this cooler is looking good, so far.
What We Like
We originally thought that the unusual shape would make it difficult to fit our laptop, but no, it worked perfectly and proceeded to chill the overheated guts of our device. Dual ports, anti-slip design, and fitting laptops up to 16" means that this efficient cooler, not only works well, but looks great too.
What Needs Improving
The glowing green LED lights cannot be independently switched off – we love them, but others may find them distracting.
The Final Verdict
An eye-catching stylish design and the ability to rapidly cool your laptop make this cooler well worth considering.
1 used from $22.30
Free shipping
as of September 30, 2023 7:11 pm
---
---
In order to make sure your laptop is the best fit for your laptop and works together with its inbuilt cooling system, check out some tips on what to look for in a laptop cooling pad.
---
Discover more trending tech reviews: