Increase Productivity With A Quality Laptop Stand
If you're pouring over your laptop all day, there have, no doubt, been days when your neck and shoulders are aching painfully, or maybe you have sore eyes and a nasty headache from straining to read the screen. There's a simple, easily affordable remedy for this, which we, in TGN HQ, swear by.
The humble laptop stand.
This ingenious item is designed to make your laptop much more comfortable and convenient to use. An ergonomic desk set up can improve productivity, moods and general health and well-being. A laptop stand might allow you to ditch the painkillers by eliminating those aches and pains. What's more, you can pair it with any laptop you choose  – from a Macbook Air to the best Chromebooks.
Ideally, the top of your screen should be a couple of inches above your eye level when seated. It's nearly impossible to use a laptop at a desk in an ergonomic position, because the monitor is too low and so we hunch over it. A laptop stand will put the screen at eye level, making it more comfortable to use.
You may well need to purchase an external keyboard as typing when the keys are at eye level is difficult to say the least. The right laptop stand can also accommodate other accessories such as laptop cooling pads so that you can create the perfect working environment.
There are many designs of laptop stand available. Some are fixed height, whereas others easily adjustable or swiveling and some even have slots for cable management. Whatever your requirements, there's a stand that's just right.
Here are our Top 3 picks of the month: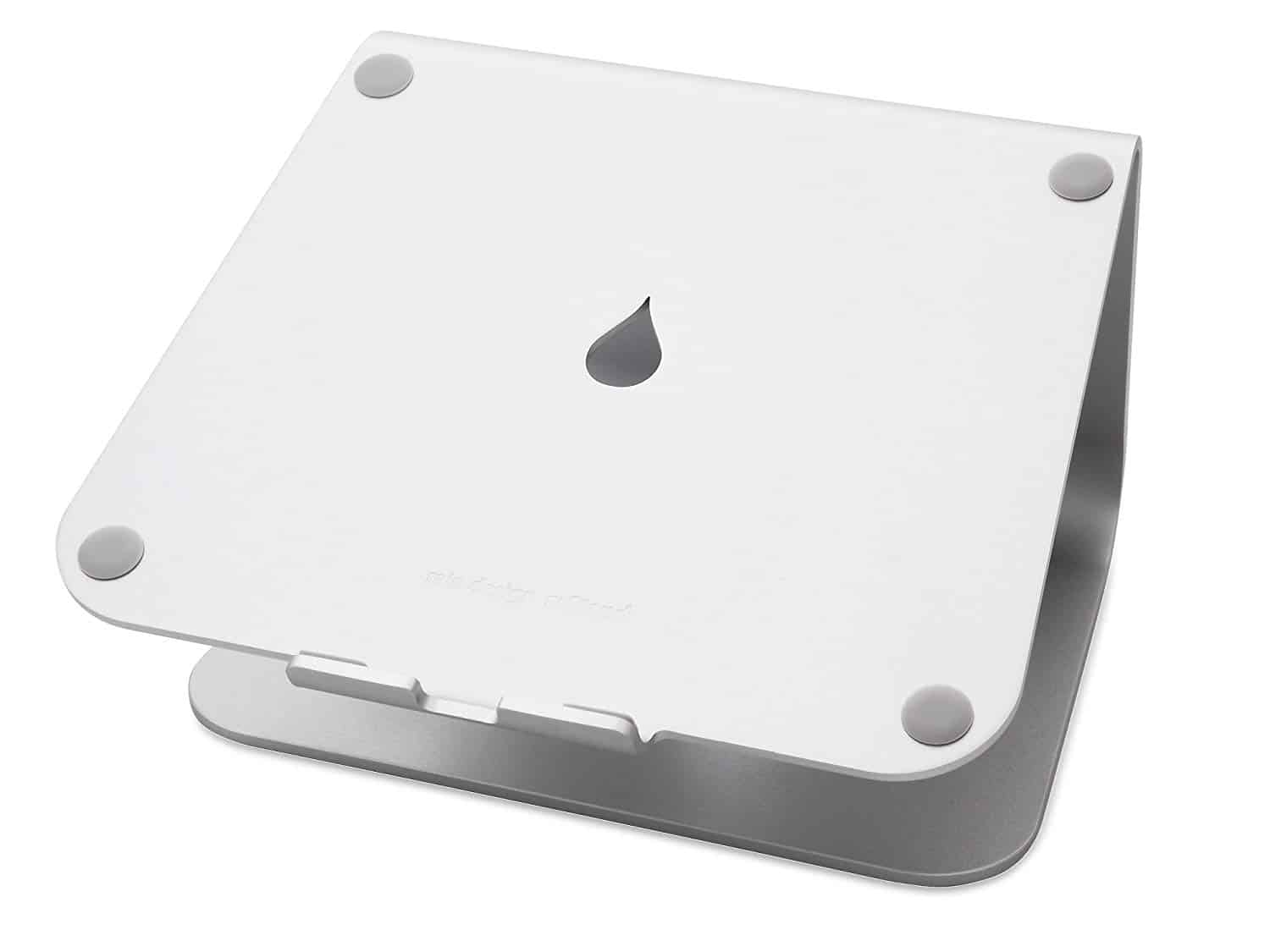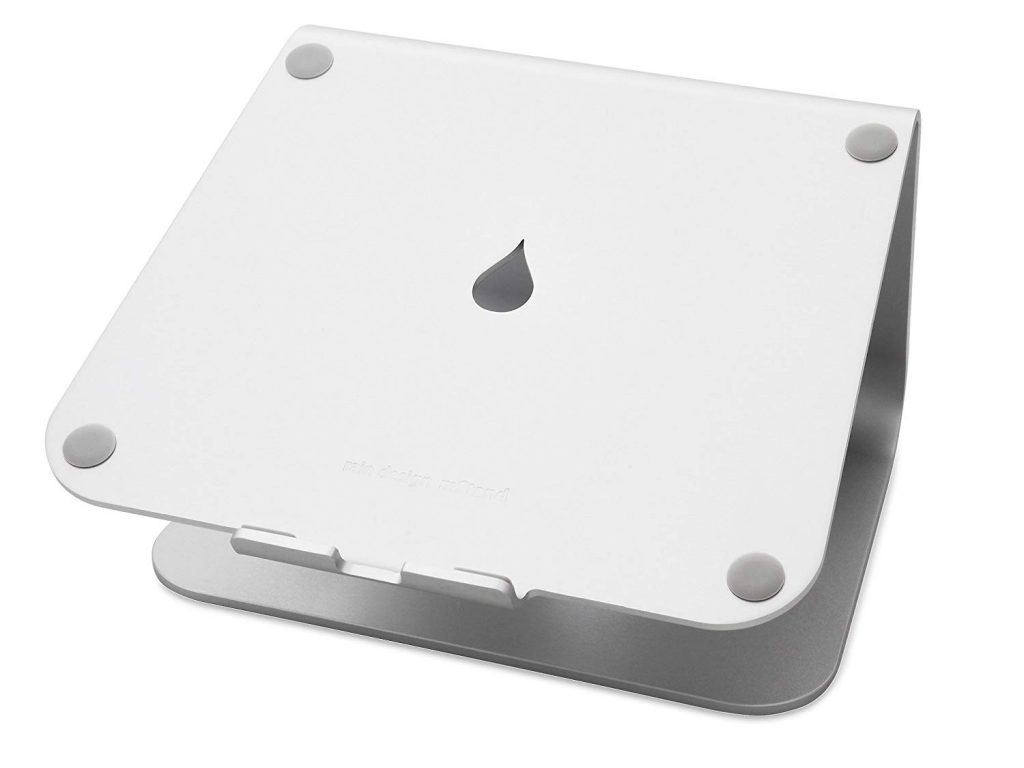 Overview
This aesthetically designed laptop stand is made from a single sheet of aluminium giving it a sleek, ultra modern look. Raising your laptop to eye level comfort, whilst tidying the cables away out of sight, it acts as a heat sink, cooling any laptop placed on it.
What We Like
This is the most stylish stand around – elegance and functionality combined. The tilt is at the perfect angle for easy reading and comfortable typing, and the aluminium sheet makes it a very effective heat sink. We really like this one!
What Needs Improving
To be honest, this is such a simple product that we can't fault it – we're really trying, honest. Maybe if it had a wider variety of colors, had a built in cup holder or whisk us away for a luxury weekend break?
The Final Verdict
Sturdy, attractive, and uber useful, this stand has it all! We're putting this straight on our gift lists!
23 new from $39.90
6 used from $29.99
Free shipping
as of September 30, 2023 7:11 pm
---
Overview
With complete ventilation all round, this adjustable height metal mesh laptop stand looks attractively industrial. It's hard wearing, stable and has a slotted cord organizer.
What We Like
Fully adjustable to ensure the perfect tilt for reading or typing, this stand from Huanuo is a neat addition to any desk. With 8 adjustable levels, it allows the rest of your desk to be neat, too. Decently sized, it can comfortably take the majority of popular laptop models, and the increased airflow prevents any overheating.
What Needs Improving
The default position of the slide prevention rubber stops makes typing awkward, but they are easy to move, allowing for a more comfortable typing position.
The Final Verdict
This is a great budget friendly, hard wearing laptop stand. Foldable and lightweight for easy packing, yet fully adjustable for comfort - this is a winner all round.
2 new from $49.99
2 used from $35.41
Free shipping
as of September 30, 2023 1:12 am
---
This is a super smart laptop stand which lifts your laptop to eye level. It also swivels through 360 degrees! Made from premium alloy, it's incredibly sturdy, and being composed of alloy, acts as a heat sink for your device.
What We Like
This has a lot of great features. The rotatable pole design allows it to be placed anywhere, and the tilt and adjustment offered is fabulous. We found both simple to set into exactly the right position for us, and the ergonomic design eliminated any neck and shoulder aches. Acting as a heat sink, our laptops didn't heat up at all despite some pretty heavy gaming.
What Needs Improving
Surprisingly given its aesthetic design, it doesn't have a cable tidy, so we made our own with clear plastic cable ties – easy, and just as effective.
The Final Verdict
Simplicity, functionality and elegance, all at an affordable price!
2 used from $24.56
Free shipping
as of September 30, 2023 1:12 am
---
What else do we recommend?