Hardwood floors are always easy on the eyes and make everything look better; however, they demand some upkeep if you want to keep them looking good. To take care of hardwood floors, you need to use specifically designed vacuum cleaners for hardwood floors.
On this list, we have selected the best 3 vacuum cleaners for hardwood floors, so that you don't have to go through hundreds of reviews in order to decide which one suits your needs the best. Robot vacuum cleaners, as well as some cordless vacuum cleaners, are also decent for hardwood floors, so make sure to check out our reviews!
We've looked at the most important things that you want in a vacuum cleaner for hardwood, and those are price, quality, and endurance. So, here are our top 3 vacuum cleaners for hardwood floors!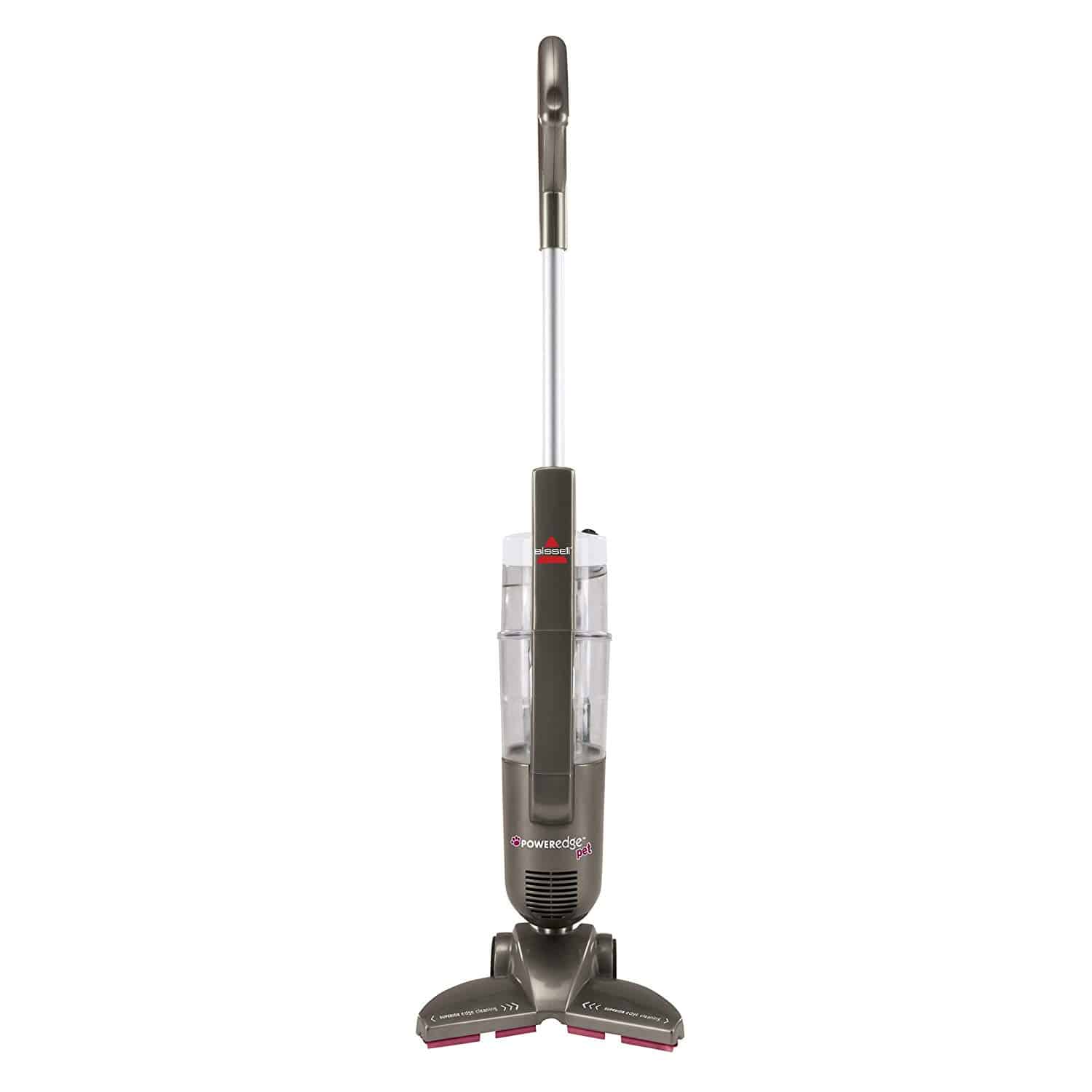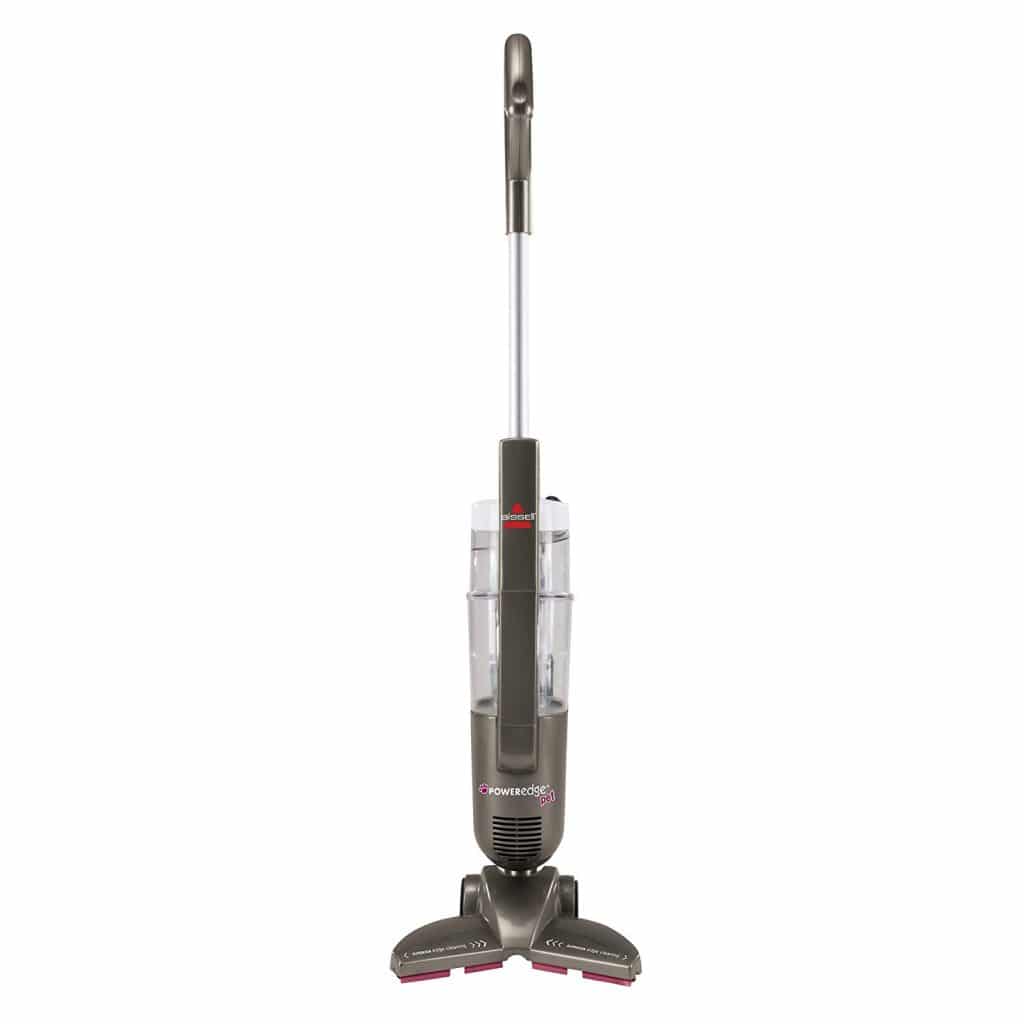 Overview
The Bissell PowerEdge has a cleaning path width of 11.35 inches, and it is V-shaped, which makes it easier to reach some corners, which were otherwise almost impossible to reach. The V-shape is a genius idea because larger debris will be directed towards the center while smaller debris will be caught by the sides. It has a 20 feet long power cord, and the dirt cups are very easy-to-clean, which will save you plenty of time.
What we like
The fact that it weighs only 7.5 lbs makes your job ten times easier because you won't get tired pushing it around. Another great feature is the swivel steering, which makes it a breeze to clean around the furniture, and when you add to it the V-shaped cleaning path, you will not miss a spot on your hardwood floor. The bagless cleaning technology makes it very easy to clean the vacuum.
What needs improving
The smallest improvement that this hardwood vacuum cleaner needs is to have a longer power cord. It has a power cord of 20 feet, and in all honesty for the average room, the cord is perfect. If you're looking to clean larger areas then you may just need to use an extension lead.
The Final Verdict
At such a great price and top-notch quality, this is one of the best hardwood vacuum cleaners that you can buy. The V-shaped cleaning path will help you reach the areas that are almost impossible to reach with the conventional vacuum cleaners.
---
Overview
This cordless vacuum cleaner utilizes a motor with 2 modes. The low power mode is most effective when you're trying to clean dog hair or dust on your hardwood floors, and on the other hand, the high power mode will help you clean debris, and hidden dust. The swivel is designed to be very flexible since it can turn for 180°, which will help you reach every corner. This vacuum weighs only 3 pounds, which will reduce the physical strain on your body significantly.
What we like
This monster has a 2200mAh built-in rechargeable Li-ion battery, that takes 3-4 hours to charge and can be used for 40 minutes on low power mode, while it lasts for 30 minutes on high power mode. It also has incredible suction (10000PA), making sure that no debris escapes from it. Let's not forget the one-step-push handheld vacuum, which has a crevice nozzle for areas that are hard to reach. It's super easy to disassemble and wash, and the HEPA filter eliminates any escaping dust particles back into the air.
What needs improving
We found it a little tricky to get it to stand alone, it does click into place and it becomes easier with use.
The Final Verdict
The fact that it's cordless and that has 120W suction lets you know that this machine means business. Light to carry, rapid charging and an LED for dark corners and err ... vacuuming in the dark, we love it.
$149.98


$

109.99
check latest price
4 new from $109.99
Free shipping
as of June 5, 2023 2:38 pm
---
Overview
The Eureka Hardwood Cleaner is a corded model. The suction capacity is quite extraordinary (15000PA), and it helps you get rid of even the most stubborn microparticles, pet hair, and deep debris. It has two settings which you can choose to operate, the low power mode and the high power mode.
What we like
You can use the upright mode of cleaning and the handheld, which allows you to reach even the most difficult to reach areas. While it is perfect for hardwood cleaning, it can also become handheld for other surfaces like soft furnishings, stairs, and car interiors. The effective filtration system traps in the smaller particles and doesn't let them recirculate back in the atmosphere. This vacuum cleaner is a must-buy for people that suffer from allergies since it can also remove allergens.
What needs improving
We had read that a few people thought that it's a bit louder than the other vacuum cleaners. However, when we tested it we didn't find that it was any louder than any other vac so this really wasn't an issue for us.
The Final Verdict
If you want a vacuum cleaner with incredibly powerful suction (15000PA) and great value for money, then look no further because Eureka has managed to come up with a vacuum cleaner that is worth every penny. It's ideal to use around the home and in your car, and the impressive filtration system is ideal for people that have allergies.
---