Ice Cream Makers – Every Home Should Have One!
No one needs an excuse to eat ice cream, and a good maker can churn up mouth watering ice creams, sorbets, frozen yogurts and gelato with little effort. An ice cream machine is one of the best appliances you can add to your kitchen, and it offers you the chance to have healthy (and indulgent) frozen desserts, at less than half the cost.
There are two main types of ice cream makers available right now:
A machine with a double lined bowl is a great option for first time ice cream makers, and the budget conscious buyer. There is liquid sandwiched between the inner and outer bowls, which you freeze by popping it into your freezer. This is that turns your ingredients into ice cream. With this type of maker, you do have to plan ahead by several hours.
The other type is an ice cream machine with a freezing unit built in. These can be quite large appliances, but you avoid having to pre-freeze a separate bowl. Instead, select the freezing option, and the in-built freezer unit starts chilling the attached bowl. In a few minutes, you can start mixing your desert in the built in frozen bowl.
We're very happy with these ice-cream makers as you can make healthy variants of ice cream using various recipes. If you're a fan of healthy ice cream, be sure to check out our juicer reviews, as well as our air fryer reviews.
Finally, get ready to experience the most popular Ice Cream Makers of 2023: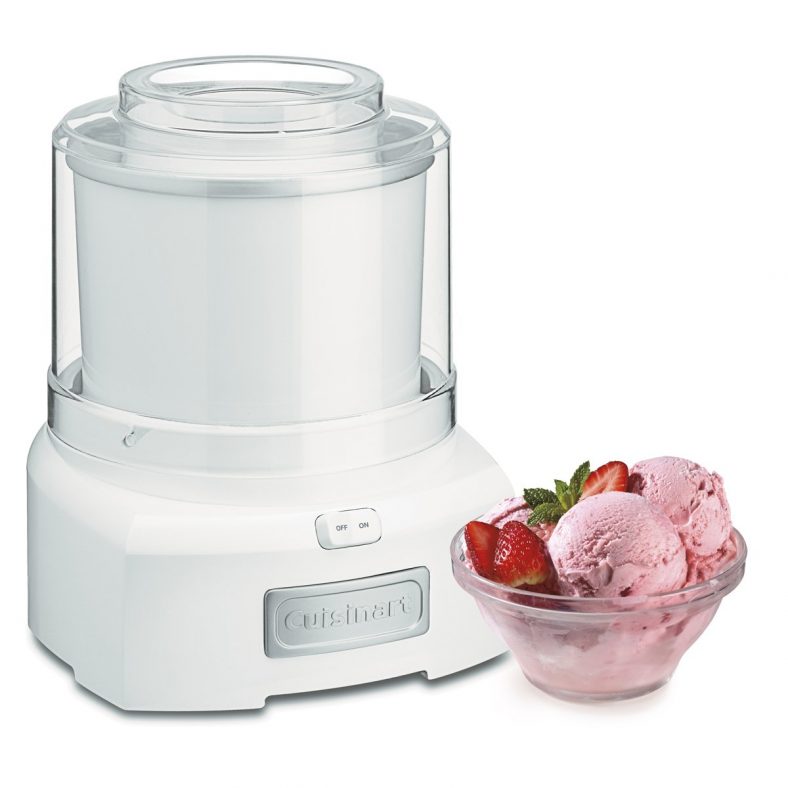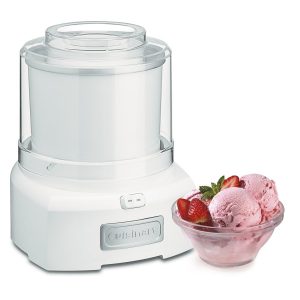 Overview
This modern ice cream maker looks good in any kitchen, exudes quality, and produces delicious ice cream every time. It's a winner for us.
What We Like
This is so easy to use, and with such a large capacity, we've been making deserts non-stop for all our friends. The speed is amazing with only a 20 minute run time. The paddle whisk makes the ice cream really smooth and creamy; frozen yogurt and sorbets are easy and delicious too, and all at less than half the cost you'd pay in a store. It's also quiet, simple to clean, and a great price. This super ice cream maker includes: A built-in freezer unit, unique mixer paddle, easy lock lid and a 3-year warranty.
What Needs Improving
The only room for improvement we could identify is a dishwasher safe bowl, but it takes no time at all to quickly wash it the old fashioned way.
The Final Verdict
A fun and useful addition to any kitchen; money and effort saved, delicious deserts gained. It's a must have.
11 new from $69.95
5 used from $42.89
Free shipping
as of November 27, 2023 1:11 pm
---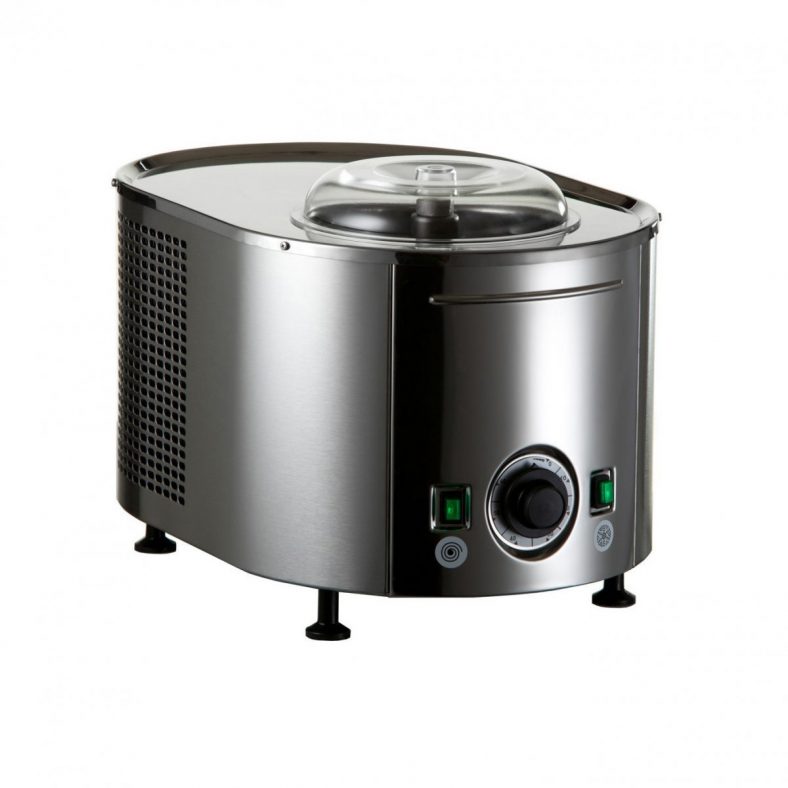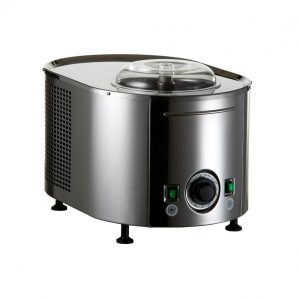 Overview
This is a really well made, solid product, and looks like it could outlive us. The instructions are clear, the recipes great, and it does everything for you.
What We Like
Easy to use and easy to clean up afterwards, this Lello ice cream machine makes desserts in about 20 minutes. At a fraction of the price of some machines, this works just as well. Pour in the ingredients, switch it on and sit back. We made vanilla, strawberry, with real fresh fruit, chocolate and every other flavor you can imagine; all came out perfect, with minimal effort on our part. This machine is ideal for making ice cream, frozen yogurt, sherbert and gelato. There is a recipe book included for inspiration.
What Needs Improving
It can be a little loud when mixing in fruit chunks, or larger pieces of nut, but you expect that as the motor is working harder then.
The Final Verdict
Definitely worth every dollar, and then some. To have delicious deserts ready in under 20 minutes, knowing exactly what has gone into them, and saving money on proprietary brands, is awesome.
---
Overview
Wow. This is a uniquely designed kitchen appliance – fun in appearance and solid in build. The instruction manual, and recipe book are simple to follow. An old fashioned style ice cream maker, with an ultra modern and efficient workings. The best of both worlds.
What We Like
The real wood bucket is gorgeous – really nicely made, and being lined, is so easy to clean, with no small parts to lose either. It's very quiet, just getting on with the job once we put the ingredients in, churning away until it stopped, and we had perfect ice cream. We lost count of the money we saved by using this instead of going to the store to buy desert. This ice cream maker also has convenient features. It's lined, which makes it easy to clean, it has a see-through lockable lid so you can see what's happening, and of course the bucket material is real wood. You'll also get recipes to get you started.
What Needs Improving
We had to adjust the lockable lid by sliding it around until it was in the right place to lock – really not a deal breaker at all.
The Final Verdict
We love the quaint, rustic appearance of this ice cream maker and the fact that it's cost effective, efficient and make delicious ice cream. This is a perfect gift for the ice cream lovers – and let's face, it who isn't?
---
If you got inspired by our ice cream makers, you might also love: