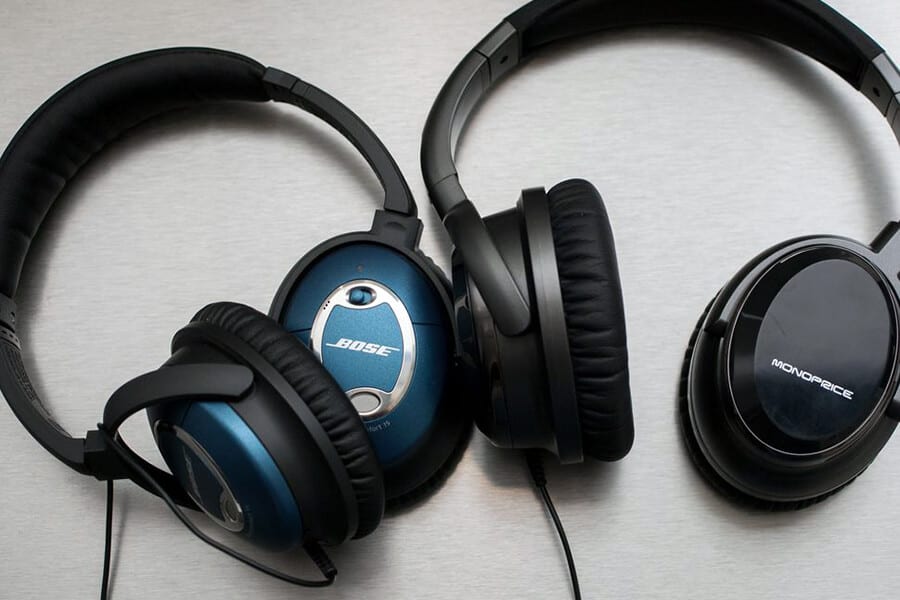 These Reviews Were Last Updated
All is quiet…We put the best noise-cancelling headphones of March, 2019 through their paces.
Noise cancelling headphones? Is this a weird modern day paradox? Nope turns out not.
These little ear furnishings don't just seal out noise by using thick pads, but make use of sophisticated technology to counteract exterior noise. Digital signal processing (DSP) uses an audio processor that "listens" to the sound around you and plays an opposite sound to cancel it out. Don't get confused between these and noise isolating headphones – the latter block external noise by giving you giant padded Princess Leia buns over your ears!
There are certain factors to consider when choosing noise cancelling headphones:
Wired or wireless –  according to Wikipedia the most popular noise cancelling headphones are Bluetooth, but if you can live with a cable, wired sets will save you some dollars.
Battery life – you must remember to recharge noise-canceling headphones, so should be aware of the battery charge. Many models will allow listening without the noise cancelling ability, and this is useful if your battery dies on you.
Comfort – most models use an over-ear design to ensure a tight seal and comfortable fit.
Here is our guide to the best noise cancelling headphones of March, 2019:
Overview
Although at the more expensive end of the scale, these look super slick, feel solid and well made, and arrived nicely packaged ahead of schedule. For music buffs, Bose is the name and having it emblazoned on your ear covers is surely the height of coolness.
What We Like
The sound quality on these headphones is excellent – crisp, clear and with no external interference, with previously unheard tones within familiar music being clearly audible.
They are also very comfortable and lightweight to wear, even on extremely hot, humid days.
What Needs Improving
There is a lack of compatibility with Windows 10 – hopefully Bose will rectify that soon.
The Final Verdict
A high-end, big brand set of noise cancelling headphones that have the modern cool factor. Bose delivers, once again.
Noise-rejecting dual-microphone system for clear phone calls and voice activation, which now includes Amazon Alexa. Simply update your software via the Bose Connect App and you will have the ability to hit the Action button to access hands-free voice control. You can also use the Action button to adjust the level of noise cancellation.
15 used from $260.00

Free shipping
Last update was on: March 20, 2019 12:45 pm
in stock
---
Overview
Our first impression was sheer wonder when we turned them on. These headphones are like wearing cushions on your ears, so soft, delivering impeccable sound and keeping away unwanted noise.
What We Like
We tried these out for over six hours solidly, and they felt perfectly comfortable for the whole time – no headache, or overheated ears for anyone. They look smart, feel smart and the sound quality is excellent. The battery charge lasts for a minimum of 30 hours. The Cowin E7 Pro has been updated for 2018, and these noise-cancelling headphones are the best yet.
What Needs Improving
We were thoroughly impressed with the Cowin E7 Pro (2018) headphones and couldn't fault them.
The Final Verdict
With much more bang for your buck than the Bose headphones, if you don't have money to burn, we would take these over the Bose in a heartbeat.
Professional Active Noise Cancelling Technology. Significant noise reduction for travel, work and anywhere in between. Advanced active noise reduction technology quells airplane cabin noise, city traffic or a busy office, makes you focus on what you want to hear, enjoy your music, movies and videos. The noise cancellation function can work well both in wire and wireless mode
12 used from $66.14

Free shipping
Last update was on: March 20, 2019 3:45 pm
in stock
---
Overview
These Sony headphones look like they mean business – no flashy design, just the matt black of quiet, understated style.
What We Like
When we were wearing these headphones, they were so comfortable and light that most forgot we had them on.
The sound quality is amazing, with a really decent bass thrumming away, while the battery lasts forever, and charges almost at the speed of sound.
What Needs Improving
These headphones are lacking a mute button, and for unexpected phone calls, that can be a little gimmicky.
The Final Verdict
Sound wise for mid priced headphones, these are very impressive. The Sony's will last you for years.
Industry-leading noise canceling brings Only Music, Nothing Else
Premium Sound Quality from 40mm Liquid Crystal Polymer drivers
Up to 30-hour battery life with quick charging (10 min charge for 5 hours of playback)
18 used from $294.51

Free shipping
Last update was on: March 20, 2019 6:45 pm
in stock
---
If you liked this post, then also make sure you check out…