Powerful And Discreet – Wireless Earbuds Are Only Getting Better
With the proliferation of smart mobile devices, wireless earbuds are the newest and coolest gadget you can add to your gym or work bag. With their latest technological features, these audio innovations make listening to music so much more hassle-free when you're out and about. Now you can even get noise-cancelling headphones, as well as headphone amps, without all the fuss of long cords.
Manufacturers, as with most things tech, are trying hard to outdo each other, leading to a win/win situation for us users, as cutting-edge features become increasingly sleek. Here, then, are our top picks of the latest earbuds.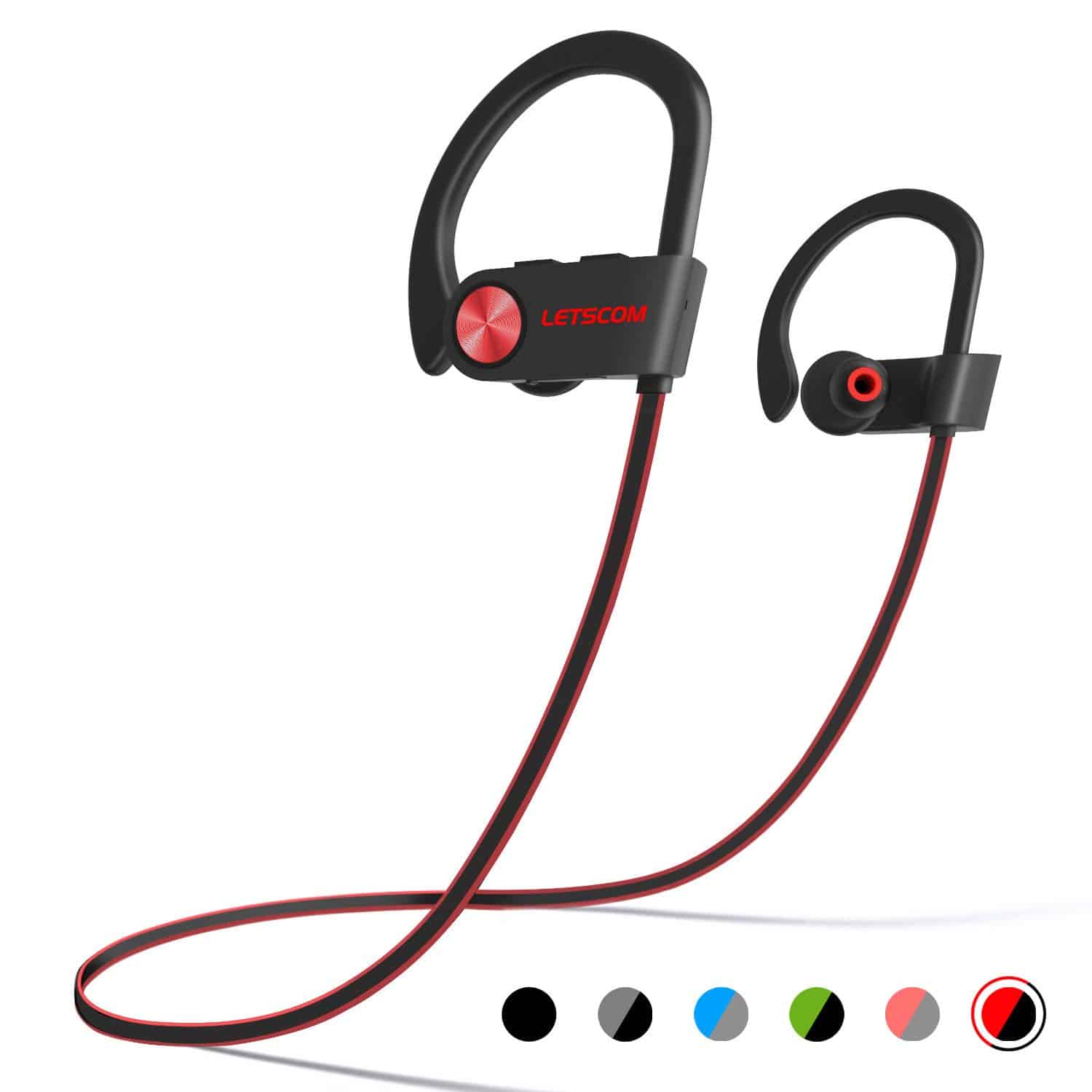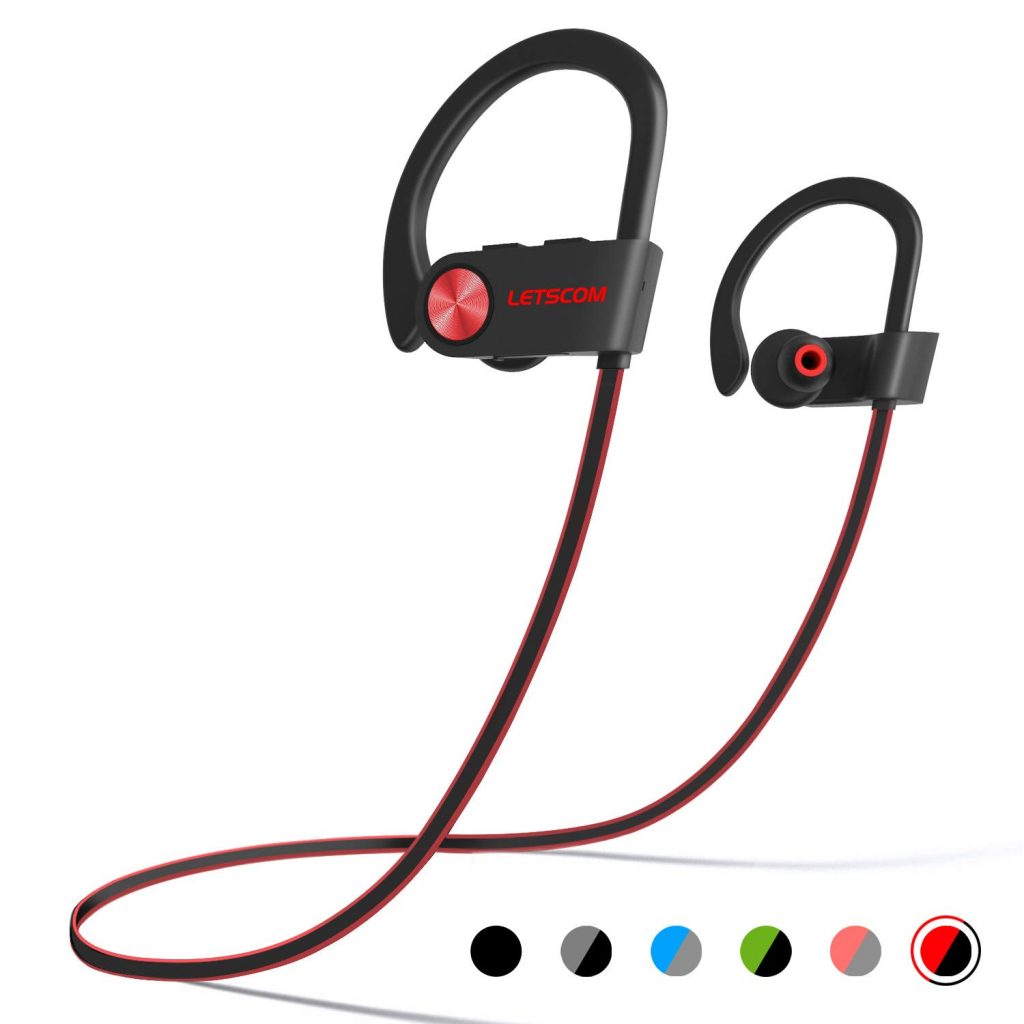 Overview
Letscom have created an innovative idea here, with these noise cancelling earphones. Designed for active sportswear, they curve gently around your ear, snuggling in whilst playing your fave tracks. The bass is impressive whilst the twin tone stereo blends perfectly, creating an audio soundscape to make any activity exciting.
What We Like
With more designer flare than the diminutive buds, these ergonomic earphones fit comfortably, feeling secure whilst jogging, popping to the mall, or whatever. Offering simple controls, waterproof qualities, a battery granting 8 hours solid playtime, and a wide range of cool colors, these are looking good!
What Needs Improving
Interestingly, the volume controls are inverted from what you'd expect. With volume down at the at front, and up at the back, it took a few minutes to get used to. But this is minor compared to the excellent qualities this set of earphones possesses.
The Final Verdict
Offering impressive audio quality, a super comfy design and styling to die for, these are an easy recommend.
5 new from $19.98
5 used from $16.98
Free shipping
as of June 6, 2023 3:25 am
---
Overview
Bose have produced another winner to add to their already impressive audio collection, and like their other products, these wireless headphones uphold their reputation for innovative style and sound excellence. Bringing the vocal prompt tech to the fore, alongside the 6 hours of battery life, and their exclusive StayHear modelling, we're off to put these babies through their paces.
What We Like
As you'd expect from Bose, the balance is spot on, sending the audio soaring into the stratosphere, with a hefty bass that weighs in, perfectly blending. Superior comfort and stickability, even in the midst of heavy exercise (we go that extra mile – although not literally, obviously, we are nerds, after all), these stayed in place nicely. The Bose StayHear+, their Tile app, enabling easy earphone finding if they go for a wander, and the simple personalization options, are all awesome features.
What Needs Improving
Although they are sweat and heavy rain resistant, they aren't completely waterproof, so no deep sea diving to music, then.
The Final Verdict
Bose's wireless headphones are beautifully comfortable, offer a great audio experience, and look stylishly high tech. Allowing simple personalization, and loads of innovative features, these are on our gift list.
---
Overview
Offering 9 hours playing time, these headphones from Dudios arrived with a generous 5 extra ear tips, allowing various comfort and styling options. The earbuds are nano-coated, meaning neither sweat nor water can affect them, and being noise-canceling, the sound is impressively rounded.
What We Like
The hi-fidelity audio delivers a well-rounded rich bass, and a melodious treble while the equalizer allows the audio to mix together in a gorgeously smooth vibe. The extra ear tips offer complete comfort personalization, and we love the soft touch coating, ensuring a good fit every time.
What Needs Improving
To be honest, these are great, but it would be nice if there were a few more color options – black is great, but how about silver, red or rainbow? However fussy we are, this is in no way a deal changer!
The Final Verdict
If you're looking for a well-designed pair of earbuds, an impressive audio adventure and a great battery life, these are well worth considering, especially with the very budget-friendly price!
---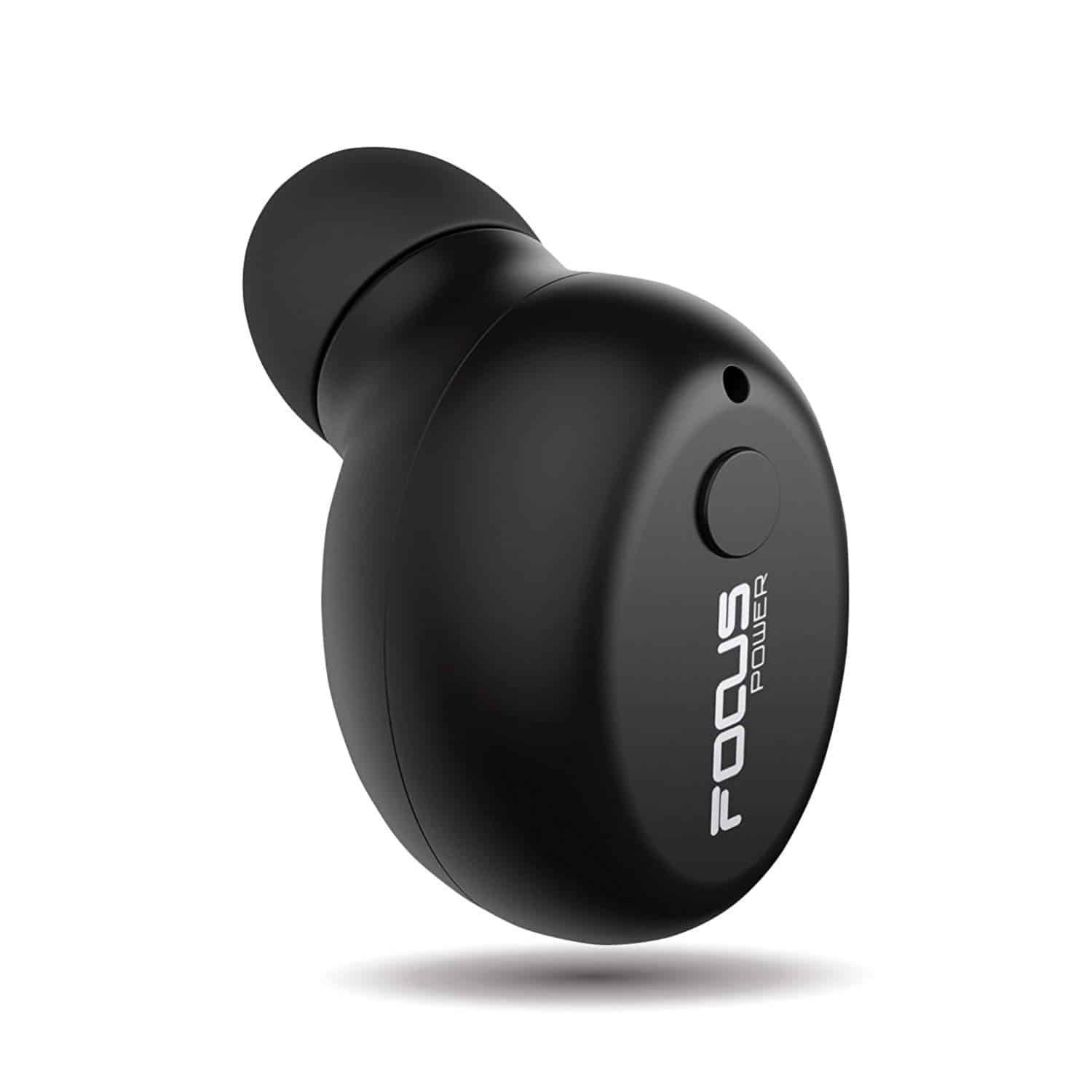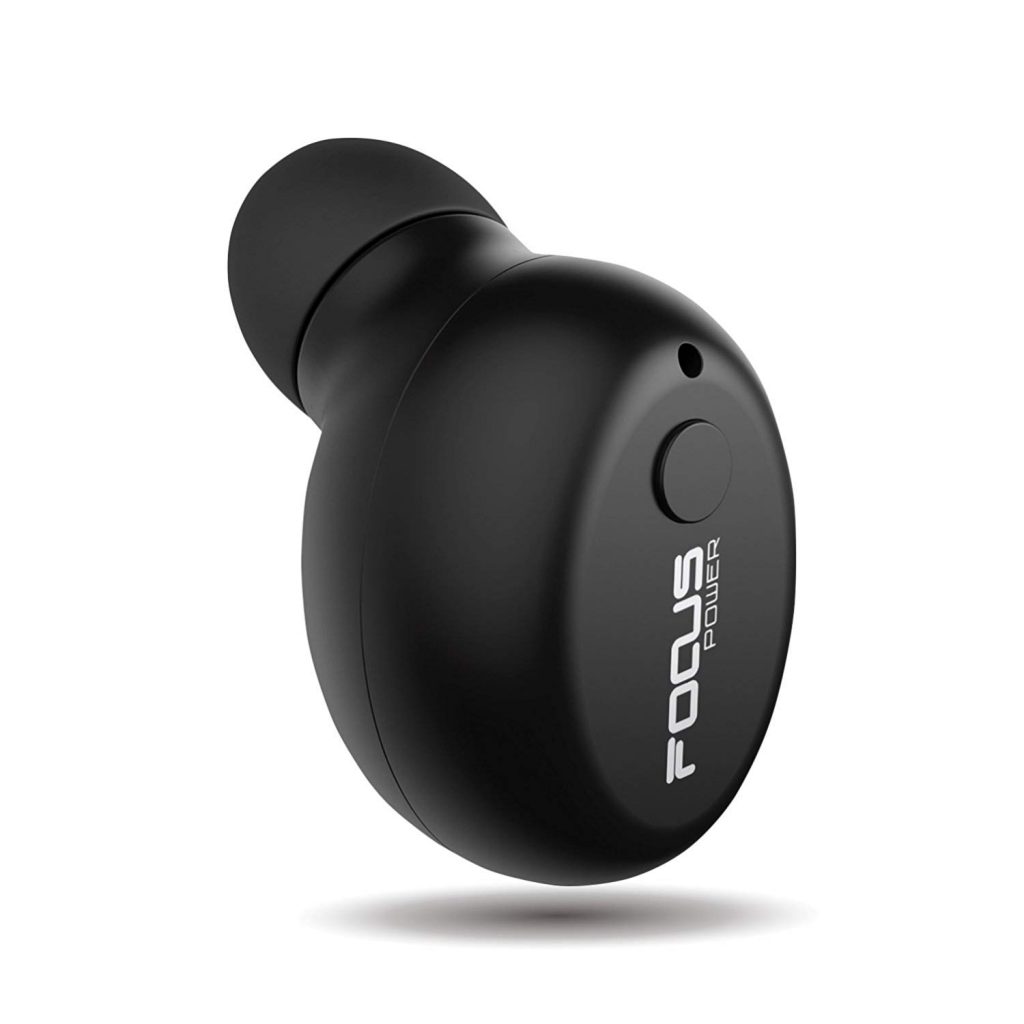 Overview
These neat little earbuds from Focuspower, with their inventive patent pending design, fit discreetly and comfortably inside your ear. Arriving in a gorgeously gift box, with a choice of three ear tips, these offer double device connection, ideal for the tech addicts who carry more than one cell phone.
What We Like
For their size, they possess an impressive battery life of 6 plus hours, and offer a super-quick charging time. Diminutive they might be, but the audioscape that issues forth is anything but. Rounded and full, producing crisp, clear tones, with a rich, but in no way overpowering, bass, we really like these babies.
What Needs Improving
Not so much of an improvement, more of a great idea to be remembered. If you drop these tiny earbuds, please note, being magnetic, they will attach themselves to the fridge, kettle or anything else nearby. We played hunt the earbud around the office, convinced it was on the floor, when it was stuck to the office mini fridge door! Focuspower have included that fun-packed family game for free! Perfect!
The Final Verdict
Discreet, very comfy, and with an awesome audio quality, this stylishly packaged set of earbuds would make a perfect gift for a loved one - if you can bear to hand them over, that is!
---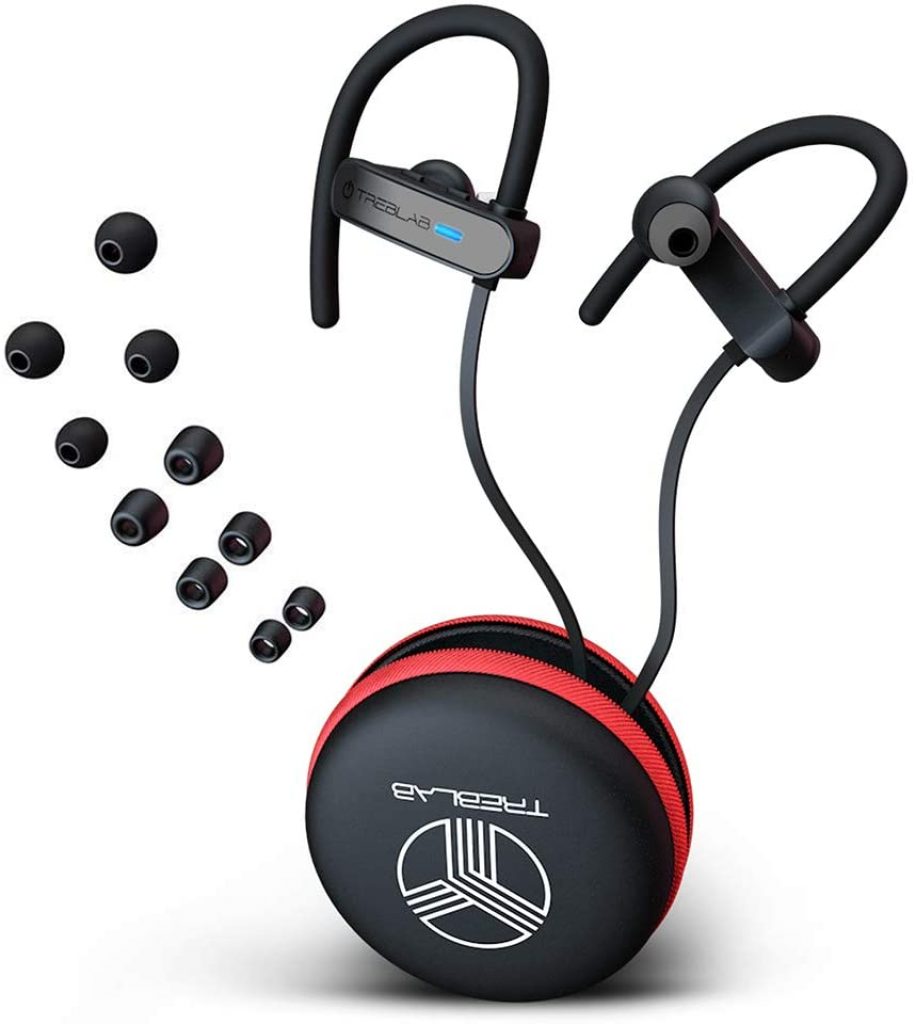 Overview
Perfect for a gym workout, these noise cancelling earbuds are sweat and waterproof – so straight from the treadmill into the shower accompanied by your favorite tracks, and with an 8 hour battery life – that's going to be a very long and extremely sweaty workout!
What We Like
We love Treblab's ingenious ergonomic ear fins, designed to keep the buds in situ no matter what. Not only that, but we also enjoyed the superbly crisp audio, with its deep, punchy bass and clear treble providing a CD-quality sound. With controls that are easily accessible and nicely sensitive, there's much to love about these earbuds.
What Needs Improving
When in the groove with the music at just the right volume, the alert beep comes through quite loud, however, this really doesn't detract from the high quality at all.
The Final Verdict
Treblab have designed an impressive pair of earbuds, offering a comfortable, secure fit, and excellent audio quality, all at a surprisingly low price band.
---
If you enjoyed this review, we think you'll love: