Sleeping Through The Storm
When we hear the words "white noise", many of us will think of the annoying, static sound, that emanates from our electronic devices when the signal is disturbed. Thankfully, that's not what white noise machines have to offer! In fact, the truth is the opposite – these white noise machines are designed for increased concentration and relaxation, and can even be used for meditation.
Some people are lucky enough to be able to fall asleep anywhere, anytime, despite background noises. Others are not so fortunate. If you are a light sleeper you may find that even the smallest sound will wake you up and disrupt your rest. This can affect both physical and mental health, making life miserable for you and those you love.
Exactly what is white noise?
There is a whole science built up around white noise – which is actually the combination of all the different frequencies of sound that can be heard by the human ear. The sound of white noise we hear as humans is a hissing, buzzing confusion of around 20,000 different tonal sounds at the same time. These frequencies are between 20 and 20,000 Hz.
Nature sounds, such as rain, wind or the ocean include so many different tones, that they become natural white noise, and that's why many white noise machines include natural sounds. This white noise can help to block out and mask noise disturbance when you're asleep, or when a baby is resting, allowing the mind to calm and switch off. Interestingly, white noise is said to sound like the noises a baby would hear from inside the uterus – the mother's heart, lungs, blood and so on.
Really looking forward to some awesome sleep now so let's get testing!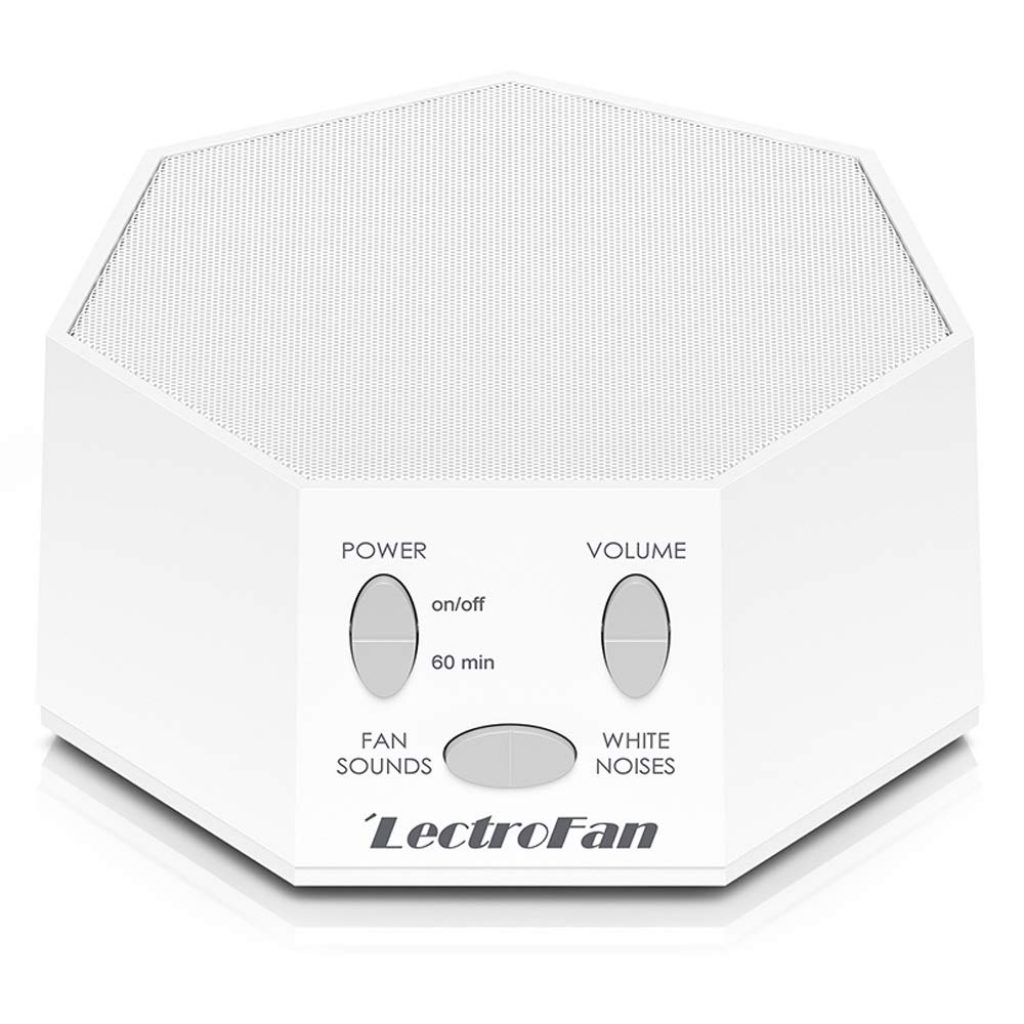 Overview
This neat, good looking little machine will fit nicely onto any nightstand. Deceptively unobtrusive, its unusual hexagonal design produces ten fan sounds and ten ambient noise variations, including white noise. Available in a range of colors, this promises to provide a restful night's sleep.
What We Like
This compact stylish machine can really pack a punch when it comes to the variety of sounds it can throw out. We found that not only did the majority of us sleep better, but we were able to concentrate and generally felt calmer. With an easy to use interface – even when semi conscious, and ergonomically designed buttons, this is a great aid to a decent night's sleep, and what's more, you can take it on holiday!
What Needs Improving
The cable is a couple of inches too short, but with the addition of an extension cable, problem sorted!
The Final Verdict
Perfect for a restful sleep, creating a calm mind and allowing babies to settle through the night. An easy recommend!
3 new from $45.99
Free shipping
as of June 27, 2022 5:17 pm
Features
BUY WITH CONFIDENCE: Lectrofan is designed in the USA and backed by a 1,000 day satisfaction guarantee.
BEST FAN SOUND AND WHITE NOISE: GENERATOR: Provides ten fan sounds and ten ambient noise variations, including White noise, Pink noise and Brown noise
SLEEP BETTER: Helps block disruptive environmental noises so you or your little one can fall asleep with ease
SAFE: Solid-state design is powered by AC or USB and dynamically creates unique, non-repeating sounds with no moving parts
PERFECT VOLUME CONTROL: Precise volume control allows you to set the perfect level for your unique environment
---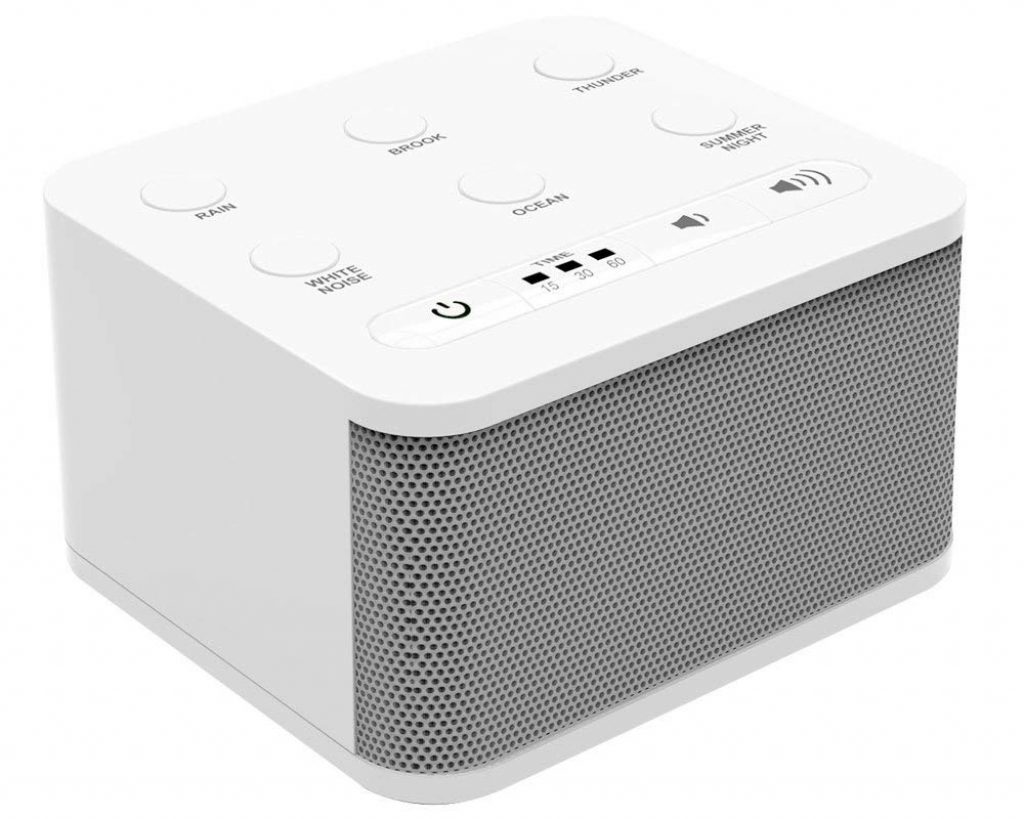 Overview
With a multitude of audio option, this space efficient cube can transform your room into a rainforest, a distant thunderstorm, white noise and more, on a seamless loop . Easily portable, this 4'' cube can fit in anywhere.
What We Like
Having several timer settings, it can be set to play all night all the way down to 15 minutes. Great to soothe fretful babies – it was fully tested for this ability (as were we), it also appeared to calm pets. The sound itself is high quality, with an easily controllable volume range. This an easy white noise machine to like.
What Needs Improving
The buttons are a little bit 'clicky' if you're working hard at getting junior to sleep, however, a teeny, tiny drop of silicon lubricant kept things nice and silent.
The Final Verdict
This little cube has a lot of tricks for a good night's sleep, and coupled with a budget friendly price - what's not to love!
3 used from $23.97
Free shipping
as of June 27, 2022 6:10 pm
Features
6 SOOTHING SLEEP SOUNDS – The six white noise machine sounds include Rain, Brook, Ocean (no seagulls), Thunder, White Noise, and Summer Night. The sleep machine sounds help you drift off to sleep faster and wake up feeling refreshed in the morning.
MASK BACKGROUND NOISES - The white noise sound machine masks noise for improved sleep, concentration and comfort. Blocks background noise while sleeping, working or traveling to experience serenity in every situation.
OPTIONAL AUTO-OFF TIMER - Leave this soothing noise maker on all night or set a timer for 30, 60 or 120 minutes. The adult sound machine recalls the last sound and volume setting making it the ultimate white noise sound machine for adults, kids, and babies.
PLUG IN OR BATTERY OPERATED - Powered by an AC adapter (included) or 3 AA batteries (not included).
PORTABLE & COMPACT - The portable, compact design makes this sleek Big Red Rooster noise machine essential for home or travel. Easily pack it into your luggage or bag for on-the-go convenience, or place it in your bedroom, living room, or office, for calming sounds anywhere in your home.
---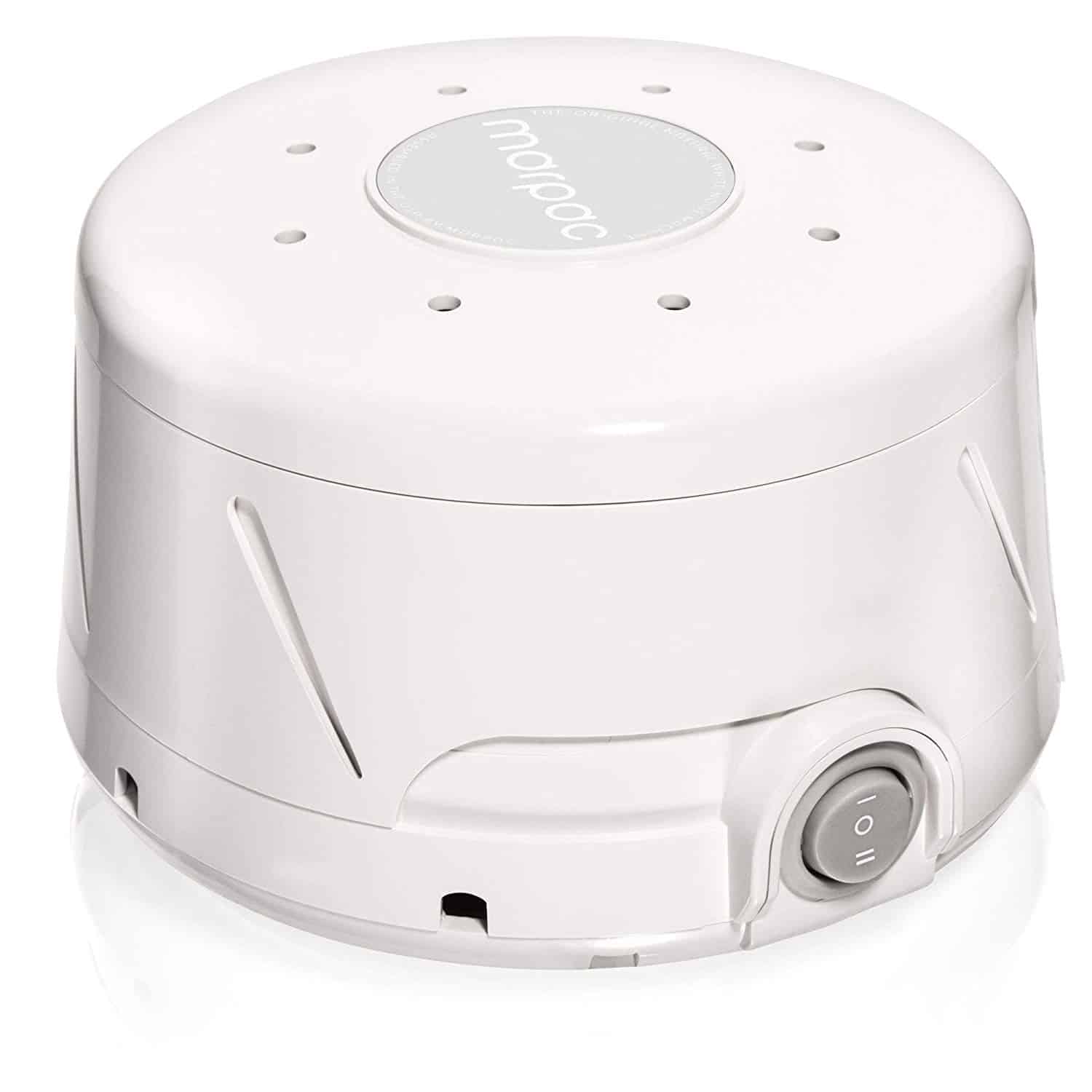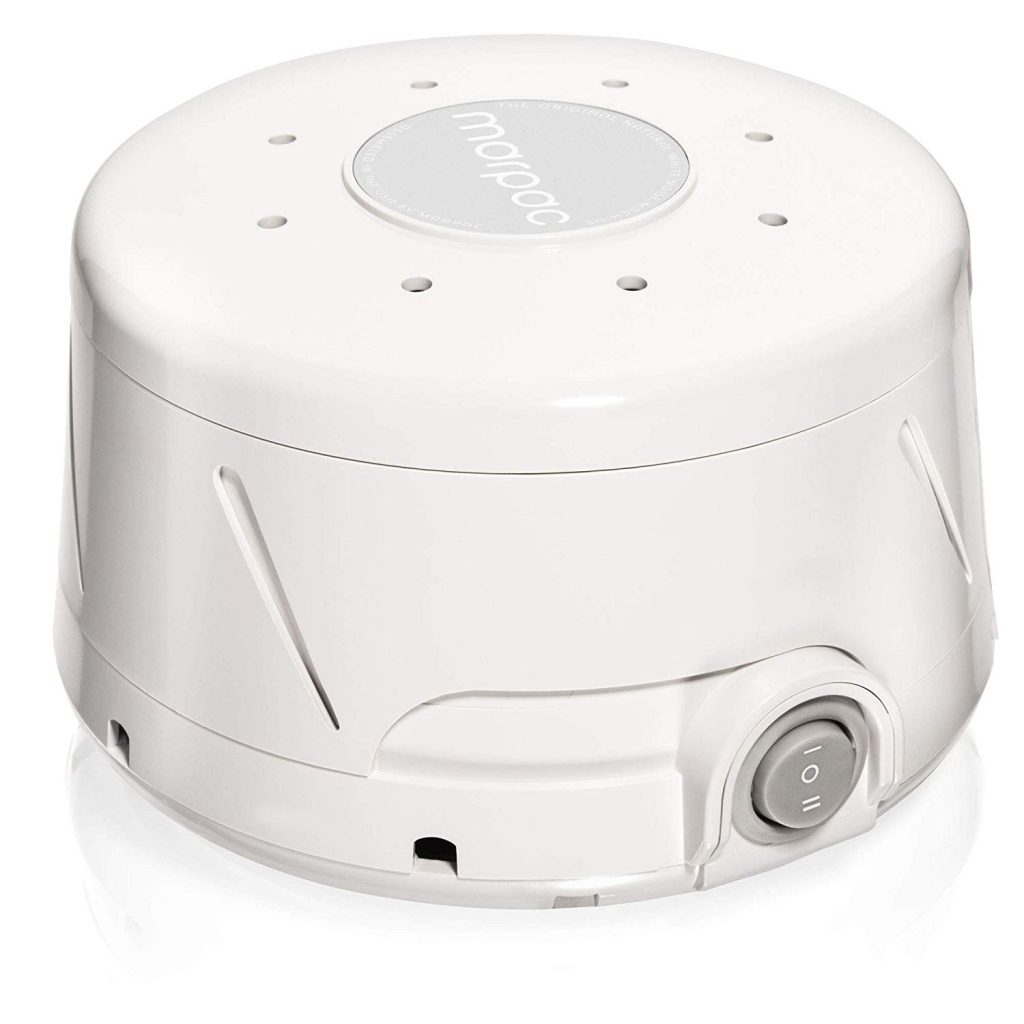 Overview
With the addition of a gentle, soothing fan, this comfortingly rounded white noise machine has easily customizable soundplay, allowing you to select the sounds that are more likely to send you to sleep. Available in several colors, this would suit any bedroom, nursery or wherever you wish to put it.
What We Like
Thank to the fan, we found it so easy to fall into a deep sleep. It provided a gentle cooling breeze that kept the temperature comfortable. Setting the machine to play all night worked well, and allowed us to wake gradually, feeling refreshed and ready to go.
What Needs Improving
On initially switching this on, there was a dusty smell as the fan got going; however, it faded rapidly and soon disappeared.
The Final Verdict
Impressively effective through a nice variety of customizable options, this would make a perfect gift to new parents everywhere.
3 new from $46.49
4 used from $31.84
Free shipping
as of June 27, 2022 9:11 pm
Features
THE ORIGINAL SOUND MACHINE: Beloved by millions since 1962, the Dohm Classic model features our fan-based natural white noise producing the soothing ambient sounds of moving air
CUSTOMIZED SOUND EXPERIENCE: With two speed options for adjustable tone and volume, excellently masking background noise for better sleep for children, office privacy, and soothing sound-sensitive pets.Simply wipe the exterior with a damp cloth
UNBEATABLE QUALITY & GUARANTEE: For over 50 years, Yogasleep has been the gold standard in white noise machines. Hand-assembled in the USA and backed by a one-year limited warranty and exceptional Yogasleep customer experience, we stand behind each product and offer you a 101-night trial to try it
SIMPLE TO USE: Powered by an 7-foot 120V AC cord, simply plug in, flip the switch to high or low, then rotate the cap and collar to find the best sound for you. Let the noise-masking magic happen to help as a natural sleep aid, baby soothing, tinnitus relief, and respite from noisy snorers.
CLASSIC DESIGN: Featuring a simple design that blends unobtrusively into surroundings. Also available in white, black, gray, pink, tan, and camo
---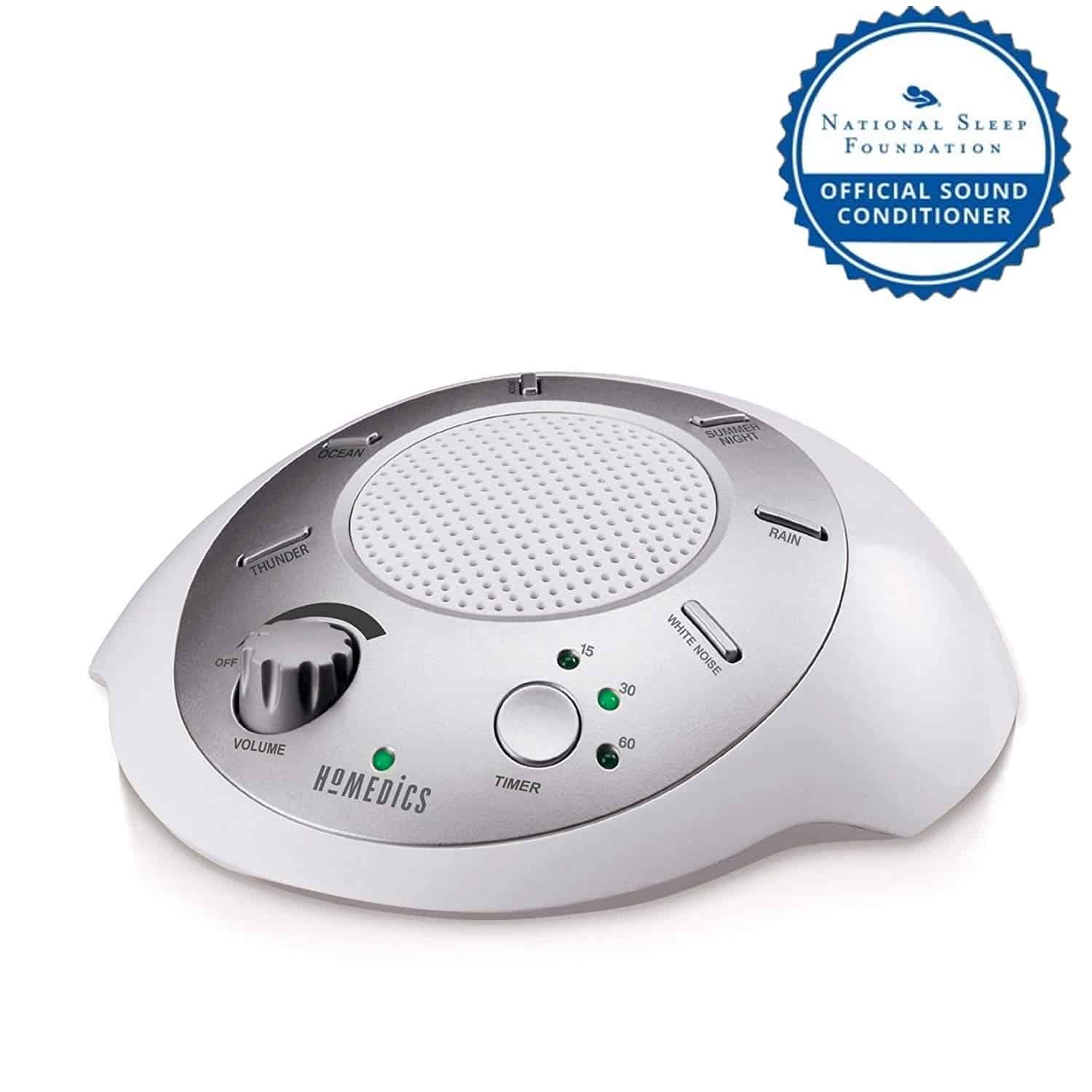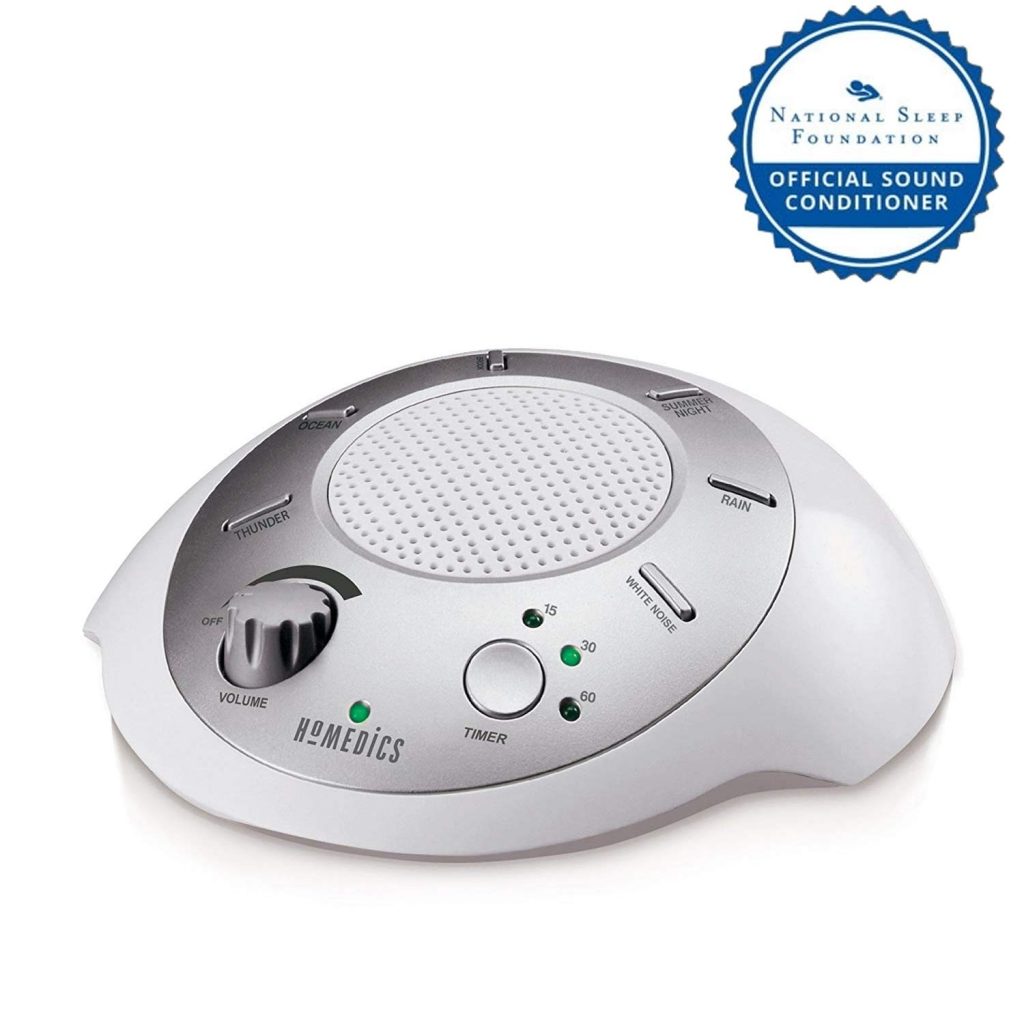 Overview
Sitting, like a resting spaceship, on the nightstand, this white noise sound machine, in silver and white, is style personified. It works well, too, and is jam packed with useful features – timers, sound customizations, and 6 soothing natural sounds. It's robust and lightweight for hassle free travel, too – just pop it in your bag!
What We Like
We found this little machine not only helped with sleeping, but also made concerted concentration possible. Our working days became more productive and rewarding with heightened levels of alertness. The sounds recorded on here are all soothingly rounded, with nothing to pull you out of the zone.
What Needs Improving
The LED power light can be a little bright in a soothingly darkened room. We used a tiny piece of tape over it – perfect.
The Final Verdict
If you're a light sleeper, have a young bouncy child, or need to remain alert for work, this machine is perfect, and at a real budget friendly price too.
5 new from $21.99
7 used from $20.34
Free shipping
as of June 27, 2022 5:13 am
Features
6 Soothing Sounds: Choose from 6 digitally recorded sounds: White Noise, Thunder, Ocean, Rain, Summer Night, and Brook; mimics the natural environment for the most relaxing experience possible
Compact & Portable for Travel: The HoMedics Sleep Sound Machine is small and lightweight so it easily fits into your purse, bag, or suitcase; easy to bring your sleep sounds with you wherever you go
Helps Your Baby Sleep: Add rhythmic nature noises to your infant's sleep routine to help them fall asleep faster and stay asleep longer; the stylish design looks great in any room, including a nursery
Auto-Off Timer: Play sounds continuously or choose from 3 auto-off timer options: 15, 30, or 60 minutes; plug it into a wall outlet with the AC adapter (included) or use 4 AA batteries (not included)
What's in the Box: (1) HoMedics SoundSpa Portable Compact Travel Sound Machine, (1) AC Adapter, (1) Quick-Start Guide
---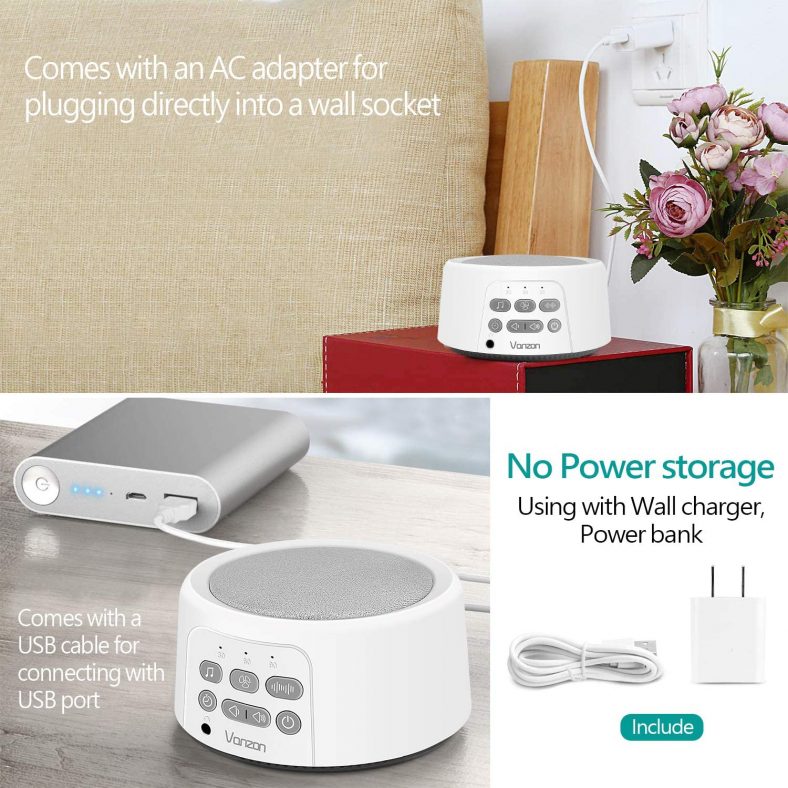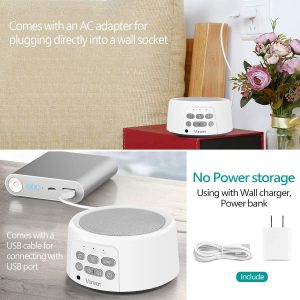 Overview
This white noise machine has the ability to play 36 different sounds on seamless loops. The interface is easy to follow and use, allowing this machine to help reduce tinnitus, block out snoring, increase concentration for study or work, and enable babies and parents to sleep. Perfect!
What We Like
It has to be said that we love this flying saucer shape – it appeals to our inner (and outer) nerd. Easily controllable with a load of customizable options, and 36 whole soundscapes to choose from, we slept well, and felt great upon waking.
What Needs Improving
Although very well made and exceptionally durable, it feels lightweight, and was easy to knock off the nightstand if placed too close to the edge. However, a tiny piece of tape soon sorted that – awesome.
The Final Verdict
Great value for money with a library of 10 natural sounds to pick from, this would make a fabulous gift for a loved one.
check latest price
as of June 27, 2022 5:13 am
Features
| | |
| --- | --- |
| Part Number | VS-03-BZYJ-W-01 |
| Color | White |
| Is Adult Product | |
| Size | normal |
---
What else has got us excited?